Home

Audrey Pierot Events
About this Vendor
Let's Create Your Dream Wedding
We will make your wedding day truly, "the best day of your life." We go above and beyond your expectations so that your wedding is extra special and stress free. Let us pamper you with our personalized service, attention to detail and creative spirit. Call today for exclusive Knot bride specials!
Details
Day-Of Coordination, Full Service Wedding Planning
Contact Info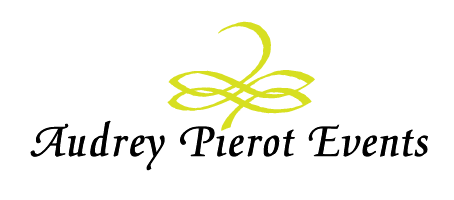 13 Elizabeth Street , Tri State Area, NY
Top (k)notch coordinator! ;)
Reviewed on

10/23/2014
Alexandra L
Audrey is the best wedding planner! She helped us navigate the entire wedding process from beginning to end. Her knowledge was invaluable when it came to choosing our vendors. Most importantly, she helped us determine what we could afford with our budget and where best to spend our money. My wedding day was everything I dreamed of and more. I know that Audrey made sure that we had the time of our lives. Thank you for everything!!
---
Our Wedding
Reviewed on

10/16/2014
Hunter T
Audrey was amazing. She thought of every detail and helped us put all our ideas into play. The day was seamless!
---
Exceptional
Reviewed on

10/05/2014
I want to tell you about my experience with Audrey Pierot Events. I had been engaged only about three weeks and I of course had lots of ideas about my special day. I had talked with my girlfriends including a couple whom had already married. Everyone had their two cents and the ones who had already been though planning an affair like I had in mind couldn't wholeheartedly recommend their planners. I was talking to my aunt in Connecticut one day about my problem and she suggested Audrey. One of her friends had been to an event she had done and she couldn't stop talking about what a great time she had. I got on the web and looked her up, her website had lots of pictures of very tasteful events and beautiful flowers. I was intrigued and gave her a call. She sounded very caring and excited to speak with me. We set a date to meet. I had another planner, someone I had found here on "The Knot" in mind so I took the morning off from work and booked a meeting with both of them the same morning. The first meeting was with the other planner, I arrived at the appointed time and place and waited, 30 minuets went by and finally she arrives obviously already behind despite her re-assurances. I just couldn't get past the fact that she didn't have the courtesy to call. My meeting with Audrey was next and I arrived early as I had cut the other interview short. Audrey was already there, sipping a coffee and greeted me warmly. As the meeting progressed I could sense that she was no amateur. We spoke of my plans and she listened closely even taking notes and clarifying points. I left the meeting wanting to say, "You are hired." right then and there but had promised my parents who were helping us with our wedding that they would meet with whom I picked first. Our second meeting was at my Fathers office and my Mother and Fiance' were there as well. Audrey arrived and we all spoke together, in short everyone liked Audrey and we hired her the next day. I tell you all of this because the care we all took in selecting Audrey and the patience and understanding she allowed us are prime examples of what kind of planner she is. Through our initial meetings I had hoped for someone that believed as I do that it is our day but it is about all the people involved; relatives, friends. Audrey believes in that same philosophy. She knows that the people and the location and food make the event. She, through her years of experience has shepherded and calmed many a bride. I added her to my phone and she was always timely in returning my calls or mails. The vendors that Audrey brings along with her are first class and I, once I got to know her was able to see that only through my happiness was Audrey truly satisfied . It seems funny to say but as our day approached I wasn't worried at all about the event itself, the weather of course, which is every brides nemesis but not the event as I had grown to understand that Audrey had it in hand. Audrey is on my Christmas card list, she is one in a million, I cannot say enough about her, Thanks.
---
Father of the Bride
Reviewed on

10/04/2014
I am writing this as a testament what a truly wonderful Event Planner Audrey Pierot is. A little background first. My wife of 28 years suddenly passed last November. My daughter and her fiance' had announced their engagement just a couple of weeks prior. I, needless to say was reeling at my loss and overwhelmed with what to do. I love my Daughter dearly and after several long conversations with her we decided to proceed with her nuptials. I had no idea on how. Just a year earlier my Daughter and her Fiance' had attended her friends wedding which she had spoken at length about with her mother. I reminded my daughter and she just smiled broadly and said,"Dad" as only a daughter can. Together we called Audrey and spoke almost 2 hours that first time. She was most sympathetic and totally understanding about our delayed timing. Audrey immediately jumped into action dedicating or so it seemed her total attention to my daughter's wedding. She suggested some great venues that both fit my daughter's ideas and my budget. The vendors she works with are true professionals and as the weeks turned to months and the day approached she was always there making sure that no detail went unattended. Just days before the event I received a call from my Daughter. She was in a panic, I couldn't seem to reassure her so I suggested she call Audrey. Several hours passed and finally my phone rings, it's Audrey who as always was calm and collected. She reassured me that she had what my Daughter was so worried about well in hand. She spoke with me as if we had known each other for years not months and I was able to truly relax. The blessed day arrived bright and sunny as if my wife was smiling down on us and it went seamlessly. I cannot think of anyone that I recommend more highly than Audrey Pierot Events.
---
my sister alexandra's fabulous wedding
Reviewed on

10/02/2014
Ted P
wow what a fun and beautiful wedding audrey put together. the vendors audrey directed my sister alexandra to were great! the food was sumptuous, the cake sublime, the lighting was gorgeous and made everyone look good, the tent the tables and the dance floor were all arranged to capture the views and to make it easy to walk and mingle with other guests. the most amazing thing about i found out after the wedding was that the ceremony had to be moved under the veranda a couple of hours before the ceremony instead of on the bridge do to rain. it was so beautiful no one other than the wedding party new that it was supposed to be on the bridge... what a fun fun fun wedding... ps audrey also planned my twin nieces b'not mitzvah and it was so over the top fun that we are all still talking about it 8 years later... audrey you rocked our world at two events you're the best!!!
---
Great dj and planning
Reviewed on

10/01/2014
Audrey was totally there for me and her dj choice made the party.
---
MOM of the Bride
Reviewed on

9/27/2014
so far she's taken care of everything and stays on top of her clients to keep them moving toward the event! I hear she creates a GREAT PARTY!!!!!!
---
Amazing!
Reviewed on

9/22/2014
Loretta R
Audrey is an amazing event planner. She is so easy to work with, has gorgeous ideas and really cares about her clients. I highly recommend her for your event.
---
Wedding
Reviewed on

9/22/2014
mary joan o
Audrey is the best ever. I cannot imagine planning a wedding without Audrey. She thinks of every thing in every way possible. She is a 12 out of 10 over the top the best!!!!
---
Event 10/26
Reviewed on

11/01/2013
michele f
Audrey planned my son's Bar Mitzvah from start to finish. There was not a detail left out-She has an "A" team of entertainers, decorators, photographers--etc. She is there the entire day of the event working to make the evening spectacular. It has been a pleasure working with Audrey and can't wait for the next event.
---
Mrs Amy Lipin
Reviewed on

10/10/2013
Audrey Pierot helped us plan and execute 3 of our family events to reflect us, not her. She worked closely with all vendors to insure we got what we wanted. She goes beyond what she is asked for and thinks of everything you might forget. She helped to keep me on track doing all I needed to to get to the big days. She is a great collaborator. If you have no idea what you want, she has plenty of suggestions and ideas. If you know what you want, she helps you do it your way. When it comes to the day itself, we were free to relax and enjoy while she worked furiously behind the scenes to keep everything going smoothly according to the timeline she lays out, with our input. She anticipates all and can react to the changing dynamics of your group of people and any situation that arises.
---
superlative service
Reviewed on

10/06/2013
I have told several friends about my wonderful experience with Audrey Pierot, who served as my wedding planner, event guru, and emotional shaman for the months leading up to our big day. Every detail was handled in a way that seamlessly merged my own ideas with Audrey's considerable experience, and I dodged a few big mistakes by listening to her advice! Audrey is a professional who has connections with equally professional vendors, and I grew to see her as a trusted friend as I gained a sense of ease and confidence during the process of making all the decisions that go into planning a wedding. As I think back to all those decisions, from our invitations to the flowers, lighting and decor, photographer, music, food and my favorite, the cake tastings! - I had Audrey to guide me through every step with gentle suggestions while also going the extra mile to find ways to make our own ideas come to life. She helped us create the warm, memorable and beautiful wedding we had imagined. On our wedding day, she and her assistant worked to keep everything running smoothly - by that time I knew I could relax because I was in such capable hands. Most of all I had so many positive comments from our family and friends about the wedding - people really noticed the special, unique touches, and I remain so grateful to Audrey for making a special day even more special!
---
DJ
Reviewed on

10/06/2013
Audrey is incredible communicating with anyone. You dont need to worry about anything. She handles it all. Audrey is very creative and pays attention to all details. She really does have great ideas. She is one of the best I have worked with. For anyone getting ready to plan a wedding or event either near or far, hiring Audrey Pierot Events would be money well spent. Audrey will make that special day, one that you will never forget!
---
Our Memorable Wedding
Reviewed on

10/06/2013
Robin M
Audrey was a life saver! We were at first hesitant as to whether we should hire a wedding planner, but since we both work and are not used to entertaining 250 people we decided we should. Audrey Pierot Events was recommended to me by a friend and she was awesome right from the start. She is fun, sophisticated, had great ideas, great vendors that were perfect for us and I could tell from the start she has been doing event planning for a long time. Audrey produced our dream wedding that was better than what we had dreamed of. I cannot imagine how we would have done it without her, her recommendations were spot on, she was always calm and fun to be with, always available and promptly returned calls and listened and incorporated our vision into a reality. We were completely relaxed and enjoyed our entire day because of her guidance and stewardship. Our guests, still after all these years, remind us of what a great wedding we had. We have Audrey to thank for that and continue to recommend her whenever we can – we will definitely use her for future events as well!
---
A night to remember
Reviewed on

10/06/2013
I think planning for weddings is a stressful thing no matter who you are. You can plan for years in advance,try to read all the books and talk to all the married friends you have but at the end of the day chances are you've never been through it before (hopefully). Which means, there are a lot of things that you just aren't going to think about. Audrey has the experience and the talent to take care of all those things for you. With her help, my wedding was a night that I will never forget for the rest of my life. Leading up to the wedding, she made great suggestions on vendors, setup, timelines and logistics (and you don't fully appreciate them until it is actually happening.) Beyond the recommendations, the day of the wedding - she was extra attentive and made sure all the details were perfect. You will not be disappointed with Audrey, I promise.
---
Easily the best decision we have ever made
Reviewed on

10/06/2013
Audrey was so amazing to work with during the whole wedding planning process. She helped my fiancee with each and every decision. When my fiancee was having a hard time - Audrey was a phone call away to put everything at ease. She has a certain tranquility to her, and she always knew what to say to calm my fiancee when things were getting too stressful. She was very attentive to our needs and she never forgot the details. Audrey is one of the best out there and if you want an easy, stress free wedding, hire her - you will not regret it!
---
My Greatest Day!
Reviewed on

10/06/2013
Audrey Pierot planned the most beautiful day of my life! From the moment we met about the event for the first time to the time we got in the car after the party, Audy was there for us100 percent! She listened to what we wanted and with impeccable taste she delivered my dream wedding! What a joy that day was...we could not say enough good things about Audrey!!! Thank you from the bottom of our hearts!!!
---
Audrey Pierot
Reviewed on

10/06/2013
I worked with Audrey planning our wedding. She was very attentive, flexible and great to work with. Audrey has a wonderful understanding of all that needs to get done and gladly took on whatever responsibilities we needed her to do. She had creative ideas on what we could do on our budget. I loved working with her. The wedding went off beautifully.
---
A guiding hand during a hectic time
Reviewed on

10/05/2013
Danielle H
Every girl dreams of her wedding day. The type of flowers, the music, the dress, the type of venue. But once these things actually need to be settled upon by a bride and groom- things tend to get a little hectic. My fiance and I needed help sorting out what we really wanted for our wedding. Our own ideas brought us to a schmorgus board of a wedding - way too much with no consistent theme. We were in over our heads with finding the right venue to accommodate our guest count and the right florist to design the centerpiece she had envisioned. After a recommendation to get ourselves a party planner - from my fiance's boss at work, we contacted Audrey and could not have been happier! We did not look back, because she was so attentive and detail oriented right from the start. When it came to how we wanted things to turn out, the type of DJ we wanted. Live band for cocktail hour, and the amazing florist she recommended! She is very organized and on top of her vendors. We got all our proposals in a timely manner and got the chance to go over them with her one on one (she always took out the time to meet us in person) When we arrived at our wedding that afternoon - we both were blown away by how impeccably accurate she had accomplished the "look" that we had hoped for. The music and ambience were perfect! She was on top of the schedule and the evening went off without a hitch. If I leave you with one piece of advice for your wedding planning fiasco - hire Audrey Pierot. She will make the day feel like it is supposed to - Happy, joyous and carefree :)
---
Greatest Wedding Planner You Can Find
Reviewed on

10/05/2013
Danielle L
If marrying your decade long fiancé is exciting, the stress of preparing a wedding is just as stressful. I made a decision to turn it over to an expert. Not only was I not disappointed, but the results exceeded my wildest expectations. Audrey was so calm and reassuring. Her taste impeccable from the floral arrangements, to menu, decor and more. She went the extra mile and was available 24/7 for me. No minute question or concern was ignored. She held my hand throughout the entire process and in the end, all my friends during and post wedding asked me.....who was your wedding planner?! I will use Audrey for any future events without hesitation and I would recommend her to anyone getting married who rather think about the dress they will choose than planning the event itself. She does it all! Thank you Audrey!!
---
A DREAM COME TRUE
Reviewed on

10/05/2013
Pauline o
As the mother of the bride, and as this was my first child getting married, my expectations were extremely high for this wedding. I also knew that I did not want online invitations and I wanted great food and music! The place that Audrey recommended for invitations was exquisite. We had so many compliments. I cannot say enough about the DJ and the MC! They had a hard time getting people to sit down to eat. No one wanted to stop partying. I was also thrilled that from the moment I entered the reception hall, I was able to enjoy my guests, Audrey handled every detail. It was seamless. The only thing I wish is that we could do it again! The night flew by. Audrey will definitely plan our next wedding.
---
Unbelievable Service!
Reviewed on

10/05/2013
richard f
AS the father of the bride, I was nervous enough about the whole wedding, especially the cost (to be honest!)When my daughter told me that she hired a wedding planner, I was like for what? Are you crazy, we can do it! But she was insistent. It was the best move she could ever have made. Audrey's recommendations for the DJ, and extra lighting for the reception were truly inspired. People are still talking about the wedding, and we have even gotten thank you cards from guests! I only wish we could do it again, the night just flew!
---
Picture Perfect
Reviewed on

10/05/2013
Utterly perfect... Audrey was such a help.... great listener, and totally able to pull the whole thing together for me -- She was an wealth of information, organized, and often the voice of reason! A pleasure to work with, and made the day beautiful.
---
A Million Thoughts
Reviewed on

10/05/2013
nicole k
My daughter got married this past April 27th. When she first told me that she was getting engaged I was excited as any mother would be and then a million thoughts ran through my head. Shortly afterwards we began searching for venues for the reception and I knew I was in over my head. My daughter and future son in law wanted to have a Manhattan event and the few venues we spoke to on our own seemed cold and un-inviting. We got together one night over coffee and decided maybe we needed help. I had asked a few friends and although they had some recommendations, those people didn't return our calls or seemed indifferent. I called an old friend and told her of my dilemma, she said,"Have you called Audrey?" I hadn't and then did, she returned my call promptly we spoke on the phone for almost an hour that first time and got along splendidly.   Shortly thereafter, my daughter myself and Audrey met and she listen to us. Not just taking notes but she added her opinions in a thoughtful and constructive manner. After that initial meeting my daughters and my quest for an event to be remembered began with Audrey as our ally. Needless to say choosing Audrey and her experience made things go so much smoother.    Audrey after listening to us took us to 3 venues on our first and what turned out to be our only site visits. Any one of the three were exactly what we had in mind, she had listened and shown us what her years of coordinating had done. As we began, having settled on a venue Audrey's substantial list of vendors helped us immensely as we began assembling a night not to be forgotten.   As the wedding grew closer our contact with Audrey became more frequent our input and wishes were always listened to and considered carefully.  Audrey's tempered and caring response to each detail tailored to meet our tastes. Finally the blessed day arrived and as the day unfolded I was amazed at how every little thing, a million details came together just as we had imagined. I highly recommend Audrey Pierot Events for your event, you won't be disappointed.
---
One of the most important components of our wedding!!
Reviewed on

10/04/2013
In the beginning of our wedding planning, I quickly became overwhelmed with juggling all of the vendors but Audrey swept in and took this task off of my plate. She worked seamlessly with everyone and provided thorough information so that our day was flawless. One of the best aspects that Audrey assisted us with was getting rid of our photographer that caused us much agitation. After taking our large deposit, we were not able to get in touch with him until six months later! Audrey advised that it was best to find another vendor that I would be more comfortable with and recommended a fantastic couple that truly put our minds at ease. Looking back at the photos of our wedding has been one of the best gifts from the day and I do not feel I would have had this experience if I stuck with our original photographer. Overall, we worked with Audrey for about a year and a half. She was timely in responding to my phone calls and emails and was wonderful in making suggestions to enhance our day (the Jamaican steel drums during cocktail hour and feather boas during the amazing dance sets were huge hits!) I frequently saw Audrey in the background during the reception which gave me peace of mind as I knew she was taking care of all the small details that we had planned together. I even had family members tell me how wonderful she was as she assisted them personally throughout the wedding! Working with Audrey was one of the best investments that we made for our big day! Her experience, knowledge and fabulous sense of humor made her feel more like a friend instead of just some wedding planner that I had found online. I look forward to the opportunity of working with Audrey again on a future event!
---
Send Message