Home

Awesome DJs and Photo Booth
About this Vendor
We Want You To Be Delighted!
The lights dim...a hush falls over the crowd. And then you enter. Welcome to the best party of your life: your wedding reception. The two of you will experience a magical evening, thanks to the distinctive professionalism of Awesome DJ's.
Details
Classical, Country, Disco, Hip-Hop, Pop, R&B, Rock
Ceremony, Reception, Wedding
MC Services, Recorded Music, Sound Equipment, Music
Contact Info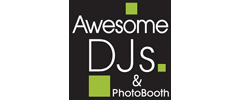 14808 S Woodcrest Ave, Homer Glen, IL
Great Dj Service!
Reviewed on

11/01/2012
Melissa S
Great experience working with Awesome DJ's. They go above and beyond to meet your needs. Friends and family complimented how great our dj and were impressed. We highly recommend Awesome DJ's for any wedding or event!
---
What a great night!
Reviewed on

7/05/2014
Throughout the planning process our DJ, Bill, demonstrated the utmost professionalism and attention to detail. It was so reassurring to see in his notes at one of our meetings that he had written questions about information we had written down to share with him. It showed just how prepared he was, even long in advance of the event. Looking back on the reception, I realize now that I never had to worry at any moment about our proceedings, because Bill had thought everything out well in advance and had everything under control. With poise and respect at all times, he kept us on schedule, kept our photographer, videographer and room captain up to the minute and kept the music and the whole event flowing wonderfully. This allowed us to enjoy our day that much more. It was easy to entrust Bill and Awesome DJ's with our day, because we could tell from the beginning, all the way through to the end, that they took us seriously, treated us with the utmost care and attention, and did everything they could to make our day the best it could be. Everyone, from my techno-crazed brother to our college friends to my polka-loving grandmother, was pleased with the music and all had great things to say about Bill. We are so grateful to both Bill and Awesome DJ's for making our evening so awesome!
---
Exceeded our expectations and then some!
Reviewed on

10/29/2012
Lauren S
One of the most important parts of a wedding is a good DJ. Randall from Awesome DJ's exceeded our expectations. He was unbelievable!! We had guests on the dancefloor for the entire receiption and I don't think anyone sat for more than 10 minutes at a time! He did a phenomenal job in engaging the crowd including 13 children! People could not stop talking about our DJ! He also did an incredible job in working with our other vendors throughout the evening to make sure all the special moments were captured appropriately. We also opted for the the photo booth and SOOO glad we did so! It was an absolute blast and created some unique memories. The memory book was so much fun and everyone loved the fact that we had the photo booth at the wedding. I cannot say enough about Awesome DJs! I highly recommend them and I know our wedding would not have been the same without Randall! THANK YOU!
---
Reviewed on

7/29/2015
Yesenia E
We booked Awesome DJs for our wedding on July 18th, 2015. Immediately I received a phone call from Randy regarding setting up a meeting in order to see if they would be a good fit for us. I truly appreciated their honesty and advice and knew immediately I can trust them as they were not trying to just get us to sign. I was a little nervous with booking a DJ due to having multiple cultures that involved different genres of music needing to be played- Randy and Tom calmed my nerves and assured me they would do whatever needed to be done in order to get all the music requested- Which they did. We had Tom as our DJ and couldn't have been happier with our decision. Tom kept the crowd on the dance floor and transitioned between different genres of music (Spanish, country, oldies, hip-hop, Elvis, etc...) PERFECTLY! Everyone is still talking about how great the music was! Honestly- Book them... You will NOT be disappointed! I would recommend them 100%!
---
Reviewed on

7/28/2015
Holy crap, best night of our lives, bill you kept the dance floor going all night. Played all the right songs at exactly the right time. Thank you so much for making this night the wedding of our lives. So great.
---
Reviewed on

7/21/2015
We love Bill!! He did an amazing job, all our guests kept complementing us on him! We would have no problem working with Awesome DJ's again.
---
Reviewed on

7/16/2015
Randy was the best! From day one of meeting him in his studio, we knew we wanted him as our dj. He truly loves what he does and it shows through his work. He tailored to our needs and was really flexible. He works well with military families (just as an fyi ;). He made our wedding a party and we truly danced the whole night! He knows how to work the crowd and makes sure that everyone has a great time, spanning across the age groups! Our family and friends loved him and we couldn't thank him enough for all the fun he brought! The photo booth was so fun and he let me bring in some chalkboards to people could write signs for their fun pictures! Our guests loved the photo booth and now they have pictures to keep with them forever and we get an awesome scrapbook full of the photos everyone took! It really captures the fun of the night, we loved it! We highly recommend Randy as your dj, he is SO worth the money! We will never forgot the night! We love you Randy!
---
Reviewed on

6/29/2015
Meagan W
I could not have imagined a better DJ for our wedding. Randall was simply wonderful. We spoke the day before about what type of music I wanted. & Randall is the same age as us, so he was totally spot on when I said I wanted throwback 2000's/90's music! The songs were non-stop and our dance floor was literally not empty once. Randall was wonderful with talking to us throughout the reception about timing of things. It all went so smoothly and the music helped to make it the party atmosphere that we hoped for. He was totally easy-going and nice to work out. I would recommend them again and again! -Meagan & Austin
---
Reviewed on

6/15/2015
Amanda S
I can't even explain to you how great and professional these guys are to work with from day one. Absolutely awesome. I found them from a recommendation from Dinolfo's Banquets in Homer Glen. These guys really know what they were doing. I was in contact with Bill and Randy the whole time. My maid of honor and I went to Randy's house and he his garage converted into an amazing studio. We were blown away in minutes. Before we even heard his set, Randy had the perfect demeanor and was so accommodating to what we wanted. The equipment was so high tech and up to date with an awesome light show. The photo booth was so much fun at our wedding. They had an online planner which made it so easy to plan our whole time line in depth as well as pick our music. On the day of the wedding, Randy was a killer MC, pumping up our guests, our introduction was great and organized for such a large wedding party and people danced the whole night. I am so thankful to them for helping making our wedding day the best. Stop looking now, they seriously are the best.
---
True to Their Name
Reviewed on

6/04/2015
Jen H
Awesome DJs is just that..... Awesome!!! We had Bill for our DJ. He was fantastic!!! We had a James Bond themed wedding. He played all the title songs from the different movies during cocktail hour per our request. It was cool that a lot of my guests knew the songs and which movies they were from. I loved the convenience of having the online wedding planner to list must plays, do not plays, special songs, etc. Bill knew that I was a big fan of old school stuff, so his selections were awesome!!! We had such a blast!! I highly recommend him!!
---
Reviewed on

5/24/2015
Jessica W
Bill with Awesome Djs was AMAZING! We had a great experience with the planning process with him. He understood what we wanted and definitely delivered the day of the wedding. He did the music for our ceremony and it couldn't have gone more smoothly. Our wedding couldn't have been as perfect as it was without him!! If you want a dj to sit at a standard white table and punch buttons onto a keyboard look somewhere else, because Bill is a REAL DJ!! Other than saying our vows music was the most important part, and Awesome Dj's really made the night, my mom didn't get off the dance floor all night!!! We couldn't have gotten more compliments. GO WITH AWESOME DJ'S you will NOT be disappointed!!!!
---
Reviewed on

5/06/2015
Alexandra Z
When I found Awesome Djs at the bridal expo I loved the personality of Randy. When we went to book them for our wedding we were set up with Bill. I was impressed in every way. One of his first questions was, What do you want to do at your wedding? I said i wanted to have fun. Well that is exactly what i did. I had soo much fun at my wedding and Bill took care of everything for me. When we got to the reception, Bill was already there and set up. We went over some extra things and the rest of the night was perfect. The Blackhawks game was on so not alot of people were dancing, but then Bill found some songs to play and they started. We asked if they won if he could instantly switch to Chelsea Dagger. He even had the goal horns and would play those. I would highly highly recommend Bill and everyone else at Awesome Djs! Best Wedding Ever!!!!
---
Reviewed on

5/05/2015
Amanda G
We used the Photo Booth service. I had gone to a friend's wedding and they were great. They also support Veteran's which was a huge plus for us selecting this company. They were easy to work with and initiated coordinating things with our venue. The Photo Booth Attendant, Brittany, was great to manage and coordinate accessories and each photo for our take-home book. I highly recommend them!
---
Awesome DJs made my wedding day!
Reviewed on

4/28/2015
Debbie G
I used Awesome DJs just over a week ago for both my ceremony and reception. They were phenomenal! From the first contact, they set up an in studio appointment where Randy did a full demo of all the sound and lighting options so I could make an educated decision on my package choice. From that point on I knew they'd be great! They have an online system to hand pick songs so my music was exactly what we wanted. In addition, my DJ Randall was amaaazing! He mixed so many great songs into one another and even customized some mixes just for me. My ceremony sound quality was flawless. Randall met me conveniently by my work to go over final details and was very organized! He made my party come to life and I'm so happy with the result. Awesome DJS rocks!!!
---
Awesome DJ, just like their name suggests
Reviewed on

2/06/2015
Karen H
We did a lot of searching for DJ's and the grooms cousin recommended Randy Ridderhoff of Awesome DJs. We found their pricing was competitive, and they were well rated. Randy was great to work with, clearly had a lot of experience, and provided a great service. You could tell he truly enjoyed what he was doing, and that reflected in the quality he provided. He was flexible and listened to our music recommendations. At one point he started playing a genre that we preferred not to hear during the dinner, but we asked for a change of pace and he transitioned well into a style we wanted. He's definitely a master of his craft. He had a huge musical selection, and also did a great job as emcee. I would recommend him to anyone.
---
A most wonderful wedding reception due in great part to our DJ
Reviewed on

11/05/2014
Bill Hefner of Awesomedjs could not have been any more professional, kind, helpful and hospitable. He not only made the night wonderful with his music ( planned, requested, ad-hoc ( he knows what is best at given moment!!! )) but he played a great part in helping the night flow so smoothly regards the special dances, introductions, toasts ( we didn't have to think at all!!! - only have fun ). You want a DJ - hire through this company. Their name spells what they are and I am not being paid for this.
---
Lives up to their name
Reviewed on

9/08/2014
We booked Awesome DJs after seeing them at a friend's party. They are so much fun! Lou did our friends' wedding and Bill did ours. Our guests had a blast and they worked really hard to keep the music fit to our tastes and to keep the night flowing smoothly. They are a great value and definitely deliver!
---
Overall great experience!!
Reviewed on

8/05/2014
jessica j
Randy was absolutely amazing to work with and has an awesome personality! I had my wedding this past Friday 8.1.14. He did our ceremony and reception music and it was perfect. He listened to our needs and also threw in some of his own ideas that worked well with what we wanted. He kept us and the crowd on the dance floor the whole night! The sound system and lights really made it work! He made sure that the bridal party was also pleased with their introduction songs. He had a clear, loud voice when speaking and did not blabble on the mic like some Dj's do. He let us listen to the music and enjoy! I def recommend Randy and awesome Dj's!!! Thank you!!
---
AWESOME, JUST LIKE THEIR NAME
Reviewed on

7/24/2014
Kelly F
Randy was the BEST! He kept the crowd moving, was an incredible guide for us in the music selection! We would and have recommended him to everyone. Thanks so much for an incredible reception.
---
Review
Reviewed on

7/15/2014
Initially spoke with Randy who was awesome (no pun intended). Bill Hefner was our DJ for the evening...we met with him prior to the event to go over the timeline and specs...he was amazing throughout, above and beyond!! It is difficult to find excellent customer service at a reasonable price now-a-days, but if that is what you are looking for than search no more
---
Awesome djs
Reviewed on

7/01/2014
Tom was an awesome dj. He really did a great job helping us w the song choices and all of our guest had a wonderful time! Thank you so much to Tom and his crew for making our special day wonderful!
---
I Love Awesome Dj's
Reviewed on

6/18/2014
For my husband and myself music was one of the most important pieces of our reception. Awesome Dj's were amazing. They certainly went out of their way to make my day truly special. They were organized and helpful and really made things go smoothly on my wedding day.
---
Awesome Service!
Reviewed on

6/02/2014
Anne P
Randy was really awesome. He not only provided great service and great music, he helped coordinate the timeline for the event. He's a high quality professional and he really made our wedding experience fun and stress-free. He can read the crowd and keep it fun.
---
A DJ that kept the dance floor packed ALL night!
Reviewed on

3/08/2014
Annie G
We had Randall from Awesome DJs as our DJ for our wedding, and he did not disappoint! After interviewing quite a few DJs, we were impressed with Awesome Djs because they were the only ones that invited us into their studio to listen to them perform and do their job. We were up out of our seats dancing as soon as we heard their demonstration, and we knew this was the kind of DJ that would pack any dance floor. Randall did just that. He took careful note of our music style, and did an amazing job of reading the crowd and keeping things fun all night long. We had numerous comments from our guests stating that they have never seen a dance floor so packed at any wedding they have ever attended before. He had all generations grooving on the dance floor, and there was never a moment of dead air or a song that made everyone sit down at their tables. It was an entire night of fun, and we couldn't have asked for a better DJ!
---
Everyone Loved It!
Reviewed on

12/19/2013
Meghan P
Our guests LOVED the photo booth. It was very big so that it could accommodate our wheelchair guests as well. Many people could fit in at a time. Bill was great to work with. We really enjoyed the scrapbook and other photos that we received at the end of the night.
---
Send Message