Home

Baratta's Restaurant & Catering
About this Vendor
Baratta's Restaurant & Catering
Let Baratta's professional staff make your special day stress free! We offer a variety of catering options and we are always happy to customize a menu to best suit your needs. We are the exclusive caterer to the Forte Conference Center, the State Historical Building, Ramada Airport Hotel, The Blank Park Zoo and we cater throughout Des Moines. We offer complete event planning as well!
Details
Dairy Free, Gluten Free, Vegan, Vegetarian
Buffet, Catering Delivery + Setup, Passed Appetizers, Seated Meal, Servers, Food + Catering, Service Staff
Contact Info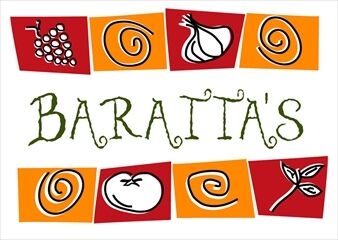 Reviewed on

2/01/2018
Michael B
Thank you very much for your part in making our wedding perfect. All of the food was exceptional and everyone commented on the entire menu. The wait-staff were extremely helpful and everything went off as scheduled. We could not have been more pleased with Barattas from our... Read More first phone call to the end of the evening. We will be giving you our hardiest recommendation to anyone we know needing catering services. Thank you again, Mike & Brent
---
Excellent service!
Reviewed on

10/13/2015
Kathryn D
We met Nick about a month after we got engaged, he was wonderful to work with!! He was prompt to answer any questions we had and was willing to accommodate all the services and things we wanted to have at our wedding, it was absolutely beautiful and they are so great to work... Read More with! I couldn't have asked for better to people to help make our day so special, and the food was excellent! We had so many compliments about the meal!
---
Reviewed on

8/01/2017
Ann H
Loved our food! We had an assortment of pasta and it was so hard to pick because they are all so good. This place also came in as the most affordable for our venue so I would definitely recommend.
---
Reviewed on

7/24/2017
Natalie H
Lora was way more helpful than our venue in planning for the wedding. She went above and beyond what I expected from our caterer. The food was great, we received many compliments from our guests. Even though I technically didn't have a choice for our caterer because the Blank... Read More Park Zoo requires you to have Baratta's, I am very pleased with all of my interactions with them and with the food!
---
Reviewed on

6/27/2017
Allie B
We had our Rehearsal Dinner and Welcome Party at Baratta's and I couldn't recommend them enough. The food was absolutely delicious, which all our guests agreed with (still dream about that chicken!). I also planned my wedding from the East Coast and Lora could not have been more... Read More accommodating or helpful. She worked with me on a menu and was so quick on updating any small change I had and was very quick and polite in responding to my many questions. The staff really went above and beyond to make the whole night absolutely perfect and I'm so glad we kicked off our wedding weekend here!
---
Reviewed on

6/24/2017
Ashley B
Working with Lora was the easiest part of our wedding planning. Before our initial meeting we were concerned Barattas would pressure us into adding on extras we didn't want. That couldn't have been further from the truth. Lora was very understanding of our desire to keep it... Read More small and went way above and beyond just providing catering services. Since we didn't have a wedding planner, she provided tips and feedback based on her experience in the industry, and she was available for any questions we had during the planning process. The food and the staff on our wedding day were top notch. We couldn't have hoped for a better experience with a caterer.
---
Reviewed on

10/07/2016
Kourtnie F
We absolutely loved working with Nick. He made everything so easy on us and our wedding day was so perfect. He made sure to pay attention to every detail and handled problems the day of the wedding without us even knowing anything was wrong.
---
Reviewed on

10/02/2016
Jean G
We had Baratta's cater my daughter's wedding and I could not be happier about the food and service. My daughter wanted Italian food food, and since she lives in Texas had to rely on her sister and me to do the food tasting. We wanted a buffet and were having trouble choosing... Read More the entrees. Lora suggested swapping the carving station for a third dish. We went with the white chicken lasagna as the 3rd dish and it ended up being the favorite! We received many compliments about the food, especially from our out of town guests. You can't beat a southside restaurant for Italian food : ) The presentation of the appetizers for cocktail hour and dinner was very nice and unexpected. The catering part of the wedding planning was stress fee and everything was seamless the night of the wedding. I definitely recommend Baratta's for your catering needs!
---
Reviewed on

9/28/2016
Emily G
We had such an amazing experience with Baratta's. Lori worked with our schedules since we did most of our coordinating states away! The taste testing was wonderful, the food was amazing and the experience was superb! When the wedding came around I didn't have to worry about a... Read More thing. Baratta's came early to set up, confirmed everything for the evening, served the bridal party, and left everyone full...but wanting more! The other thing that meant a lot to me was the fact I briefly mentioned one of my bridesmaids had a severe gluten allergy while doing our tasting. I didn't have to mention anything again, and a gluten free plate was made just for her and she was so appreciative! I highly recommend Baratta's for your wedding, because they listen, leave you worry free, and the food is absolutely amazing!
---
Reviewed on

6/03/2016
Brittany C
We had Baratta's cater our wedding because they were the caterer for the venue, but what a happy surprise! The food for our wedding was amazing! Everyone raved about it. We chose a buffet because it gave guests a lot of choices. The food was refilled when needed, and there was... Read More plenty of food for everyone. We even had leftovers! The menu options were great. I don't eat meat, so we wanted a main course option that was filling and meatless, and there were a number of great options.
---
Best experience, best people, best food
Reviewed on

11/18/2015
Brittany G
We not only used Baratta's for our catering, but we also held our reception at Forte, which they rent out separate from the restaurant. We had visited the restaurant before so we knew the food was amazing and would please every single guest in attendance. But, the best part... Read More was meeting the team that would help us plan the event and be there the night of to make sure it went exactly as planned - and it absolutely did!! Nick, the event manager was there for me all year answering questions and helping us with all our crazy ideas/wants/needs. Then, we met Lisa who was the team lead the night of our wedding. She is a miracle. I cannot thank them enough for all the hard work they put in and their impeccable service throughout the night. The setup was gorgeous, the servers were so polite, and everyone was there to literally cater to your every need. Our guests raved about the food... plus NO STRESS whatsoever. I would hands down recommend them for ANY event, but especially weddings. It really made our evening a dream.
---
Everyone Loved the Food!!!!!
Reviewed on

10/29/2015
We celebrated our 25th Wedding Anniversary at Forte by Baratta's in Downtown Des Moines. Days after the event our guests were still calling to tell us what a beautiful venue it was and that the food was excellent!!! We had a buffet with a nice variety. The food was prepared... Read More perfect and served hot when the guests went through the buffet. Baratta's were able to prepare separate meals for our guests with special dietary needs. The staff was outstanding and before we could even ask for anything they were there to help. They were very helpful in suggesting ideas for the layout of the room. It was a perfect evening and we can't say enough about the great staff, beautiful venue and food...they truly made our celebration one to remember!!!
---
Baratta's
Reviewed on

10/28/2015
Hannah S
I could not tell you how amazing Baratta's did for our wedding! They made everything as easy as possible for us and were very accomodating to our needs for the wedding! I never once had to worry about anything. The food was delicious, the venue in general was great and they... Read More pulled the room together and it all looked amazing! I would highly recommend this venue to ANYONE!
---
Happy I Chose Baratta's!
Reviewed on

10/27/2015
Our venue was the Des Moines Downtown Public Library, and Baratta's is one of the approved caterers. Since I've enjoyed the foods they have prepared at their cafe at the Historical Building, I thought it was a good choice. It was the BEST choice ever! I had notified Baratta's in... Read More March of our intention to use their services in October, so that wasn't a large window of time anyway. However, they DID respond right away and provided me with all of the information I would need. I was very slow and late in getting my vendors in order, so it was actually the end of August before I got back to them. They still treated me very respectfully and graciously, and not in a judgmental way at all. The finance' and I finally got around to scheduling a tasting the end of September, but they gave us several food-choices to try. We wanted appetizers rather than a plated-meal, and there was one item that we decided wouldn't fit into the menu. We were given suggestions of substitutions, AND, Lora paid attention to MY dietary needs and assured me that we could have a wide variety of offerings. She also took the time to answer my questions regarding the contract, so I understood the rights and responsibilities of both sides. They even allowed me to bring in additional desserts, which they graciously served also! The day of the wedding, the staff worked in a very professional and efficient manner to set up the table linens that I had also ordered, and asked me if I liked how they had folded the napkins to better fit the design of the tables. They even allowed me to change one of their decorations to one of mine, to better fit our color-scheme. The set-up up of the serving tables was very inviting and the food smelled divine! I was busy enjoying the company of my guests, so I ate only a little that day, but it was all really good. My guests kept telling me what a wonderful reception we had and how much they loved the food! Their clean-up was also very efficient. I did have left-overs, and Jessie and her staff followed my request to prepare them to go home with us. I wanted someone with expertise to take over the prep and serving of the food for the reception, so I could enjoy the time with my guests. And, for the money I paid, I got a VERY good value!
---
Excellent Catering Company!
Reviewed on

10/13/2015
Teresa M
I've used Baratta's in the past for company functions, so I knew that they'd be just as good for my wedding. Everything from the planning to the day of went smoothly. We received a lot of compliments on the food. Hands down, Baratta's is the best in the Des Moines area!!
---
Delicious and customizable
Reviewed on

10/07/2015
Ellen P
Working with the Baratta's catering team was a great experience. The tasting was delicious- after trying 5 entrees, we settled on the pollo penne and the chicken cacciatore. The staff customized to whole wheat pasta and added whole wheat rolls, too. When we added the potato... Read More croquettes just 10 days before the wedding, the team easily accommodated the request. I would highly recommend Baratta's for an elegant Italian meal.
---