Home

Beautiful Bridal with Keasha Rigsby
About this Vendor
Say Yes To The Dress with Keasha Rigsby
Say Yes To The Dress with Keasha Rigsby, celebrated bridal expert as seen on TLC's Say Yes to the Dress, and star of Keasha's Perfect Dress (TVOne & Amazon). An appointment with Keasha is a MUST HAVE experience for every bride.Your one-on-one appointment with Keasha in the historic Bagley Mansion IS the glamorous and elegant shopping experience you imagined in your dreams. Keasha has hand picked a collection of stunning wedding gowns for all brides, ranging from affordable to exclusive. Get on Keasha's calendar by booking online at www.beautifulbridalwithkeasha.com/appointment-requests-form.php
Details
Wedding Dresses, Dresses, Alterations, Plus Size Available, Private Appointments Available, Fashion Services, Fashion
Reviewed on

6/05/2017
Rachel S
I am SO glad I found this Bridal Salon! Before seeing them, I was not really enjoying the wedding dress shopping experience. I didn't like the style of a lot of the dresses at other stores and I felt pressured because I was running out of time. But Beautiful Bridal's dresses... Read More were so unique. And instead of letting me get lost in a sea of white & ivory, searching for the dress myself, Keasha listened to my likes and dislikes and pulled dresses for me. She also did her best to help me see the full picture, dress, accessories, etc. I never felt rushed, and she was so attentive. I had a great experience shopping for my dress here! The seamstress that tailored my dress was so accommodating, and she did an amazing job! I've never had a dress fit me so well! It was strapless and I didn't pull it up not once!
---
Reviewed on

5/28/2017
Amber A
When I made my appointment with Beautiful Bridal I didn't think I would find my dress. I did this as a pick me up / first try on to get a feel for how I would look in dresses. But wow was I wrong! I described to Keasha was I wanted and showed her few pictures saved on Pinterest... Read More and the FIRST dress she pulled was perfect! I feel in love instantly after putting it on. She pulled other dress which were beautiful as well but none compared to the first and I walked out saying Yes to the dress! I loved her personality, she truly made my moment very enjoyable plus the mansion is beautiful! I would highly recommend any bride to visit Beautiful Bridal with Keasha Rigsby!
---
Reviewed on

3/28/2017
Ashley D
Very happy with my experience at Beautiful Bridal. They treated me, my mom, my mother in law, grandmother, wedding planner, & sister in law like royalty. I found my dress instantly at a trunk show. It was perfect! I enjoyed working with Keasha, Val, and Pansy - alterations.... Read More Highly recommend!
---
Reviewed on

2/27/2017
Amber F
I went to multiple bridal salons and thought I had found, "the dress". A friend of mine suggested I try Keasha because I was still uneasy about my decision. Keasha had a last minute cancellation and I was able to get in to have my one-on-one appointment with her. The FIRST dress... Read More she picked for me was PERECT! She is excellent! I've been recommending her to everyone I can! She is so helpful, professional and fun! She has been so accommodating and sweet throughout this entire process. Try her! You won't regret it!
---
Reviewed on

2/25/2017
Brianne F
Just the thought of wedding dress shopping was a big source of stress for me - I don't even like regular clothes shopping - and I am so glad we (me, my sister, my bridesmaid, her mom and her sister) went to Beautiful Bridal with Keasha first! The mansion itself is beautiful, and... Read More snacks and drinks were provided while we waited for the appointment. Keasha herself is amazing! She knew exactly the right questions to ask to find the most beautiful options to fit my taste, my shape, our budget, and even the venue, and she made sure to ask my opinions of the gown both alone in the fitting room as well as surrounded by the adoring entourage. You can see how much she cares about her brides in her genuine excitement and her pursuit of the perfect dress! Keasha also let us know exactly how a properly sized and tailored gown would look in contrast to the sample sizes - ie "no puckering here," "this would be about 2 inches higher," - and let us know all the options for customizing - removing sleeves, adding straps, etc. She made the whole process so fun and comfortable for everyone, and made me feel stunning in dresses/veils I never thought I'd be able to pull off! I cannot say enough good things about Beautiful Bridal with Keasha in Detroit!
---
Reviewed on

1/22/2017
Amanda E
I scheduled an appointment with Keasha because I wanted that Say Yes to the Dress experience. I didn't think I would actually find and fall in love with a dress. Keasha was so warm and fun - she came in and sizes me up. She looked at my body and brought me things that... Read More highlighted my best assets. And because of this I fell in love with a gown that was totally different than what I thought I wanted! It's perfect and surprising! Thanks Keasha for making the experience stress free, fun, and so very special.
---
Reviewed on

1/07/2017
Taniera R
Keasha is a godsend. She was very warm and welcoming to my family and I from start to finish. She dug deep into what my fiancé and I envisioned for my gown and the FIRST dress I tried on was the winner not only in the visual department, it also fit into my budget perfectly.... Read More Keasha was a pleasure to work with and talk to and I would highly recommend she be the first consultant you make an appointment with. You won't have to set another one!! The Bagley Mansion is absolutely beautiful and the decor, ambiance and personal attention I received from the ladies during my visit made this expeirence amazing. If I could give 10 stars I would.
---
Reviewed on

10/14/2016
Cynthia V
My friend and myself scheduled a dress up session and we had such a wonderful time. Valarie was our assistant and she was so attentive and helpful, she knew what we wanted, and what accessories would look nice with the dresses that we tried on. If I were to ever get married , I... Read More know what dress I want and where to get it from. We met Keisha, and she has a wonderful personality. I greatly recommend this experience to all ladies whether you are getting married or not. I had so much fun and so did my friend
---
Reviewed on

7/08/2016
Cathleen L
Keasha and Valerie are amazing! They have created the perfect atmosphere for brides and their entourage. We immediately felt like we were part of the family. Keasha listened to my ideas of dream dress and with her expert eyes pulled a gown that exceeded my expectations. The... Read More selection of gowns are top notch and her attention to details incredible! I am truly grateful to Keasha and Valerie for making my appointment a wonderful experience !
---
Reviewed on

6/30/2016
Courtney E
I visited Beautiful Bridal yesterday with 8 of my family and friends. Keasha and Val were amazing and extremely accommodating. We immediately felt like family. Keasha is seriously the wedding dress whisperer. I told her what I envisioned myself looking like and she immediately... Read More pulled several beautiful dresses. I seriously couldn't decide until she pulled one that immediately caught my eye. I knew it was the one as soon as she put it on me. We celebrated with a toast and a perfect "is this your perfect dress?" moment. I definitely recommend Beautiful Bridal to anyone getting married. Keasha and Val are sweethearts and will definitely help you find your perfect dress! I can't thank them enough.
---
Reviewed on

6/19/2016
Vani G
Keasha is amazing!!!! Her store is beautiful and selection of dresses gorgeous! Keasha understood exactly what I was looking for and pulled out a variety of all different styles of dresses, all of which looked amazing! Her first selection for a dress for me turned out to be THE... Read More dress. Keasha is patient, kind and down-to-earth which really made me feel comfortable and I was in the best hands possible with selecting a dress. I would highly recommend a visit to Keasha's salon to every bride! I am so proud and excited to be one of Keasha's brides!!!
---
Reviewed on

5/20/2016
Erin M
Keasha and Val at Beautiful Bridal are absolutely amazing! They have created a wonderful space for brides and their families to find the perfect dress. They offered the perfect combination of fashion expertise and supportive advice. Additionally, Keasha was incredibly flexible... Read More in scheduling an appointment, making sure that everyone was able to come. My mom, sister, and I visited the salon looking for an elegant dress for my sister's November wedding. Keasha listened to everything my sister said and immediately went to work. We all fell in LOVE with the second dress she tried on but Keasha wanted to make sure it was the one and patiently sifted through numerous other dresses. When we arrived back at the original dress, Keasha and Val gave my sister the "Say Yes to the Dress moment" complete with hair, jewelry, champagne, and flowers. It was such a fun and special moment! If you are looking for personalized service who truly make every bride feel their best, then Beautiful Bridal is for you!
---
Reviewed on

5/09/2016
Brittany
I traveled from Toledo, OH to visit Keasha. The experience was wonderful! She was courteous and knew the right dresses for me to try on just off of a few words! Her collection is beautiful and they made me feel like the queen I am! I believe I found where I am getting my dress.
---
Reviewed on

4/29/2016
Rachel A
I had a fantastic time with Keasha and Val at my appointment today! They have a great selection of dresses at a lot of different price points. Keasha was able to take my very limited description of what I wanted (I didn't bring any pictures) and pulled dress after dress that I... Read More loved. She also has a great selection of shoes and accessories to match a lot of different styles. The salon itself was beautiful-tons of character and bright light. I also want to note that at no point did I feel uncomfortable or pressured to make a purchase. If you want a personal, professional, one-on-one experience with a true expert, head to Detroit and trust Keasha with your dress!!
---
Reviewed on

4/21/2016
Stephanie S
I was ecstatic when I found out this boutique was opening in Detroit, when I first got engaged. As soon as I got wind that appointments were being taken I called and set my appointment up for March (I called in Jan). After realizing that wedding dresses could take more than 6... Read More months to come in, I called and emailed Ms. Rigsby to reschedule my appointment. I never received another appointment, or even a call or email. In fact the day before my original appointment I never even received a confirmation call. It was upsetting and disappointing, thankfully I found a beautiful Pronovias gown elsewhere. I can't speak to the dresses this boutique has or the service the employees provide, but I can't deal with businesses that have poor communication. Especially being a bride, planning a wedding is enough stress, non-communicative businesses shouldn't be a worry.
---
Reviewed on

4/14/2016
Joumana A
Such a great experience. Keasha really took her time during my appointment and helped me find the perfect dress.
---
Reviewed on

4/13/2016
Amy M
This was a bummer. I SO wanted to give my business to a Detroit company. Keisha was fun and the one on one appointment is fun. The salon itself is gorgeous but the mirrors were horrible and you couldn't really see the entire look- which is a problem when trying on any clothes,... Read More especially a wedding dress. But they "start at" 2,500 for dresses, yet I only saw 1 dress under 3,000. I had pre emailed making sure I was in budget, which they said I was their "target market", but it was clear I was not even close. There wasn't a big selection either. Like I said, Keisha herself was very sweet but unless you're willing to drop, minimum, $7,000- this place isn't for you.
---
Meet The Owner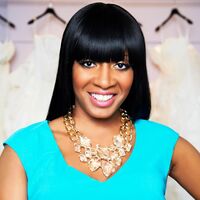 Keasha Rigsby
Keasha Rigsby is one of the most celebrated experts in bridal. She brings to Detroit, a decade of experience from Kleinfeld Manhattan. Her expertise plus her passion and compassion made her a favourite among fans of the hit series Say Yes to the Dress. She went on to create and star in her own television Keasha's Perfect Dress (Hulu). She has now opened Beautiful Bridal with Keasha Rigsby right here in Michigan where she is rolling out the red carpet to her brides, to give them a shopping experience like no other. Beautiful Bridal with Keasha Rigsby - where your moment means everything!