Home

Becker's Bakery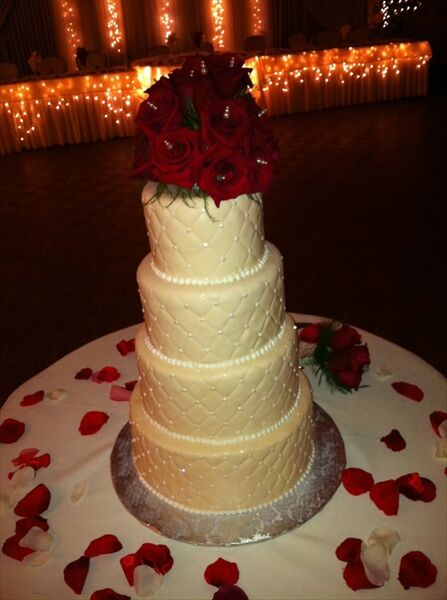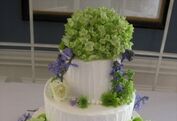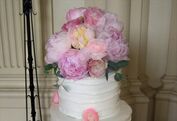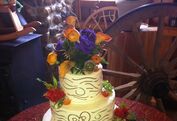 About this Vendor
Fresh, unique & delicious!
Becker's has been a full-service bakery since the 1950s. Over the years, our commitment to baking and decorating has not changed. We are dedicated to excellent personalized service and your satisfaction – call us to schedule your complimentary cake consultation today!
Details
Cake Tastings, Cakes + Desserts
Contact Info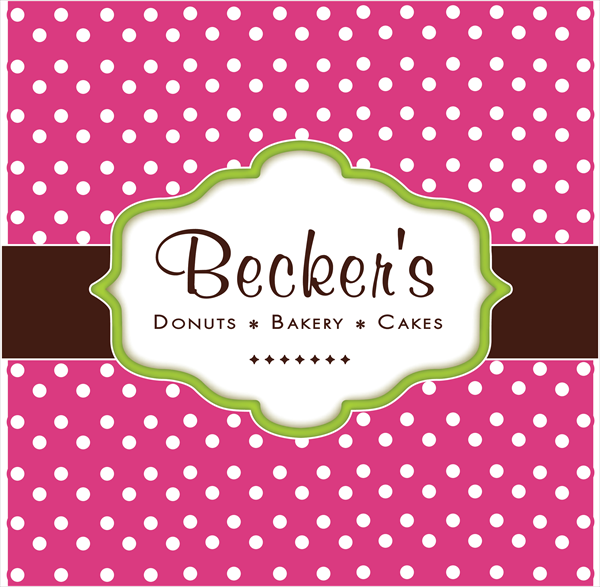 22088 Lorain Road, Fairview Park, OH
The best cake you will ever taste in your life!
Reviewed on

10/26/2011
Rachel E
Wow! Our cake was the most delicious and beautiful cake imaginable. Sue is a dream to work with. The bride and MOB went in with an image of what we wanted and Sue made it happen and more! The best part was, all of the ingredients were fresh and NO FONDANT WAS USED! Therefore,... Read More every part of our cake was delightful. The strawberry cake is not to be missed, trust me! Ditto the fresh raspberry filling. Sue is so willing to make ideas come to life. We put our trust in her to create a beautiful cake and we were more than thrilled with the result!
---
Beautiful
Reviewed on

5/12/2013
Linda S
Not only was our cake beautiful it was delicious too! We had a sweet station from them and they did an amazing job
---
Delicious
Reviewed on

12/18/2012
Jenni U
They have some amazing flavors!
---
Sweet Experience
Reviewed on

8/27/2015
Amanda H
Becker's was by far the best bang for our buck. My husband and I wanted just a small 2 tiered cake that we would cut and then serve to just our bridal party. We served sheet cakes from our reception venue to our guests to cut down on costs as we paid for the wedding... Read More ourselves. Great tip by the way! Sue Becker was a pleasure to work with. She offered up many different designs as well as flavors for us to try. We ended up going with a chocolate cake with coconut cream filling...it was TO DIE FOR! So moist and delicious. I highly recommend Becker's for not only wedding cakes but any sweet treat needs you may have...their donuts are the best!
---
Reviewed on

7/23/2015
Shannon T
A co-worker recommended I use this bakery for my wedding cake, and after dealing with these people for a month I am taking my business elsewhere! I began calling this bakery at the end of June simply to schedule a cake tasting. I was told that the ONLY person who can help with... Read More that is Sue Becker. So I left a message and was told she would call me back by the following week. Well, the weeks went by and still no call back, even after 2 more messages were left. After the 2nd message, an employee gave me Sue's personal cell phone number. I called her, left a message, and STILL NO CALL BACK! MORE THAN A WEEK LATER! Finally, I called the store again and asked what was going on, why no one was getting back to me, and an employee told me " Well, she probably just put you on the back burner because your wedding isn't until next year." I was shocked! I'm sorry Sue, but no one is SO busy that you can't return a phone call for an entire month! So, my recommendation is to stay away from Becker's, and find a place that is actually willing to work with you!
---
So beautiful!
Reviewed on

7/08/2015
Lauren B
Sue did such an amazing job on our wedding cake. I love that I provided her pictures of cakes that I liked, and she used her own creative spin to give us our dream wedding cake! It doesn't hurt that the cake tastes amazing too :) Additionally, she was able to do a last minutes... Read More Lego themed groom's cake that my husband absolutely LOVED. Huge hit all around at our wedding
---
Beautiful!
Reviewed on

10/26/2014
Elizabeth R
Sue Becker did an unbelievable job putting together the cake we had always envisioned! She was so helpful and patient throughout the whole tasting/planning process and we were beyond pleased with the final product. The cake was delicious and the design was breathtaking!
---
Wedding 10/4/14
Reviewed on

10/22/2014
Emily P
We choose Becker's for our wedding cake and rehearsal dinner cake. Their cake is delicious, we were able to try any flavor we wanted before buying. For the wedding, we had vanilla with raspberry filling and strawberry with strawberry creme. The cake was beautiful and I got lots... Read More of compliments on it. No problems with delievery, they took care of all of that. They also did our rehearsal dinner cake, which was delicious as well. Will be using their services again in the future!
---
Delicious
Reviewed on

8/26/2014
Donald H
We loved our cake from Becker's. The design we requested is exactly what was awaiting us at the reception hall. It was delicious!
---
beautiful cake
Reviewed on

11/06/2012
Kathleen H
Sue Becker is wonderful to work with. We went in with very little ideas, but she took it and ran with it. The end result was beautiful, and exactly what we didn't know we wanted :) The flavor selection of cake/filling is amazing, and the cake itself was absolutely delicious.... Read More She was the most reasonably priced decorator we researched, but more than exceeded decorators/bakeries with higher price tags. My friend got married earlier this year, her cake was almost double mine with the same number of guests, and the cake was dry and tasteless. Becker's cake is delicious and we received several compliments on the look and taste.
---
cake topper & cupcakes
Reviewed on

10/23/2012
Angela S
great value for price, tasted great!
---
Becker's is the best!
Reviewed on

7/04/2012
Michelle N
We got our wedding cake from Becker's and it was beautiful and delicious. Sue did a great job at giving us exactly what we wanted. We could not have asked for a better cake for the price. It was perfect.
---
Beautiful Cake
Reviewed on

12/02/2011
Melissa L
Our cake was beautiful and delicious. We chose a basic design from the cakes they have previously done, and we just added some other touches. It was on the dance floor during cocktail hour for everyone to see, but I wish I had more time to look at it! Guests told me they enjoyed... Read More the cake. We kept the top layer to freeze, but I had to try it before putting it in the freezer! It was so good that we almost finished it off!
---
So delicous!! Looked amazing!
Reviewed on

10/24/2011
Molly F
My wedding cake was amazing!! Tasted so delicious and looked amazing! Very happy!!
---
Delicious Value
Reviewed on

10/06/2011
Kate B
When looking at cakes, I knew I wanted to save some money so I did my homework and found Becker's Bakery. Sue makes all the wedding cakes and she is very talented and creative. We ended up having a 4 tier square cake with plum ribbon on each layer with sparkly fondant. It was... Read More the best tasting fondant I ever had, and usually you can't even eat the stuff. The price was also less then half of other places I was looking at.
---
Pretty, Delicious, On-time
Reviewed on

9/14/2011
Ali L
Exactly what my title says...The cake was beautiful. They have many different flavors of cake and various filling options. I don't even like cake, but I like theirs! They were friendly and delivered everything on-time. I also got my grooms cake from them, which was fantastic... Read More - it was a MSU Spartan helmet. Perfect!
---
Delicious and Beautiful!
Reviewed on

6/16/2011
Meghan S
Sue did my cake for my wedding last month (May 2011). From the get-go she was excited and happy to help my husband and I create our dream cake. She had millions of flavors and fillings to chose from, which was a must for my husband, and was eager to experiment with our modern... Read More design idea. The cake was moist and fluffy, the fillings weren't over-bearing and the frosting was perfect. I couldn't have asked for a better cake or a more helpful and friendly baker.
---
Wanted to use Becker's but couldn't get appt.
Reviewed on

3/28/2011
M R
My fiance and I tasted a Beecker's cake a wedding in August of 2010 - it was beautiful and DELICIOUS! The best tasting wedding cake I've had in a very long time. We were VERY disappointed in not having them make our cake. Even though I called 5 months in advance, Sue was hard... Read More to reach by telephone and then cancelled our appointment 3 times. I was so bummed because we LOVED their cakes. Finally after the 3rd cancellation, 2 weeks before our wedding we had to go to a different bakery. Good luck, I hope you can arrange for them to make your cake, you'll love it. I wish it had worked out differently for us.
---
A memorable cake for a multicultural wedding.
Reviewed on

12/06/2010
Manasa M
Sue did an excellent job with the three tier cake for our Indian/Irish wedding. She took a design we had made and incorporated it into the decoration of the cake. She was very receptive to our ideas and easy to work with. The cake was gorgeous and delicious!
---
Frozen Cake! Delayed the Reception :(
Reviewed on

11/02/2010
Mary G
We ordered a 3 tier cassata cake from Becker's (plus a quarter sheet cake) in order to serve 165 guests. Becker's was reasonably priced and the cake looked nice (it was decorated the way we had asked), BUT... As we began to greet our guests after dinner, the club manager... Read More informed us that our cake was frozen and the pastry chef was unable to slice it. The cake had to be moved to a hot plate in order to cut it - the problem delayed dessert service by 45 minutes and delayed the start of our dances - and some of our guests were still served partially frozen cake! (which was confirmed by several of our guests) Prior to our wedding I read a Google review written by a bride that had the same problem with their cake from Becker's - I wish I had realized this was a reoccurring problem! After the wedding we contacted Becker's about the problem and Becker's insisted the cake was not frozen - they seemed very concerned about their reputation, but not enough to even apologize! Becker's is simply not a bakery that I would use for an important day ever again, I would have rather have paid more somewhere else and not had this problem!
---
Cake was small and not specail
Reviewed on

10/21/2010
Erin S
Beckers decribed a beautiful cake to us but when I got to my reception I was really disappointed in our cake. I do have to say it did taste great. THey also lost my cake topper and the hall had to call for them to search for it.
---
hard to get ahold of, but AMAZING cake!
Reviewed on

9/27/2010
Casey T
My cake turned out to be more than I could have ever dreamed it to be. It was totally gorgeous and unique and fit our wedding exactly. My only problem with beckers was trying to meet with the decorator Sue. She finally set up a meeting with me after 3 weeks of phone calls and... Read More then didn't show... when I told her I had to meet with her or I was taking my business elsewhere, we got things rolling. But the end product was not only beautiful, but delicious as well.
---
DELICIOUS!!!!
Reviewed on

9/24/2010
Jennifer J
Sue's cakes not only look amazing, their taste is right there to match. So moist and flavorful; lots of flavor/frosting options; willing to work with price range-smaller tiered cake with a sheet to supplement # of guests in back. I can not tell you how many compliments and... Read More referrals I have already sent her way. Plus our 3 tiered cake was differnt flavors so we had variety for our guests. She usually does a cake tasting in March.
---
Review for Becker's Donuts and Bakery
Reviewed on

8/26/2007
Heather L
Sue Becker has a knack for designing exactly what you want. Our cake was beautifully decorated and tasted great. Her prices are very reasonable as well. We did a 120 person cake, 2 layers Cassata and 1 chocolate. We also got a cassata anniversary cake, which was boxed... Read More separately ahead of time, for under 300.00. We were even able to order a 6in. 'sample' cassata cake, to see the design before we got our actual cake, for only 6.00.
---
Send Message