Home

Bedazzled Bridal and Formal
About this Vendor
Wilderly Bridal by Allure COMING SOON!
Bridal Planning made easy at Bedazzled Bridal & Formal. Bedazzled is your source for all your Wedding Attire needs...Bridal Gowns, Bridesmaids Dresses, Tuxedos, Flower Girl Dresses, Accessories, Invitations, and much more!
Details
Bridesmaid Dresses, Flower Girl Dresses, Mother of the Bride Dresses, Shower + Party Dresses, Wedding Dresses, Dresses, Group Discounts, Plus Size Available, Fashion
Contact Info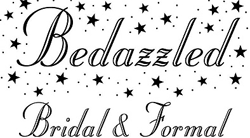 Reviewed on

10/26/2017
Allison D
I went into Bedazzled after many failed attempts at other bridal salons. I told the associates the look I was going for and what I was willing to spend. They were very respectful of my wishes and found me the dress of my dreams! I am so glad I went to bedazzled, I would highly... Read More recommend!
---
Great service!
Reviewed on

11/21/2012
Amelia H
We rented our tux's from this venue and they just catered to everything we needed! The Hickory location was just as good! Everyone we spoke with was pleasant and very oriented to give us the wedding of our dreams! Great Store!
---
Awesome
Reviewed on

5/14/2011
Jessica B
The Manager at this location was always willing to do whatever is necessary to make you happy with the tuxedos you selected.
---
Reviewed on

10/14/2016
Kelly T
I went there to get an idea of the style off gowns that would look good. I am a plus size bride and was told " well I don't know if we have anything big enough to fit that size.". It made me feel horrible. The young lady helping me was rude not only to me but to my two friends... Read More that were there. I would never send anyone to this store.
---
Reviewed on

9/09/2016
Rhonda W
i had a wonderful time picking my dress n bridesmaids dress. All the ladys were really nice an helpful.
---
Reviewed on

6/23/2016
Michelle T
Compared to many of the bridal boutiques in the Charlotte area, I was not super impressed. They had I guess an okay selection of dresses with lines that you can also find at nicer stores but the overall experience of the store was pretty bleak. VERY bleak and depressing mall... Read More location which I guess isn't all their fault but it made me want to get in and get out quickly. The consultant who helped us was nice but smelled really strongly and didn't have a lot of knowledge about the dresses. Maybe she wasn't trained enough or was new? I'm not sure but it just wasn't a place I felt very comfortable in. When you picture cute places for your wedding and bridesmaid dresses, this is just not one of them. I gave 3 stars instead of 2 because they do have some nice dresses, just lacking in atmosphere.
---
Reviewed on

5/01/2015
We purchased our bridesmaids dresses here. They waited 3 weeks to place the order which means the dresses will not be in until 3 weeks before the wedding. When confronted about it, they blamed us and told us that it was our fault. Denise, one of the managers, is extremely rude... Read More and condescending. They raise their prices and they have an extremely limited selection. They have no customer service and will make you wait in their shop for 30 minutes to an hour before helping you. If you want a good experience, good customer service, and decent prices, you need to avoid this awful place.
---
poor service
Reviewed on

2/20/2015
Jessica L
The first time I went into this shop and I was treated poorly, I thought it was just because they were busy. I gave them another chance recently and they weren't as busy and I still was treated poorly. I was ignored and after waiting for an hour with my special needs child in... Read More toe I decided it wasn't worth this mistreatment to use their services and I would not recommend them to anyone I knew.
---
Bridesmaids dress
Reviewed on

7/15/2014
Kerri W
They were good to work with selection wasnt that large tho
---
Beautiful Dress and Wonderful Service
Reviewed on

4/29/2014
Sara R
Before going to look for my wedding dress, I knew exactly what I wanted, so I knew it was going to be tough. After going to some of the larger stores (David's Bridal), I just wasn't impressed with their selections. When I went to Bedazzled, I had no idea what to expect and was... Read More starting to get concerned about not finding "my dress." But the second dress I tried was it! It was exactly what I had been looking for and at an amazing price! The customer service there was great as well. Great experience!
---
Dress and Tux
Reviewed on

3/27/2014
Crysanna P
Loved the way everything turned out. Got my dress quickly and the tuxedos looked fantastic
---
Bridesmaid dresses
Reviewed on

10/17/2013
Amber N
The bridesmaids dresses I ordered were beautiful. My only complaint is that they were later getting back than I expected which was not their fault. The dress maker did not send the dresses when scheduled. The sales ladies were very nice and accommodating, especially Sara.
---
affordable
Reviewed on

10/03/2013
Evelyn Q
I loved my dress that I purchased from bedazzled bridal.It was really affordable and they worked with me on having a payment arrangement. Overal, satisfied!
---
Beautiful Dresses
Reviewed on

9/24/2013
Ashlea C
Beautiful Dresses! Love the selection!!
---
I found my dress at the first store I went
Reviewed on

9/21/2013
megan m
My dress was beautiful! It was a one of a kind bedazzled dress. It took 6 months to order but it was worth it! Everyone was nice and helpful. I bought the dress in gastonia. I got it steamed in hickory because it was closer.
---
Princess Belle
Reviewed on

7/01/2013
Lanie M
The dress was an Alfred Angelo Princess Belle dress. The Bedazzled workers (Ariel especially) were wonderful. They were with us every step of the way and recommended a wonderful seamstress.
---
LOVE my Dress
Reviewed on

4/30/2013
Erica P
I LOVE my dress but saw it at other shops as well. The only reason I got it form Bedazzled was because it was close. The other 2 sotres let me take pictures in the dressing room, which is nice for a bride to remember what she looked like while trying things on. The rooms at... Read More Bedazzles were small and the space to see yourself was too. It was also poorly lit compared to other shops. They should also get ride of the red rose bouquet they let you hold to help you see what you look like better. A huge red bouquet doesn't help unless you plan on having roses. They should get a pastel bouquet as well. They should also train the staff a bit more, while I liked the girl who helped, the 2nd girl when I came back to purchase it said I was a size above what I thought and if I had listened to her I would have had MAJOR alterations. Overall the dress is beautiful but they are generally an more expensive place then stores in Charlotte, NC.
---
So nice!
Reviewed on

4/22/2013
Jessi L
When looking for a dress I went to several different locations...Bedazzled was my last and only hope. They were very nice and worked with me from the time I entered until the time I left. At some stores I went to I didn't even get a glance! I would definitely suggest trying... Read More Bedazzled!
---
Never thought I would find my dress here...
Reviewed on

4/07/2013
Kristen F
At first glance, Bedazzled is a cheesy looking place located in a horrible mall. It's not fancy, it had bad fluorescent lighting, and it's full of gaudy prom dresses. Don't let any of this cosmetic stuff turn you off. I found the perfect wedding dress and it was priced at half... Read More my budget. The staff is awesome too. I had the "say yes to the dress" fancy bridal boutique experience at a different shop after I had visited Bedazzled, but I was determined to return to Bedazzled to get the dress I loved!
---
Terrible
Reviewed on

3/05/2013
Casie B
I had been in two weddings prior to mine that used Bedazzled for their bridesmaids dresses and had no problem. But the dresses were different than the ones I chose. I also got my wedding dress here and it was beautiful and I loved it but had to have a few stones put back on and... Read More it took longer than we were told to do it. My girls paid extra for their dresses to be here earlier and they were 2 weeks later than they were suppose to be and they were not refunded the money. They were all 2 sizes to big, going back to mine dresses were different than my friends but they were measured the same way, so they all fell off of them. Every girl had to have alterations a week before the wedding because the dresses came in late. My husband went to try on tuxes and the sales guy was very blunt and rude. We left without anything. This place is a hit or miss, but I would recommend elsewhere.
---
Very Helpful!
Reviewed on

11/30/2012
Rachel D
I only tried on a few dresses, but it was very easy to find one I would like. They have so many dresses! The staff was very helpful and understood what I was looking for.
---
Not the best experience but not the worst
Reviewed on

11/08/2012
Kristin N
I purchased my wedding dress from here. The ladies were nice, but I had gone off of their website and over half of the dresses I liked were not in store, and they had told me they would be. Also, they will not allow you to take a picture of the dress...even AFTER you have... Read More purchased it, which I thought was absolutely ridiculous. We also ordered bridesmaids dresses from there, and had the same issues.
---
Very Sad
Reviewed on

11/06/2012
Kelley G
They had great intentions but my dress order for my bridesmaids was screwed up four weeks before the wedding. The dresses were stunning, too bad we couldn't use them. I had to find new dresses in four weeks... thank you Target bridesmaid collection for coming through last... Read More minute!
---
Was good for the price!
Reviewed on

10/11/2012
Dana C
Good Customer Service,friendly service we rent the vest and ties.overall was a nice experience.
---
Loved my dress
Reviewed on

9/25/2012
Jenny G
Everything was great and reasonably priced!
---