Home

Bell Tower on 34th
About this Vendor
Dedicated to Excellent Events.
Like something straight out of a movie set, a spectacular 'One of a Kind' Ceremony and Reception venue strategically located in the heart of Houston, breathtaking designs, seasoned wedding professionals, world class cuisine. "Indoors or Outdoors, the perfect setting, a must see!"
Amenities + Details
Amenities
Handicap Accessible

Liability Insurance

Indoor

Outdoor - Not Covered

Reception Area
For more details about amenities, please message the Venue.
Ballroom, Barn, Country Club, Cruise, Museum, Historic Venue, Hotel, Loft, Park, Restaurant, Tented, Vineyard
Bar + Drinks, Food + Catering, Planning, Service Staff
Contact Info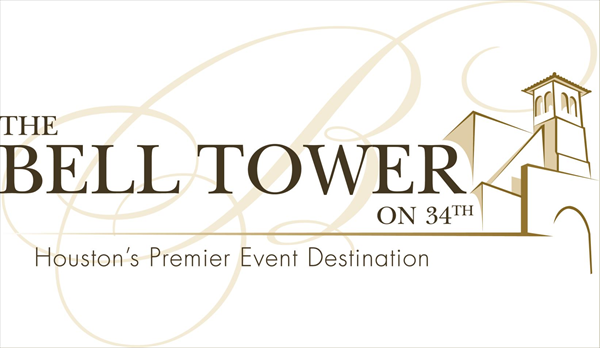 901 West 34th St., Houston, TX
We got our dream venue!!
Reviewed on

11/26/2014
Alissa K
My wife and I celebrated our reception here, and it was immaculate! She had found this place while venue shopping for a friend's wedding, and she fell in love with it and tucked it away for her own wedding. We booked it within days of getting engaged! We reserved the Carillon Ballroom. Campanile Chapel and the Waterwall Courtyard, which are all completely stunning. We used the latter two spaces for our cocktail hour and the Carillon for our dinner. We had Donna as our coordinator, and she did an impeccable job. She was so flexible and always willing to help out with everything, and meet with us whenever we needed anything. Her communication was excellent, and she was great at being on top of the entire timeline of the evening and all our vendors, especially with some of our quirky ideas. We absolutely loved working with Donna. She was so instrumental in making our big day completely perfect! The venue was completely stunning. Our guests were all amazed by its beauty, especially the Waterwall. They lined the whole ballroom with votive candles that made the room even more gorgeous. The food was delicious. The bar allowed us to come up with some signature drinks and give them creative names based on our names and wedding theme. The Bell Tower really was our dream venue and we couldn't have asked for anything to be more perfect.
---
Stellar Engagement party with the help of Vanessa Small
Reviewed on

11/25/2014
Maya K
If you want to have a successful wedding, engagement, or any other significant event: work with Vanessa Small. She will make all that is impossible, possible. Vanessa Small was our Engagement party coordinator at the Bell Tower in Houston, Texas. We are very happy and grateful to her for all her efforts. She made the party a success. She was involved and very helpful in every detail of planning the party, big or small. She was extremely flexible, and whenever a request was made, she approached it with a "can do" attitude. She always gave very professional advice for all the services that were provided: whether it regarded food, music, room arrangements, etc. But most importantly, she was always nice, responsive, available and ready to go above and beyond. Not only were we extremely satisfied, but all of our friends were very happy and impressed. We strongly recommend Vanessa to anybody who wants to have a significant event and needs an excellent coordinator. Thanks Vanessa! With gratitude, Maya, Len and Zina
---
Excellent Venue
Reviewed on

10/27/2014
Karli H
I can't say enough about the Bell Tower on 34th street. First off, our day of wedding planner, Lezlie Mahan, was abosultely BRILLIANT. From using my ideas, adding her own, and just having total knowledge of what it takes to make the perfect Wedding Day come true. The venue is absolutely BREATHTAKING. I received so many compliments the day of from guests, and even now, almost a YEAR later, guests still talk about "how beautiful the wedding was and how FANTASTIC the food was!!" I HIGHLY recommend The Bell Tower, especially if you want to make wedding planning easy...they take care of everything!! It is a Brides DREAM venue.
---
Reviewed on

6/12/2015
Jessica P
I loved everything about my wedding at The Bell Tower. Angie was excellent to work with and was always reassuring us that she had everything under control... which she did! Our wedding was beautiful.. it started right on time and I didn't see anyone scrambling to get anything set up. I couldn't have asked for a better venue for my wedding!
---
A Wedding Fit For A Queen
Reviewed on

11/16/2014
My wedding took place at The Bell Tower on 34th. It was a Fabulous Fairy Tail!!!Thanks to Angie my coordinator. She accommodated all of my needs and any last minute changes that came up. This was the Wedding of my Dreams. My husband was very elated from the start with the building, his grooms room, the ceremony to the reception and not to mention the food was Magnificent! Although I'll only wear my wedding dress once it was worth it! to stand before my family and friends at The Bell Tower to share in my lovely union between me and my husband. I highly recommend The Bell Tower on 34th. in Houston, Texas Erin. I am sell my sleeveless off whit dress with pleats size 10 for $700. If interested contact me at [email protected]
---
Great experience
Reviewed on

11/03/2014
Angela M
The Bell Tower is a beautiful place to have your wedding. We got some great pictures and the location is pretty central. The staff is super nice and attentive, and they go the extra mile to help you. Donna (event coordinator) was great! She would answers all my questions in a timely manner and always had a smile in our meetings. The food was delicious and many of our guests commented on how good the food was. The bridal / groom rooms to get ready are very elegant and great in pictures. All the servers did a great job with making our wedding perfect. I would recommend The Bell Tower for future brides because the venue is beautiful, the food is great, and the staff was wonderful!
---
Great Venue
Reviewed on

10/30/2014
Jamie L
Perfect wedding day! The venue is beautiful. The food and service was wonderful. The staff went above and beyond to ensure the wedding ran smoothly.
---
Our Fairy Tale Wedding at the Bell Tower
Reviewed on

10/29/2014
We are still on cloud nine from our dream wedding at this glamorous venue. I have heard nothing but rave reviews from every single guest. More important, my husband and I are truly happy. When searching for venues, we immediately fell in love with the Bell Tower upon entering the Candela Room and the Chandelier Ballroom. We also very much enjoyed working with our event coordinator, Donna Chun. Everything was timed to the tee and smoothly carried out on the Big Day because of Donna's immaculate organizational skills. My walk down the beautiful dramatic stairs in the Candela Room had everyone in tears. I felt like a princess as I made my way down the aisle, and I still get teary-eyed when I think about it. Donna worked wonderfully with each of our vendors to make our dream wedding a reality. She went out of her way to constantly make me and my then-groom happy, including making sure he had Miller Lite in his room and Moscato and fruit in mine as we prepared for the ceremony. She worked closely with our DJ, baker, florist, photographer, pianist, bridal party, family, and guests to ensure they knew exactly where to be, what to do, how to do it, and when to do it. The cocktail hour was set up in such a lovely manner out on the garden patio. I don't think our guests ever experienced a moment of boredom or hunger or confusion. In addition, the food was simply delicious! We opted for the buffet-style service with the chicken roulade, a beef carving station, tricolor pesto pasta, and grilled vegetables. Even our picky eight- and six-year-olds loved their dishes. The Bell Tower in itself is a gorgeous villa-style location. Our pictures are stunning. However, it was the service from Donna and the staff that truly gave the venue its charm and elegance. As soon as we said "I do," we were greeted with champagne galore. I loved all those little touches. I would highly recommend the Bell Tower to any bride and groom who want a wedding that blows any other out of the water. It was fun, beautiful, and memorable. The Bell Tower is for those brides who want a spectacular, unforgettable, fairy tale wedding. I simply can't thank them enough for giving me a day filled with beauty and fun.
---
Wonderful!
Reviewed on

10/27/2014
Rachel J
The Bell Tower on 34th was absolutely perfect for my wedding! The friendly staff was very accommodating and made everything easy to accomplish. The Bell Tower is so beautiful, and it truly was my fairy tale wedding having it there. It is a little on the expensive side, but it was well worth it for me. It is a gorgeous venue and I can't imagine having had my wedding anywhere else!
---
Amazing!
Reviewed on

10/27/2014
Tarvia B
We had our wedding in the Candela Chapel and reception in the Chandelier room. Everything turned out more beautiful than expected, and our Day of Coordinator, Angie, was just amazing. She made everything went smoothly and stayed on time. The planning process and food tasting was amazing and we were excited throughout the whole process. People still tell us our wedding was the best they had ever been to, and it was months ago! After the reception, my Maid of Honor told me there was a lot of food and cake left over, I wish I had asked for to go boxes so it wouldn't go to waste, since we paid for it, but didn't think about it then. We did get a few to go boxes for my husband and me though, I just didn't realize we had a lot more food and cake left over than what we were given. Overall, it was an amazing experience and our photos look amazing!
---
Perfect Romantic Wedding Venue
Reviewed on

10/26/2014
Julie W
We were married at the Bell Tower on 34th, and we absolutely loved the venue! The venue is beautiful! We were married outside at the water wall, and had the reception inside at the carillion ballroom. Many of our guests commented on what a gorgeous venue it was. Aside from the beauty, the food was also excellent! Several people told us it was the best wedding food they had had! Our wedding coordinator, Donna Chun, was very reliable and helpful! She was always quick to respond to emails or phone calls, and she really helped us as we were planning the layout, and schedule of events. On the day of, Donna was our MVP! She did an incredible job of making sure the day ran smoothly. I would highly recommend this venue to anyone!
---
Best venue in Houston!!
Reviewed on

9/21/2014
Lindsay H
The Bell Tower was the only venue I looked at and knew that was where I wanted to get married. Not only is it a BEAUTIFUL venue but the staff was AMAZING as well! Angie S. was my event coordinator and she went above and beyond to make sure everything was perfect for me! During the wedding I had just entered the reception room and sat down to eat. I looked down and noticed red stains from my flowers splattered all over the top half of my dress! She calmly told me to go though some doors into a back room and she would meet me there. She quickly used some "magic" wipes on my dress and poof it was all completely gone!! In addition to this, she made sure everything flowed extremely smoothly throughout the entire event! The food was really good as well! This place has it down and knows exactly what they are doing! GREAT VENUE AND GREAT EVENT COORDINATOR!!
---
Sunday wedding in May 2014
Reviewed on

7/22/2014
Laura S
My husband and I had a great experience at the Bell Tower on 34th and Angie Stubler. Angie was wonderful helping me get everything set up, answer my questions/concerns, and keep everything moving smoothly the night of. I liked that the Bell Tower made it easy...pick a food package and a drink package and then nearly everything else (including chavari chairs!!) is included. Everyone who came to the wedding was blown away by the venue and the little bit I had to do to make it look amazing. Thanks Angie!!
---
Perfect Perfect Perfect
Reviewed on

7/22/2014
Jennifer E
There isn't enough I can say to express how amazing our day was at the Bell Tower. Our planner Angie was a dream! She took care of everything! She helped plan everything so perfectly, that all we had to do was enjoy our day. The staff was equally amazing. We felt so taken care of. The venue itself is so beautiful and my husband and I were so happy with our choice. Our wedding pictures look amazing with the Bell Tower as the backdrop!
---
Dream come true
Reviewed on

5/22/2014
Veronica T
When I first walked into The Bell Tower on 34th, I knew I had to have my wedding there. It's like no other place in Houston in that it gives you the distinct impression of being in Europe: from it's amazing architecture to the picturesque grounds and gardens to the water wall and soaring cathedral ceilings to the grand staircase ... it's just a magical place to be. And it was. With the help of their amazing coordinator Vanessa Small, we were able to create an absolutely gorgeous wedding.
---
Breathtaking Venue with No Sore Spots on Photos
Reviewed on

5/06/2014
Natalie J
Top notch service and absolutely gorgeous venue! Donna was so nice, professional and responsive! We made the right decision with our venue!
---
our fairytale
Reviewed on

3/14/2014
Heather T
The Bell Tower was simply a wonderful venue for our wedding. Donna Chun was great! She listened to what we wanted and took all the stress out of the big day. We had a couple of bumps along the way, but the Bell Tower clearly embraced the philosophy of providing superior customer service. We were always able to work through any concerns. The Bell Tower has a list of preferred vendors who we used for most everything. They were all familiar with the Bell Tower so coordination was seamless. The Bell Tower also is affiliated with a videographer and DJ so both were included in our contract for the venue. The chef was flexible with our menu selections so we could have a buffet meal that suited us, the elegance of the day and the many children who we knew we'd have as guests as our two families joined together. They even made a couple of off menu dishes for our tasting. We initially didn't think that the Bell Tower would be in our budget, but having a daytime ceremony actually made this option cheaper than some other venues we had visisted. Since the wedding, we have received many, many compliments on the venue, the food, and the overall atmosphere of the wedding. I am SO happy that we chose this location to create our special memories. My husband is my Prince Charming, and this was our fairytale wedding. Thank you, Donna!
---
Beautiful well organized wedding
Reviewed on

2/28/2014
melissa s
Vanessa Small and the staff at The Bell Tower made our wedding perfect! The venue was beautiful, the food wonderful and the coordination and service were top notch. Our family and friends are still talking about how beautiful it was. Thank you Vanessa!
---
Beautiful!
Reviewed on

11/06/2013
Victoria R
This venue is amazing :) No need to decorate!
---
Though Beautiful, I was a Contract, Not a Person
Reviewed on

7/19/2013
Rebeca C
The first time I visited the Bell Tower, I actually forgot I was in Houston until I was on a second floor balcony and looked out over the walls to the rest of the neighborhood. The place is gorgeous! The staff are incredibly professional, and the venue provides quite an array of services. The food was absolutely amazing and the grounds look impeccable. This last part was such a plus for us as we could not afford to have many ceremony flowers. We had our ceremony by the Water Wall which had greenery all around it. I would say the biggest downside to the venue, as incredible as it is, is the fact that it is designed to get as many weddings in and out in a single day. Scheduling with them was a little difficult at times, and my coordinator more often than not was unavailable. During the wedding she was difficult to find, like when we were trying to find my throwaway bouquet. It took about 15min for the staff to find her. After the reception, which ended earlier than as stated in my contract due to problems with the DJ, the staff rushed to clear everything before the next wedding. My mother had difficulty trying to save things for me. I also had these question cards on all the tables for guests to answer about my husband and I (fun things like what should we name our kids, etc). My mom gathered them up, but when she got home with everything, they were no where to be found. We guessed that the cleanup crew threw them away as my mother was off trying to make sure they didn't throw something else away. It's understandable that they need to clean up and get ready for the next bride, but we finished EARLY. There should have been no reason that they rushed so much that some of my items my mom was trying to save were thrown away. This aspect of the venue made it feel impersonal and like my contract with them was not important. That being said, I am still glad I had my wedding there for the qualities stated above. It really was a beautiful wedding thanks to the Bell Tower.
---
Mixed feelings about the Bell Tower on 34th
Reviewed on

7/03/2013
Christina B
The Bell Tower is the most beautiful venue in Houston in my opinion. The architecture is dramatic in a very tasteful way, so you do not need tons of decor to make a statement. The food is very good as long as you filter thru the subpar dishes during your tasting. My main complaint did not come until my actual wedding day...it literally stormed, flooded and hailed on my wedding day. So, our officiant and several other guests were a little late. Instead of giving me an extra 30 minutes at my reception, they rudely informed me that there would not be any extra time. I get that they are running a business but after all of the money that we spent with them, they could have compromised somehow. Instead of responding, "Umm, no way." That might be based on your coordinator...not sure. Also, several of my guests complained about my coordinator speaking to them rudely. Not cool. However, I did appreciate the guys walking my guests into the venue with umbrellas so that they would not get wet. I did not feel very catered to on my actual wedding day as the bride, though. If you want a super personal experience for your wedding, be sure to feel out the coordinators and go with your gut. I sensed that something was not right but I did not vocalize it. That was my fault...lesson learned. Oh, and make sure that your coordinator's attire complements the attire of your wedding. Overall, I had an amazing wedding. I think the crowd and the love between the couple dictates that more than anything else... In response to the comment below, I agree that there must have been a miscommunication because like I said, I had no real complaints until that day. It was a crazy day due to the weather. I did not want to cancel or postpone...I just wanted a little consideration for the storm, which was out of my hands instead of everything being rushed. I also understand that a large crowd can be difficult and I do applaud the staff for making the event appear to be flawless. Just as I wrote my thank you card, I would have appreciated a follow up to see how my wedding went in my eyes. Overall, I truly had a wonderful time and I would recommend your venue. But I just had to learn to be more vocal about any concerns. What I said in my thank you card is 100% true. Thank you guys...
---
Absolutely wonderful!
Reviewed on

7/01/2013
Casey C
Besides the fact that this venue is beyond gorgeous, the help they provide is very helpful. You have to use their food and I was skeptical at first but it tasted very good! They include a day of coordinator and Donna did that very well! There basically was no need for a planner with her because she was on top of things. The place is so gorgeous that it does not need a lot of decoration. I would definitely recommend using this location for your wedding!
---
Takes your breath away
Reviewed on

6/27/2013
Christina B
UPSIDES: 1. When we visited for the first time, we booked our wedding date on the spot. This is the most beautiful venue I have ever seen. Hands down. 2. Also, The food is shockingly DELICIOUS; not just "great, for wedding food," it's truly "great food." 3. The service is impeccable, too. Start to finish-- right down to every member of the serving staff! DOWNSIDES: 1. They book up really fast! 2. They tend to "nickel and dime" you on the little stuff-- so don't lose sight of the little stuff, as you select your menu, services, etc. 3. I knocked off 1 star for quality because, during our reception, there was some issue with the air conditioning. (I am sure this is not a regular occurrence.) Our wedding guests (myself, bride, included!) ended up looking like we'd just left a rave or something, at the end of the night—super sweaty from dancing in that incredibly hot room! But, all in all, I remember our amazingly beautiful wedding (and the extra sweaty part just makes for a goofy/funny side of our story.)
---
Gorgeous venue!
Reviewed on

5/07/2013
Zeina D
Beautiful venue! We fell in love with it early on which made every place after it pale in comparison. Angie was our coordinator, and she was awesome. She took care of every detail, the food was amazing, they worked with our budget, everything went off without a hitch. Only thing was we were not able to get into the venue until two hours before the wedding (because there was another event going on) so we had to find another place to do our first look and so we were pressed for time for photos.
---
Perfect Dream Wedding!
Reviewed on

4/30/2013
Kaci M
Everything about the venue was wonderful except the planner services. It was so beautiful and hardly needed any decorations. However, the e-mails coming from our assigned planner as well as the accounting department were sometimes rude and unprofessional, not to mention insensitive to a bride 3 days before her wedding. If it was't for that, the Bell Tower would have 5 stars from me. Food and beverage packages were also a little overpriced and you arent allowed to bring in anyone else.
---
Send Message