Home

Belle Amour Bridal
About this Vendor
Gowns for ALL brides budgets and size!!
Belle Amour Bridal is an upscale Bridal Boutique in Downtown Toledo. We offer exquisite gowns for all sizes and budgets. We carry sizes 8-32 in bridal gowns and sizes 6-26 in bridesmaids but can order 0-32.
Details
Bridesmaid Dresses, Flower Girl Dresses, Mother of the Bride Dresses, Wedding Dresses, Dresses, Alterations, Fashion






Contact Info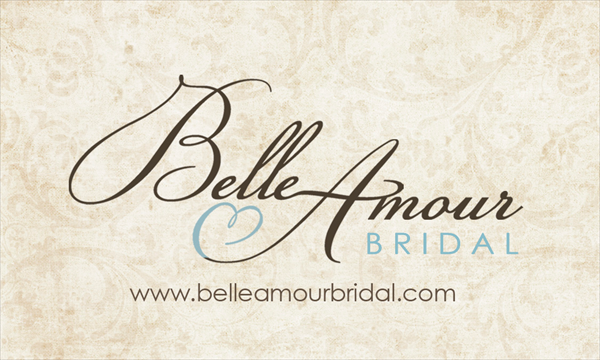 Wedding July 25, 2015
Reviewed on

8/05/2015
Chelsea B
I recently was married on July 25th, 2015 and used Belle Amour. Belle Amour is absolutely terrific! Michelle and her belles are amazing! I bought my wedding dress from them and I was so impressed by their customer service, beautiful store, and dresses, that I decided to buy all... Read More of my other accessories from them later on. We also bought all of our bridesmaids' dresses from here too! It was just so nice walking into this store and they would remember my name. It definitely made my wedding planning experience so easy and memorable. They played a big part in making my special day really special. I would highly recommend them to anyone getting married. They will always be my first choice!
---
Memorable experience, great staff and quality products!
Reviewed on

10/03/2013
Ashley L
This was my second stop in my wedding gown search. I found one at the previous place I had been to, but I wanted to keep my options open and just didn't have that this is the "one" feeling. I am so glad I made that decision - Belle Amour Bridal was great in every aspect! The... Read More store itself was neatly organized. It was comfortable, and I received a more personalized approach to my gown shopping experience. My Belle was Tiffany, and she was great!! She made me feel very comfortable and she worked with me to find something that I was going to love and be happy with. I was extremely pleased with my experience at Belle Amour Bridal, and I would highly recommend it to anyone!
---
Great to work with
Reviewed on

10/03/2013
Kelsey H
I ordered an Allure gown from Belle Amour. When it initially came in, it was too short (I am about 5'10). Michelle was wonderful to work with and she was more than willing to order me a new dress. She remeasured me and ordered a new dress. My flower girl also got her dress... Read More from Belle Amour. They were great to work with and I'd recommend them to anyone.
---
Reviewed on

3/28/2018
Kristi K
I am from out of state and used Belle Amour Bridal to press and steam my gown prior to the wedding. They were so very accommodating and worked with me and my tight schedule via email to schedule these final touches. When I walked in with my gown, they were so friendly and... Read More genuinely excited for me. The store was really beautiful, and the dressing rooms were lovely. On the day before the wedding, they had the gown ready as promised, and displayed for my inspection, and it was PERFECT! They gave me tips on handling my gown between pickup and ceremony and helped me out to my car. I could not be happier. They will definitely be the first place I visit when we shop for my daughters' gowns!
---
Reviewed on

3/04/2018
Courtney M
I had my first bridal appointment yesterday at Belle Amour Bridal and I couldn't have had a better experience. The staff was very welcoming and took their time to ensure we had a great experience. The stylists truly took time to listen to my ideas and feedback. The styles were... Read More so unique and beautiful as well as affordable. I ended up getting my gown off the rack and brought it home that day. I'm so happy I came to Belle Amour Bridal and would highly recommend them to all brides!
---
Reviewed on

1/17/2018
Courtney G
I had the most amazing experience at Bell Amour Bridal! From the moment I had my first appointment, I knew that this is where I wanted to get my dress! Not only were a lot of the dresses in my price range, the atmosphere was so welcoming! I had the opportunity to work with... Read More Laura, who is absolutely fantastic! She knew how to help me find exactly what I wanted and she was so much fun to work with! I went back recently to look at bridesmaid dresses and Laura was there and she remembered not only me, but the style and designer of dress that I had picked! I would recommend this bridal shop to everyone!
---
Reviewed on

1/05/2018
Lisa K
I had a wonderful experience with Belle Amour. They were very attentive during my visits there. And my dress!!!! AH! I got tons of compliments on my Essence of Australia gown. It was beautiful and a great quality. I would 100% recommend Belle Amour Bridal and their great team!
---
Reviewed on

12/21/2017
Kate K
I love Michelle and her staff! They made shopping for my dreamy dress a breeze! I will recommend her to everyone!
---
Reviewed on

11/18/2017
Dakota W
So glad we made the drive from Metro Detroit to this bridal shop recommended to my by a close friend, definitely worth it for the experience. Thank you Belle Amour Bridal!
---
Reviewed on

11/08/2017
Samantha B
I have had the most amazing experience for myself and my bridesmaids at Belle Amour! I can't say enough, how awesome they are! I brought my dream dress home yesterday and I am in love!! Thank you so much!
---
Reviewed on

11/02/2017
Gretchen H
I could not have been happier to have found my perfect dress at Bell Amour Bridal! I shopped a few other places prior to coming here to try on dresses, and it was such a relief to be there. I felt no pressure to purchase a dress or try on anything that was out of my price... Read More range or not my style. The whole experience was excellent from the warm welcome upon arriving to trying on several dresses to finally making the purchase. I had a stylist help me throughout the whole appointment, and she was only working with me so I did not have to compete with other customers (unlike other places that I had appointments). When I finally found the perfect dress, the ordering process was so easy! I bought it the same day that I tried it on for the first time. Since I was from out of state, I got my alterations done elsewhere. However the week before the wedding, I was still able to drop my dress and veil off at the shop to be steamed and prepped for the wedding day! It turned out absolutely gorgeous and flawless. I highly recommend dress shopping at Belle Amour!!
---
Reviewed on

11/02/2017
Amanda D
Belle Amour made my wedding dress shopping such a great experience! The store is lovely and the staff is patient and kind!
---
Reviewed on

11/01/2017
Stephanie F
Belle Amour made it so easy to find a wedding dress for my special day! They have gorgeous gowns for any budget. Everyone is so friendly and remembered who I was when I went to pick up my dress a few months later. It's the little things such as remembering me that makes me want... Read More to recommend it to other people!!
---
Reviewed on

10/21/2017
Makenzy S
Couldn't have asked for a better experience! Looked for my dress about a year out and found it here. It was the first dress I tried on, but I went and looked elsewhere just to make sure it was definitely my dress. When I came back to try the dress on again, I was given tons of... Read More time to make my decision and I never felt pressured at all. When I made my decision, the owner also suggested I they order my veil in the same color as my dress, which was such a personal and meaningful touch. They even followed up to let me know they could definitely order in that color. Looking forward to my dress coming in and going to pick it up!
---
Reviewed on

10/17/2017
Hollie B
Their selection, service, everything was exactly how you would imagine and want your wedding dress shopping day to be. I choose an Allure Bridal dress, and I am still in love with it. The employees make you feel so special, and there are more beautiful dresses than any other... Read More store I visited. Thank you!!! <3
---
Reviewed on

10/15/2017
Raeann D
My experience at Belle Amour Bridal could not have been more perfect! The selection of gowns is wonderful and everything is well organized. The entire staff was extremely friendly and my consultant Laura was amazing! She was very receptive and listened to everything that I said... Read More I wanted and found me the most perfect gown that was everything I had envisioned. I would recommend Belle Amour to every bride looking for the perfect gown!
---
Reviewed on

10/14/2017
Carly D
The staff at Belle Amour Bridal was top notch. I am not much a girly, girl and don't typically enjoy shopping but Laura, my store associate was so fun to work with and she made the process very simple. She helped me find dresses that were exactly what I was looking for and... Read More allowed some of my family members to pick up dresses they liked for me. She was very strategic in the order in which she put me in dresses, pleasing my opinionated and talkative peanut gallery! We had so much fun. What a special day and I said YES TO THE DRESS. We toasted with champagne and lots of smiles. Thanks for making wedding dress shopping less daunting and more fun! Highly recommend this place!
---
Reviewed on

10/13/2017
Katherine J
I loved my appointment at Belle Amour! It was the first time I ever tried on dresses everyone made me feel so good. They helped narrow down what I was looking for and eventually I went back for a second time and found my dream dress!
---
Reviewed on

10/13/2017
Vanessa Z
Very good staff to work with, they listen to what you want.
---
Reviewed on

10/13/2017
Ryanna L
Great experience and great staff! Party made me feel comfortable and helped me find the perfect wedding dress!
---
Reviewed on

10/12/2017
Tori R
I had an amazing experience at Bella Amour and I said yes to the dress too! Everyone was very welcoming and made the entire experience stress free! They have many different styles of dresses and all are very unique. I am beyond excited that I was able to find my dress here! I... Read More would highly recommend Bella Amour to anyone!
---
Reviewed on

10/11/2017
Jennifer K
I went to various bridal shops prior to my experience with Belle Amour Bridal, and honestly nothing compared. The staff made me comfortable and assisted me in making one of the hardest decisions related to the wedding. I would highly recommend them due to their beautiful gowns... Read More and awesome staff.
---
Reviewed on

10/11/2017
Brittany F
Belle Amour Bridal was absolutely AMAZING! right when I walked in I was greeted with warm smiles and helpful girls! I loved ALL of the beautiful dresses such a variety to there store and beautiful inside. I found my wedding dress there and fell in love with it, I got so many... Read More compliments on my dress and so many people have asked where I got it from. For future brides I would definitely check out Belle Amour Bridal you will fall in love with every and fall in love with your wedding dress :)
---
Reviewed on

10/11/2017
Hannah S
It was a quick and wonderful experience. The ladies there very very professional and kind. thanks for everything!
---
Reviewed on

10/04/2017
Mandy W
This was my first and only stop for my wedding dress. Their selection was amazing but the personnel is what makes them the best out there. They definitely go above and beyond. Would highly highly recommend to any and everyone!!
---