Home

Belle Amour Bridal
About this Vendor
Belle Amour Bridal is Toledo's newest full service bridal boutique offering exquisite designer gowns at delightful prices. Belle Amour Bridal is the place to go for the fashion-savvy bride, who demands the finest selection, and exceptional service.
Details
Bridesmaid Dresses, Flower Girl Dresses, Mother of the Bride Dresses, Wedding Dresses, Dresses, Alterations, Fashion
Contact Info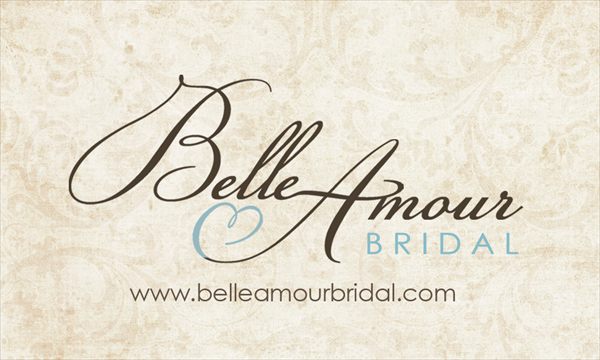 927 N. Summit Street, Toledo, OH
Memorable experience, great staff and quality products!
Reviewed on

10/03/2013
Ashley L
This was my second stop in my wedding gown search. I found one at the previous place I had been to, but I wanted to keep my options open and just didn't have that this is the "one" feeling. I am so glad I made that decision - Belle Amour Bridal was great in every aspect! The store itself was neatly organized. It was comfortable, and I received a more personalized approach to my gown shopping experience. My Belle was Tiffany, and she was great!! She made me feel very comfortable and she worked with me to find something that I was going to love and be happy with. I was extremely pleased with my experience at Belle Amour Bridal, and I would highly recommend it to anyone!
---
Great to work with
Reviewed on

10/03/2013
Kelsey H
I ordered an Allure gown from Belle Amour. When it initially came in, it was too short (I am about 5'10). Michelle was wonderful to work with and she was more than willing to order me a new dress. She remeasured me and ordered a new dress. My flower girl also got her dress from Belle Amour. They were great to work with and I'd recommend them to anyone.
---
What Toledo has needed for years!!
Reviewed on

10/02/2013
Stella L
I looked at 2 other stores in Toledo before heading to Belle Amour Bridal. I should have started and ended right here. The store is a breath of fresh air. It is definitely upscale with out the high pricing or high pressure sales. I am a plus size bride and was not made to feel any different than a size 8 bride. Michelle personally worked with me and helped me find the most beautiful gown and I couldn't be happier. She has a large variety of sizes available which was so nice - I could actually try on gowns. The store is open and roomy, they let you look through the racks as they look also, which was really fun. I felt so comfortable there that we ended up getting our bridesmaids gowns and my mother and mother in law purchased their gowns from Belle Amour also. This store is exactly what Toledo needed to keep girls in town on their bridal search. I have told all of my friends who are getting married and most started and ended their also. Everything turned out perfect and I couldn't be happier! This is the place to beat!
---
Great Service and Selection
Reviewed on

6/24/2015
Sarah B
I thoroughly enjoyed my experience with Belle Amour bridal. I purchased my wedding dress through them and it was reasonably priced and very high quality. I felt that the sales women were not pushy and let my family and I choose dresses for me to try on. They would also suggest items once they had a grasp on the idea that I was going for. I would highly recommend this salon to anyone in the Toledo area as I had numerous people, including the alterations seamstress, compliment me on the high quality of the fabric. I would highly recommend this salon.
---
Reviewed on

6/10/2015
Nicole P
Belle Amour was awesome! I loved my wedding dress and the one on one service. I really felt like they were there to help me find the perfect dress, and their dresses are great quality.
---
Doesn't even compare!
Reviewed on

4/09/2015
Kat E
Belle Amour blows the other Toledo wedding stores out of the water. I started my dress search here, went to two other stores to compare and not only did I not find my dress there, the experiences were awful. Emily at Belle Amour helped my find the perfect dress, ended up being the first dress I tried on that first day. They have been so helpful and inviting and they don't just try to bring you and get your sale and kick you out to let the next customer in. I have HIGHLY RECOMMENDED this bridal store to all my engaged friends. I got my accessories and alterations done here as well, because I wanted them to have my business! Made my wedding planning memorable for sure!
---
Awesome service
Reviewed on

1/08/2015
Breann P
I had great service from the staff at Belle Amour Bridal! I bought my wedding dress here from the discontinued section and fell in love with it the first time I tried it on! Everyone was so helpful with helping me pick out jewelry and a veil as well. My bridesmaids got their dress from here as well and they all loved the place. My cousin loved it so much she actually bought her wedding dress from belle amour as well for her wedding coming up in October 2015. This place is a must go to for looking at wedding dresses in the Toledo, Ohio area.
---
Beautiful Selection of Gowns
Reviewed on

11/18/2014
Sara S
I found my wedding dress at Belle Amour about two years before my big day (because hey, a girl can't wait) and I just got married last month. Finding a dress in particular is such a crazy experience. You may have your eye set on one in particular, but you'll never actually know until you try one on. That was my experience at Belle Amour. They have the most beautiful dresses from many well-known designers, so you're guaranteed a quality dress. My helper, Ashley, was amazing. When the dress I had my eye on didn't work out, she helped me figure out a new tactic and I ended up with the perfect one.
---
Found my gown here!!!
Reviewed on

11/16/2014
Megan M
They did a great job finding dresses that would be good for me and stayed within my budget! Dress #2 was the one! However, my dress sat in a box in the back for weeks and I received my dress over a month later than I was suppose to.
---
Top notch services
Reviewed on

10/31/2014
Michelle is amazing. She knows how to treat her customers with great prices, fashion advice amd accessories. I would recommend Belle Amour to anyone. She made my day spectacular.
---
YES (times 11)
Reviewed on

10/31/2014
Alexis L
Michelle, Tiffany & the other "belles" really helped to make my wedding day dreams come true! I tried on several dresses & they were so patient and encouraging through the whole process, it only took one appointment to find the dress that made me feel like a bride. It was a memorable experience that ended up bringing my family & I back for a dress & accessories for my mom, as well as dresses for all of my bridesmaids/jr. bridesmaids. They also have in-shop alterations offered by Jane's Perfect Fit. It was nice to have everything done in one place. Belle Amour contributed to some of the most vital parts of the wedding and thanks to them I felt more beautiful than I ever have & my mom & bridal party were stunning! I am so thankful & will always highly recommend! I have to add, we were on a time limit...engaged 6 months prior to the date we set we had little time to work with. I didn't actually have my dress appointment until 4 months before the wedding, and the mother of the bride/bridal party dresses well after that (10 dresses outside of my own). There was never a point where any of us felt rushed or panicked, it all came together gracefully as if we had been planning for years. I am grateful that we found a place that was willing to work with us under the circumstances, and even more important, made it feel effortless. There are few things you are not stressed about leading up to your wedding day, this was one of those things for me. Thank you girls for that! Seriously brides, they won't disappoint.
---
Simply Perfect
Reviewed on

10/31/2014
As the mother of the bride I cannot express enough how perfect our experience with Belle Amour Bridal was from start to finish. The owner, Michelle, is a vibrant example of what it takes to run a first-class business with passion, elegance & style. The environment in her salon is perfect, filled with warmth & serenity and her staff is nothing short of amazing. They are forthright and knowledgeable; sincere in helping with decision-making, along with having a sense of humor. It is quite evident that they love what they do; they honestly care about you, not the sale. You do not feel like you are in an assembly line running through rows & rows of dresses, but waited on with respect, patience, & sincerity and introduced to the very latest in fashions and top designers that you will not find in most bridal salons. We purchased the bridal gown, veil, bridesmaid dresses, mother of the bride gown, & shoes and we couldn't have been more pleased. Additionally, alterations could be done right in the store and in the end, you can even have your dress preserved as a part of their service. It was a blessing to have everything done in one place & I highly recommend Belle Amour Bridal!
---
Class, Sophitication and Style!!
Reviewed on

10/30/2014
Michelle W
Belle Amour is in a class of its own! I went the several bridal stores in the area and knew within in minutes of walking in that this is where I was going to find my dream gown. I thought I was going to have to venture out of state to find my style. The store is absolutely beautiful! The staff is amazing and very knowledgeable. They helped me every step of the way. The owner, Michelle is truly one of a kind. She genuinely cares about her customers and made me feel like I was the only one. They really set themselves apart from other stores. They make sure they have gowns that are not the same as every other store. We purchased everything, my gown, bridesmaids, flower girls and my moms dress here. We are still getting compliments on everything. Belle Amour helped make my entire vision come true. I can't say enough about Belle Amour Bridal! I have and will continue to recommend them to all of my friends.
---
Superior Service
Reviewed on

10/30/2014
Laura K
Belle Amour Bridal is the perfect place for brides like me to find their wedding day gown. Very impressed with how they listen to what style of gown I was shopping for, their awareness of my budget, and my body image. Such a comfortable and beautifully set up store which made it extremely easy to shop through. I found my dress in no time! Not to mention the accessories! My dress is currently strapless but they understood I was a girl who wanted straps or sleeves and they paired my dress with a beautiful set of straps. Makes me feel like my dress is one of a kind and I am perfectly pleased with my entire experience. The staff offers helpful information while shopping, gown alteration options and much needed time line knowledge. All around superior service. I will definitely be using Belle Amour Bridal for bridesmaids and all my accessories.
---
Loved it
Reviewed on

10/13/2014
Melissa H
I absolutely love the shop and the associates are very nice. I absolutely loved my dress and got endless compliments on it. I did have an issue with my dress and they took care of it with no issues. When I was trying my dress on the associate I was working with had a cut that opened up and apparently got some blood on my dress. I did not notice it for probably about a month after I purchased the dress but when I called in they had no issues getting it cleaned for me. mistakes happen and I am sure that can happen from time to time. The only thing I wish they would suggested was my undergarments for my dress I had and A-line dress with a sweetheart top. I was unsure what I needed my semesters said I needed a hoop and she was right it made my dress lay so much better then with out. I also did not know if I needed a corset on so I bought one and then decided it did not a difference on how the dress laid. I have talked to other brides and they said that their vendors they bought their dress from talked to them about that information and even tried to sell it to them. That is the only thing I would of loved to have some guidance on. Overall I would recommend Belle Amour Bridal shop they helped me find my dream dress. they also have financing options to which helped out.
---
Love Belle Amour
Reviewed on

10/09/2014
Beth V
We worked with the wonderful Tiffany. I had just gotten engaged and was so incredibly excited to be wedding dress shopping with my parents. I didn't intend to buy a dress but wanted to see what styles I liked. Tiffany was wonderful she let me try on over 15 dresses and just was not loving anything. She picked something so different and nailed it. We fell in love and bought it that day. It was a wonderful experience that my family and I will have forever. And the dress is absolutely stunning.
---
Very Happy Mother of the Bride
Reviewed on

9/22/2014
Diana M
We came up to Toledo and went to 3 bridal salons. After being told at 1 store that they didn't have anything to fit my daughter we went to Belle Amour Bridal. The owner and staff were wonderful. My daughter is a little larger and they didn't make her feel that way at all. She had a large selection to choose from and found her dream gown that day. We were so happy with her experience that we ordered the bridesmaids and my gown there also! Everyone looked amazing on the wedding day and everyone was happy. My daughter and I can't say enough about Belle Amour. It is such a beautiful store. They have the gowns separated by style and even let us look through and pull some that we liked....and the bridesmaid selection is unbelievable. As a mother all I wanted was for my daughter to feel beautiful and have her dream wedding and they made that happen! We will be telling everyone we know to make it their first and only stop!
---
Happy Bride
Reviewed on

9/17/2014
Danielle G
Absolutely loved everything about Belle Amour, the atmosphere and people are so laid back and helpful I would recommend them to anyone!!!
---
Very accommodating!
Reviewed on

7/31/2014
Stacey M
Thank you Belle Amour Bridal for the great experience! After I had a terrible time at another dress shop, I visited Belle Amour. The girls were so pleasant, helpful and very accommodating under my tight deadline and limited budget. I couldn't have asked for a better experience and the dress was perfect! Belle Amour Bridal was awesome!
---
Nice selection
Reviewed on

6/16/2014
Jodi R
I bought my dress here and the staff was nice. There was a bit of a delay in getting my dress in which stressed me out and caused my only bridezilla moment. Michelle helped to expedite the alteration process as it was only a few weeks before my wedding date when the dress finally arrived.
---
Lovely Selection of Dresses
Reviewed on

6/02/2014
Emilee L
I was in there just over the past weekend for my first visit to Belle Amour Bridal. They are conveniently located in downtown Toledo. This was my first visit of trying on dresses, and I must say I was very pleased with what I saw. They have a multitude of dresses from mermaid style, lace, and ball gown. I just loved they were all arranged by style and by size! Belle Amour truly had more bridal dresses than any other store in Toledo. Emily the consultant was truly awesome helping with trying on dresses! If there was something I thought I wanted to try, she would go find it off the rack for me. I kid you not I probably tried on 10-15 dresses that day to get a feel of what I liked and what I didn't like and she was completely fine with it. She would lace each one of them and I would walk out and come back in and hop right into another dress. All of the dresses seem reasonably priced and the experience overall was very nice.
---
Loved working with Belle Amour!
Reviewed on

1/27/2014
Kayla J
Belle Amour Bridal was awesome to work with! I worked mostly with Ashley and she was so patient and kind! By the time I decided to try Belle Amour (at the time I didn't realize it was a new owner/name), I had tried dresses in Ann Arbor, Plymouth, Tiffin, Sandusky - everywhere! As soon as I walked in Belle Amour, I saw the dress almost immediately. Ashely was super fun to work with and I couldn't have had a better experience there!
---
Outstanding Staff, Service, and Products!
Reviewed on

9/30/2013
Erica B
Belle Amour Bridal was the ONLY place I went to when looking for my wedding gown. I knew they carried the specific dress that I wanted, so I set up an appointment with Ashley. When I got there, she had all the dresses I'd asked to see pulled into a room, and then let me walk around to pick a few others. Michelle and all the employees were kind and excited about my day. When I came out in the dress that I knew I was going to pick anyway, they all told me it looked wonderful on me. They gave me a GREAT price and I also ended up buying my bridal jewelry and shoes from them, as well as having Ashley make me a custom veil and headpiece for my wedding. It's all coming together so well, and I am so excited. I would recommend Belle Amour Bridal to anyone, anytime. They truly know how to make the experience special, and they take care of their customers. LOVE THEM!
---
Bridal gown purchase
Reviewed on

9/29/2013
Staff was courteous and helpful. This was my first and last stop for purchase of a wedding dress. Wonderful selection and pricing within my budget!
---
Perfect Dress!
Reviewed on

9/26/2013
Beth W
My experience with Belle Amour Bridal and Michelle was amazing! Michelle was a great help and very patient. When I found "the dress" I wanted my sisters to see it before I purchased. Michelle actually gave me her cell phone number and came into the store early just to accommodate my out of town families schedule. Not only did I get my dress but I also got my bridesmaid dresses there. I found that the bridesmaid dresses at Belle Amour where actually cheaper than some of the competitors in town. Overall I would recommend anyone to this very cute high class shop!
---
Send Message