Home

Bill Millers Castle
About this Vendor
Why Rent A Hall When You Can Have A Castle
Bill Miller's Castle is a unique venue that combines a rustic atmosphere with elegance. This spectacular elegant rustic structure boasts 30 foot ceilings, crystal chandeliers, five massive fireplaces, an enormous dance floor and rare antiques.
Amenities + Details
Amenities
Indoor Ceremony Area

Kosher Available

Liability Insurance

Liquor License

On the Water

Onsite Catering

Onsite Overnight Accommodations

Onsite Parking

Onsite Wedding Consultant

Outdoor Ceremony Area

Outdoor Reception Area

Outside Caterers Allowed

Site Fee

Tented Area

Valet Parking

Wheelchair Accessible
For more details about amenities, please message the Venue.
Banquet/Reception Hall, Mansion/Historic Site, Unusual/Alternative
Contact Info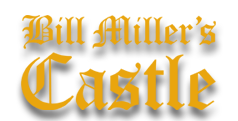 834 East Main St, Branford, CT
Best. Day. Ever
Reviewed on

7/07/2014
Kimberly S
My husband and I recently got married on June 14, 2014 and had our wedding at Bill Miller's Castle. Lisa was FANTASTIC to work with and was so kind and professional. She and her staff made our wedding day something we will cherish for the rest of our lives! The food from La Luna is AMAZING and I got nothing but compliments from friends and family. The venue is so beautiful, inside and out. It was the 1st and only place we looked at in person and we were smitten as soon as we arrived in the parking lot. I would HIGHLY recommend having your event at this venue. They are wonderful people with a great sense of how to run an event and you will not be disappointed!!! Thank you Lisa and staff for a WONDERFUL day!!!! -Kimberly & Eric Davis
---
Magical experience
Reviewed on

5/19/2014
Meghan A
Originally I planned my wedding at a smaller venue to save a little money. But from day one I was just not happy about it and could not get Bill Miller's Castle out of my head. On a whim I went back to Bill Miller's and met with Lisa Miller. She was willing to work with me, my dream and my budget. I spent a little more than I originally planned and do not regret a penny. If I had gone with my first plan I would have not felt nearly as happy as I did on our big day. The staff was so helpful. Lisa took control of the situation and served as my wedding planner for the day of the wedding to make sure everything happened as planned and on time. She took extra time with us leading up to the big day to make sure everything was perfect. She and her daughter, Victoria, were helpful and just a dream to work with. The food was amazing! Everyone at the wedding raved about it and La Luna earned themselves some new customers that day. I would, and have, suggest this amazing venue to anyone and everyone. Not just for a wedding but for any occasion. Everywhere we went on the property was an opportunity for another great photo. It is just gorgeous! We plan to go back on special occasions for their holiday meals as well! Thank you so much to Lisa and Victoria and all of the staff at Bill Miller's Castle!
---
Reviewed on

6/08/2015
Danny H
Lisa and Victoria were absolutely wonderful to work with throughout the wedding-planning process. The wedding day was absolutely effortless for my fiancé and I, thanks to these ladies and their entire hard-working staff. A truly unique, one-of-a-kind venue with true professionals who know how to help you throw an amazing party.
---
Beautiful & unique, definitely not ordinary!
Reviewed on

4/08/2015
Lauren H
The moment my fiancé and I walked into this place, we knew it was the one! It was a far cry from the standard white walled wedding venues that need colored lighting, drapery and decorations to personalize the room. None of our guests had ever been there before or seen a place quite like it. From The high beamed ceilings, to the chandeliers, to the fireplaces, to the tall windows behind the King and Queen's thrones... it really is something out of a Fairytale. Some complaints that I would have are that it did turn out to be pricier than initially thought because they nickel and dime you for lots of little things, like uplighting, venue fee, gratuities, microphones/podiums, renting certain decorations, different tablecloth and napkin colors etc. Also, I had a lot of questions early on and I was told by the coordinator that I had plenty of time later for those questions.. but I just wanted to know how to plan! believe me I was no Bridezilla!
---
Awesome!!!
Reviewed on

11/01/2014
Lauren H
My recent wedding was at Bill Miller's Castle, and I was so happy with this venue! My fiance and I were looking for a unique location for our ceremony and reception and Bill Miller's was perfect. This venue is absolutely beautiful, inside and out, and there is something visually interesting everywhere you look! Besides being beautiful and unique, the staff at Bill Miller's was also a pleasure to work with. Our day of coordinator, Lisa, was helpful, friendly, and responsive throughout the entire process and did everything that she could to ensure that our wedding ran smoothly. Every last person that we worked with there, from the owners, to the waitstaff, to the bartender (sooo friendly... she remembered my drink order every single time I went up there!!) was awesome to work with. We didn't have a florist to set up our centerpieces and decorations for us, and the staff at Bill Miller's volunteered to take on the job and did so exactly how I wanted. They even brought out some of their own decorations that fit my theme and everything looked even better than I imagined. My fiance and I were really so happy with how everything turned out and our guests raved about how beautiful Bill Miller's is (the venue was probably the top compliment we received on our wedding). Good food, gorgeous venue, kind, friendly, helpful, accommodating staff....there really was nothing not to like about Bill Miller's. Highly Recommended and we look forward to returning someday for one of your other events!!
---
Bill Miller's Castle - Amazing Place, Amazing People
Reviewed on

10/31/2014
diana s
We got married at Bill Miller's this past September, and I don't know where to start with my praise. Aside from the food and the insanely unique and charm of the castle, one of the biggest standouts are the people there. Lisa Miller and company made us feel like family from day 1. They made our guests feel like they were family. From the get go we felt like we were in good hands, and as far as the venue was concerned, there would be nothing to worry about on our big day. We knew the second we sat down to talk with Lisa in the "pub" area that this was the place for us, and we would make the same choice 1000 times over if we could.
---
Best Wedding Venue!!!
Reviewed on

10/30/2014
Stephanie J
I had my wedding at Bill Miller's in early October. I can't say enough about the venue or the staff. Most of the staff I worked with were part of the family that owns the venue. They really made it personal and they are the kindest and most genuine people in the wedding business. They went the extra mile to make my wedding a dream come true. The venue is always gorgeous, but it was even more romantic and magical at night. The food was amazing! All of my guests raved about it even weeks after the wedding. If you want a romantic, unique, fairy tale wedding then this is definitely the right place to start your happily ever after!!!!
---
Completely Magical.
Reviewed on

10/28/2014
Nicole T
I had my wedding at Bill Miller's on 9/21/14 and was just so happy with how everything went. The venue is absolutely stunning- unique, beautiful and interesting. Lisa was my day-of coordinator and she was always polite, professional and helpful. She was exceptionally communicative- answered any questions I had quickly and completely. She knows what she's doing, and she guided me through my day expertly- I was completely at ease and able to enjoy every detail. She also managed to orchestrate two huge surprises that took place during our reception without issue (there was a flash mob and then a surprise musical performance- and it all went off without a hitch). The food was amazing- I did a stationed buffet and added a mashed potato bar, which was a huge hit with my guests. Everyone told me I wouldn't get to eat on my wedding day, but Lisa and her team ensured that the wedding party got plenty of apps during the cocktail hour and that my husband and I were able to enjoy our dinners. All of the servers were courteous and professional, and took great care of us. They treated us like family! Another thing I must mention- I opted to rent the new large bridal suite to get ready and take photos in, and I think it really made the day that much better. The room was beautiful and yielded stunning photos, plus my girls and I had plenty of room to get ready in. It was well worth the extra money. I just can't say enough how happy I am with how everything went.
---
Night to remember at very unique location.
Reviewed on

10/27/2014
I can't imagine any other location than Bill Miller's Castle to get married.Every guest was impressed with the decor of the castle.Lisa Miller and Victoria were both very professional and attentive during the ceremony.Food including hors d'oeuvres was exceptionally delicious.Overall,phenomenal place to get married.
---
Loved the castle!!
Reviewed on

10/27/2014
My fiancé (now husband) and I only had to look at one venue, and we knew right away we wanted Bill Milkers Castle! Personally, my favorite part is there's a place for everyone: a fancy lounge area for quiet family members who want to sit and talk in peace, spacious dance floor for the party people, a lovely deck outside for those who want fresh air... We have so many different personalities in both of our families, and everyone had a great time! Lisa made the wedding planning part so easy and fun too, couldn't have done it without her. The food is to die for too by the way! Would totally recommend to anyone!!
---
Fabulous rustic castle
Reviewed on

10/27/2014
Katrina S
My wedding was on 10 1214 at 3 PM in the afternoon we had beautiful weather and a beautiful service and most of all most perfect venue. Bill Millers Castle offers an array of options for where you want your ceremony, cocktail hour and reception. From outside under the tree to inside by the fireplace upstairs or downstairs inside or out! Their is no cookie cutter style and get to make your wedding your own!! Not to mention to have it all in one place is so convenient for your guests! Lisa and Victoria really made sure everything was perfect. From the set up of decorations and place cards to allowing my bridesmaids to drop off the dresses and providing direction for the band set up. All I had to worry about was dropping the decoration stuff off the day before and getting my hair and makeup done. I was relived to not have to delegate jobs to family when they needed time to get ready! Most exciting was when I arrived at ceremony everything was as I hoped for and it was all absolutely perfect! We were never without a drink in hand or wondering what was next. Lisa got a hold of me (as the bride your floating from table to table all night) and let me know what was next. It truly was stress free! My guests are still talking about the venue being so perfect. The price was perfect too match. I felt is was very reasonable for the amount of space you get, food being incredible and a personal wedding coordinator! The dance floor is huge and their are so many nooks for great photos. The entire space is lighted beautifully and you can change the colors behind the bride groom table. The staff is all very friendly and accommodating as well. If your considering this space...go for it! You will not be disappointed at all. Mr. Bill Miller himself has left a incredible legacy to his family. The castle is a collection of antiques and rustic repurposed items from around CT. Lights outside are from the Merritt Parkway while the black iron inside from the good speed opera house and some windows from Yale! I loved this part. There is so much dark wood and grey tone stone it makes a magnificent place! Great for the lace/burlap theme! They decorate each season and honestly you could leave the tables bare and the place is gorgeous! This is the place for a picture perfect tailored wedding and stress free forever remembered important day!!
---
A must!
Reviewed on

10/26/2014
Jennifer F
If you are going to get married....I highly recommend checking out Bill Miller's. It is completely unique, rustic and romantic all at the same time. With every turn there is a different nook or cranny with amazing charm and unbeatable photo ops. They now have a HUGE bridal suite that can be rented to get ready in. So amazing! It is bigger than my apartment. It is gorgeous and made my day so nice and much simpler. There's also a second suite which is a great place for the guys to get ready! Lisa Miller and her daughter Victoria were amazing. Lisa was very responsive to all of my questions and gave me reassurance the whole way. She guided me through the whole process....even helped with decorating ideas- and made sure all my centerpieces/decor were out just the way I wanted. Her daughter Victoria is so sweet....and made us all feel so comfortable. She even helped me to fix my sweaty hair after some crazy dancing! I cannot say enough about how amazing Bill Miller's Castle was! The dance floor was huge, the lighting was perfect....and our wedding was absolutely as beautiful and wonderful as I could have ever hoped for!!!!
---
Wish we could have stayed at our wedding forever!!!
Reviewed on

10/26/2014
Leigh A
Bill Miller's was amazing. Lisa was so accommodating throughout all of our planning and they took such great care of us. We got married 2 months ago and people are still talking about our wedding and one of our guests even booked his company Christmas party at Bill Miller's the night of our wedding. We didn't have to worry about anything Victoria and Lisa took such great care of us. They let us do everything we wanted and didn't have extra fees when we asked to do something. The food was amazing too... My husband and I ate at our own wedding. The staff was amazing. We and our guests enjoyed every second of our wedding!
---
Our Daughters Wedding
Reviewed on

10/24/2014
The Venue is quaint and charming. Lisa Miller and her daughter Victoria were a pleasure to work with during the planning process. The day was just perfect, everything went off without a hitch! All the staff at Bill Miller's castle were very professional and accommodating in every way. What a fantastic time was had by all. Thank you so much!!
---
Best Wedding Ever at the Castle!!!! Stress Free - Great Place!!!!
Reviewed on

10/24/2014
Jacky
Cheri helped me until the wedding date with any questions that I had. She was so helpful and was wonderful! I only checked out one other venue before I fell in love with Bill Miller's Castle and couldn't have been any happier. The castle is amazing! They have great service and great ambiance. I had my wedding ceremony outside on the new patio and even got ready in the Bridal suite beforehand. The reception followed and everything was perfect. There was not one moment that I felt like I was stressed or had to worry. To the staff at Bill Miller's Castle and all the vendors who worked my wedding - THANKS FOR MAKING IT THE BEST DAY OF MY LIFE!!!!!
---
Best wedding venue around
Reviewed on

10/02/2014
Jill M
Cheri & staff at Bill Miller's Castle are the best. The place itself is gorgeous, with lots of little areas for people to congregate both inside and out. The service & food were amazing. They have a kitchen right on the premises, so the food isn't being cooked and transported from a restaurant to the site. All of our guests had a great time and raved about how beautiful the castle is and how great the food was.
---
Amazing!
Reviewed on

7/30/2014
Alicia
I recently held my wedding at Bill Miller's Castle, everything was amazing! Lisa was awesome as well as her daughter Victoria. They were pleasant to work with and met all of my needs. The venue its self is beautiful but the excellent service makes it even better!
---
Love this place!!
Reviewed on

7/16/2014
Lasha C
Lisa is incredible. The venue is so unique and has such great character. The lighting at night is so charming. I HIGHLY recommend Bill Miller's Castle. Lisa truly does want the night to go smoothly for both of you, as she did for us. The food was very good, the default chairs are beautiful. I'm just so satisfied with how our wedding turned out. The whole staff made sure my husband and I were taken care of the entire time. I would not have changed a thing about the venue.
---
Fantastic Venue!
Reviewed on

2/18/2014
Andrea E
Bill Miller's Castle was everything I could have ever wanted for my winter wedding and more! The place is gorgeous, the Miller family is great to work with, and the food was delicious! I really hope one of my friends decides to get married there because I would love to be able to attend another event at the castle!
---
Beautiful venue
Reviewed on

10/24/2013
Cindy D
This was my dream setting for my wedding. My husband and I chose the outdoor ceremony area and being at the start of fall we had the perfect back drop for an amazing fall wedding. The food was delicious and everything went beautifully! The owners are willing to work with you and make your vision become a reality.
---
I was treated like I was inconveniencing them
Reviewed on

10/23/2013
Cynthia C
Due to some unfortunate circumstances with our original location, I had to completely replan my wedding 3 months prior to the ceremony. I contacted Bill Miller's Castle to see if we could have our ceremony there, as the venue is truly beautiful. There was already a wedding booked for the afternoon of our intended date, but we were told, since our ceremony was so small (less than 25 people total) we could do it earlier in the day, for an hour and a half. For this ceremony the fee would be $500, we agreed, and then came in to sign the paperwork. Not only did the $500 turn into nearly $900, with the $150 photo fee, and the 20% Venue fee (which isn't it all for the venue since only the ceremony was there), even though we told them several times, we would be getting ready elsewhere but I would be putting on my gown there (since I lived 40 min away) she was dismayed that I didn't arrive dressed, as they didn't expect me to need the brides room. She rushed me to my ceremony, and snapped rudely at my 4 year old daughter. We also couldn't take all the pictures she originally said we could, because the areas were already blocked off for the other wedding. It was obvious they didn't care about my ceremony, only the money they could get from it. I'm sure this is different for larger weddings, but if they are uncomfortable taking smaller ceremonies, she shouldn't have offered/accepted. And for $850 for an hour and a half of their time, I would expect better treatment.
---
Beautiful space.
Reviewed on

3/12/2013
Kristin W
The team at Bill Miller's was really great. The planning was simple and I was blown away by the girls that attended to us during our reception. They were sweet and beyond helpful. Our vendors were happy with how kindly they were received as well. My only negative is that the coordinator kept coming to me with problems throughout the ceremony. I figured it was one night where petty things shouldn't be brought to me. Overall though, great place.
---
Beautiful facility, mediocre service.
Reviewed on

12/26/2012
alicia b
Pros: facility is beautiful if you're looking for a rustic setting for both inside and outside options. Plenty of photo opts. Cons: food is mediocre and service is even worse. We chose family style dinner, guests said there wasn't enough food for everyone's first serving at the table and the platters weren't refilled. Guests also commented how slow the service was. The owner told us the wrong menu line up so our menu cards were not accurate to how the courses were served. Thankfully, the night of our rehearsal, I noticed how filthy all of the champagne glasses were on the tables set for our wedding and had to demand they be rewashed. How could they set 100+ seats and not notice this? Owners/ managers, while nice, are not particularly focused on the details of your wedding. We paid $95 per person plus tax, an 18% service charge and tip.
---
Beautiful
Reviewed on

11/29/2012
Jennifer B
The venue was absolutely beautiful. The staff were extremely attentive and made the day perfect. Every guest loved the food and the atmosphere!
---
Loved it!!!
Reviewed on

10/16/2012
Kaitlyn R
It is such a beautiful venue!
---
Send Message