Home

Blackbird Floral
About this Vendor
Natural Beauty
We create gorgeous, inspired floral design. Our wedding work is a pairing of your vision and ideas, with our nature inspired aesthetic. The style is well contemplated yet spontaneous. We love wild, lush, textured designs and offer vintage and modern rental containers to complete the look.
Details
Contact Info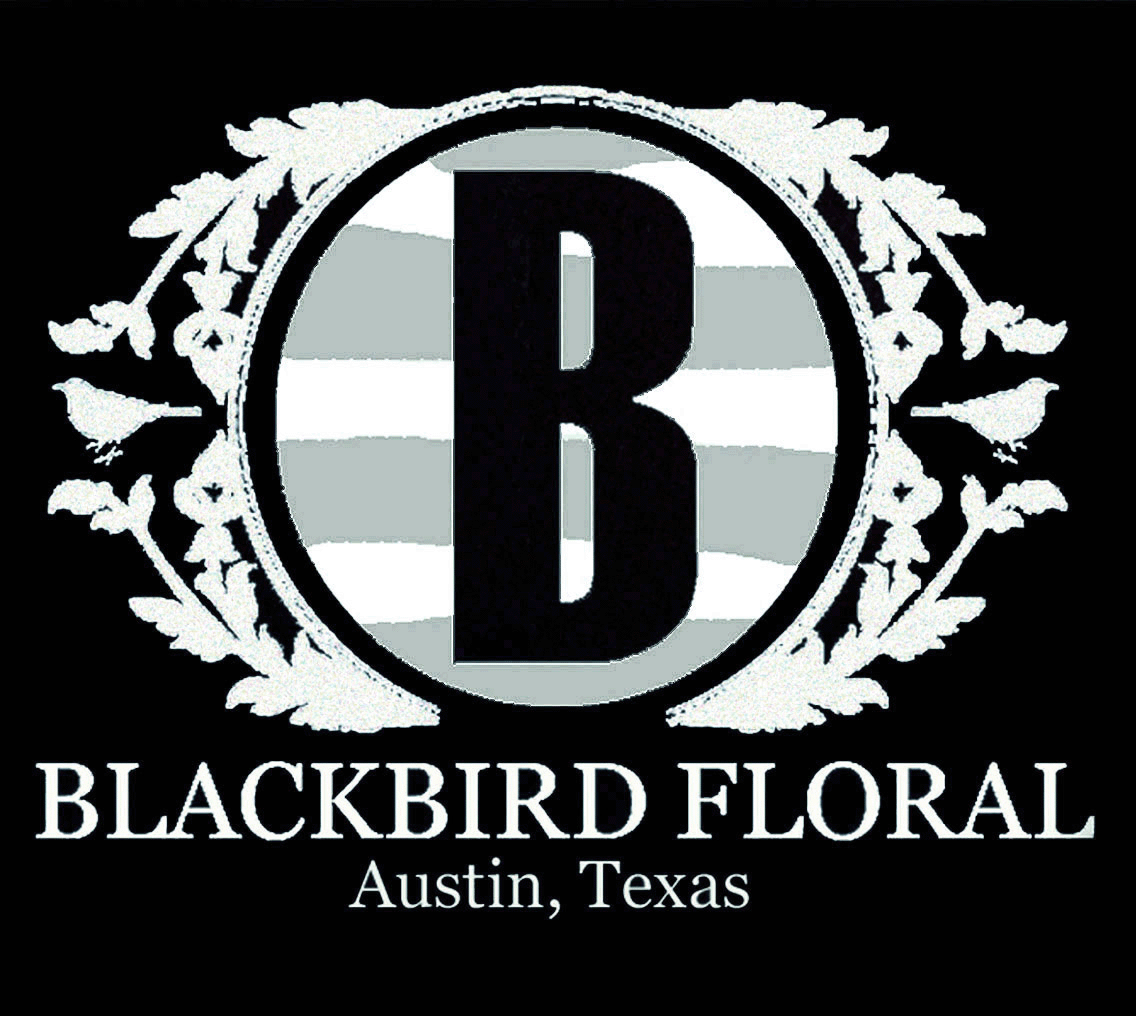 Austin, TX
Serving Austin & Surrounding Area
Brilliant
Reviewed on

10/28/2014
Dorothy O'Shea O
Working with Lea was fantastic: the most fun I had during the planning process, my favorite person to work with. When I refer to her in conversation I can't say 'florist.' I have to say 'floral design artist' (or something like that) because her work is art. I am a dancer, musician and visual artist myself and my standards for originality and creativity are high. She captured the feeling of the event perfectly: lush, sensual, and a little avant-garde. The work was unlike anything I had seen before. Lea is awesome! : )
---
Spectacular!
Reviewed on

7/25/2014
Tiffany
She created the most beautiful blowers I have ever seen. My dream came to life :)
---
Lea is a magician
Reviewed on

7/03/2014
Lillian O
Seriously, she blew our minds! She was so accommodating and sweet and really went out of her way the entire year to let us know what she was thinking and worked side by side to help complete our vision for our big day. Her talent is tremendous. I was so pleased with the outcome! We received so many compliments and she truly understands her art. Her taste and style is impeccable and she does an awesome job making each arrangement really unique. Lea does a great job with budget. If you have a vision but it's a little out of reach budget wise she is really creative with alternatives and finding a solution that you can be really happy about. It was a relief not to have to worry about a thing with her. She definitely went above and beyond. I can't say enough good things!
---
Reviewed on

6/09/2015
J J
I cannot speak more highly of Lea and Blackbird Floral. Blackbird floral did all the flowers for my May wedding at the LBJ wildflower center. From the beginning it was clear that Lea had a true talent and vision, and on the wedding day she exceeded my expectations. Lea went above and beyond for us in all the right ways and made sure to get my concept and vision perfectly for every element of the wedding. Even though she faced many challenges on the day of, with crazy rain and a difficult timeline, she was perfect, and they delivered above and beyond what was promised. She truly is a magician with what she can do with flowers. She was also great with our budget and was always very careful to stay within budget. I was thrilled with my bouquet and flower crown, it was actually the flowers and not the dress that made me feel like a million bucks on my wedding day. I would HIGHLY recommend Blackbird floral- Lea is the absolute best.
---
Reviewed on

5/06/2015
I knew Lea was the perfect florist to hire for our wedding from the first time we met. She is so creative, and immediately understood exactly what I was visioning without much direction at all. I didn't really care what types of flowers we used, or what vases they came in as long as it achieved a certain look, and Lea by far exceeded my expectations (which were already very high). I couldn't stop staring at my bouquet the entire night - everything was beautiful! Lea and her husband spent several hours setting up flowers and other decorations to make sure everything looked just right - talk about dedication! I look forward to using Blackbird for future occasions - she's an absolute joy to work with.
---
Great Service/Great Price
Reviewed on

12/29/2014
Noemi M
Had a great experience! After emailing around for price quotes I was suspicious but excited when Lea ferom Blackbird floral told me she could do everything I wanted for the price everyone else was quoting me for just my bouquet! I met with her to further discuss prices and what I wanted and she was so understanding and seemed to know exactly what I wanted from my terrible description. I came away from the meeting very confident, and she kept excellent contact and moved with the flow while my plans changed several times. I ordered a large bouquet with a mix of succulents and peach roses, 4 smaller versions of that bouquet, two succulent boutineers, and two small altar pieces for under $600(I don't recall exact price). They were already there when I arrived, sitting in the entrance to the church in cute vases, and the altar pieces were already set up in place. I didn't have to stress about anything, just grabbed and went. The bouquet was exactly what I had in mind, and was even better than the inspiration picture, I wish there was a way to add pictures so everyone could enjoy her beautiful craftsmanship!
---
Stunning vintage arrangements
Reviewed on

3/17/2014
Janet H
Working with Lea to put together the floral arrangements for my wedding day at the Driskill was an absolute joy. She was easy to work with, listened to what I wanted and had great suggestions for achieving the look while staying within budget. She was very clear in her proposals and budget, so I felt like we knew what to expect on the big day. And when the big day came - WOW!! We expected greatness, and our expectations were exceeded. It was absolutely perfect, and the altar pieces were unbelievable! So huge and beautiful!! I stole my bouquet back from the girl that caught it cause I didn't want to let it go! Thank you, Blackbird Floral, for making my special day so memorable and lovely!
---
Center pieces for Luncheon
Reviewed on

12/31/2013
Tori J
Lea did a wonderful job bringing to life the vision for an elegant luncheon. The arrangements were natural, full and the guests continually commented on them!
---
Creative, Artistic, AMAZING!!!
Reviewed on

12/20/2013
Jennifer N
My wedding theme was Woodland Animal/Victorian Naturalist. I did not want traditional-looking bouquets or commonly used flowers. I met with Lea, and explained what I was looking for. She really listened to my ideas, which included adding some fake insects to the bouquets and making them resemble, "the forest floor." Instead of balking at my requests or trying to steer me toward more traditional-type flowers, she jumped right in with amazing suggestions and really collaborated with me to come up with bouquets and corsages that fit my vision perfectly. Between that initial meeting and the wedding, she was quick to respond to emails and questions. On the day of the wedding, I was blown away by the bouquets and corsages she had created. Each piece was so detailed and beautiful! My bridesmaids loved the bouquets as well and we got compliments on them all night long. They looked like pieces of art. I am so happy with Lea's work - and to top it all off, she was very affordable!!!! I cannot recommend Lea highly enough. She was professional, friendly, and her work shows she is a true artist.
---
Blackbird Floral is Fabulous!
Reviewed on

11/14/2013
becky and jamie s
Simply put: Lea rocks! My wife and I met with her about four months before our wedding, which we realized wasn't a ton of time. But from our first meeting, Lea had a solid and fantastic vision. She came armed with ideas that immediately impressed us. She worked very well with our budget, and came up with smart, creative ideas for our centerpieces and bouquets. My wife and I are both women and each wanted a special bouquet, and Lea was great about figuring out our individual styles so that we each had something beautiful with which to walk down the aisle. Go with Blackbird Floral and I promise you won't be disappointed!
---
Amazing!!!!
Reviewed on

11/04/2013
Tania w
We searched many floral vendors and for the price range we wanted to stay in they couldn't provide me all that I wanted. Lea was amazing in seeing my vision and when I saw the reception I gasped with joy! It was beyond my expectations. It truly was a garden great Gatsby romantic vision I had hoped for! She is amazing and she is very reasonable in pricing and fair.
---
Such beautiful flowers!
Reviewed on

11/02/2013
Julissa A
blackbird floral was so amazing to work with. on the first meeting Lea was completely prepared and was able to show us different pictures of flowers that we could use. also was a great value for our money. the flowers turned out amazing and i couldn't have asked for anything better!
---
Working with Lea was great!
Reviewed on

10/18/2013
Sara G
I truly appreciate Lea's superior customer service and dedication to me as a client. I do not have a knack for flowers, so a floral expert was critical in planning my wedding. I told her what my overall vision and theme was for the wedding, sent her a few of my inspiring photos, tossed around some ideas with her and she took it from there. She has a very good grasp on how different flowers will work in a variety of arrangement and provided very tasteful and honest suggestions. I felt very comfortable with my wedding decor being in her hands and she turned around very beautiful arrangements true to my initial vision. Lea was very easy to contact, worked with me and made suggestions to stay within my budget, and even turned around a beautiful bouquet in short notice for my bridal portraits. I live in Dallas, so working with out-of-town vendors closer to my venue was a daunting task, but Lea made it easy. I would recommend Blackbird Floral to any bride who wants high quality work and dependable vendors.
---
MUST USE!!!
Reviewed on

10/02/2013
Reema I
Lea was outstanding; she brought to life my absolute dream bouquet, and delivered everything to the chapel! The bridesmaids bouquets were beautiful and simple, the boutonnieres were masculine and earthy, the corsages were elegant and lovely, but most of all my bouquet was gorgeous! I gave Lea full artistic control, and I recommend doing the same. She is VERY knowledgeable about flower size, color, smell, and seasonal availability. She even integrated spiritual pendants into my husband's and best man's boutonnieres. The price was reasonable, and her communication was fantastic. My flowers are one of the best memories of the wedding, and they will continue to be as they even dried beautifully.
---
Blackbird Floral Review
Reviewed on

8/14/2013
Shannon R
Lea from Blackbird Floral was absolutely fantastic throughout the entire wedding process. She was so easy to talk to, and I felt like she really took my vision and ran with it. After the first meeting with Lea, I thought I wouldn't be able to budget in all of the different flower aspects I was wanting. I expressed this to Lea, and she worked with me to find the perfect fit that worked for my budget. Lea did all of my bouquets as well as my centerpieces for the reception, and when I saw all of them the day of the wedding, I was completely blown away. Lea went above and beyond, and the flowers turned out better than I could have ever imagined. I was so happy to have found her, and I would definitely recommend Blackbird Floral to any future brides.
---
Beautiful Flowers and Great Value!
Reviewed on

8/12/2013
Laura A
Lea is wonderful to work with and created absolutely exquisite arrangements for my wedding! I had a very short engagement and a small budget for flowers and she was completely accommodating - during the consultation she showed me pictures and gave me an idea of the type of flowers she would be able to use on my budget without at all compromising beauty/quality. She is totally an expert and was able to create exactly the look I wanted even with my very limited knowledge of flower types, terms, etc. The flowers were natural, gorgeous and unique. I received so many compliments on them not being the 'traditional boring wedding flowers' but truly artistic creations. My aunt who often hosts high society parties emailed me after the wedding just to tell me how beautiful and unique she thought the floral arrangements were! Lea also did the floral arrangements for our rehearsal dinner and my in-laws were very pleased with her designs for that as well. She really gave me much more beautiful arrangements and better service than floral companies that were quoting me thousands of dollars more for their work. I am so happy that I found Lea/Blackbird Floral. The flowers set the perfect mood for our ceremony/reception and she was so easy to work with (even for an out of state bride like me!) I will be recommending her to all of my friends who get married in Austin!
---
Highly Recommended
Reviewed on

4/05/2013
Natasha M
Lea was wonderful to work with and I would recommend her to everyone (and I already have!). I work in advertising myself so customer service and value are of HUGE importance to me. Lea was not only a great affordable option in Austin, she was so easy to work with throughout the whole planning process. I first met with Lea at Mozart's coffee shop and we walked through my colors and wedding "theme". I didn't have my heart set on any specific flowers, I was more concerned about colors matching my mixed (Hindu and Catholic) wedding and staying within budget. She took her time explaining all sorts of flowers and budget friendly options. About 2 months later, I had a bit of a personal emergency and had to cut my budget. Lea was so wonderful about the situation and did not make me feel at all guilty about having to take out some "extras". In fact, she assured me it would all still beautiful. When all was said and done, I was able to add some back in at the last minute but I couldn't have imagined a more beautiful day! Even without me having specific requirements or preferences for flowers, she took exactly what I had in my head and made it a reality. Her flowers were beautiful, she was incredibly professional but so warm and friendly. I plan to use her for any future event I have, wedding or not!
---
Best Florist in Austin
Reviewed on

11/09/2012
Jaraka P
I worked with Lea of Blackbird Floral for my wedding. Living in the Dallas area and planning an Austin area wedding, Lea and I did most of our communication through email. I sent her pictures and ideas of what kind of look/colors I wanted for the bouquets and centerpieces but wasn't very picky as to what type of flowers to use. Lea and I did get to meet in person once before the wedding and she was so nice and helpful. She came very prepared with little booklets of just about every type of flower you can imagine and all were organized by color. It made picking out flowers very easy and I left the meeting feeling very confident that Lea understood what I was envisioning. The day of the wedding came and was blown away when she came in with the bouquets! They were more beautiful than I could have imagined and the centerpieces and arrangements were just as gorgeous! Everyone was complimenting on how beautiful the flowers were and how great of a job she did. Lea is extremely talented and I am beyond thrilled with the way the flowers turned out. I would very highly recommend Blackbird Floral for any event!!
---
Send Message