Home

Blanca Veils
About this Vendor
Affordabe Wedding Veils for the Modern Bride
We believe every bride should be able to afford to look gorgeous on their wedding day! Each wedding veil is custom handmade to order in our small work shop in North Texas. Our quality is top notch but our prices are kept affordable to the everyday bride. Since starting our company, Blanca Veils has been featured in several national publications around the world. We now ship over 2000 handmade veils each month across the world! We relate our success to our amazing, high quality veils and prices but also to our wonderful customer service. We would LOVE to work with you to design your dream veil for your dream wedding day! Contact us info@blancaveils.com or visit our Veil Builder App Here: ----->> https://www.blancaveils.com/design-your-own-custom-veil/
Details
Hair Accessories, Veils, Accessories


Reviewed on

8/30/2016
Merly G
These veils are fairytale ready. Soft tulle and beautiful lace. Order a swatch sample to match your dress color and you will not go wrong. Don't be suckered into bridal shop veil prices. I never thought I would wear a veil, and after seeing Blanca Veils I will. I can't wait... Read More to wear on my wedding day.
---
Reviewed on

10/25/2016
Janelle H
I just received my veil last week and my jaw hit the floor when I opened the package. I couldn't believe how perfect it was. The process was easy and very down to earth from the start. I literally started messaging their Facebook page asking questions and brainstorming ideas.... Read More The replays came pretty quick and always answered my questions fully and completely. Even sent pics to give me ideas! The veil was only $130 when it was all said and done and this veil would have easily cost me $800+ in a bridal salon. I can't say enough good things. Get your veil here. I am not a friend, or paid to leave this. I am just a bride on a budget who took a gamble on Blanca veils and it paid off BIG TIME. This was by far the best experience for me of my "bridal journey" wish I could say the same for gown shopping! LOL thank you so much Samantha! I will tell EVERYONE about you guys!!
---
Reviewed on

8/30/2016
Sharon S
Samantha does such wonderful work and was a pleasure to deal with. I didn't know anything about veils and had no idea what I was doing, and she patiently answered my questions and walked me through everything from start to finish. Her prices are incredibly reasonable too. At my... Read More fitting, one of the bridal boutique ladies complimented my veil and asked where I got it and how much I paid. She was stunned when I told her, saying they sell similar veils for $300 (which seems completely insane). I do recommend ordering the swatch/lace samples first so you can compare them against your dress and ensure you end up ordering the correct color and lace type...certainly helped me narrow down the options and get it right the first time! Thanks so much for everything, Samantha!
---
Reviewed on

4/25/2018
Cassie R
ABSOLUTELY gorgeous veil! I've gotten so many compliments so far when I did my bridal portraits! It turned out even better than I ever imagined! I can't wait to wear it on my wedding day in a few weeks!
---
Reviewed on

4/12/2018
Jordan W
Helpful swatch package. Quick responses. The veil is gorgeous! I cannot wait to wear it. Highly recommend.
---
Reviewed on

4/11/2018
Anna D
Beautiful and exactly as I imagined. I can't wait to wear it on my wedding day!
---
Reviewed on

4/10/2018
Eve M
Stunning veil!!! Samantha was super quick to respond and the veil is absolutely perfect. Definitely recommend!
---
Reviewed on

4/10/2018
Sommer K
My veil arrived quickly, and is all parts delicate and beautiful. I can not wait to wear it, and will review again with photos after the wedding. The quality is amazing, and so affordable for all kinds of brides. High quality for a fraction of the price of a boutique. Look no... Read More further for a veil!
---
Reviewed on

4/10/2018
Madalyn M
was nervous about ordering my veil online, but after ordering the swatches and watching all the videos Blanca Veils has about choosing different colors and styles, I felt really confident it would be beautiful. I contacted the owner and she helped me every step of the way in... Read More choosing length and design. Seriously, she was awesome. And truly, the veil was gorgeous! It was high quality, soft, perfect for my wedding day.
---
Reviewed on

4/10/2018
Sam C
My veil made by Samantha is absolutely stunning! I love that I was able to customize it to my own personal style by picking the length and the lace type. It is a perfect match to my dress! Samantha was an absolute pleasure to work with and offered great advice as well as timely... Read More and efficient service. 1000% recommend this shop!!!
---
Reviewed on

4/10/2018
Vera S
My veil is absolutely beautiful, super high quality, matches my dress perfectly and arrived much sooner than I expected. I'm so excited to wear it in just a few weeks!
---
Reviewed on

4/08/2018
Tiara T
Beautiful veil! Made exactly how I pictured it!
---
Reviewed on

3/27/2018
Danielle S
I ordered the swatch set and it turned out to be a life saver as the color I thought would match my dress was not the best choice. Once I got the 'Bow Veil' delivered (very promptly I might add!), it was a perfect match and I'm so happy with my choice! Blanca Veils was great to... Read More work with and their communication was top-notch! I cannot wait until my big day so I can wear my beautiful veil from Blanca Veils!!
---
Reviewed on

3/15/2018
Rebecca S
My veil came in exactly as ordered and is absolutely beautiful! I ordered the sample pack first, so it was a perfect match! Thank you so much.
---
Reviewed on

3/06/2018
Amy A
I knew from the beginning that I wanted a memorable veil and I found exactly that with Blanca Veils! My veil was beautiful and perfect and their customer service is great too! I recommend them to anyone I know that is getting married!
---
Reviewed on

3/03/2018
Brenda W
Beautiful veil!!!
---
Reviewed on

2/28/2018
Nicole D
Absolutely stunning! Item came extremely fast which is amazing because I'm ALWAYS last minute! Shop owner was extremely helpful and took my timeframe into consideration! Can't wait to post a picture!
---
Reviewed on

2/28/2018
Tamara T
Beautifully made. The seller was very helpful in helping me decide which length to get. When it came in, I was very happy with the work and she sent instructions on the care of the veil. Very reasonable in price in comparison to bridal stores. Can't wait to wear it on my special... Read More day!!
---
Reviewed on

2/28/2018
Evie W
My veil is gorgeous! It is exactly what I wanted. The length, color, and lace are all exactly as shown, and the quality is great. I can't wait to wear it on my wedding day! I also ordered a sash. Honestly, I wasn't sure if I wanted to wear one and did not want to spend hundreds... Read More of dollars on something I might not wear. When I saw that BlancaVeils offered sashes for a reasonable price, I ordered one to try. I'm so glad I did because it really completes my dress. I'm very happy with it! Samantha was very responsive and easy to work with. My custom veil and sash arrived on time. They were neatly packed and included instructions for care. I am so happy I ordered from BlancaVeils!
---
Reviewed on

2/28/2018
Bernice N
I love, love my Cathedral wedding veil and I can't wait to wear it. Samantha was so sweet and working with her was great! I highly recommend Blanca Veils! :)
---
Reviewed on

2/28/2018
Denise S
Gorgeous veil (more beautiful than the ones I originally tried on at my local bridal boutique). Highly recommend! A+ customer service! I'm extremely happy with my purchase. Can't wait to wear it! :)
---
Reviewed on

2/18/2018
Kaci H
She was so accommodating with sending me an additional veil! I paid for two just so I could be sure on the color, I was so relieved!
---
Reviewed on

2/11/2018
Brianna B
I am so glad I found BlancaVeils! My veil is absolutely GORGEOUS and it goes perfectly with my dress. I ordered sample swatches and took them to my dress fitting before I ordered my veil and I definitely recommend it! I also must give extra extra kudos to Samantha because not 10... Read More minutes after opening the package with my veil, I got it caught on a hanger and ripped a 2-inch hole right in the middle of the veil! I was so embarrassed but I emailed Samantha. She got back to me immediately and worked with me to make another veil to replace it. She had it made and shipped it within a week! I am forever grateful and I looked STUNNING at my wedding thanks to Samantha!
---
Reviewed on

1/08/2018
Shauna M
I could not recommend Blanca Veils more. I did a custom single tier cathedral veil with raw edges and it is absolutely perfect!! I had looked at so many veils for $200-500 and did not want to spend that much. Finding Blanca Veils was exactly what I was looking for. I highly... Read More recommend getting the veil swatches so you can perfectly match your dress. It is way more beautiful than I had expected and beats spending $$ at BHLDN or a pricey bridal salon. Samantha is so sweet and personal too!
---
Reviewed on

1/06/2018
Margaret S
I received my veil (cathedral length with lace all around) from Blanca veils and I love it. I ordered the swatch kit and it matches really well and compliments the lace on sleeves. The veil is long and soft and I can't wait to wear it in March. It was also the most reasonable... Read More priced veil I found online and in person
---
Meet The Owner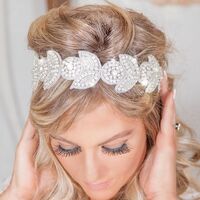 Samantha Stark
Hello Brides! My name is Samantha and I am the owner and designer at BlancaVeils. I started my company a few years ago when i was getting married and wanted my dream veil that I just couldn't afford. That is when I discovered the need for affordable wedding veils that were still very high quality. Each wedding veil is hand crafted in our small Texas town using the best materials and the highest attention to detail. Choose from our lovely collection or design your own using our website's interactive "Veil Builder" at (http://www.blancaveils.com/design-your-own-custom-veil ).