Home

Blanca Veils
About this Vendor
We believe every bride deserves her dream veil...
We believe every bride should be able to afford to look gorgeous on their wedding day! Each wedding veil is custom handmade to order in our small work shop in North Texas. Our quality is top notch but our prices are kept affordable to the everyday bride. Since starting our company, Blanca Veils has been featured in several national publications around the world. We now ship 2000 veils each month to almost every continent! We relate our success to our amazing, high quality veils and prices but also to our wonderful customer service! We would LOVE to work with you to design your dream veil for your dream wedding day! See our new blog at www.unveilingblancaveils.com
Details
Hair Accessories, Veils, Accessories
Reviewed on

8/30/2016
Merly G
These veils are fairytale ready. Soft tulle and beautiful lace. Order a swatch sample to match your dress color and you will not go wrong. Don't be suckered into bridal shop veil prices. I never thought I would wear a veil, and after seeing Blanca Veils I will. I can't wait... Read More to wear on my wedding day.
---
Reviewed on

10/25/2016
Janelle H
I just received my veil last week and my jaw hit the floor when I opened the package. I couldn't believe how perfect it was. The process was easy and very down to earth from the start. I literally started messaging their Facebook page asking questions and brainstorming ideas.... Read More The replays came pretty quick and always answered my questions fully and completely. Even sent pics to give me ideas! The veil was only $130 when it was all said and done and this veil would have easily cost me $800+ in a bridal salon. I can't say enough good things. Get your veil here. I am not a friend, or paid to leave this. I am just a bride on a budget who took a gamble on Blanca veils and it paid off BIG TIME. This was by far the best experience for me of my "bridal journey" wish I could say the same for gown shopping! LOL thank you so much Samantha! I will tell EVERYONE about you guys!!
---
Reviewed on

8/30/2016
Sharon S
Samantha does such wonderful work and was a pleasure to deal with. I didn't know anything about veils and had no idea what I was doing, and she patiently answered my questions and walked me through everything from start to finish. Her prices are incredibly reasonable too. At my... Read More fitting, one of the bridal boutique ladies complimented my veil and asked where I got it and how much I paid. She was stunned when I told her, saying they sell similar veils for $300 (which seems completely insane). I do recommend ordering the swatch/lace samples first so you can compare them against your dress and ensure you end up ordering the correct color and lace type...certainly helped me narrow down the options and get it right the first time! Thanks so much for everything, Samantha!
---
Reviewed on

8/15/2017
Jessica N
ordered from blanca veils after I ordered a veil from somewhere else and was in a rush bc the veil I had ordered was white and not ivory. this veil was stunning and a show stopper at my wedding. I got it super fast and just in time for my fittings! thank you so much!
---
Reviewed on

8/13/2017
Lindsey B
After a bridal salon near me sent me the wrong veil and then said the one I ordered had been discontinued, I was panicking and searching for a place to buy my dream veil at an affordable price. Out of desperation, I decided to ditch buying one from a store and took a chance on... Read More Blanca Veils. I didn't know what I would get from an online source, but let me tell you, this veil was better than any of the options I had found in stories and was a fifth of the price! I don't know why this isn't more well-known in my area! The veil was perfect and even made for some awesome photographs since it turned out to be a windy day!
---
Reviewed on

8/08/2017
Crystal M
I absolutely LOVE my veil. It came quickly and is very well made. It even came with a cute garter!
---
Reviewed on

8/02/2017
Jeanette S
I was in a budget and I came across Blanca veils. I put in my order and I let her know I was in a rush to have my veil by a certain date. I had my veil in a week. I LOVED it the price was right and so was the veil. I will definitely recommend Blanca Veils to any bride.
---
Reviewed on

8/02/2017
Kylie Z
She did an absolutely wonderful job! Any questions I had she was quick to answer. I can't wait to wear my matching lace veil with my dress. Much better than anything I could buy in a bridal salon.
---
Reviewed on

8/02/2017
Soha H
BEAUTIFUL veil!! I couldn't believe how such an amazing veil could be so cheap (compared to how expensive veils are in stores). It looked gorgeous with my wedding dress. Customer service was 100%!! Samantha is very sweet & helpful!! Very pleased with my purchase :)
---
Reviewed on

8/02/2017
Caitlin C
Very well packaged, worth the box. Beautiful veil as well. Excited for the day!
---
Reviewed on

8/01/2017
Mallory R
I ordered my veil when I bought my dress, just a simple one layer tulle, cathedral length veil. After seeing some pictures, I wanted to dress my veil up a little more and add some lace. When I went to my alterations they wanted almost as much as my dress to buy the lace and... Read More attach it to the veil. My mom took to etsy to try to find a more affordable option, and she found Samantha. I am so incredibly happy she did. Samantha is so easy to work with and has pictures and videos of her lace, which helped in the decision making process. She uses beautiful, high quality lace, and she will send you samples so you can easily match it to your dress. After she received my veil she was able to complete in a very timely manner especially considering it is cathedral length. She was very communicative and let us know when she received the veil. I received my veil last week and it is ABSOLUTELY GOREGOUS! I cannot tell you how happy I am with the veil. Samantha made it so I could have my dream veil. With the prices from the bridal shop I thought I was going to have to settle with my simple veil, but she made it possible to get everything I wanted. I would recommend her to anyone!
---
Reviewed on

7/31/2017
Taylor C
Loved my veil!! I had a chapel length with swavorski crystal trim and it was absolutely beautiful. At bridal stores something like this was around $500 before tax. The quality, price and fact that it's uniquely your own is SO worth it! Seller is also great with communication!
---
Reviewed on

7/31/2017
Barbara B
I couldn't be happier with my veil! Amazing quality for a fair price. Samantha is super sweet and was a pleasure to do business with her. Would definitely recommend!
---
Reviewed on

7/31/2017
Tracy V
Beautiful veil, CANNOT WAIT to wear on my BIG FAY! Wonderful to work with Seller!
---
Reviewed on

7/29/2017
Shalyn L
I am soooo in love with my veil! The shop answered every question and concern I had before purchasing my veil efficiently and quickly! My veil was made super quick while still taking time to pay attention to every detail, and shipped fast after it was finished! It is going to be... Read More the best finishing touch for my wedding dress! Thank you Blanca veils for keeping your prices reasonable and affordable and making me fall in love with your veils MORE than the 1000 dollar veil I loved before seeing yours!!
---
Reviewed on

7/28/2017
Brianna F
My veil is gorgeous! I asked for my veil to be here by the end of August & it's already here mid July😊 The owner of the shop was awesome & helped me figure out what length I needed because the cathedral veils I was trying on in the bridal shops weren't long enough. This veil is... Read More even prettier & matches my dress better than most that I was trying on & was only $125 compared to the $600-$700 I would've spent in the bridal store! I was nervous ordering it online but it turned out perfect & I would definitely recommend this shop to everyone when looking for a wedding veil!
---
Reviewed on

7/27/2017
Deirdre R
This is exactly what I was looking for without spending mega $$$$ to get a veil similar to what I had tried on with my wedding gown in a boutique. I suggest getting the veil sample kit with all the tulle colors and a few lace options of your choosing. This really helped me to... Read More match my dress perfectly! Turn around time was fast I was a little worried as it states that during her busy time it can take weeks to get. I ordered in plenty of time before my wedding and I am beyond pleased with how BEAUTIFUL my veil is!!! I can not wait to wear it on my wedding day. Thank you BlancaVeils for such a beautiful veil without the ginormous price point. Sincerely, A very happy future MRS!
---
Reviewed on

7/27/2017
Tiffany M
These veils are such good quality. The owner responded to my message very quickly. I would definitely recommend these veils
---
Reviewed on

7/22/2017
Brooklyn V
My veil arrived sooner than I expected. It is perfect! I. Any wait to wear it on my big day!
---
Reviewed on

7/21/2017
LaShauna S
My veil is BEAUTIFUL!!!! And it came earlier than expected!! The swatch process was so helpful in choosing my perfect veil.
---
Reviewed on

7/20/2017
Jenan M
THE most amazing shop on Etsy AND The Knot. She made me the most beautiful Dream veil! I showed her a photo of exactly what I wanted and it came out even better! I wish I could post my wedding photos but I only have so much time to review !!
---
Reviewed on

7/20/2017
Mary O
My daughter received her veil yesterday. It is gorgeous, exactly what she wanted, matches her dress perfectly (glad we bought samples first) and texted me that she "loveslovesloves it".... AND it arrived unbelievably fast.
---
Reviewed on

7/20/2017
Mary O
My daughter received her veil yesterday. It is gorgeous, exactly what she wanted, matches her dress perfectly (glad we bought samples first) and texted me that she "loveslovesloves it".... AND it arrived unbelievably fast.
---
Reviewed on

7/20/2017
Clarissa W
I ordered a cathedral length veil with lace embellishments in a half circle around the bottom and it is EXACTLY like I imagined! I'm so impressed with the quality, it is as beautiful as any veil you would buy for $200-400 in a bridal store. This was one of the best purchases... Read More I've made for my wedding. Of course I was a little nervous ordering something so expensive online, but ordering the swatches helps ease that fear. I could not be happier, and I'm very excited to wear this!
---
Reviewed on

7/20/2017
Chanel G
This veil is beautiful! The employees where I bought my gown commented on how amazing it looked and that it was high quality. Also it came earlier than expected!
---
Meet The Owner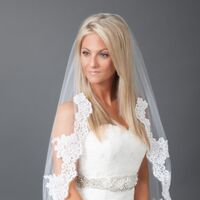 Samantha Stark
Hello Brides! My name is Samantha and I am the owner and designer at BlancaVeils. I started my company a few years ago when i was getting married and wanted my dream veil that I just couldn't afford. That is when I discovered the need for affordable wedding veils that were still very high quality. Each wedding veil is hand crafted in our small Texas town using the best materials and the highest attention to detail. Choose from our lovely collection or design your own using our website's interactive "Veil Builder" at (http://www.blancaveils.com/design-your-own-custom-veil ).