Home

Blanca Veils
About this Vendor
We believe every bride deserves her dream veil...
We believe every bride should be able to afford to look gorgeous on their wedding day! Each wedding veil is custom handmade to order in our small work shop in North Texas. Our quality is top notch but our prices are kept affordable to the everyday bride. Since starting our company, Blanca Veils has been featured in several national publications around the world. We now ship 2000 veils each month to almost every continent! We relate our success to our amazing, high quality veils and prices but also to our wonderful customer service! We would LOVE to work with you to design your dream veil for your dream wedding day! See our new blog at www.unveilingblancaveils.com
Details
Hair Accessories, Veils, Accessories

Reviewed on

8/30/2016
Merly G
These veils are fairytale ready. Soft tulle and beautiful lace. Order a swatch sample to match your dress color and you will not go wrong. Don't be suckered into bridal shop veil prices. I never thought I would wear a veil, and after seeing Blanca Veils I will. I can't wait... Read More to wear on my wedding day.
---
Reviewed on

10/25/2016
Janelle H
I just received my veil last week and my jaw hit the floor when I opened the package. I couldn't believe how perfect it was. The process was easy and very down to earth from the start. I literally started messaging their Facebook page asking questions and brainstorming ideas.... Read More The replays came pretty quick and always answered my questions fully and completely. Even sent pics to give me ideas! The veil was only $130 when it was all said and done and this veil would have easily cost me $800+ in a bridal salon. I can't say enough good things. Get your veil here. I am not a friend, or paid to leave this. I am just a bride on a budget who took a gamble on Blanca veils and it paid off BIG TIME. This was by far the best experience for me of my "bridal journey" wish I could say the same for gown shopping! LOL thank you so much Samantha! I will tell EVERYONE about you guys!!
---
Reviewed on

8/30/2016
Sharon S
Samantha does such wonderful work and was a pleasure to deal with. I didn't know anything about veils and had no idea what I was doing, and she patiently answered my questions and walked me through everything from start to finish. Her prices are incredibly reasonable too. At my... Read More fitting, one of the bridal boutique ladies complimented my veil and asked where I got it and how much I paid. She was stunned when I told her, saying they sell similar veils for $300 (which seems completely insane). I do recommend ordering the swatch/lace samples first so you can compare them against your dress and ensure you end up ordering the correct color and lace type...certainly helped me narrow down the options and get it right the first time! Thanks so much for everything, Samantha!
---
Reviewed on

11/28/2017
Rebecca G
I cannot day enough about my experience with Blanca Veils ! I had found a veil I liked at the bridal boutique where I found my gown but held off because it was $400 and it honestly wasn't what I was picturing 100%. Then I found Blanca Veils! She sent me a bunch of swatches that... Read More she felt would match my gown (I sent some photos to her). I then chose every single detail about my veil and it came out STUNNING. It came quickly, and it was less than $100 !!!! I couldn't even believe the quality! It was perfectly what I imagined, STUNNING, high quality, AND affordable ! Bravo to Blanca Veils!
---
Reviewed on

11/27/2017
Theresa S
Beautiful veil that is the perfect length at "floor length" option. I am 5'4 and will be wearing flats with my gown that has no train. It is slightly longer than my dress which is what I was hoping for and it is simply lovely. Samantha was super helpful throughout the process. I... Read More highly recommend this shop.
---
Reviewed on

11/21/2017
Alison M
It was so nice to finally find a place to buy the veil that I wanted at a reasonable price! Shipping was exactly as promised on Etsy, instructions on prepping the veil were included, and it fit and looked great on my wedding day!
---
Reviewed on

11/21/2017
Sheena D
I customed order a two tier veil with rhinestone edging. It's gorgeous and I love my veil! Cannot wait to wear it to my wedding.
---
Reviewed on

11/21/2017
Ashlee A
My veil was just beautiful! It came on time & it was exactly as described! Simple, but just what I was looking for!!
---
Reviewed on

11/21/2017
Imelda C
The veil was exceptionally beautiful and very high quality. To top it off the packaging was absolutely amazing. It is going to look stunning. I definitely recommend this shop
---
Reviewed on

11/20/2017
Danielle R
It was perfect for my wedding day and Samantha is so great to work with! You can ask her as many questions as you need to in order for you to order the perfect veil! I would highly suggest getting the sample book!
---
Reviewed on

11/20/2017
Gabby C
Ordering my veil from Blanca Veils was a great decision! At first I was nervous about making such a big purchase online without seeing the product in person but when the veil arrived all my worries disappeared. It was the perfect color and length and it was great quality for an... Read More affordable cost. I highly recommend ordering your veil from this shop and getting the swatch packet first just to be 100% sure of your color choice.
---
Reviewed on

11/20/2017
Melinda C
My custom veil was beautiful and exactly what I wanted! I had no idea what to order, but Samantha was a joy to work with and she answered all of my questions. I've already recommended her shop to other brides.
---
Reviewed on

11/16/2017
Kloi I
My veil and the lace matched perfectly with my dress. I got so many compliments!!! The shipping was fast!
---
Reviewed on

10/23/2017
Amanda A
I loved my veil, it was so pretty and special. Blanca Veils offers great service and they even give you a free garter belt. Very happy with them!
---
Reviewed on

10/22/2017
Jessica A
Samantha and her team were helpful from the beginning. I told her my vision and she made it happen. My veil was lovely and matched my wedding gown perfectly. And the veil was affordable. Highly recommend Blanca Veils to other brides!
---
Reviewed on

10/02/2017
Melanie J
I cannot say enough good things about this shop!! Samantha and Staci were beyond helpful with the ordering process and shipping was super fast. The veil was absolutely beautiful and quality top notch. I would wear this veil everyday if I could :) Thanks again!!
---
Reviewed on

9/27/2017
Amanda J
Perfect! The veil, for being cathedral length, is so light and airy. It looks absolutely perfect with my gown. Samantha shipped faster than expected, too. I highly recommend this shop.
---
Reviewed on

9/27/2017
Shayla R
Amazing quality and quick shipping!
---
Reviewed on

9/24/2017
Hannah B
Though the order form on the main website was, at that time, experiencing a glitch that caused some delays, they were immediately responsive and very helpful upon receiving a follow-up email. My custom veil arrived quickly and exactly as requested to match my dress. The dress... Read More and veil combination on the big day could not have been more perfect! With such amazing customer service, great craftsmanship, and reasonable prices (a quarter of the price of a veil not nearly as nice at the bridal shop), I will definitely recommend Blanca Veils to every bride I know!
---
Reviewed on

9/16/2017
Amanda S
Amazing veil! The veil was soft, delicate and perfect! She did such a great job getting my order sent quickly.
---
Reviewed on

9/07/2017
Chelsey E
My veil was great quality, packaged beautifully, and arrived quickly! So happy with my purchase!
---
Reviewed on

9/06/2017
Nathalie C
Beautiful veil!!!!!! good quality, well made. I love it.
---
Reviewed on

9/01/2017
Cheyanne E
I purchased my veil from her etsy site. When I got it I was instantly in love and it matches my dress perfectly. I had so many complements while getting my hair trial done by the stylists and other women who are also brides. They all wanted what bridal boutique I got it from.... Read More Can not wait to wear it for my wedding day!!
---
Reviewed on

8/31/2017
Sunni P
Beautiful veil at an amazing price! Exactly what I was looking for to match my dress. Can't wait to wear it!
---
Reviewed on

8/29/2017
Devon S
Looks great, exactly as described! Also very helpful, kind and responsive through the whole ordering. Even though I still think it's pricey for one piece of tulle and rhinestones, it still beats the cost of anything you'd find at a bridal boutique. I was very happy with the... Read More length and comb she used. Complemented dress beautifully!
---
Meet The Owner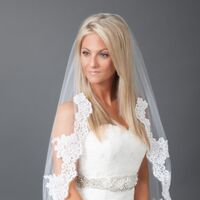 Samantha Stark
Hello Brides! My name is Samantha and I am the owner and designer at BlancaVeils. I started my company a few years ago when i was getting married and wanted my dream veil that I just couldn't afford. That is when I discovered the need for affordable wedding veils that were still very high quality. Each wedding veil is hand crafted in our small Texas town using the best materials and the highest attention to detail. Choose from our lovely collection or design your own using our website's interactive "Veil Builder" at (http://www.blancaveils.com/design-your-own-custom-veil ).