Home

Blue Bridal Boutique
About this Vendor
Every Bride Needs Something Blue!
We think finding THE DRESS should be an inviting experience. We want you to kick off your heels (or your snow shoes) and stay awhile. We've done our job if you have made some new friends and found your perfect dress. Congrats on finding the man of your dreams, now let us help you find the dress!!!
Details
Bridesmaid Dresses, Wedding Dresses, Dresses, Alterations, Custom Designs, Fashion
Contact Info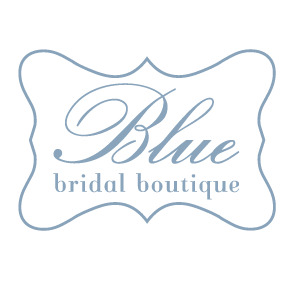 500 16th Street, Denver, CO
Amazing, stress-free experience!
Reviewed on

5/12/2014
Jenny E
After trying on dresses in multiple states without any luck, I decided to make an appointment at Blue Bridal Boutique while in Denver for a business trip. I didn't have an entourage, and was expecting to feel intimidated and overwhelmed when entering the store.. I was the only bride in the store and my consultant Julia greeted me with a huge smile. She immediately made me feel comfortable and sat me down to learn more about what I was looking for. The first dress she pulled for me gave me that fuzzy feeling even while still on the rack!! I was allowed to walk around and mark the dresses I was interested in trying on with clothes pins (incredibly cute idea) and then went into the dressing room. I was carrying a bit of holiday weight at the time and had felt so uncomfortable with strangers in the dressing room with me in all the other bridal stores I had gone to, but Julia let me put the dress on myself and then just came in to help me with the zipper. That first moment I put the first dress on, I knew.. I half heartedly tried on a few more gowns, but I already knew.. I had found my dress!!! Since I live in New York, but am originally in Sweden and am getting married in Michigan where my fiance's family lives(!!!), I needed to send pictures to loved ones to make sure it was the right one. Julia was so patient with me and took as many pictures of me as I wanted. I left the store knowing that I'd found the dress and went to pick up a mini bottle of champagne on my way back to the hotel to celebrate! A few days later I called to place the order over the phone when I was back in New York. I had called a few NYC stores to see if they could get me the dress, but my gut feeling told me to order from Blue Bridal. They answered all my crazy questions and gave me written confirmations of my order.. I checked in a couple of times and they always got back to me within 24 hours or less! Well, today my dress arrived and I couldn't be happier! I need to have some alterations, but that could have something to do with the fact that I've lost 14 pounds so far... There was a small stain on the sash that came with the dress, but I don't think I'm using it and if I were I'm sure I could get it out. Everything else was flawless! The funniest part about all of this is that I had a dream that I found my dress in Denver right after I got engaged.. Which made no sense to me since I didn't have any connections to Denver.. Well, it was all written in the stars! I warmly recommend this store! I'm telling all my engaged NYC friends to fly to Denver to have the same experience! Thank you SO much to Julia and the rest of the staff in the store, I'm so grateful for everything you've done for me!! Can't wait to share my wedding pictures after my big day.
---
Amazing!!
Reviewed on

2/08/2014
Meghan H
My hunt for a wedding dress began as a comedy of errors (which I, of course, did not find very funny). After heading through no less than 10 bridal shops, many of which were AWFUL, I was ready to give up. On our way home from Denver, my mom suggested that we stop at Blue Bridal in Castle Rock on our way back home. Even though we didn't have an appointment, Sarah let me go in an look at the dresses. Then, when her appointment called to say they would be late, Sarah pulled several dresses for me to try on. She was so helpful and friendly. The shop is beautiful and so calming (which was much more important than I would have realized). I ended up purchasing a beautiful Pronovias gown that I just fell in love with. Then I learned that, because the Castle Rock Blue Bridal was new, they were doing a bonus. Because I purchased my dress there, I got a beautiful Sarah Gabriel veil absolutely free! It was like my own personal fairy godmother haha. I also bought a beautiful flower hairpiece to wear during the reception The process was wonderful, the shop is beautiful, and the dresses are AMAZING! I highly recommend this store!!
---
Awesome Boutique! Must go!!
Reviewed on

8/26/2013
Rachael D
I loved my experience here! They were so kind and very knowledgeable! I was able to say, "yes to the dress" at their boutique! Great and fun location too! Very reasonably priced!
---
Reviewed on

7/28/2015
Olivia T
I visited Blue Bridal Boutique with my mother and sister this morning and I have to say, my experience was even better than expected! I'm from North Carolina, and today was our last day on vacation in Denver. I made an appointment because i found out that they had what I thought was my dream dress and I HAD to try it on. I tried on probably ten dresses, fell in love with half of them, and am still completely torn on which one I love the most! Roxy was AMAZING. She made me feel super comfortable, and she knew just what to add to take each dress to over the top gorgeous! I would send anyone and everyone I know here. It was the best first dress shopping experience I could have ever asked for!
---
Reviewed on

7/22/2015
Katie V
Walking into this place I didn't know what to to expect for a store on 16th street mall. At first I thought it was small and did not think they would have what I wanted. I had been to several stores already and either the dresses I liked were too expensive or not what I wanted. My appointment was with Julia and right away I felt like she was really invested in me as an individual, and not a dollar sign. She asked questions about what I was envisioning for my wedding and really was able to give great suggestions. The dresses I tried on were all beautiful and reasonably priced! It came down to 2 dresses that I absolutely loved. I am very indecisive about almost everything and Julia was so patient and did not make me feel badly at all about trying on both dresses over the course of 3 hours! She worked with me and offered me great advice on how to get what I wanted from both dresses onto 1 dress! I am so happy I came here and am definitely confident in my decision!
---
Reviewed on

7/19/2015
Blue bridal is amazing! I had no idea what I wanted for a dress and Julia found me the perfect dress! It was the second one I ever tried on. I am very Petite and she found a designer that makes dresses to size so I wouldn't have to pay tons in alterations once it gets in. She was so sweet and tons of help! She made me feel comfortable and listened to what I wanted and was looking for!
---
Love!
Reviewed on

7/09/2015
Allison B
Blue Bridal hit a home run for my wedding. They were not only amazing when finding my dress, but beyond that, they were amazing with my alterations, and fittings! Julia was so helpful, and let me take and bring back my veil many times for hair trials, and the seamstress was so professional, and did just perfect altering my dress. I mean, perfect! I would strongly suggest this team of amazing woman to help you with your wedding gown. They even let me bring whoever tagged along for each appointment, which ended up being quite the gaggle of people at some visits! So amazing!!
---
Reviewed on

7/06/2015
Desiree M
Blue Bridal was the third and final bridal store in a very long day of searching for THE dress. At this point, I had tried on at least 15 dresses and was beginning to feel exhausted in my search. However, as soon as I was greeted by Julia Scott I immediately felt re-energized and was excited to try on more dresses! She was so friendly and welcoming. She took the time to not only ask me what it was that I wanted in a dress, but she also asked questions about me and my fiancé so she could get to know who we are as a couple. She even joined in the fun when my bridesmaids decided to pick out dresses that were styles I had not considered in my search. After trying on eight or so dresses, I had narrowed it down to two. Julia encouraged me to try them on for a second time and did not mind at all when I compared them each to another dress I really liked at a different bridal store. I mention this because at the second boutique I visited, the consultant became extremely frustrated when I did this. After analyzing myself in the mirror, I knew that I had found THE dress but wanted to take the time to think it over (and examine the pictures my bridesmaids had taken) before making my final decision. Hearing this, Julia was very encouraging and even said that if I needed to I could come try on the dress again before deciding for sure. However, by the time I got home, I knew I had found my dress (it was all I could think about!) and by Monday I had called to make an appointment to buy it. Julia is an absolute sweetheart to work with and I highly recommend Blue Bridal to everyone!
---
Reviewed on

6/24/2015
Annette G
Extremely helpful staff and beautiful dresses that are reasonably priced! Loved lovedy experience. Great customer experience! after narrowing down to two favorite dresses, I went back to try on a second time. The consultant who worked with me was so nice and helpful. I had only a half hour appointment but she spent an hour with me trying on the two dresses multiple times, wit different accessories. I kept apologizing for taking so long and she kept assuring me that she just wanted me to enjoy and pick the best dress for me! I love the dress and the store!
---
Reviewed on

6/22/2015
Susan W
I had a wonderful experience at Blue Bridal selecting a dress I felt great in. Alterations were reasonably priced, on time, and done perfectly so it fit just right. These ladies are so nice and do a great job. Thank you!
---
Reviewed on

6/11/2015
Laura T
I wish there was a way to give this location, their staff, and chosen designers more than five stars. From the moment we entered (my sister, mom, and I) I felt nothing but comfortable. Julia, our "bridalista", was so genuine and real. Never once did I feel she wasn't honest and open, but was genuinely so kind and excited for me. I felt like she was part of the family I had with me helping me pick the perfect dress. With each dress she picked the perfect accessories and seemed to understand just what I was looking for, even though I hadn't a clue!! Julia's sense of style shined when she helped me make edits to my dress for the designer to complete. Once I put on the dress I knew it was the one, however like many other brides I kept my other appointments around the Denver area and tried on many other dresses throughout the day. We had great service at other locations, but nothing compared to the kind and open, caring atmosphere Julia created for us. An experience I was slightly dreading (finding the perfect dress, I figured it would drag on and on...) became one of the most enjoyable memories I will have throughout wedding planning. BLUE BRIDAL HELPED ME FIND THE PERFECT DRESS AND MADE IS SO EFFORTLESS AND EASY! I returned to Blue to try on the dress one more time before purchasing. It was very last minute and the bridalista was so willing to accommodate. I am sorry I forgot her name! Thank you! :)
---
I will always remember this place
Reviewed on

4/12/2015
Danna C
Memories were made here! The staff was very friendly and all of them were so sweet in offering compliments and ideas. I found my dress here in March and I can't wait to visit in June to try it on and have alterations done. I highly recommend going to Blue Bridal, they are amazing.
---
Absolutely Wonderful!
Reviewed on

2/07/2015
Taylor Jane C
I seriously cannot say enough wonderful things about Blue. I am from Omaha, but my fiance is from Denver. I wanted to go dress shopping and be able to include my future mother-in-law. I had set up a couple of appointments at shops throughout Denver, and Blue was my very first one! It is the cutest boutique ever and filled with the nicest people. Julia Scott is the store manager and was my Bridalista for the day. She was so helpful and so supportive, and I know this day would not have been as special without her help. She was just a blast to work with. I was expecting Blue to have boutique prices, but all of the dresses are quite affordable! I was pleasantly surprised by this fact. Beyond the already low prices, Blue had a sample sale going on when I was there, and I was able to purchase my dress for less than half of the original price. They also offered to have my dress cleaned for me, and they are storing the dress for me for free since I will be in Omaha. I had a truly tremendous experience at Blue, and I will recommend it to everyone. Needless to say, I cancelled the rest of my appointments for the weekend after finding my dress! At Blue, I purchased my dress and bolero. I will also be purchasing a cleaning, alterations, and possibly a veil through Blue in the future.
---
Wonderful boutique!
Reviewed on

12/31/2014
Heidi g
This was the second shop I visited- they made me feel welcome and gave me full attention during my appointment. The attendant was friendly and helpful, and made me fee beautiful when I found "the dress". They were open to price discussions, and had great correspondence throughout the process. I absolutely loved their selection and service!
---
Best Experience!!
Reviewed on

12/30/2014
Esther L
I went to many stores at home in Lincoln, NE and never had a very good experience with the selection or the consultants. Then I went to Blue! They have the most friendly, easy to talk to, staff! I had such an amazing time trying on dresses with just my group and not a bunch of other ladies fighting for attention. And my process of dealing with them after the order has been amazing. They are simply the BEST!!!
---
Great if they could follow through
Reviewed on

10/09/2014
Lydia E
On my first visit, I wasn't allowed to even look at anything and was told to make an appointment. At my appointment, the sales associate was great - made me feel comfortable and was very helpful. There wasn't too much selection, but I did fall in love with one gown. I was told that the dress I fell in love with would be on one of their sales two weeks later. I stood outside in the cold for an hour and a half the day of the sale so that I could get my dress. When I was finally let in, it wasn't on the sale at all! They wouldn't even retrieve the dress from the stock room so I could try it on again. Of all the bridal salons I went to I was least pleased with Blue Bridal Boutique.
---
Fabulous!
Reviewed on

10/07/2014
Autumn n
My experience at Blue Bridal in Denver was amazing!! Roxy was so accommodating even though my party was late! She was warm and kind and made me feel right at home. I found my dress and got to take it home the same day because they had my size in back stock! I would highly recommend this boutique especially if you are looking for great service and a private experience for you and your party. Thank you Roxy and the blue bridal team!
---
Last Minute Bride
Reviewed on

10/01/2014
Chelsey B
Julia was absolutely amazing! She is sweet, personable, and extremely helpful. I called to make an appointment and to inquire if they had any sample dresses or off the rack dresses, as I needed a dress in 5 weeks time. She called telling me they had several options for me and looked forward to my appointment! Not only did I find my dress, but beautiful earrings as well! I later decided to order a veil and sash which she ordered the week before my event and she made she it was in on time and steamed and ready for the big day! Julia makes you feel so welcome and really was a big part of my overall wedding experience! I'm grateful for all her help and a wonderful experience. I highly recommend checking out Blue Bridal for your wedding gown!
---
Great Experience!
Reviewed on

9/16/2014
Katie F
I went to Blue Bridal as my first stop wedding dress hunting. We had an appointment in advance and I had a small entourage with me (Mom, MIL, 3 bridesmaids and an adorable baby). They got an idea of what I was looking for and allowed my friends and family to pull dresses as well. It was a really fun experience and I found my dress! While they don't do alterations in house, they recommended Donna Beth, who was awesome, and delivered the dress over to her shop for me so I didn't have to make multiple stops!
---
Wonderful Experience/Highly Recommend
Reviewed on

9/08/2014
Jennifer K
I visited Blue Bridal Boutique for the first time with my Mom, sisters and a bridesmaid. It was such a wonderful experience compared to other wedding shops I had visited. Even before you walk in the door, they make you feel special. They had my name written on a chalkboard outside the door welcoming me and my guests. We took lots of pictures here :). Blue also has a great selection of unique wedding dress for a wide-range of price points. I decided to buy my dress during my second visit. The staff could not have been sweeter or easier to work with throughout the entire process. Especially Julie, she was fantastic. I loved my dress from the moment I put it on, but we already had other appointments set up that day so I didn't pick it right away. Julie was understanding, did not pressure me, and even offered to extend the discount they were offering during the trunk show. I highly recommend buying your dress from Blue, they have made me feel special and important throughout the whole process. I am so glad I decided to buy my wedding dress here! You will be glad you did too! -Jennifer
---
Great Experience
Reviewed on

9/05/2014
Lindsay
I went to Blue Bridal not knowing what I wanted in my wedding dress. Julia was my consultant and she did AMAZING. She helped suggest dresses she thought I might like based off of what I had tried on. In the end she asked me to try on one final dress that I hadn't picked. With an open mind I tried it on and absolutely loved it, it ended up being the dress that I picked. She listened to what I was saying and helped finding something that I looked great in. She was so caring and helpful. Blue Bridal is definitely a wedding dress boutique that I would suggest to any bride that is trying to find a dress. They are very personable and care about their customers. I am so happy that I tried this place first and it ended up being the place I found my wedding dress. So happy with the experience, Julia and the store itself. Has great option of dresses for all price ranges! Go to Blue Bridal!! :)
---
Bridal Dress
Reviewed on

8/31/2014
Jade H
Before my mom and I walked into the store, there was a chalkboard welcoming every bride who had an appointment. It was a very nice and thoughtful touch! Roxy was my bridal consultant and she took me around the store and educated me on all the wedding dresses. When I first walked in, there didn't seem to be a lot of dresses, but as we walked around,there was a really good selection. I really liked how they let you get dressed in privacy, then came in to help you pin it all up. I really enjoyed finding THE dress at Blue Bridal! Everyone was super nice and helped me find the perfect dress. I highly recommend going here to try on dresses!!
---
Great Dress for Good Price
Reviewed on

7/30/2014
Erin H
I loved the dress I got on sample sale but I felt very rushed to buy by the salesperson - she made it seem like there was one day only to get a dress.
---
Love Blue Bridal!
Reviewed on

7/26/2014
Laura B
Great to work with! Their seamstress is amazing and picks everything up to take to her shop. They made the process so easy!
---
Great Boutique!
Reviewed on

6/16/2014
Carissa K
I went to Blue Bridal for my first time ever looking at gowns and had a great time! They had a sample sale going on (there wasn't much to pick from when I got there around 3 in the afternoon), but had very personal service, as I was the only one there and a walk-in! I didn't feel pressured at all to buy a gown! It was a little too pricey for my budget but they had some very pretty dresses!
---
Send Message