Home

Boogie Booth Photo Booth Company
About this Vendor
Best of The Knot Photo Booth Company. Come see why
As one of New Orleans longest standing and most popular photo booths in the area, we are sure to exceed your expectations and give you an experience you and your guests will always remember. From top of the line booths, friendly staff, and an easy and straight forward booking process, there is no question why we have been the #1 photo booth company year after year. We hope that we have the opportunity to work with you and be part of you and your family's special day.
Details
Online Proofing, Digital Files, Photo, On-Site Printing, Photo Props, Video Booths, Photo Booths, Social Media Sharing, Photo + Video
Contact Info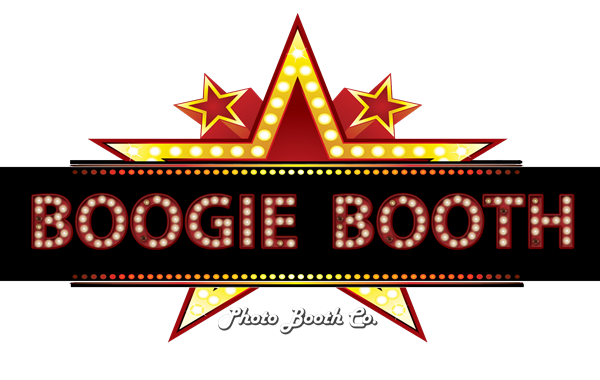 Reviewed on

1/18/2017
Elizabeth Z
If you're looking for a professional and fun photo booth, look no further than Boogie Booth. I'm a photo booth fanatic, it's always ones of my favorite things at weddings, and Boogie Booth does NOT disappoint. When it came time to decide on a photo booth for my wedding,... Read More there was no second guessing - I immediately booked Boogie Booth. They are SO MUCH FUN and always a huge hit. Also, the photo scrapbook with messages from all your guests.. simply the BEST. HIGHLY recommend!!
---
Reviewed on

10/16/2016
Omishan O
They were amazing from beginning for to end. The planning process was thorough and the execution was flawless. I have nothing but great thingsntobsay about the team at Boogie Booth and would recommend the for your photo booth needs without hesitation. And to top it all off, you... Read More will receive a beautiful memory book of all the photos taken at your event as a keepsake. What more could you ask for? Exceeded every expectation!
---
Reviewed on

5/17/2016
Jeanne C
This photo booth was definitely worth it. In my research I found Boogie Booth to be average to high in terms of price, but I would definitely use them again. They had a zillion options of quality props that my guests loved during my wedding reception including all kinds of hats... Read More and signs. George and his team worked directly with the hotel for load in/breakdown, and I didn't even lift a finger! It was such a blast designing the custom bottom of my photo strip and choosing from an array of great backdrops (glitter, shimmer, black, etc). Very professional service from the original communication to the follow up email after the event - always quick and thorough responses. I can't wait to receive my album of all the pics from the reception!! Highly recommend this company.
---
Reviewed on

4/26/2017
Charlotte H
Boogie Booth are amazing! I cannot recommend them highly enough. Heather was so supportive and helpful in deciding on set up and creating a border for the photos that matched our invitations. And Brian was charming on the night. My guests had a fabulous time. And my husband and... Read More I already treasure the book they put together for us.
---
Reviewed on

2/10/2017
Jenna M
We had the most amazing experience with Boogie Booth! Heather helped us create the look we wanted for our photos. Chris was the attendant at our wedding, and not only was he knowledgeable, but he was fun, and he got everyone involved! We loved the pictures and would suggest this... Read More company for every wedding!
---
Reviewed on

2/06/2017
Sam
Working with Boogie Booth was one of the easiest parts of planning our wedding. They were familiar with our venue and set up with ease. I live in Wisconsin, and obviously they are located in Louisiana, but this did not get in the way of getting our booking taken care of. They... Read More always responded promptly to my emails and handled the whole booking smoothly. It was a relief to have something go so easily while planning our wedding! Our guests loved stopping in the booth, getting their photos, signing our photo book/guest book, and even sending their photo strips to themselves via text, Facebook, etc. using the Social Media area. I loved it! I would've spent my whole wedding in the photo booth if I didn't have other bridal duties. Book Boogie Booth – you will not regret it!
---
Reviewed on

11/18/2016
Jenna M
I am so happy we chose boogie booth so be a part of our wedding reception! My guests absolutely loved the photobooth!! We can't say enough great things about them!! Thank y'all again!!
---
Reviewed on

10/26/2016
A huge hit and so many remembrances for the guests ! Would definitely recommend. They are professional and prompt and bring lots of fun props!
---
Reviewed on

10/24/2016
Amy L
SO MUCH FUN! Our guests loved the Boogie Booth! We opted to use the booth as our "sign in" book and it was perfect. It was so much fun looking through the book and reading all of the messages from our nearest and dearest.
---
Reviewed on

10/16/2016
Jill S
Boogie Booth was the absolute best! Heather did an awesome job in our set up, and the scrapbook is a fabulous keepsake! Our guests had the best time with Boogie Booth, and we highly recommend them!
---
Reviewed on

10/12/2016
Chris D
We loved working with Boogie Booth. Boogie Booth was such a fun addition to our wedding reception and many of our guests said it was one of the highlights to their evening. Boogie Booth was easy to work with, prompt with their correspondence, and provided friendly staff that... Read More made sure everyone had a good time. Thanks so much for helping to make our wedding perfect.
---
Reviewed on

10/11/2016
Amy W
We absolutely loved Boogie Booth. The team was SO easy to work with and made the entire ordering, prep process easy. They were flexible with their offerings - letting us tack on the ability to create GIFs. They also turned around the images the night-of so we could play a... Read More slideshow of our images during a Sunday brunch event. Bottom line: there's no one else who can do a photo booth like Boogie Booth. They were a bride's dream come true.
---
Reviewed on

10/10/2016
Alli M
DEFINITELY one of my favorite parts of our wedding!! The props were super fun and the picture quality was amazing! Thank you Booth Booth crew!
---
Reviewed on

8/21/2016
Ashley R
We had a great experience with Boogie Booth! They were so professional and easy to work with. There were TONS of prop options. I liked how I could customize the printouts with our colors, names, and image. The Boogie Booth was such a hit. The guests loved them as well. Thanks... Read More Boogie Booth for adding to our special day!
---
Reviewed on

7/19/2016
Keia H
Boogie did an exceptional job at our reception! The read carpet, the props, and the open booth were a major hit!!! Heather was so easy to work with and very professional! I would highly recommend!!!!
---
Reviewed on

6/22/2016
Christina P
Oh my goodness- I cannot say enough good things about Boogie Booth! It was so much fun. Our guests had a great time and the pictures we got in our scrapbook are some of my favorite from the wedding. It was great coming back from our honeymoon and getting to see everyone's... Read More pics and read their sweet messages. Communicating before the wedding was super easy and everyone was professional and friendly. If you're looking for a great time for your guests and you (I think I photobombed at least 10 pics!) and want some fantastic pictures, I would highly recommend Boogie Booth! You won't regret it.
---
Reviewed on

6/09/2016
Nadia O
WE asolutely LOVED the boogie booth! It was by far one of the best decision we made for our wedding. The guests loved it!!!!
---
Reviewed on

6/07/2016
Great addition to my daughter's wedding reception! Lots and lots of props meant lots of fun for our guests and a great remembrance for the bride and groom.
---
Reviewed on

6/06/2016
Rachelle M
Boogie Booth is fantastic! Extremely accommodating and professional! Our guests loved the booth & the set up. It added to the fun of the reception. It was a blast to flip through our scrapbook post wedding and see all the strips!
---
Reviewed on

5/17/2016
Thanks so much to Boogie Booth for being AMAZING. They were so easy to work with leading up to the wedding, and they designed such a beautiful photo strip with a design from our wedding invitations. Our wedding guests loved the booth and their photo strips favors. After the... Read More wedding, we promptly received our photo strip booth, and our guests loved getting digital copies from their website. It was such a treat to work with this company and have them be a part of our wedding!
---
Reviewed on

5/17/2016
Boogie Booth was the best!!! Professional, easy to work with and quick to respond to everything. Everyone at the wedding loved it and they had great props too!!!
---
Reviewed on

5/10/2016
Boogie Booth was just fantastic! Super easy to work with, on time, efficient, and fun! It added so much festivity to our daughter's wedding!
---
Reviewed on

3/31/2016
This was honestly the best photo booth I have ever seen/used and I'm so glad we chose it for our wedding reception. The fact that they give guests a plastic sleeve for the photo strips, and have the option for a digital copy that can be texted or e-mailed made the vendor far... Read More exceed our expectations. They also worked with us to put our logo that my husband made (which was on our save the dates) at the bottom of our photos. They really created a unique experience for us and our guests. The attendants working the booth were excellent and very likeable. Communication back and forth prior to the wedding was prompt and easy. Overall, I highly recommend them.
---
Reviewed on

3/11/2016
Boogie Booth was a hit at my wedding. My guests loved it! Reasonably priced, only one email to confirm the event, and I didn't have to worry about anything else. Well worth it!
---
Reviewed on

11/11/2015
Meagan M
Absolutely LOVED the boogie booth! It was the best decision we made for our wedding. They were extremely professional and a lot of fun. Our guests had a blast! Thank you so much Boogie Booth!
---
Meet The Owner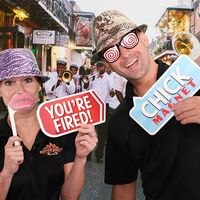 Andrew Mauldin
I am born and raised here in the New Orleans area and have been in the hospitality industry since 2003. I started Boogie Booth over 6 years ago and have watched it grow continuously over the years to become one of the top event photography companies in the area. I love to see people laugh and what better way than to give them a bunch of fun props and a camera. My guarantee to you is that you will get unbeatable service, a great product, and an even easier booking process so put us to the test and give us a call and let us show you how we Boogie! Thank you and CONGRATULATIONS!