Home

Briza on the Bay
Book Your Wedding with Briza on the Bay
---
A BALLROOM IN MIAMI, FL
About Us
Located in sparkling and exciting Miami, Florida, Briza on the Bay is a ideal example of Miami's glamorous tropical paradise. This 5,000 square foot event space invites to-be-weds to fall in love with the amazing sunset views and dine on delicious local seafood while they celebrate the culture and beauty of the heart of the city.
The Ballroom provides seating for up to 350 guests in an elegant sit-down plated dinner reception or up to 600 guests with a casual cocktail reception. The high ceilings and huge windows create an open and airy space that overlooks Biscayne Bay and catches the glimmer of sparkling waves, gorgeous white boats and incredible sunsets. Glittering crystal chandeliers shed a warm light on the hardwood dance floor and filmy draperies accent the bright walls. The Ballroom is extremely flexible and can be arranged to suit a variety floor plans for an indoor ceremony or a small reception. A raised staging area provides an excellent backdrop for a sweetheart table or the vows themselves.
The Docks share space with an outdoor floating stage that highlights classic Miami glamour with up to 350 guests for an outdoor wedding. A background of sparkling white sailboats and the gorgeous sunset over Biscayne Bay gives those first look photos an unforgettable edge. Arrival by boat or helicopter gives the to-be-weds a chance to make a completely unique entrance to the wedding or reception.
What You Should Know
Located on one of the prettiest waterways in Miami, Briza on the Bay is a full service wedding and reception venue with a reputation for incredible service. A full catering staff is on hand to design the ideal reception menu tailored to suit any palate with a variety of fresh seafood, steak, chicken and vegetarian options. The venue provides chairs and tables in a variety of floor plans to create a cozy reception or an elegant cocktail hour by the bay either inside or on the docks. A state-of-the-art audiovisual system, two interior bars, lounge chairs and even customizable LED lighting are available to create a unique experience. Video projectors and WiFi, along with plenty of options for parking and amazing arrivals, give the Briza on the Bay an amazing range of styles for weddings and receptions.
Extra Perks
The gorgeous views of Biscayne Bay in Miami are definitely a perk when it comes to a wedding at Briza on the Bay. Additional perks include:
Helicopter pad and helicopter rental for an amazing entrance
Laser and fireworks displays over the bay
Arrival by boat if desired
From the Vendor
The Most Spectacular Venue in Miami.
Located directly on one of the most beautiful waterways in the world, Briza on the Bay embodies Miami's tropical paradise. Briza is the perfect waterfront venue for any event that deserves an unforgettable backdrop in the heart of Miami. Briza on the Bay's 5000sq ft. space has endless potential, and can be customized and transformed to create the perfect setting for any event. For an even more individualized touch, guests can arrive to the venue by car, boat or heli-boat. Allow us to be the place where you create your most important and memorable event. With only one event at a time, our attention is devoted exclusively to you and your guests.
Amenities + Details
Amenities
Bridal Suite

Handicap Accessible

Liability Insurance

On-Site Accommodations

Indoor

Reception Area

Wireless Internet
For more details about amenities, please message the Venue.
Bar + Drinks, Cakes + Desserts, Destination Weddings, Food + Catering, Planning, Service Staff

Reviewed on

3/23/2017
Kety P
A M A Z I N G!!!! If we had to use one word to describe the venue, food, service and staff at Briza on the Bay, it would be AMAZING. From our initial contact with Jeannine, the sales rep/coordinator, we felt confident in our decision to book this venue for our 10 years vow... Read More renewal. Jeannine was very patient and accommodating with our many requests and changes to guest count. She made great recommendations that aligned with our vision and budget. Jeannine always returned calls or responded to emails in a timely manner. She would sometimes reach out to us before we could even think about reaching out to her for something that we had been discussing amongst ourselves and our planner. The banquet captain, Carlos, was just as friendly and professional as he was for our tasting. He ran a tight ship with his servers and they never missed a beat. The food was served fresh and hot. At the end of the night Carlos carried our cake's top tier as he walked us out and went to personally request our car from valet. Talk about first class service! During the night the bartender, Kylie, kept the libations flowing and our guests hydrated. We were very pleased with our signature drinks (Jeannine's recommendations) and our guests were impressed with them as well. Overall, we were extremely elated and beyond satisfied with our experience with Briza on the Bay. Perfect venue for a smooth execution of any meticulous event. (3/16/17)
---
Reviewed on

10/25/2017
My name is Luly Pascual-Cabrera and our Wedding was on Sunday-October 8, 2017 at Briza on the Bay and it was absolutely perfect. Briza is the place to have your special event, the food and service were excellent and our planner Joseph Castaneda was wonderful from the first... Read More day we went to book our Wedding there with him, any questions I had he would always answer them and was very nice to deal with. The venue is beautiful over looking the water and the whole experience with them was exactly what we had both dreamed of. If you are planning an event whether it be your Wedding, party or a Quince please look them up and ask for Joseph, believe me you will be very happy with them as we are.
---
Reviewed on

10/16/2017
Tremaine S
The service was absolutely amazing! Everything was top of the line and the owner, Jeannine, and the staff were more than accommodating. I trusted her process and I trusted the vendors that she recommended. Everyone that she suggested was professional and willing to make my day... Read More perfect. I would definitely recommend Briza to anyone who is looking to host the perfect wedding or the perfect event.
---
Reviewed on

10/08/2017
Julie G
We had a 14 month engagement. When we came cross briza, the venue itself was exactly what we were looking for! The venue is the perfect blend of sophistication, party, fun and elegance. Bria offers wedding packages that are affordable and fair priced, especially considering how... Read More expensive miami can be for weddings. They also offered us incentives that made such a great impact on the wedding itself and out guests! From the very beginning we worked with Jeannine. When i tell you, she is absolutely amazing, there will never be enough words to express how wonderful she is as a person, and at her job! She was with us every step of the way and you never felt bad for asking too many questions. She was always very comforting and she truly helped bring our dreams for a wedding, and make them a reality!!! By the end of the wedding, you really feel like you have made a new family member, she is that wonderful!!!! Great work ethic, expertise, and personality is so humble, caring and personable which is HUGE aspect for a bride who has so many things on their plates!!! Briza always did what they could to make sure the bride, groom and their families and guests were happy and they offer so many small different details that truly make that night the most amazing night of your life! i would most definitely recommend ANYONE getting married down in miami to take a look here! For 14 months it was nothing but amazing moments there. The venue itself is gorgeous, its basically an open space so the canvas is yours, however they have everything you need there to make it your own special night! It has big windows that outlook the bay so its beautiful as the sun is setting. Now--the Food is PHENOMENAL! Normally guests go to weddings and complain about the food, but my guests ranted for a week after the wedding how much they LOVED the food. (one of the things i fell in love with even more with the venue was the food tasting, the food is THAT GREAT!) they offer so many different varieties of hors d'œuvre to choose from which was so fun to pick! My husband is cuban puerto rican, and i am american so there was a perfect blend of appetizers for cocktail hour for both sides of the families to really enjoy themselves. The entree's on the other hand are absolutely out watering!!! so if you are a foodie like us, TRY BRIZA!!!! (their bar selections--we had the top bar selection--and it had amazing liquor selections as well!!!--one of our other favorite parts of the wedding!) again, if anyone getting married in miami, and are looking for a wedding venue, LOOK NO MORE! I looked at about 10 different places and when i walked in baiza it literally hit me---THIS IS IT! it gives you the classy wedding, yet fun all in the same space!!! we loved it and thanks to jeannine, baiza and their entire crew, they helped make our special night an absolute dream come true and there are not enough thank you's to really express how perfect our night was thanks to them!!!
---
Reviewed on

10/02/2017
Alany O
We are more than happy to have chosen Briza as our wedding venue. Jeannine was always super helpful and attentive. We had the ceremony in Trinity Cathedral which was perfect for all the guests since it's a 3 minute walk to Briza. Everybody can't stop complementing the delicious... Read More food and the excellent service. Everything was flawless. When we walked in to the cocktail hour everybody was already having a great time. Carlos the banquet captain was the best! He was always taking care of us, making sure we had a drink in our hands, the cocktail he made for me was delicious! The servers were excellent, all of our guests couldn't believe how well orchestrated everything was. The bartenders were spot on. They kept all of our guests well hydrated lol, even when almost everybody went to the bar at the same time they didn't miss a beat. All of the food was presented exactly as beautiful and delicious as the day of out tasting. The chef did an excellent job. All in all we made the right decision in choosing Briza as our wedding venue,(which it was the second and last venue we saw) our night was magical and we have beautiful memories to last us a lifetime. Thank you Jeannine & Carlos! All the best always, Alany & Carlos
---
Reviewed on

9/29/2017
Ana d
We had an amazing experience with Briza on the Bay! The entire staff was great from the first day we went to visit the venue- up until the day of our wedding! Joseph was our coordinator and he was pleasant every single time we had to communicate. He was always helpful and... Read More most importantly, he never panicked under any circumstance. His positive, can-do attitude is exactly the type of person you want to work with during stressful situations. The rest of the staff that worked the night of our wedding were also all very pleasant and a joy to have around. During the cocktail hour and reception, the manager that was on the floor, Carlos, did a great job of keeping everything running smoothly. The staff were polite and always smiling. My husband and I highly recommend Briza on the Bay for a venue!
---
Reviewed on

6/30/2017
Viviana A
The service and details received from Jeannine Mayers at Briza along with Frank Sanabria my wedding planner was amazing. People can't stop talking about the awesome time they had. They loved the gorgeous waterview venue along with the delicious appetizers, dinner, cake and... Read More drinks. It was perfect and stress free. My fiancee was totally impressed. He said he loved the fact that we had our own personal waiter who kept the drinks and food coming throughout the evening. Jeannine truly made my dreams come true when others found it impossible to do. She is the best!!! The decor and flowers were magical. Thank you Frank Sanabria for being an incredible wedding planner and going above and beyond my expectations. I highly recommend you get with Jeannine who will patiently assist you with all of your needs for your special day. She rocks and Briza on the Bay is exquisite!!!
---
Reviewed on

4/19/2017
rimas f
Briza on the Bay was a host for an amazing wedding RIMAS FILMS had an honor to film! The venue is a true gem in the heart of Miami. Not only, because it has enough space for a lavish ball wedding, or that it offers jaw dropping views, that would make outstanding background for... Read More your wedding venue. Most importantly the venue gives its undivided attention to one event at a time and it really shows! The staff is always polite, respectful and prompt. The catering was spectacular quality and if any hiccups appeared through the day, they were resolved so fast no one noticed. Briza on the Bay is the only wedding venue in Miami you need to think of when choosing a host to your spectacular day! If you would like to see the video: https://www.facebook.com/rimasfilms/videos/405673069776959/
---
Reviewed on

3/30/2017
Kristine S
We couldn't be happier in our selection of Briza on the Bay as our wedding venue. While planning our destination wedding in Miami we knew we didn't want the typical hotel ballroom, we wanted a modern venue with a Miami feel and Briza was just that. We were able to have our... Read More ceremony at Trinity Cathedral conveniently located next door followed by our cocktail hour outside on the Briza on the Bay marina and our reception inside. Our coordinator at Briza, Joseph Castaneda, was above and beyond amazing. Joseph was always available to answer questions and offer suggestions. From start to finish Joseph made sure everything was perfect for us. One thing we especially loved about Briza was how many custom requests and changes they let us make regarding our décor setup, time line and menu. Many venues are quite strict and don't allow many changes at all beyond the standard offerings. With Briza we were able to add an additional "pasta course" to our reception dinner, layout our exact floor plan and furniture setup, bring in an outside vendor for a mini dessert station, and extend our party to 2am. Thank you Briza for hosting our wedding!
---
Reviewed on

3/13/2017
Sean R
Our wedding at Briza on 3/11/17 was absolutely stunning! Joseph was the best party planner and his staff was superb! I am so happy that we were able to celebrate our big day at Briza. The view was breathtaking, the food was divine, and the decor was magical! By having our... Read More wedding at Briza, our guests received white glove treatment. They valeted at the marina, greeted with our signature drinks (Seangria and Swipe Right Mojito). Thank you Briza!!!! I will always cherish the wonderful experience!!!
---
Reviewed on

3/07/2017
Miraya S
All I'm going to say is that Joseph was amazing and even though he was not my planner, as my event coordinator at Briza, he not only went above and beyond but he was the main reason why we chose this venue. Even though the venue was too large for our 70 guests, I felt that me... Read More and my hubby were in good hands. Hands that we could trust. Pricing was perfect for our budget, did not have to worry about hiring a caterer as they have their own. In fact, the chef at Briza is a former chef at Chef Michelle Bernstein's restaurant. We work in hospitality and our standards of food and service were very high. They succeeded! Cake is part of their package. We got a a complimentary bridal suite at the Marriott Biscayne Bay which was a promotion and we highly enjoyed. Again, Briza is for the couple that is into food and great service! Not to mention the view! It overlooks the Bay and South Beach! We loved having our wedding here and so we hope all you future brides enjoy it as much as we did.
---
Reviewed on

2/14/2017
Daphna J
Briza on the Bay was the only venue that we looked at. After a walkthrough we knew this is where we wanted to get married! We didn't want the typical ballroom with carpet and no windows. The view is DIE TO FOR! Briza is a modern venue with hard wood floors and floor to ceiling... Read More windows overlooking Biscayne Bay. It has that WOW factor and Miami feel to it! It's truly a stunning venue. The space had everything that we were looking for; uplighting with state of the art sound and lighting. We had our cocktail hour on the patio at sunset and ceremony on the marina. It was truly magical! One of the most important aspects of a Jewish wedding is the FOOD. The food at Briza is DELICIOUS, outstanding! Our guests were raving about how amazing the salmon and filet mignon was. Joseph and the owner Boaz went above and beyond to make us happy. The service was exceptional; the staff was very attentive and went above and beyond to make sure that my husband and I and our guests were taken care of. I highly recommend Briza On The Bay! - Daphna Jericho Rubin
---
Reviewed on

1/29/2017
Vanessa V
Outstanding venue! From the beautiful waterfront location to the food. Everything was perfect! Joseph did an incredible job, even walked me to the church (next door, not part of Briza) and made sure I looked perfect for my gran entrance. During the reception Carlos made sure I... Read More had a glass of champagne at all times and a warm plate to sit down to when I was ready. Both Joseph and Carlos were very attentive to myself, groom, our parents and bridal party. The evening was absolutely perfect! Thank you Briza!! -Vane & Uly
---
Reviewed on

5/05/2015
Madelyn B
I had my entire wedding (ceremony, cocktail hour, and reception) at Briza on 4/26/15 and they delivered exactly what I wanted. The food was delicious, the view is spectacular, and they gave me exactly what I wanted. Joseph was great throughout the whole planning process and a... Read More pleasure to work with.
---
Meet The Coordinator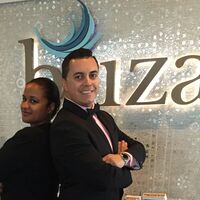 Jeannine Mayers & Joseph Castaneda
Jeannine Mayers, Director of Sales and Events BIO Joseph Castaneda, Catering and Event Sales Executive