Home

Brookside Golf & Country Club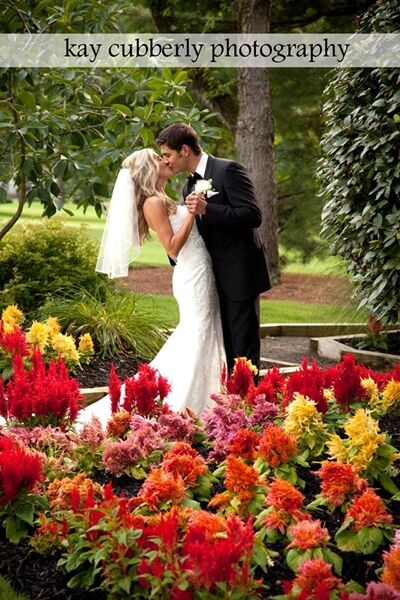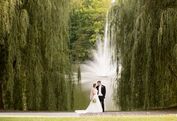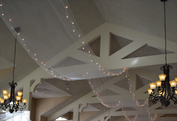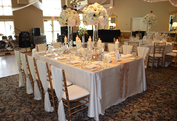 About this Vendor
Elegant and Scenic Indoor or Outdoor Venue!
The elegant setting of Brookside will complete the perfect wedding ceremony or reception for any bride and groom. Set deep inside the rolling hills of our pristine golf course, our Tudor Style Clubhouse will comfortably seat up to 300 guests for a dinner reception. Indoor & Outdoor options!
Amenities + Details
Amenities
Handicap Accessible

Indoor

Outdoor - Not Covered

Reception Area
For more details about amenities, please message the Venue.
Ballroom, Country Club, Tented
Food + Catering, Planning, Service Staff
Contact Info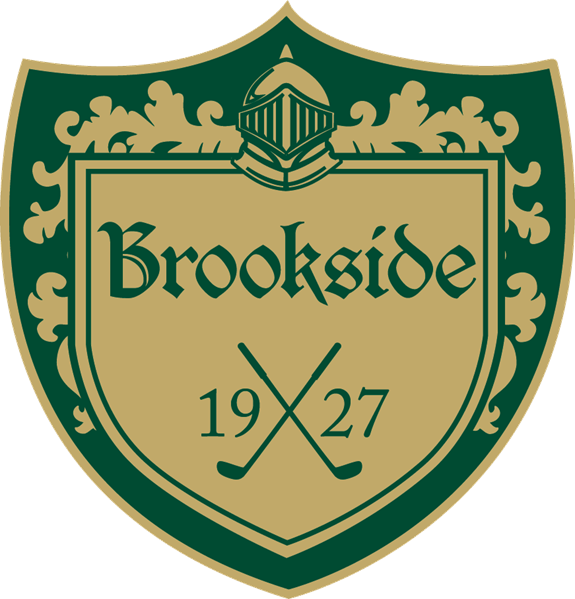 2770 W. Dublin-Granville Rd, Columbus, OH
A Breathtaking & Accommodating Wedding Venue
Reviewed on

11/11/2014
Amanda A
We initially picked Brookside because we fell in love with "The Wedding Tree," two trees that have grown together into one giant, beautiful outdoor ceremony backdrop. (Gorgeous.) But it turns out that we got so much more than beautiful scenery for our wedding day! We worked... Read More regularly with Brookside's event coordinator, Callan. She. Is. Amazing. She was always available to answer any of my (several) emailed questions—especially in the weeks leading up to the wedding (when I know she was super busy with several other Brookside events). She always made us feel like we were her only clients. Excellent, excellent customer service. I know a lot of venues will slap you with decor fees and "we can't do that" answers. Not Brookside. They will accommodate your vision (within reason of course) and I truly had the wedding and reception of my dreams! I was able to drop off specific setup instructions and Callan and the staff handled the rest. Set up AND tear down. There's not many places that will go to those lengths for you. We really appreciated that we didn't have to call in family to decorate the space. Everyone got to enjoy the day as a guest, not a decorator. Callan's eye for detail is also amazing. I trusted her to make the judgement calls on decor and arrangement—everything turned out absolutely perfect. Even with all of my decor needs and the iffy weather—Callan handled everything like a pro. Calm and collected the entire time with a "We'll get it done" attitude. She's an amazing planner and coordinator and I hope you're lucky enough to work with her. Lastly, THE FOOD. We're still getting comments from our guests that the food was amazing. The catering is top notch at Brookside and everyone was raving about their meals! Overall, the venue is fairly priced. They're not trying to nickel and dime you for every last thing. It's straight forward from the beginning and there were no surprises when the final bill arrived. We couldn't have been happier with the entire experience. And our photos around the grounds turned out incredible! I just cannot say enough positive things. Thanks to Brookside and Callan for everything!
---
Reviewed on

6/19/2015
Erica P
"BEST WEDDING EVER!!" We heard that from so many of our guests in the weeks following the wedding. We lucked out with amazing weather for our outdoor ceremony under the beautiful tree, and the setting was even more beautiful than I could have imagined. The food is seriously... Read More amazing, and our guests continue to rave about the beef tips entree especially. Callan and the rest of the event staff really bend over backwards to answer questions, accommodate requests, and flawlessly execute an event from start to finish.
---
Brookside wedding
Reviewed on

6/10/2014
We had our ceremony and reception at Brookside. The ceremony was outdoors, and absolutely beautiful! The indoor reception hall was wonderful. The food was amazing, all our guests RAVED about the food! Callan was great to work with, she made sure every last detail was... Read More discussed and planned exactly as we wanted.
---
Reviewed on

7/08/2015
Shannon D
We had our reception at Brookside in April 2015. From the time we booked the venue through the night of our reception, the event coordinator, Callan, was incredibly helpful and professional. Our reception was exactly what we wanted from start to finish, and our guests had... Read More nothing but positive reviews about the food. Aside from great service, the grounds and ballroom are gorgeous. You will not regret holding your event at Brookside.
---
Great Venue!
Reviewed on

7/03/2015
Alicia C
The day of our wedding it started raining a couple of hours before the ceremony and Brookside was great about setting up the ceremony inside and directing our guests on where to go. The food was amazing and Callan (director of catering) was great to work with!!
---
Reviewed on

6/04/2015
Callan H
Brookside Golf & Country Club was the ideal place to have our wedding and reception! The outdoor ceremony space is beautiful and has the best backdrop for ceremony pictures. Our guests really enjoyed the outdoor cocktail hour on the patio as well. We had Jason, the bartender,... Read More create two signature drinks (his and hers) and my guests just raved about how great they were! The ballroom looked perfect when we went inside for dinner. The staff set up everything exactly as we requested and really took the stress out of our big day. Dinner exceeded our expectations from start to finish and was served quickly and professionally. Our guests are still complimenting us on how much they enjoyed the meal. At the end of the night, the staff took care of all of the cleanup and we were able to enjoy the rest of the evening with our friends and family. Brookside really is full service! We recently received our pictures from the photographers and are still stunned by how beautifully the grounds at Brookside accented our wedding photos. We would highly recommend Brookside to anyone planning a wedding!
---
Dream wedding location!
Reviewed on

8/29/2014
Katy M
The grounds at Brookside will provide the perfect backdrop for your spectacular wedding event! From the elegant cocktail reception on the beautiful stone patio to the incomparable wedding party photos you will not be disappointed! The food is outstanding as well. We had 285... Read More guests comfortably seated and served, each receiving a five star meal that will please every palette. The ball room looked like a dream come true as it was so stunningly decorated with crisp linen and sparkling stemware. Everything completely complimenting our color scheme and floral arrangements. And that wasn't even the best part: the service was AMAZING! The staff at Brookside made us each feel like royalty as they attended everyone's needs perfectly. They were definitely not short handed on staff. Our guests raved about the evening. We are thrilled with our choice to have our daughters wedding here at Brookside.
---
Wonderful Venue!
Reviewed on

8/19/2014
Laura M
Brookside is a beautiful place, from the minute we took a tour and booked we were excited about the exquisite grounds, reception space and amenities. On the day of the wedding, our expectations were exceeded. The chef provided well executed and delicious menus for both our... Read More cocktail reception and dinner. We received many comments for our friends and family who were delighted with the menus, proclaiming them the "best ever" food at any wedding they had attended. They recently added bridal suite in the women's locker room which is a useful, relaxing space for the party to prep in. It was nice to be in such a soft, luxurious feeling space before the ceremony. Additionally, the renovations/updates in the reception space are beautiful and highlighted an already lovely space which complemented both our wedding ceremony and reception. The grounds are also so well cared for and made a stunning backdrop in our wedding photos. The event planner, Callan, was lovely to work with during the planning of our wedding.She provided lots of insight regarding logistics , helped with selections and provided superlative personal service during the event. Would gladly host many other events and weddings here!
---
Wedding
Reviewed on

6/03/2014
Our wedding at Brookside Golf and CC was amazing. The venue both outside (wedding tree and patio) as well as inside ballroom are beautiful. The staff are amazing, friendly courteous and exceeded expectations. The chef prepared incredible food for such a large party.
---
Beautiful location
Reviewed on

7/01/2013
Meredith W
We had our wedding here in May 2013 on a Sunday and loved it. It is a beautiful country club and also has great food! The girl in charge of catering was pretty helpful. There were a few things that I felt like she wasn't as great as she could have been but overall it was worth... Read More it and we had a beautiful wedding! My biggest complaint was they made it near impossible to get lunch on the day of my wedding and we had been there from 10 am until the wedding at 5:30. That was very frustrating and she also didn't put water in the vases on the tables so all the flowers were dying by 8pm which was not cool. The location is well worth it though.
---
Great food and flexible services
Reviewed on

10/31/2012
Michelle K
Lauren was extremely fast with responses and they were very accommodating to different foods that we wanted on our menu.
---
Beautiful Setting, Upsetting Service
Reviewed on

10/19/2012
Kara
Brookside is indeed beautiful and was great for pictures however the service was not very good. The wedding coordinator left 2 weeks before our wedding and it felt like our wedding fell apart from that point. There was a member's event in another room during our wedding and... Read More their guests were drunk, trying to come into our reception and a fire alarm was pulled during the reception. The entire staff had no idea what to do and gave us a deer in the headlights look while the fire alarm blared for over 15 min until the fire chief arrived. Lastly when we called Brookside after we got our bill with 20% tip already added (which was not made clear to us that they would automatically add) the GM was very rude to me as the bride and accused me that my guests were the problem and we just needed to pay the bill. Whatever happened to service after the sale? If you are going to use Brookside, hire a wedding planner that is a take charge kind of person!
---
Beautiful!
Reviewed on

10/16/2012
Anna G
We had so many comments from friends and family on how beautiful Brookside was for our reception! Very easy to work with, the best food let alone wedding food, and our pictures on the ground turned out amazing! Would recommend to any bride!!
---
Perfection from A to Z
Reviewed on

8/27/2012
Brandi G
Choosing Brookshire as our wedding venue was the absolute best decision we could have every made! Joy and her staff were such a delight to work with. They gave us the wedding of our dreams with a one stop shop. We came to Brookshire with a very tight budget. Originally we... Read More thought Brookshire would be outside our reach. I decided to contact them anyway and I'm so glad I did. From the moment we met, Joy welcomed us with warm arms. She never tried to hard sell her venue. It felt like working with a dear friend. We didn't feel pressured to sign a contact or increase our budget. Instead Joy simply listened to our vision and worked with our budget. She made several suggestions as to how we could achieve the wedding of our dreams. The process to our wedding day was seamless. Joy did it all. Anything that I didn't think of, she did! On our wedding day I was so relaxed. Everything was put in place by the awesome staff. Our guests raved about the amazing atmosphere and experience. Brookshire is such a trendy venue with awesome decor. The food was absolutely delicious. Shirley (the florist) did such an amazing job for both our ceremony and reception. We enjoyed having an open bar all evening. We can't forget to mention Dj Mike. He rocked! He played all the right music and kept the dance floor packed. I'd recommend Brookshire to anyone! Love love love, Brookshire!
---
Fantastic Service and So Beautiful!
Reviewed on

8/11/2012
Mikalyn D
Though this venue was very high priced, it was worth every penny! Lauren was so good to work with because she listened to all our requests and figured out how to make everything work perfectly! The food was excellent and everything was beautiful!!
---
beautiful location
Reviewed on

8/07/2012
Ashley F
Only use them if you are going to have your reception here as well because if they book a second wedding the same day to take place after yours and they are using them as their reception you will come in second for all things. They will be taking pictures on the grounds during... Read More your wedding and it can be distracting. However, the grounds are beautiful and it was an amazing location for an outdoor wedding.
---
Amazing!!!
Reviewed on

7/23/2012
Amanda P
Brookside was an amazing location for our wedding, as well as our reception. From the day we came to look as Brookside, the staff was friendly and very accommodating. The day of our wedding was sunny and 95+ degrees - Brookside took care of making sure our guests were shaded... Read More and had plenty of cold water to drink during the ceremony. We also received so many wonderful compliments on our food! The wait staff was also wonderful, so polite and helpful. We could not have picked a better location for our wedding!!!! I would recommend this vendor to anyone - especially those looking for an outdoor wedding.
---
Amazing Facility and Service
Reviewed on

6/07/2012
Christine N
My husband and I had our cocktail hour and reception at Brookside Golf and Country Club. They were very accomodating (giving us more golf carts than normal to take around to take photos, letting us come earlier than usual to get ready, and changing portions of meals). They also... Read More had great service during the cocktail hour and the line for drinks was never very long. Lauren did a great job answering our questions and changing meals up until about 3 days before the wedding. The grounds were beautifully kept and the service was wonderful. I would recommend Brookside for any bride looking for a reception venue. They also do wedding ceremonies by their terrace next to beautifully landscaped grounds!
---
great
Reviewed on

2/20/2012
Amy B
great
---
Excellent wedding venue
Reviewed on

2/12/2012
Dawn G
We had both the ceremony and reception at Brookside. Beautiful location. With the vaulted ceiling in the ballroom, and the beautiful Christmas decorations it was a winter wonderland. Perfect backdrop to a beautiful wedding. Lauren was so easy to work with! Very responsive... Read More and lots of helpful suggestions. A true professional!
---
Best Wedding Location!
Reviewed on

10/22/2011
Karen H
What a beautiful place to get married! Everything was perfect! Lauren made everything exactly how we wanted it and helped make our special day such a success! I would highly recommend this for a wedding venue!!
---
The PERFECT venue!
Reviewed on

10/06/2011
Jenna S
Finding the perfect venue to hold my wedding reception was exceptionally important to me. When my parents and I walked into Brookside we knew we had found the perfect place! From the beautifully kept grounds, to the picturesque historic clubhouse, to the incredibly hospitable... Read More staff we could not have been happier with choosing Brookside as our reception venue! Lauren (the catering manager) was so patient and very helpful throughout the wedding planning process. She was always available to answer our questions and provide valuable advice. When the day of the wedding came, I could not have been happier with how the reception went! Guests loved the happy hour out on the beautifully landscaped patio, and the rest of the evening in the reception hall was perfect. We stayed on schedule, the service was excellent and the food was absolutely delicious! Not to mention the numerous compliments we received from all of our guests, they just loved the venue! I would recommend Brookside to anyone looking for an absolutely beautiful venue to hold their special event.
---
Great Reception
Reviewed on

7/07/2011
Mandy A
Lauren was great at coordinating all the vendors and making sure everything looked great. The food was amazing, everyone is still raving about it!
---
Reception at Brookside
Reviewed on

10/21/2010
Michelle O
Brookside is absolutely beautiful and the catering staff was great! I didnt have to worry about anything as they made sure everything was taken care of. And the food was amazing! We received so many compliments from guests.
---
Absolutely beautiful, indoors and out
Reviewed on

8/09/2010
Derek R
Amy and Lauren were amazing when it came to helping me prepare for the big day. They paid attention to the details to make sure the wedding ceremony and reception went smoothly. If I could do it all over again, I would still choose Brookside, hands down.
---
Send Message