Home

Bucci's Jewelry & Design
Details
Earrings, Necklaces, Wedding Jewelry, Fashion, Engagement Rings, Wedding Rings, Rings
Contact Info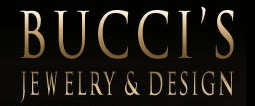 Reviewed on

12/18/2016
I've been going to Joe since he started the business and I can honestly say I have never been disappointed in his service prices and quality of his merchandise
---
Reviewed on

12/06/2016
Jessica P
My husband and I absolutely loved Joe and his team. My husband first met Joe and together they designed the most beautiful custom engagement ring - truly a work of art! Later, when it was time to pick our bands I had the pleasure of meeting Joe for myself. He made a custom band... Read More to match my engagement ring perfectly, and he was so easy to work with and talk to. What really put Bucci over the top for me was the fact that he let me borrow absolutely gorgeous earrings for my wedding day at no cost!! They truly made my look that day and I was so thankful to be able to wear incredible (and expensive) pieces of jewelry on one of the most wonderful days of my life. Bucci will be our jeweler for life.
---
Reviewed on

10/30/2016
Colleen B
Cannot say enough good things about my experience with Joe and the rest of the staff at Bucci! From the start, I felt like Joe was listening to exactly what I wanted, and never felt like I was getting up-sold. He designed a custom wedding band for me, and fixed the size of my... Read More husband's ring in no time at all! I regret not finding out about him sooner, or we would have gotten my engagement ring there as well. Best of all, he lent me gorgeous diamond earrings for my wedding day! HIGHLY recommend Bucci for a great experience!
---
Reviewed on

8/03/2016
Christina K
My husband first went to Joe Bucci when he was picking out my engagement ring. Joe was highly recommended by a few of his friends who recently brought engagement rings from him. I had one picture of a ring I liked on Pinterest and Chris, my husband, showed Joe. Joe designed and... Read More created the ring to look even better than the one in the picture. The amount of compliments I get on my ring is remarkable! Of course, we had to go back to see Joe for our wedding rings. He designed my band to match my engagement ring perfectly and he told Chris that he should ask his family for gold to melt down and he would create his wedding band. Our wedding rings are just amazing! In addition, Joe graciously let me borrow a beautiful necklace and earrings to wear on my wedding day. I truly felt like a princess. Thank you Joe Bucci Jewelry & Design! We can't wait to visit again soon!
---
Amazing custom work
Reviewed on

1/24/2016
Diana A
Absolutely amazing! My fiance got my engagement ring here and there wasn't a doubt in my mind we would get our wedding bands here as well. I was nervous at first because I am not one to put my trust without seeing the finished product beforehand. I had my mother's original... Read More engagement ring with a center diamond and three small diamonds on either side. They were able to create exactly what I wanted using my mo's stones from her ring into a beautiful wedding band. They even added more diamonds and I can;t even tell the difference between the new ones and my mom's It turned out perfectly. It means eve more to me to have them create something that belongs to my mom. Not only that I had the shank of my engagement ring replaced to match my band. Anyone looking for weddding bands/engagement rings or custom jewelry this is the place to go.
---
Reviewed on

7/16/2015
Joe is the man! He made the whole process less stressful that it already was. Very personable and friendly, which I can't say I encountered other jewelers. Always felt like I was his only customer at the time. I was on a tight deadline and he made it happen on time, even... Read More when he was out of state in Vegas for vacation. My now fiancé loves the ring, she was stunned as to how beautiful it came out! You would be doing yourself a disservice if you didn't give joe a shot when it is your time to buy an engagement ring.
---
beautiful custom rings
Reviewed on

9/17/2014
Stephanie R
We love our rings! We first worked with Joe Bucci to create a custom engagement ring that included diamonds from both sides of our families, and were so happy with the result that we worked with him on our wedding rings as well. His shop is small, so you might want to peruse his... Read More website and/or go to larger jewelry stores to get an idea of what you like before you visit Joe. He sometimes gets busy and the shop can get crowded, so it's a little hard to browse in there. Also, know your budget ahead of time and tell him, so that he can work within your limitations. He will create something beautiful for you!
---
BEST JEWELER AROUND!!!
Reviewed on

8/08/2014
Joe Bucci is a true jewelry design professional. He designed a custom engagement ring and custom wedding bands for us and as usual exceeded expectations. When you make the big decision to get married, it is important to have someone as knowledgeable as Joe to help guide you... Read More through the process. While there are many jewelers out there, there are not many as straight forward and customer focused as Joe. He is all about giving the customer what they want with guidance along the way to show you all the possibilities without trying to hard sell you. I wouldn't go anywhere else!
---
Beautiful Jewelry (Bucci knows what they're doing!)
Reviewed on

7/08/2014
Lisa A
My fiance (now husband) purchased my engagement ring from Bucci's because we lived in Conshohocken at the time, and read some really good reviews. When he walked in he said that the jeweler was working on a ring for a famous celebrity. When my husband told him what he wanted... Read More (more what I wanted), he was helpful every step of the way to create a custom engagement ring. My ring is an emerald cut emerald in the signature Bucci band with a halo around it. It is perfect. Bucci went through a lot of trouble to help pick the best emerald. My husband made several trips to the store (under the guise of going to the electronics store). When I got the ring I was overjoyed and couldn't have imagined anything could be so beautiful. When it came time to get a wedding band we went to Bucci's. They matched the band perfectly. The 2 rings look amazing together. The staff is friendly and very helpful. Their work is amazing. I highly recommend to check this place out if you're looking for a gorgeous ring(s).
---
Bucci is the BEST!
Reviewed on

4/28/2014
Becky L
We loved working with Bucci! We are obsessed with our rings. His prices were fair. We were impressed throughout the whole process! We will definitely use Bucci in the future :)
---
Perfect
Reviewed on

12/20/2013
Abby
My now husband got my engagement ring at Bucci through recommendations from friends and I'm glad he did. The ring is perfect! He had no idea what I wanted but managed to get just that. Joe custom designed the band and also put the diamond in an amazing setting. When I went in... Read More for my band they were very helpful and let me try on any band I wanted to see what would fit best with my engagement ring. They would creat a custom band if we would have liked but I found a band that was perfect for my ring and exactly what I had in mind. They cleaned my ring any time I stopped in and were always friendly, remembering every one of their customers. We will be sure to pass along their name to any future bride and grooms we kow
---
Bling Bling
Reviewed on

7/23/2013
Kimberly A
Wow! My now husband bought my engagement ring, and we both bought our wedding rings from Bucci's. I can not tell you how many people have told me that my engagement ring is the most beautiful ring they have ever seen! To this day, I still can not stop staring at my engagement... Read More ring :) Of course our wedding rings are beautiful as well. The staff is fabulous at Bucci's, and I would highly recommend them to anyone!
---
Amazing work!
Reviewed on

11/20/2012
Kelly H
Bucci is the best!! My engagement ring was custom made by him and I loved it- and he had to custom make my wedding band and the two of them together look absolutely gorgeous!! I couldn't be happier :) he was so accommodating with everything throughout the process. I will use him... Read More (and so will my husband!) for all of our future jewelry purchases!
---
Engagement ring and Bands are PERFECT
Reviewed on

5/15/2012
Louise M
From the engagement ring to the wedding bands, Joe Bucci was hands on and attentive to all our needs. He helped my husband design and create the perfect engagement ring and matching wedding band. He was also extremely accommodating to our price range and needs. I will not buy... Read More another piece of jewelry from anywhere else. I strongly recommend Bucci Jewelers
---
Gerhard Wedding 4/20/12
Reviewed on

5/10/2012
Trisha G
Joe did a great job on our wedding bands and engagement ring! The jewelry is gorgeous! I couldnt be happier. Everyone in the shop was so easy to work with and answered all of our questions! Def a very friendly atmosphere!
---
BUCCI IS THE BEST JEWELER OUT THERE!!
Reviewed on

1/25/2012
Shahla A
Joe Bucci is one of the most honest and good-hearted people I have ever met. It was truly a pleasure to do business with him. He gave us an unbeatable price that we couldn't find after talking to several other jewelers in PA, DE, NJ & NY. My fiance lives in NY and we spent sooo... Read More many hours walking around the Diamond District in NY and we realized that was such a waste of time as soon as we walked into Bucci's. Joe didn't put any pressure on us at all and told us to shop around and come back if we felt his prices were reasonable. He offers quality diamonds at very reasonable prices and he is very straightforward and honest from the beginning. He will work with you within your budget and get you exactly what you are looking for at a cost you can afford. I don't think there is a better jeweler out there. Go to Bucci... you will be happy you did. Can't wait to go back for our wedding bands! :)
---
Impeccable service
Reviewed on

12/08/2011
Aisha N
My fiance was very pleased with the price and service he received. :)
---
Best Service
Reviewed on

12/06/2011
Lauren G
Joeis soo wonderful!! I had so many issues with my engagement ring and he not only took care of my ring but he made sure that I had the best wedding band ever!! Love my ring, Love the service, Love Joe Bucci!!!
---
Amazing!
Reviewed on

10/18/2011
Jessica C
Joe Bucci was such a pleasure to work with in designing my fiance's wedding band. The team is so helpful, very fair pricing and really cares about his customers. My fiance's wedding band is gorgeous and we couldn't be happier!
---
Sparkle
Reviewed on

9/05/2011
Kristen K
Both my engagement ring & wedding band were designed by Bucci. I receive so many compliments on how beautiful they are. I still stare at the completed set in awe of diamond sparkle! Joe & Dawn are a pleasure to do business with.
---
Family Jewler
Reviewed on

5/31/2011
Jessica T
Joe Bucci was wonderful to work with! He custom designed my engagement ring with my husband, it was absolutely perfect. He even thought ahead to design the setting so that I could select any band I wanted to go with it. He also custom designed my wedding band so that it... Read More matched my engagement ring and allowed me to preview the wax sample before it was made to ensure I liked it. He was very friendly, always made us feel like we were family. I would recommend him to anyone!
---