Home

Byers Butterflake Bakery
About this Vendor
Byers Butterflake Bakery
Byers Butterflake Bakery, a family-owned business, is here to serve your wedding cake needs. We offer cakes from simply beautiful to grand elegant. You will be pleased with the variety of flavors and fillings that we offer the bride and groom.
Details
Cake Accessories, Cakes + Desserts
Contact Info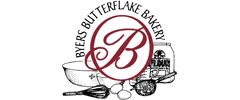 Byers Butterflake Bakery Wedding Cake
Reviewed on

9/30/2014
Andrew K
My family has been buying desserts and cakes from Byers Butterflake Bakery for years from birthday parties, special events, and graduations. Naturally, when my fiancé and I got engaged we knew Byers would be the perfect bakery to bake our wedding cake. We scheduled our... Read More tasting with Diane and had the best time. We arrived to our tasting to find six large slices of different flavored cakes for my fiancé, mom and I to taste. Additionally, she had out a variety of magazines and books to browse through to get ideas about what size, shape and design we may like. We absolutely loved the white cake with buttercream icing and the white cake with raspberry mouse filling. They were both light, fresh, moist and delicious. We knew they'd be the perfect flavors for our late summer wedding. Diane was an absolute joy to work with and we truly enjoyed choosing our wedding cake at Byers. On the night of our wedding reception, we finally saw our cake and were absolutely blown away. The icing and finishing was flawless. It was apparent that our guests enjoyed it as well as we only had one slice left at the end of the evening! It was a wonderful experience working with the team at Byers and we're sincerely happy with how our wedding cake turned out!
---
Delicious!
Reviewed on

2/01/2014
Erica K
Byers was great to work with. Diahann was great from the start and was very helpful when picking out what I wanted, especially when I had no idea what I was looking for. Our cake was included in our venue so we were allowed to pretty much do whatever we wanted so she really... Read More helped us figure out what would work best for us.
---
Beautiful Cake, Great Price!
Reviewed on

12/08/2013
Mary Beth
We got our cake from Byers and it was beautiful and delicious! The cake sampling is also awesome! We met with Dianhnn twice and each time she super helpful! We got to sample four different flavors early on in the planning, and when we we did our final meeting she got us some of... Read More the flavors we picked to make sure we still wanted to go with them. We did a marble tiered cake and a white raphsody sheet cake. Both were amazing and the bakery suggested this order so that our guests could get two flavors and we'd save some money. It was great suggestion and we loved the tiered cake!
---
Reviewed on

10/24/2016
Lindsey E
The cake was absolutely amazing! We loved it as well as our guests! Reasonably priced and great to work with! Will not disappoint!
---
Reviewed on

7/11/2016
Courtney K
This place is amazing! From the moment we were able to sample the cake, we fell in love! Diahann was fantastic to work with, but make sure you know what you want when you go there! She wants you to design it and will help guide you, but may not just make something up for you.... Read More The cake is absolutely delicious - best cake I've had in a while! Chocolate Peanut Butter Symphony is my favorite.
---
Reviewed on

4/08/2016
Katie N
The cake was beautiful and tasted amazing! As a bride, having the promise that they would deliver the cake no matter what the weather was one worry off of my shoulders! They were great and even accommodated several flavors:)
---
Best cake I have ever ate
Reviewed on

10/14/2015
Adrianna K
The cake was so delicious! I had so much leftovers that I got to enjoy after my busy day
---
Reviewed on

9/09/2015
Erin W
My husband and I went to taste cakes about a year before our wedding- everything was so delicious! We decided on three different flavors for our wedding. I emailed them pictures of cakes I liked and a year later on my wedding day I couldn't have asked for anything better! Our... Read More cake was beautiful! and all three flavors were delicious! The guests raved about it. Byers Butterflake is a pleasure to work with and knows how to make the best cakes!
---
Beautiful and Delicious Cake!
Reviewed on

10/29/2014
Our cake from Byers bakery was incredible! It was so difficult to choose a flavor because each one we tasted was delicious, but we were so happy with the White Rhapsody flavor that we chose! The decorations were unbelievable and I would go back to them again and again.
---
Best cake
Reviewed on

10/20/2014
The staff is amazing. The cake had so many positive reviews. Thanks for making our day so special.
---
Amazing and Delicious Cakes
Reviewed on

10/20/2014
I was introduced to Byers Butterflake Bakery almost two years ago and have been very impressed with the large variety of cake flavors and desserts that they offer. I have ordered many cakes (white rhapsody, peanut butter symphony, and marble) for various occasions and have... Read More always been pleased. They also do a wonderful job with decorating the cakes. Friends and family have enjoyed the cakes and have asked who made the cake. I was more than happy to tell them it came from Byers Butterflake Bakery.
---
Great Experience
Reviewed on

10/19/2014
I love that the business is family owned, you feel like your a person and not just a random customer. My cake was great! It looked gorgeous and was exactly what I asked for! It tasted awesome too! I would definitely recommend getting your cake here.
---
Perfect!
Reviewed on

10/14/2014
Lynn O
I couldn't have asked for a better experience working with Byers Bakery. Diahann the pastry chef, was such a delight to work with. She was very professional,and able to answer all of the many questions I asked her. My fiance and I decided to go with a three tier cake, and an... Read More array of miniature pastries! The cake as beautiful as it was was moist and delicious! (We picked they're famous white rhapsody cake!) Our pastries were also amazing! (Fresh fruit tarts, miniature cheesecakes, eclairs, and chocolate covered strawberries! YUM!) My guests were as thrilled as we were! Thank You!!
---
Beautiful Bakery!
Reviewed on

10/13/2014
Great, friendly, and professional bakery! Beautifully decorated and absolutely delicious cakes.
---
Cake was amazing
Reviewed on

11/02/2013
Karen M
Diahann was amazing to work with from day one!!
---
Tasty & Beautiful Wedding Cake
Reviewed on

9/07/2013
Justine R
I knew exactly what I wanted my wedding cake to look like. Dihanna at Byers Butterflake Bakery made it happen. My cake was amazing...and very very tasty. You can tell that they took time make sure every detail of the cake was perfect. There prices were reasonable also.
---
great cakes:)
Reviewed on

9/05/2013
Jenna S
Diahann did an amazing job at creating the multiple cakes for our cake table. It turned out exactly as we wanted, and we couldn't have been more pleased! The price was great, too!
---
Excellent Service
Reviewed on

7/11/2013
Erica K
The cake was beautiful and tasted amazing! We loved working with Byers. They did a fantastic job in meeting our needs. I had a vision in mind of what I wanted and they matched that vision. The cake was so classy and elegant. I have and will use Byers again!
---
The Walters
Reviewed on

7/05/2013
Nicole L
Our wedding cake was gorgeous and so moist and delicious. Great prices, excellent cake and great people to work with. We recommend them!
---
loved them
Reviewed on

6/28/2013
Lisa E
I ordered cupcakes from byers bakery and we loved it.
---
5 Stars!
Reviewed on

10/08/2012
Jana H
Wonderful to work with! Our cake look just like the picture I took in and was delicious!
---
Excellent tasting cake and pretty too!!!
Reviewed on

6/22/2012
Katie B
Our cake was beautiful and tasted amazing (not every bakery can pull that off)! Plus the price was more than fair and the customer service was EXCELLENT!
---
Organized, Flexible and Fabulous!
Reviewed on

5/21/2012
Kristen S
Working with Diahann and the team at Byers was one of the most enjoyable times of planning our wedding. She met with us to do a free tasting, where she then gave us extra cake to take home and enjoy! She took my vision for our cake and used her expertise to create a true pink... Read More and brown masterpiece! And it tasted GOOD! All of our guests were impressed with not only the display and elegance of the cake, but the taste and texture as well. She did a wonderful job, kept me in full communication throughout the process and was flexible when I decided at the last minute to not use a cake topper and have a design instead. The cake turned out wonderful and both my fiance and I enjoyed working with Byers very much...I even commented to him after one meeting that she made me feel stress-free after each meeting, which is unusual in the bridal world!
---
Excellant
Reviewed on

4/18/2012
Julie H
The cake was amazing. The flavor, moist, and look. Everyone loved how it tasted.
---
best cake ever
Reviewed on

11/17/2011
Amie S
Honestly, it was the best cake I've ever had at a wedding. People were also telling us they had three and four slices it was so delicious. It was really nice that we could choose a different flavor for each layor. The consultation went very well, Diane really listened to our... Read More ideas and helped our vision become a reality!
---