Home

Cake Works
About this Vendor
It's All About The Cake!
Cake Works is Honolulu's premier Wedding and Custom cake shop. When you order a wedding cake from Cake Works, you are getting more than just a cake. You are getting a delicious work of art, custom made for your special occasion. As well as cakes, we also offer a wide range of desserts and favors, cupcakes and french macarons.
Details
Cake Serving Sets, Cake Stands, Cake Toppers, Cake Accessories, Cake Delivery + Setup, Cake Tastings, Groom's Cakes, Cakes + Desserts





Contact Info

Perfect!
Reviewed on

7/09/2011
Tamara L
Planning a destination wedding is always difficult. I contacted many bakeries to get quotes on cakes and cakeworks was the ONLY bakery that ever replied back asap with a quote. I had sent them a picture of what I wanted my cake to look like and it was perfect! We didn't even do... Read More a cake tasting because I didn't really care too much on the taste, but it was delicious! The entire process with cakeworks was simple and quick. Very professional and proficient! Thanks!!!
---
They saved my cake!
Reviewed on

1/28/2011
Jessica W
I ordered my cake from a different vendor the I had met at the Hawaii Bridal Expo. The cakes she displayed were amazing, but on the morning of my wedding I went to pick up my cake and I nearly cried. Cake works was right down the street from my apartment so I stopped in to ask... Read More some advice. I ended up breakign down in tears. They had me bring the cake down and agreed it was a sad sight. The asked me what I wanted and told me to come back 30 minutes later. I could tell they were backed up with their own orders but I figured anythign was better than what my cake looked like. 30 minutes later I came back to see my cake, only 100 times better. I was speechless. They charged next to nothing for all the work they did, incluging adding about 20 or 30 plumeria flowers made of icing and colored to match the other flowers already on the cake. They were fantastic! I went back a week later to thank them again and buy some of their cupcakes, which are delicious by the way. :)
---
Loved My Cake
Reviewed on

11/15/2010
Ashely L
My cake came out just as I imagined although I placed my entire order over the phone and even made some last minute changes. It turned out beautiful and every flavor tasted great! Thanks to Cake Works for making my wedding day memorable :)
---
Reviewed on

10/09/2017
Desiree R
Our cake was simply wonderful. It looked exactly how we wanted it and tasted amazing. Koree was beyond helpful. Thank you so much Cake Works!
---
Reviewed on

9/26/2017
Rebeca S
Cake Works was easy to work with despite living in Minnesota. They let us do a cake tasting 4 days before our wedding and the cake was just fantastic (we picked the lilikoi flavor). Amazing cakes and even better service!
---
Reviewed on

7/25/2017
Alexandra G
I hate to be the bride who leaves a bad review but I have to be honest! I had the most perfect wedding and the only thing wrong was the cake. It looked beautiful! 5 stars on looks alone if thats all you care about. But it was the most dry, flavorless cake I've ever had. Which is... Read More a huge deal for me because I loveeee sweets and it killed me to see the cake sitting on all the tables uneaten! I could just tell that none of the guests liked it and I took one bite and felt the same. Not only that but they mixed up the flavors on the cake tiers, so my guests ended up getting the special flavor I picked for the groom and I to have as the top tier. This was extra upsetting because I clarified this with Koree extensively via back-and-forth email about how if I couldn't have red velvet on the top then I didn't want a top tier. I know not everyone even likes red velvet which is why I didn't chose it for my guests. Too bad because it was a beautiful cake, I just wish it had tasted like it.
---
Reviewed on

7/14/2017
Theresa G
Cake Works did a great job,,,they delivered just what my daughter ordered for her wedding.
---
Reviewed on

11/01/2016
Haydee K
We were absolutely satisfied with the customer service and our wedding cake was very beautiful. Thank you so much Cakeworks!
---
Reviewed on

10/31/2016
Adam H
Cake Works did an amazing job! My wife and I decided to go with a simple yet elegant cake for our wedding. It was a two tiered cake with cherry blossoms wrapping up and around the cake. The detail on the cherry blossoms was exquisite, yet simple enough that it wasn't over the... Read More top. They delivered exactly what we wanted. In addition, the delivered the cake to our venue with out any hassles. As well, we had Cake Works provide macaroons and mini cupcakes. All of our guests raved about how good these were. If you are looking for a vendor that can supply everything from simple and elegant to extreme and glamorous, Cake Works can deliver and then some!
---
Reviewed on

10/30/2016
Kayla S
Cake works did an amazing job. They went above and beyond for our Baby's Gender Reveal cake. All the staff was extremely friendly, professional, and very detailed. The cake was more beautiful than I imagine and it was absolutely delicious!
---
Reviewed on

10/28/2016
Jolene K
I love cupcakes & macaroons from CakeWorks and they don't disappoint when it comes to making custom made cakes! We ordered one for a Bridal shower with an adorable bunny, couldn't be happier. Thank you!
---
Reviewed on

10/28/2016
Janice T
I have always loved Cake Works cakes! Until recently I never realized what amazing artists they are! They created the most beautiful cake for our occasion -that was so delicious. I'm still testing all of their flavors-so far I love them all.
---
Reviewed on

10/27/2016
Tamra M
I would highly recommend anyone in need of a specialty wedding, anniversary or birthday cake to try Cake Works! We ordered a two tier cake with live flowers cascading down the side, which turned out better than I had expected. Thank you Cake Works!
---
Reviewed on

10/27/2016
Neva B
Our Wedding Cake was absolutely stunning! It was a little 2 tier cake with ocean theme! It was the most decadent cake like evarrr! The strawberry guava and chocolate mocha layers were the bomb! The iridescent white and purple on the cake was amazing! I definitely will be back on... Read More November 10th for our 4 year anniversary cake!! I love love love Cake Works!! ~ <3
---
Reviewed on

10/25/2016
Jacqueline R
My husband and I could not have been happier with Abigail's amazing creation for our wedding on Oahu. Her pricing was affordable, communication was quick and easy. The cake was delicious and a huge talking point among all our friends and family. I did not have anything... Read More particular in mind, but she was able to put all the concepts we had wanted into a masterful work of art. I would highly recommend Cake Works for any occasion! Thank you all again for a cake that I couldn't have dreamed of being any more perfect than it was!
---
Reviewed on

10/25/2016
Kathy C
I contacted them for my daughters party and they were so helpful and knew exactly what look I wanted. (Semi naked cake). I didn't know what flavor to get and they suggested some of their popular flavors. For her big cake, I got lilikoi and for her smash cake, I got strawberry... Read More guava. They both were so delicious. Everyone that ate the lilikoi absolutely loved it. It was so moist and light. I'm really wishing I could have some right now. I decorated it with my own flowers and custom made topper. I highly recommend Cake works for your next event cake!!!! Can it be my birthday soon?
---
Reviewed on

8/24/2016
Mia C
I got married on 8/7/16 in Kualoa Ranch, it was a destination wedding. Based on reviews and pricing, I went ahead and booked Cakeworks. I worked with Leilani. She responds through emails in a timely manner. Honeybook is their main form of communication and payment. Being that it... Read More was a destination wedding, I sent Leilani pictures of what I wanted my cake to look like. It was going to be a simple look because I knew I was going to add some fresh flowers and my own decorations to the cake. Prior to my wedding, I did a cake tasting at Cake Works with my Maid of honor and we chose 2 flavors: Strawberries and Cream and Lilikoi Lemon. Both tasted great! Unlike some reviews, we had unlimited tastings and we were not charged a $20 tasting fee. Cake Works pricing was reasonable. I ordered a smooth champagne fondant with white monogram D on a 3-tier 2-flavor cake serving about 50 people. They do charge on delivery depending how far the wedding venue is. They don't charge on how many flavors you want on a cake. I loved how the champagne color and the monogram D turned out. The flavors turned out delicious and we received compliments from our guests. My only caveat since my wedding was outdoors, the heat and humidity caused the 2nd tier on my cake to tilt a little to the right. Other than that, everything else was beautiful. I recommend Cake Works. I can't really judge them on creativity because I gave them a picture to follow. However, their service, tasting, pricing, and flavors will not disappoint! Mahalo Cake Works!
---
Reviewed on

8/04/2016
Gini A
My cake was one of the most delicious wedding cakes I have ever tasted! Everyone at the receptuion raved about it. And the groom's cake, a cheesecake, was so good that I still have dreams about it! I would highly recommend this company to anyone looking for a sweet treat or... Read More event dessert in Oahu. Thank you guys so much!
---
Reviewed on

7/09/2016
Beth-Ann R
Chef Abi created the most beautiful five-tiered cake, each with a different flavor and each in a different size...an edible work of art so delicious, we ate the gluten free anniversary cake 24 hours later! A heartfelt endorsement.
---
Fantastic
Reviewed on

7/30/2015
The look and taste of the cake were both fantastic. We got the passion fruit with mandarin oranges and the coconut- both so moist and flavorful (&not too sweet!) the designers at CakeWorks definitely care about the end result. they were accommodating and flexible to change.... Read More they listened to what we were envisioning and made suggestions on exactly how to go about it. I loved our cake and would recommend them in a heartbeat! we will definitely be revisiting them on our next trip back to Honolulu
---
Cupcake Tower and Wedding Cake
Reviewed on

10/08/2014
Tamara S
The most beautiful cake (and best tasting) ever! Cake Works was SO easy to work with, I ordered eight different cupcake flavors and a cake for our reception. The cake was beautifully decorated and they delivered and set-up; completely took the hassle out of the wedding day. I... Read More even changed the cake design and color a few days before the reception, and they were more than happy to accommodate our wants.
---
Good Baker
Reviewed on

8/30/2014
Lynn
We found CakeWorks through The Wedding Cafe Hawaii. They offered a coupon for free wedding cake sampling, so we decided to do it. We had an appointment/consultation with Allise. She was very friendly and helpful. We only showed her pictures of what we wanted for our wedding... Read Moreauyfcbefvrafaxtfuutwwtrufxwrzdburayxxw cake once. She wrote everything down and on our wedding day, the cake we imagined was there. Allise was very easy to work with. She made sure that we were able to get the wedding cake of our dreams. She also responds to emails in a timely manner even though she is a busy woman. We are glad that we chose CakeWorks to do our wedding cake.
---
Gorgeous Naked Cake
Reviewed on

8/26/2014
Lauren F
We were extremely happy with the 4 layered chocolate cake with pink vanilla cream filling and 3 layered strawberry shortcake pink dolloped cake that we got from Cake Works. The cakes were not only beautiful but delicious! We also ordered a bunch of mini cupcakes that were to... Read More die for! They had a large variety of flavors and all the ones that we tried were delicious and adorable!
---
So good!
Reviewed on

6/17/2014
Alena S
Cake Works created a beautiful and elegant cake for our wedding! It was simply delicious and I don't even like cake! They also were able to add last minute sugar cookies I had made for my groom without any hesitation. Absolutely fantastic job; we could not be happier with their... Read More services!
---
SO YUMMY!
Reviewed on

4/17/2014
Marisol
I didn't personally work with Cake Works, my coordinator took care of that for me. My cake was SO GOOD. I had a single layer Gluten Free Strawberries and Cream cake with butter cream frosting. PEOPLE, it was amazing :) I can't wait to get back to Hawaii for my one year... Read More anniversary and get this cake again! They also provided us with chocolate covered strawberries and macaroons for our wedding desserts. Highly recommend Cake Works!
---
Meet The Owner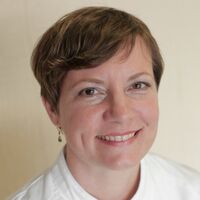 Abigail Langlas
Originally from Hilo, I got started in my career when I went to cooking school in England and France. After coming back home to Hawaii, I worked for several years at Alan Wong's and Honolulu Coffee Company; I got started making wedding cakes when my best friend asked me to make her wedding cake which I transported from Honolulu to Hilo; While this was quite an undertaking for my first wedding cake, I have never said no to a challenge; I have owned Cake Works for over 8 years, and I love making Wedding and Custom cakes because there is always a new challenge, a new design every week.