Home

Cakes by Kasarda
About this Vendor
Your Wedding is our next creation!
Cakes by Kasarda specializes in creating custom, one-of-a-kind cakes for weddings and special events capturing the style and theme of your memorable day. Each cake is made to order using select ingredients and baked days before your event - ensuring flavor and freshness.
Details
Cake Accessories, Cake Delivery + Setup, Cake Tastings, Groom's Cakes, Cakes + Desserts
Contact Info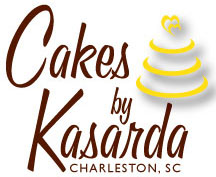 Reviewed on

11/29/2015
Monica G
My wedding cake literally took my breath away when I first saw it. Tammy went above and beyond any and all expectation and I am so thankful to have chosen her to make our perfect delicious wedding cake. I wanted something original and quite different from the norm and she was... Read More so excited to make my vision my perfect reality. I had a navy cake with gold lace detailing that would knock your socks off. No flowers or cake topper needed to accent this cake. It was originally supposed to be a sugar stencil, however, when I saw the cake I quickly realized the stencil was gold piping gel hand piped gorgeously which must have taken hours for her. She never said a word about the issue she had and I know it must have been lots of time and a very steady hand. I am so grateful to you Tammy for all your hard work I know went into the design, which was better than I could ever imagined. I added some cake lighting which really made the cake look even more stunning in the evening light. Our tasting meeting was wonderful with so many cake and filling choices to choose from. We actually loved them all and trusted her entirely by going with a seasonal flavor we didn't taste that day; pumpkin spice with cream cheese frosting. It's our favorite and perfect for our fall wedding so we knew we couldn't go wrong and boy were we right! We received rave reviews about the taste and even though we gave everyone larger pieces of cake, it was wiped out at the end of the night. People were stealing other guests pieces it was so yummy! Thank you again Tammy. We ABSOLUTELY LOVED it! ~Monica & Dustin
---
Reviewed on

5/27/2016
Anna C
Tammy did an absolutely amazing job on both our wedding cake and our grooms cake! My husband wanted the Iron Throne (from Game of Thrones) for his grooms cake, and Tammy's creation was so realistic people weren't aware it was a cake! Both cakes were delicious and we can't wait... Read More to eat our top layer later! We will definitely be coming back to Tammy for birthday cakes and other events!
---
Reviewed on

5/02/2016
Lesley T
Tammy did a beautiful job with our wedding cake and was BEYOND creative with the grooms cake I requested! Our tiered cake was equally stunning and delicious and the popcorn/bubblegum themed grooms cake was a true show stopper! Quite a few folks did not believe it was a real... Read More cake! Our cake tasting appointment was a true highlight of our planning process and I would recommend Tammy over and over again!
---
Reviewed on

4/24/2017
Samantha B
I had at least 10 people come up to me during the reception to ask where our cake came from! It not only looked exactly like I asked, it tasted better than I thought it would! She also has some of the best prices around!
---
Reviewed on

3/27/2017
Brooklyn C
HANDS DOWN best cake we have ever tasted! We were lucky enough to stumble across Kasarda just based on reviews and we couldn't have chosen a better company for our cake. Our wedding guests could not get enough - we went with chocolate and red velvet and they are still talking... Read More about how awesome it was! Do not look any further - You have found the perfect Bakery!
---
Reviewed on

3/20/2017
Kayla M
Tammy was recommended to us by our wedding planner (whose cake was also made by Cakes by Karsada). We are so happy with her recommendation! Tammy was amazing to work with, very responsive and patient with my changing ideas up front, helping us find a solution that was both... Read More cost effective and deliciously beautiful. Her tasting was also wonderful, although is more sweets than we could try. We also really liked her recommendations for pairing. All around, you cannot go wrong using Cake by Karsada. Highly recommend!
---
Reviewed on

12/28/2016
Allyson K
Cakes by Kasarda did an amazing job with my wedding cake! It was exactly what I asked for and was decorated beautifully. Tammy was professional, nice and did a beautiful job. Not only was my cake beautiful but it tasted great! I can't wait to eat my top layer on my one year... Read More anniversary. I highly recommend Cakes by Kasarda.
---
Reviewed on

11/25/2016
Claire F
Cakes by Kasarda was AMAZING!!!! We had an amazing cake tasting and could not have gone wrong with any of the many many choices of cake and frosting that were provided. We ended up getting two cakes - a wedding cake for the big day and a second cake for the rehearsal dinner,... Read More which was also my sister's birthday (she approved the wedding date :-)). We told Tammy that we wanted something special for my sister's birthday, and, because my sister was working at a planetarium at the time, we wanted a space cake. We showed Tammy a couple of pictures of things we found online but gave her a lot of freedom on how to make it look. The cake was BEYOND what we were ever expecting. Tammy delivered the cake to the rehearsal dinner restaurant, so we did not get to see it before it was brought out, but it was, by far, the most amazing cake I have ever seen. Tammy and Cakes by Kasarda made an absolutely beautiful and delicious wedding cake and also helped us surprise my sister on her birthday!! Thank you for helping to make our entire weekend perfect!!
---
Reviewed on

11/17/2016
Caroline S
Tammy is so talented! I gave her a picture of what we wanted and she designed it even better! Her other dessert options were fabulous too! Everyone raved about the cakes for weeks! So delicious!
---
Reviewed on

8/08/2016
Kelly I
Our wedding cake was beautiful and exceeded our expectations. She was so nice and even offered a law enforcement discount! We would 100% recommend her cakes!!
---
Reviewed on

5/01/2016
Morgan R
My cake was a dream come true. I had no vision for what I wanted and my Groom had very picky taste. Not only was the cake absolutely beautiful, it tasted incredible too!! Tammy was so professional and personable. We LOVED working with her and we would highly recommend her to... Read More anyone looking for a beautiful cake!!
---
Reviewed on

4/22/2016
Melissa B
I absolutely loved my wedding cake!! Hands down the best wedding cake I've ever tasted...gorgeous too.
---
Delicious wedding cake and cookie sandwiches
Reviewed on

10/27/2015
Christa B
Tammy, Thank you so much for our beautiful wedding cake, the delicious flavors, and yummy oatmeal cookie sandwiches featuring the icings from our cake! The lace detail and monogram turned out more amazing than I ever could have imagined! Our tasting was a fantastic... Read More experience as well as got to taste a wide variety of cake flavors and frosting options. Tammy was very easy to work with and even did 2 custom flavor combinations. We did 2 other tastings in Charleston and eventually chose Cakes by Kasarda based on the taste and texture of her cakes/frostings (homemade and light/fluffy) and military discount.
---
Reviewed on

10/11/2015
Jaime M
Our cupcakes were amazing! We did a few tastings at other places and the cupcakes were all too sweet and too heavy. Every place also only had certain cupcakes on certain days and that's what you needed to choose from. When we met with Tammy, in her wonderful little yellow house,... Read More she had a bunch of cake flavors, many frostings, and some other toppings (fruit drizzles & such). She gave us some pointers and advice on which cake goes with which frosting but then let us get crazy to mix & match flavors. We then got to choose which flavors we liked best. We did 200 cupcakes (50 each of 4 different flavors) and we got a cutting cake with another flavor. The cupcakes were so amazing! We even took a box of them with us on the plane when we left so we could eat more the next day. We definitely recommend Cakes by Kasarda.
---
Reviewed on

6/02/2015
My wedding cake wasn't a top priority to me. I was actually just going to get a cake from publix, but that would cost me a lot for poor quality. Therefore, the cake tasting began. I tried a lot of cakes in a 2 day period. Cakes by Kasarda was by far the best tasting cake and the... Read More best price. Another very reputable baker was twice as much with cakes that did not taste even close to as good as her's. Seriously, I didn't even think she was going to be as good as she was. She was amazing. Great design and great taste for an unbelievable great price
---
Southeast's Best Wedding Cake Artist
Reviewed on

3/23/2015
Tammy exceeded mine and my fiancés expectations- at every turn! The customer service was exceptional, and the cake was delicious! Much Love, Mr. & Mrs. Michael Colucci
---
Cakes by Kasarda
Reviewed on

12/01/2014
Tara K
The dessert table was a favorite! Hands down the best sweets in town!
---
Beautiful Cake
Reviewed on

10/15/2014
Karen P
Chef Kasarda executed our cake vision to a T! She was extremely easy to work with and offers some delicious cake flavors :)
---
The cake was perfect!
Reviewed on

8/14/2014
Emily H
The cake was perfect. It was exactly what I wanted. I couldn't be more pleased. Thank you Cakes by Kasarda.
---
Absolutely Amazing
Reviewed on

5/27/2014
Michelle P
We used Cakes by Kasarda for both the groom's cake and our wedding cake. The cakes came out gorgeous and tasted exactly how they did in the tasting. We did 4 different tastings and this cake was by far the best. The cake was moist, plenty of flavors as well as fillings and... Read More frosting to choose from. Our guests were raving about how good it was. It is taking a lot of self control to not cut into the cake top we saved for our anniversary!
---
Gorgeous and Delicious!
Reviewed on

5/04/2014
Tabitha N
I had a destination wedding in Charleston and had to plan everything through email and phone call. During a visit to Charleston we were unfortunately late and missed our tasting, but Tammy was great and packed up the cake, icing, and fillings to-go so that we were still able to... Read More taste and make our choices. We had chocolate cake with peanut butter filling and lemon cake with raspberry filling and both were heaven! Our cake was absolutely gorgeous as well, simple, clean, and exactly what I had in mind! Tammy was great in terms of communication and answering all my crazy questions!
---
Mini Cupcakes - A Smashing Success at our Wedding!
Reviewed on

5/01/2014
Megan P
Tammy made over 200 mini cupcakes for our wedding in 6 different flavors, which we custom selected during our tasting. She also made a small wedding cake for my groom and I. The taste and presentation of our cupcakes and cake were amazing. Our guests were RAVING, and I honestly... Read More wish I'd purchased 200 more! They were flying off of the display faster than any wedding dessert I'd ever seen. Tammy is also very professional and easy to work with - I highly recommend her for your baking needs - wedding or otherwise!
---
Delicious!!
Reviewed on

10/02/2013
Kristen R
There is a reason by Cakes by Kasarda has won all of the awards it has in the past few years!!! My wedding cake was the most beautiful piece of artwork;; I didnt even want to eat it! When I walked into the cutest yellow house to meet with Tammy I saw the exact design of cake I... Read More wanted and we went from there;; ended up with 3 different cake and frosting types because they were all so good I couldnt choose! My husband also got a Red Sox grooms cake that all the other guests and even other vendors were taking pictures of because it was so cool! I highly HIGHLY recommend Cakes by Kasarda! Sooo delicious!
---
Amazing wedding cake
Reviewed on

7/20/2013
Jessica G
Both the wedding came and grooms cakes were a hit with our guests! Tammy is a Johnson and Wales grad who really knows her stuff!
---
Charleston Bakery
Reviewed on

6/18/2013
Jessica T
I went with a small 8" round cake and an assortment of cupcakes for my wedding. The cake was beautiful, Tammy is very creative and helpful. Highly recommend!
---
Meet The Owner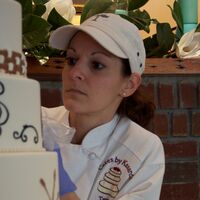 Tammy Pilch
Tammy has been perfecting her baking and pastry skills for more than 20 years, which afforded her the opportunity of being a member of the opening pastry team at the Sanctuary hotel on Kiawah Island Resort and commanding the kitchen at Kaminsky's dessert cafe here in Charleston. Her work is featured in many local and national publications such as Charleston Wedding Magazine and the Knot. Tammy earned the Knot's Best of Weddings Hall of Fame in 2014 and has achieved back-to-back honors from the Weddingwire.com's Couples' Choice Awards. In 2011, she was featured on the Cooking Channel's