Home

California DJs
About this Vendor
DJs, Lighting, Photo Booths, Photography & Video!!
We have created a One-Stop Shopping Experience where you can book your DJ/MC, Photography, Custom Lighting, Photo Booths, Videography and even Professional Musicians in one place!! It makes things SO simple when you can just call one number and have a single point of contact for multiple services!" - Lauren McComb (bride) All of our staff are in-house employees that are highly motivated to please you! Our DJs WANT to play the music that YOU want to hear! We act as the DJ and MC for the event to insure a stress-free night. Our DJs coordinate with all of the vendors there so your wedding goes smoothly! No Ego's, Just Great Service! Our Photo & Video staff work directly with you to capture the moments that you desire! We can provide a full spectrum of musicians, too!!
Details
African, Arabic, Bollywood, Classical, Country, Dance, Disco, Folk, Hip-Hop, Indian, Jazz, Latin, Mariachi, Persian, Pop, R&B, Rock, World Music
After Party, Rehearsals + Parties, Ceremony, Reception, Wedding
MC Services, Recorded Music, Sound Equipment, Music, Audio/Visual Equipment, Equipment, Rentals + Equipment

Contact Info

DJ Britt was Fantastic!
Reviewed on

4/04/2011
Bob H
We were very pleased with Britt Prentice's services as a DJ at our wedding. His professionalism and congeniality made it a pleasure to work with him. He was very accomodating to our needs and was able to keep things rolling when the schedule got a little skewed due to other... Read More circumstances. He served up just what we had wanted for dinner music, dance music and announcements without dropping a beat. He really helped give the whole reception an atmosphere of fun and celebration, and we never had to worry about a thing with him in charge. He did a great job with the song mixing so that people really enjoyed the dancing. For the participation line dances, he got out on the floor and taught people the dance, which is something that I rarely see DJ's do - it was great! We highly recommend Britt as a DJ for any occasion. Also the Photo Booth was a big hit! Thank you for allowing us to work with him!
---
Best DJs In LA, Hands Down!!!
Reviewed on

3/04/2011
Jennifer T
OMG! You have GOT to use CaliforniaDJs.com for your wedding! My sister used them a few months ago for her wedding and we fell in love with their DJ! I'm going to use them for my weddding for sure. We've been to a ton of weddings over the last year and saw how important the DJ... Read More can be. Some DJs out there are terrible or they have an attitude but California DJs matched my sister up with a DJ that was PERFECT for their style instead of sending out the same DJ to every event. They helped her with everything so that she could relax and enjoy the night like she should. And, the dance floor was packed the whole night! Don't risk getting some club DJ that doesn't know anything about weddings. I suggest that any bride looking for a DJ call and talk to the owner Tim Coy. He's really flexible and easy to talk to and he'll make sure that you have the right DJ for your tastes. I can't wait for my wedding day!!! Woo Hoo!
---
Reviewed on

8/23/2017
Chelsea
Tim was absolutely amazing as our DJ for my wedding. Prior to the wedding, he was very responsive and accomodative to all our needs. He came early to the wedding venue to make sure there were no glitches during the set up process and was extremely professional. During the... Read More wedding, he was fun, witty, and made the wedding flow with ease. He played all the music we had requested and did a great job!! Everyone was on the dance floor having a great time!
---
Reviewed on

9/12/2016
Sasha S
Tim was amazing as our wedding DJ. He made sure to stay in touch with us and all of our venders to make sure that everything ran smooth. He made sure that we were all on the same page with music and double and triple checked. Every conversation with him was very professional and... Read More he was able to answer all of the questions that I had. There was also many times where I had asked for his suggestions for songs or flow and he was able to give me great feedback! I would definitely recommend him to everyone.
---
Very Satisfied Customer
Reviewed on

6/27/2013
Jessica C
The whole experience with California DJs was amazing. Tim was extremely accommodating and helpful and worked with me every step of the way. We also had uplighting in our package and it was extremely affordable. Britt our DJ was absolutely amazing. He was so sweet on our wedding... Read More day and really made it special and kept everyone on the dance floor the entire night! I would definitely recommend them to others in need of these types of services. I was very satisfied!
---
You couldn't get any more Professional than this!!
Reviewed on

2/09/2012
Brian W
Tim, our DJ/MC from CaliforniaDJs is the best person to book for any event. Not only is he more than a Professional, he is someone you could easily befriend. My wife and I were working with a budget since there was not any other income for this wedding, Tim met with us and... Read More worked along side us. He will take music in which "YOU" want played for your event and "WILL NOT" push music he wants to play. His easy-to-use website to book your event, browse & listen his music library, and/or upload music of your own. He can edit music also. He edited U2 - Beautiful day the way I could hear it in my head perfectly. It made both of us cry when we heard it. Once our wedding was over, he gifted us all music played from the beginning to the very end of our wedding onto CD-R for future enjoyment. So, when planning your event, I urge you to speak with Tim at CaliforniaDJs and see what magic he can create for you and for those you want to share with any occasion planned. We rate him beyond a 5 Star rating. Tim, Thank You for helping and celebrating our joyous wedding. You will be remembered always for anything coming up in the future!!!
---
Best DJ!
Reviewed on

2/02/2012
Jennifer L
Where do I begin!? I worked with Tim from California Dj's. He was incredible from beginning to end. His website was so user friendly, it made planning all the music for my day an ease! Tim was so friendly and talk about "the voice". Everyone from my wedding raved about his... Read More voice, professionalism, experience and personality! I have never seen a DJ move from the tables to the dance floor to hype up the crowd the way Tim Did! He truly made my day memorable! I highly recommend him!
---
A Day to Remember
Reviewed on

1/06/2012
Roxanne E
Tim Coy with California DJs was amazing for my husband & I as we planned our wedding!! He was fun to work with and gave me good feedback about the music that I chose. He was so responsive and always took my phone calls and was quick to return any of my emails. He is very... Read More organized and gave me a booklette to fill out with all kinds of information about us as a couple, our families, what we wanted our wedding to be like, and of course the music we like. It was very thorough and I definitely think it made communicating about what I wanted easier. He has a really laid back, chill personality and I liked working with him. Tim is a professional. If you want someone who is going to keep your wedding guests on the dance floor, Tim is your man! I've received so many compliments about how fun my wedding was, and that is exactly what I wanted. Thank you California DJs for making my day so memorable :)
---
TIM COY from california djs
Reviewed on

4/03/2011
Kari N
DJ Tim Coy was amazing. The dj ultimately runs the wedding and we could not have been happier with him. He was so easy to reach via email, phone call, or text. He is a great guy and he did an AMAZING job. We have received so many compliments about him. He even gave me a cd at... Read More the end with all the wedding songs. Great dj and company. Highly recommended.
---
Awesome
Reviewed on

4/02/2011
Vicki C
The best DJ ever.. Great sound, good music, friendly and caring people to work with. Everything you need to plan the big day, a form ready for you plan all your music and dances. You are able to plan your music for the guests arrival, the bridal party dance, and anything else... Read More you have planned for your ceremony or reception. Love them and would recommend them to anyone planning a special event.
---
Top Notch!!
Reviewed on

4/02/2011
Lisa Q
Tim and California DJs.com made our wedding spectacular, unique, and very special. In addition to being extremely professional, he was fun, witty, and well organized! He also has a wonderful ability to read the mood and personalities of the guests and kept the flow of the... Read More event going without a hitch - he is a true professional. We highly recommend him and the company for any event you may have - you will not be disappointed!
---
Review for California Djs
Reviewed on

5/10/2010
patricia h
that he did my songs;he didnt have some timing down though
---
Meet The Events Director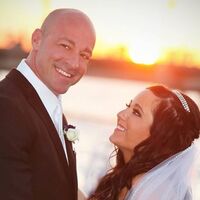 Tim Coy
Tim Coy has managed the entertainment for thousands of weddings over the last 15 years. He has also worked with Industry Giants like American Idol, Versace, USC, Sprouts, The Aquarium of the Pacific, The Casino San Clemente and many more!! Brides & Grooms love his flexibility and desire to really know what each client envisions for their special event! Tim makes each client feel special & has a unique ability to produce amazing events through the use of custom lighting, monograms & pattern projection, photo booths and specialized musicians to create a once in a lifetime experience!!