Home

Calumet Bakery
About this Vendor
Calumet Bakery
At Calumet Bakery we take great pride in our work. So you can rest assured that every wedding cake we do not only looks great but tastes great too! Our skilled decorators and wedding cake consultants will make the designing of your cake fun and easy.
Details
Cake Accessories, Cake Tastings, Cakes + Desserts

Contact Info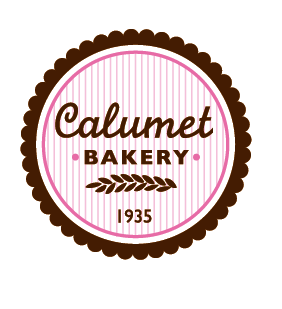 Delicious & Beautiful
Reviewed on

10/15/2013
Cindy W
Our cake was both beautiful and delicious, which is often hard to find. It was a little difficult to get in for an appointment, but I completely contribute that to the bakery being a great business, busy with lots of happy customers. I would definitely give Calumet... Read More Bakery an A+ rating to anyone looking for both a delicious and beautiful cake.
---
Cupcakes to Rave About
Reviewed on

11/21/2013
Michelle V
I had so many compliments on our cupcakes. We had a small cake to cut, and then a cupcake tower with several different flavors. They were decorated perfectly, with just enought bling, and so tasty! I am really excited for our first anniversary when they will provide us with a... Read More small cake, since we all know freezing your top layer of your cake never is good.
---
My Dream Wedding
Reviewed on

8/19/2013
latasha w
I love this place.... I had never heard of this bakery and I went to several different places for my wedding cake and i wasn't satisfied with what I was seeing, til one day we received a card in our mailbox from Calumet Bakery and I called. They won me over when I asked if they... Read More did tasting's and they said we don't make wedding cakes without a tasting, when other places I looked into didn't. We went in for cake tasting and fell in love. The consultant was Dora and she was very real and explained everything we needed to know. Also the cake was great and we didn't have a piece left after the wedding... Great place to make your dreams come true and they were on time, cake was there before me!!!! Highly recommend...
---
Reviewed on

1/11/2018
Tasha J
Very smooth process from cake tasting to day of wedding. Cake was beautiful and all of my guests liked the taste of the cake (i'm not a big cake person, so I didn't have much). We had a three tier cake, with sheet cakes in the back. Prices are reasonable. Definitely will use... Read More again!
---
Reviewed on

7/18/2017
Monique C
My cake was everything! I couldn't believe how beautiful it was as well as deliciously tasting!
---
Reviewed on

11/06/2016
Mary H
Calumet Bakery has the best cake around. They made our cake look exactly like we wanted. The flavors were sooooo good. Communication with them is poor. The employees that answer the phone every time we had a question were short with us. I nearly didn't go with them because of... Read More their customer service. Cassidy, the wedding coordinator for them is who kept me there. She is super friendly and she worked around our schedule.
---
Reviewed on

10/18/2016
Robyn H
Our cake was delicious and looked very elegant. We had the white chocolate raspberry and it was amazing. I even had my family clamoring over the leftovers. Fantastic bakery for just a doughnut or a wedding cake. Love them!
---
Wedding Cake
Reviewed on

9/02/2014
Taquanda H
My cake was beautiful. It looked better than the picture I provided them with. It was on time and delicious. It was stunning in the pictures.
---
Good
Reviewed on

11/18/2013
Marisol R
The cake was beautiful.. they listened to what I wanted and it was very good. It was there on time and because they've got a deal with Dream Palace Banquet hall, I got free delivery and a discount as well!!
---
So good
Reviewed on

10/21/2013
Emily H
We had two types of cakes . So moist so good!
---
The Most Beautiful Cake & Cutest Grooms Cake!!
Reviewed on

8/13/2013
Jodi L
We visited Calumet bakery with a picture of the design of the cake I wanted in hand. we met with Kerry who was very accomodating and set us up with 4 different huge slices of cake for us to taste. They were very moist and tasty. We worked with one of the bakers to design our... Read More cake and get the colors exactly how I wanted them. After we ordered the cake and had everything set up, I emailed Kerry to request a grooms cake. I saw a picture of a grooms cake that I thought was so cute. Kerry assured me they could make the cake with the design I chose. On the day of, when I saw my cake sitting in the middle of the dance floor, I was in awe. It was so beautiful and was even more beautiful than the cake I envisioned. It was perfect! And the grooms cake was a nice surprise for everyone and my husband who was in shock. We received rave reviews on the taste of the cake and how beautiful it was. We went with 4 different cake flavors- Carrot, Chocolate, Red Velvet, White cake with Strawberries and custard. I wish I had some now!! They were awesome!
---
Always a Favorite
Reviewed on

7/31/2013
Carolyn R
We have been going to Calumet Bakery for as long as I could remember, so it was a no brainer to use them for our wedding cake. We came in and were able to taste 3 different types of cakes to help us choose which one we wanted for our cake. We already had an idea in mind of what... Read More we wanted our cake to look like, and they did a fantastic job of creating exactly what we had envisioned. Our cake was gorgeous on our wedding day and we are still getting compliments on how beautiful it was, and how great it tasted. We will continue to come back to Calumet Bakery!
---
Absolutely Breathtaking!
Reviewed on

3/14/2013
Jacqanai S
Beautiful and delicious. Nothing more and nothing less. Thank you so much.
---
Delicious
Reviewed on

12/03/2012
Ericka S
We have gone to this bakery for years. The cake taste was amazing. They still do cake tasting which I found not all do without high charges. The cake looked exactly how I requested. Some friends and family have complained about organization. It is true they are not obsessive... Read More with details but they more than make up for it with quality and extras!! We also had them do our dessert table and showers with mini desserts and people raved and raved!!!
---
Excellent as always!
Reviewed on

10/26/2012
Aimee S
We have used this bakery for years, and as always, our wedding cake was just as fantastic. Definitely the best wedding cake in the area, maybe the best I've had.
---
amazing red velvet
Reviewed on

10/15/2012
Kimberly P
We had red velvet cupcakes with cream cheese frosting. It was amazing!
---
Great taste and design
Reviewed on

10/08/2012
Kristi G
My cake was delicious and beautiful. It was delivered on time and they were very professional. They do great work and i will be using them for other events.
---
Wedding cake
Reviewed on

9/17/2012
Arielle S
The wedding cake was beautifully designed and delicious! The tasting was fun too and they were very professional. They also gave me options that would be price effecient for me. So that was great!
---
Absolutely Beautiful
Reviewed on

7/17/2012
Rosa J
My fiance and I went to Calumet Bakery on Torrence Ave in Lansing IL. I was not looking for a traditional wedding cake. I wanted simple but colorful. I told the sales girl that I just wanted a 2 layer cake. She called the decorator up front so that I could talk to her in... Read More person. I explained what I wanted, ivory and bright colors, the decorator was very helpful and made some great suggestions. My fiance picked up the cake the day of the wedding and brought it to the hall, when we took it out of the box. It was WAY more than I had expected. Ivory frosting with bright fowers in different shapes and sizes trailing down the side of the cake. The price was also way less than I had expected to pay after speaking to other brides. The cake was absolutely delicious!
---
Delicious!
Reviewed on

6/16/2012
Kim R
Very accommodating! Cake was beautiful and delicious!!
---
Happy
Reviewed on

5/23/2012
Tanisha P
I had a two tier cake with cup cakes. They designed the table beautifully and the cake was great. I personally thought the cup cakes were a little dry but my guest loved them.
---
Cake
Reviewed on

12/25/2011
Wendy B
The cake looked and tasted amazing! The bakery will also give us a small cake for our 1 year anniversary at no cost. I plan to make them my "go-to" bakery for all of my events.
---
Ckae
Reviewed on

10/04/2011
Julie E
Cake was perfect and good!
---
Excellent Wedding Cake
Reviewed on

8/13/2011
Valerie L
Calumet Bakery did a wonderful job on my wedding cake. I went to the Lansing location with my now-husband, my sister, and my mom to do a cake tasting about 2 months before my wedding. Our consultant was very friendly and knowledgeable; she was the one who would actually do... Read More our cake. She brought us several samples, and they were all absolutely delicious – the chocolate with mocha filling was what we eventually decided upon, though everything else was wonderful too (especially the red velvet!). I brought in a picture to show what I generally wanted for my cake, and it turns out they had a picture in one of their catalogues of what I wanted (a 3-tiered, round cake with cherry blossom branches). Our consultant gave us various options based on how many guests we thought we would have. Once we were finished, all we had to do was pay a deposit on the way out and bring in a swatch of the color for the outside of the cake. The cake turned out so much more beautiful than I even imagined! It was delivered to my reception site before I even got there, so there was no stress in wondering where my cake was. It tasted amazing, and my guests really enjoyed it. I would highly recommend Calumet Bakery for any couple looking for a bakery to do their wedding cake.
---
Great Cake
Reviewed on

8/02/2011
Rebecca R
I ordered my wedding cake from Calumet Bakery. During my appointment, I was able to try as many cakes as I wanted (they even made up one that they didn't make that day!). And they boxed up the left-overs for me to take home. I brought in a picture of what I wanted my cake to... Read More look like and it was perfect!! I even dropped off flowers at the last minute to have them put on the cake and it wasn't a problem.
---