Home

Camelot Party Rentals
About this Vendor
Your Event, Our Dedication
Camelot Party Rentals has been the party equipment provider for the regions most memorable special events. We have quality equipment and professional service to set the stage for almost any occasion imaginable. We have the largest selection of wedding items in Reno, Lake Tahoe and Sierra Nevada area
Details
Lighting, Benches, Chiavari Chairs, Folding Chairs, Chairs, Dance Floor, Dinnerware, Heating + Cooling Equipment, Flatware, Glassware, Linens, Lounge Furniture, On-Site Delivery + Setup, Stages, Cocktail Tables, Dining Tables, Tables, Tear Down, Tents, Rentals + Equipment
Contact Info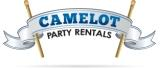 loved them
Reviewed on

7/25/2013
Shelby B
so mess ups with the table cloths but they were nice enough to fix them. overall good experience
---
Quality rentals
Reviewed on

7/30/2012
Samantha L
We used Camelot Party Rentals contracted through the Nevada Museum of Art so this review is solely based on the quality of products because we did not deal with Camelot directly. The rentals we used included white folding Samsonite chairs, black chiavari chairs with black... Read More cushions, black lamour tablecloths and white lamour napkins. All of our rentals were in pristine condition. There was little or no visible wear on anything (that we noticed). Our main concern was that the white lamour napkins wouldn't be the whitest white, but they were! We are very happy with their products.
---
Great rental place--but book early!
Reviewed on

11/12/2011
Justine W
I used Camelot Party Rentals for most of our wedding rental needs. I spoke with them on the phone many times to try to figure out what we needed for our wedding. They helped us figure out the details of tent size, dance floor size, numbers of extra plates, etc. Everyone I... Read More talked to was very friendly and helpful. After each addition to my order (and yes, there were many additions and subtractions as we figured out exactly how we wanted things) they would email me an updated order with all of the prices. We rented a clear topped, clear sided tent from them, which was amazing! It made us feel like we were outside even though we were sheltered and warm. The crew that came to set up and take down the tent was incredibly efficient and friendly. They had worked at our site before, so they were familiar with the layout and wood chip ground. They informed us when they arrived that some of the serving platters had broken as they were packing them into the truck and they didn't have more of the same size so they brought double the amount of a slightly smaller size and did not charge us for them. All of their rental items are of high quality and looked great. We were very satisfied with their customer service as well. We got married on a very busy weekend though, so as we were deciding what glasses to rent and how many we needed, some of them were booked by other people. This is not Camelot's fault at all. It just means at busy times make sure you book early to get exactly what you want!
---
Reviewed on

12/07/2017
Carrie F
Camelot was easy to work with, had great quality products to choose from and delivery was on time and smooth. Micheal was amazing, the gallery was great to walk through and I price checked at every turn and they really did a great job being competitive in the market. They... Read More picked-up next day at 10AM, which was extremely early for us-the wedding was in our yard and we had to wake up to clear off all the tables and we had been up quite late. I wonder if I could have asked for a later pick-up time. Keep this in mind!
---
Reviewed on

11/21/2017
Richie H
Everything was on time, and picked up
---
Reviewed on

11/02/2017
Keri N
Timely and helpful.
---
Reviewed on

9/13/2017
SR J
We loved Camelot! We were very happy with the service they provided! We used them for market/cafe lights outdoors on a deck/back patio area. We showed them some ideas of what we liked and they achieved it perfectly! We used them for an outdoor dance floor, which they placed in a... Read More great location! And, we rented cocktail tables & linens from them. Everything was set exactly how we wanted and they were the most affordable/best selection we found for these rentals! Very easy to work with! I'd highly recommend them!
---
Reviewed on

8/21/2017
Megan N
Camelot did a good job up till the wedding helping me add and remove various things as my mind kept changing. Everything that they provided looked great. The only reason I can't give them 5 stars is because they were a little slow to unload and set up the reception site, which... Read More caused my ceremony to start a little late since my family was helping with the centerpieces.
---
dream day
Reviewed on

10/15/2014
JENNFIER H
Camelot had everything I needed and arrived on time and ready to set up...they did switch colors of tablecloths without telling me which I thought I would hate but it turned out really pretty...they came right on time at the end of the event to clear out.
---
Great
Reviewed on

6/25/2014
Nichole C
Great products. My wedding coordinator handled all the scheduling and ordering. No issues noted. It was easy to add and subtract items as the time went on. I would recommend!
---
An Almost Disastrous Wedding Toast
Reviewed on

4/30/2014
Alyssa T
We hired Camelot party rentals to provide wine glasses for our wedding and they never delivered them to our venue. Thankfully, no one told me this the day of the wedding or else I would've been super stressed out. My wedding planner was actually the person to inform me that... Read More they didn't show up in a follow up email after our wedding. I never heard from the company directly and I am honestly not sure if they realized that they forgot our wedding wine glasses. Luckily, our venue had wine glasses that they could provide and they were able to work out the logistics with this vendor regarding payment since they work together often.
---
Incomplete order
Reviewed on

6/29/2011
Mollie B
Made an initial order w/ the company, and later went in and added linens after viewing their color choices. Called and confirmed order, and on my wedding day, they delivered only what was in my initial order. NO linens or anything else I'd added. Bizzarely said I had an... Read More outstanding balance of $0.75 at delivery (paid by credit card, and could not bring me the rest of my order, which they did not reserve and had no record of. I was not charged for the linens, but I had to run to a party supply store and buy plastic table cloths @ 11 am before the ceremony. They DID have to special order extra chairs for me, which was no problem.
---
beautiful stuff
Reviewed on

3/14/2011
tiffany v
loved it
---
Tent Rentals
Reviewed on

9/21/2010
Nicole P
we had service for tents at our ceremony site at the park and service at my parents house where the reception was. when they initially came out and reviewed both spaces months prior to the wedding, they gave us a outline as to what tents they were going to use. morning of the... Read More wedding setting up the tents...well the reception tent was fine, but they stocked their truck with the wrong ceremony tent. they had to improvise and figure out what they were going to do. either use the one they brought that had poles down the center of the isle (no!- duh!)or turn it sideways. we obviously turned it sideways but they complained after wards when we told them their mistake. their response was "well it worked didnt it?" well yeah but thats not the point. in the end, my husband, wedding party, officiant and i were in the sun for the whole ceremony while all my guests were in the shade. we had also rented tables, chairs, table cloths etc. everything else was fine. i would use them again but really stress on their screw up from the first time with my tents.
---
Camelot Party Rentals
Reviewed on

9/14/2010
Sara K
I work with Camelot Party Rentals in my day job as an event planner and was very pleased with how great & friendly their service is!
---