Home

Carl Alan Floral Designs LTD
About this Vendor
For a day you will never forget and a night you will always remember. Let Carl Alan Floral Designs transform your dream into a reality. Attention to detail. Personalized service. Forty-two years of floral and decor experience. Together we will create beautiful memories.
Details
Contact Info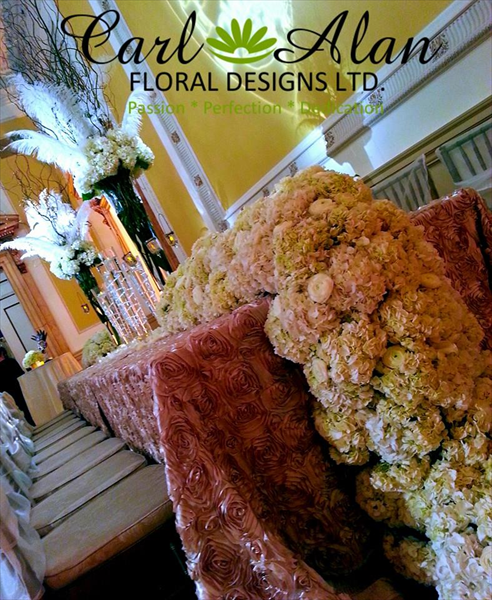 1700 Market Street, Philadelphia, PA
Beautiful Wedding
Reviewed on

4/09/2014
Jenn L
Carl Alan did a beautiful job with the flowers. We had some tricky situations around the church as it did not have pews but they made a way to make it work with the pew flowers. Additionally we were on a boat, and some of the centerpieces had tipped over and broke. They were immediately replaced and were found for another place on the boat where it still looked beautifully decorated but was stable. They were flexible and professional. Our designer Vito did a great job helping us pick out flowers that matched our scheme. The bouquets were flawless.
---
Beautiful flowers, wonderful service
Reviewed on

4/02/2014
Kathleen M
There is a reason why they have been in business for so long. They are total professionals who work with you to deliver what you want within your budget. Unlike some other florists I met with, I never felt pressured by them to add more than I wanted, we did not get the high pressure "up sell". They respect your wishes and your budget while still sharing their expertise so that you have amazing flowers on the big day and a hassle-free experience.
---
Outstanding!
Reviewed on

2/23/2014
Krista
I can't say enough about how pleased I am with Carl Alan's floral designs. They made my vision for my Centerpieces come true and did a beautiful job! I was so impressed and happy with the way everything came out. Our bouquets were gorgeous-the highest quality of florals I could have asked for. We worked with Andrew the entire time from consultation to the day of delivery and he was amazing. I don't know much about flowers but Andrew helped make my vision a reality. I had no troubles throughout the entire planning and payment processes. I would highly recommend carl Alan for any event needing Centerpieces or flowers-they really made my wedding shine.
---
Beautiful flowers!
Reviewed on

5/13/2015
Allison F
All of the flowers at our wedding looked amazing and we cannot thank Carl Alan enough for all of their work! Vito was great and easy to work with - we had a few meetings with him alone and with our parents and he was always available to answer any questions or give any advice. We ended up doing some DIY in terms of candles/etc and Carl Alan was extremely helpful in giving advice on where to find the best product at a reasonable price. We had a slight scare since the weather had been so cold and peonies (the main flower for all of our arrangements) had not yet bloomed, but Vito contacted multiple nurseries and kept me informed the whole way and luckily they ended up getting beautiful peonies in the week of our wedding! Everything looked great and fresh and the flowers even lasted for several days after the wedding was over. The talent and effort Carl Alan put into our flowers really showed and I highly recommend them!
---
Reviewed on

5/11/2015
Kristine B
I highly recommend Carl Alan! Vito was amazing and listened to what I was envisioning for our big day and he came up with gorgeous bouquets and centerpieces. The whole process was seamless and Kathleen (Coordinator) was very professional from start to finish. Vito has such passion for what he does and it shows in his work. They were on-time and deliver great service. Use Carl Alan and you will not be disappointed!!
---
Reviewed on

5/04/2015
Nicole E
They are beyond amazing! They will help you every step of the way and will create the most beautiful bouquets and centerpieces. They do such a wonderful job and they are a must for a wedding!!!
---
Best in the business!
Reviewed on

2/17/2015
Lauren R
Working with the Carl Alan didn't feel like working with your typical florist. It felt like they were part of our family for how invested they were in the overall process and how much they cared. We were lucky enough to work with Heather and we couldn't have been happier with everything. From the initial meeting through the big day, we felt like they were all vested in us and cared just as much as we did about every special touch and the overall ambiance. Your standard florist does not go above and beyond like that. Even in the beginning of the process when we were discussing different options and designs, Heather and the team were willing to work with us to make sure we were happy with the final design and everything was unique to us. We both had a vision, and Heather shared that vision and helped enhance it to another level. The personal touch that this team includes throughout the entire process is extremely meaningful and adds so much value. Even Carl went above and beyond and personally called us to make sure that we felt like we were at home and comfortable with everything. How many florists can you say that about? These guys are the best in the business and we are both extremely happy that we went with them. Trust us, it is worth the price and their vision and creativity alone is priceless. Everything from the centerpieces, to the bouquets, to the set up of the votives, was amazing. We received countless compliments from everyone who was there and we continue to be a huge promoter of this company. We hope to have a chance to work with them in the future and strongly recommend them to anyone who is looking for the best florist out there. A special thank you to Heather for everything! We couldn't be happier with the overall service and final products.
---
Amazing!!
Reviewed on

1/14/2015
Devon M
I just don't have enough good things to say about my experience with Carl Alan Florist. We found them coincidentally -- my now-husband purchased flowers from them for Valentine's Day (which were absolutely gorgeous!), and once I looked at the name I realized they were on our venue's preferred vendor list and so we setup an appointment! Our initial meeting with Heather was all it took for us to decide to move forward with Carl Alan, and we couldn't be happier with our decision! She was so helpful in showing us the different types of flowers and centerpiece displays, and definitely had a ton of patience as we made our decision on which flowers to go with. I spent the rest of the year working closely with Kathleen, who really stayed on top of everything by constantly keeping in touch with me and taking care of all of my questions and requests promptly. We were completely blown away by our display meeting, and come the wedding day, the bouquets looked so beautiful I cried! The excitement continued when I saw how beautifully the church and reception hall looked, and to this day our guests are still raving over the centerpieces. I highly recommend Carl Alan for your big day, and I will definitely be coming back for more floral arrangements in the future!!
---
LOVED MY FLOWERS
Reviewed on

12/05/2014
Rina G
Vito was absolutely amazing! He listened to my vision from the first time we met - he got it, and went with it from the beginning. I was sold after just 1 meeting. It was almost a 2 hour meeting where I felt he listened, understood and agreed the vision was perfect! He didn't disappoint! My flowers were all stunning. I wanted my fall wedding to be bold and bright! Plain white was boring to me, and I didn't want just roses. I love exotic flowers, and he hit the nail on the head! My bouquets were fabulous and the centerpieces were gorgeous! I cannot say anything bad! It was a pleasure to work with Vito! THANK YOU!
---
Awesome florals, awesome team!
Reviewed on

11/30/2014
Sarah S
"Uncle" Carl is such a character and a blast to work with! He helped get the ball rolling and then, when my vision changed over the year, Pam took over and talked through my nebulous ideas until we knew what she would create. In the end, Pam designed and executed the most perfect, award-winning boutonniere for my groom, a completely romantic-yet-funky bouquet for me (can you say succulents?), and perfectly balanced, unique centerpieces (carefully placed kale, dried lotus pods, and scabiosa!). Thank you for sharing your collective knowledge of flowers and plants. And thank you for the amount of care you put into making our arrangements perfect!
---
Beautiful flowers and awesome people
Reviewed on

11/21/2014
Ali C
We wanted something a little bit different for centerpieces, and Carl Alan helped us come up with something AMAZING. Vito was totally willing to brainstorm with us, listen to our ideas, and make helpful suggestions. We ended up with unique and fun centerpieces that I LOVED. My bouquet was absolutely stunning and my bridesmaids' bouquets were beautiful! They were even able to add a little something special to my maid of honors for no charge, which is so nice and thoughtful. We wanted our boutonnieres to match the centerpieces, and Carl Alan was totally into that! They turned out so unique and awesome -- the team did a great job on them! For the ceremony, we discussed an arch, but Vito was totally honest with us about how that would be a pretty expensive option for all the hand-wiring that goes into it. Instead he suggested two big displays that matched our centerpieces and colors, and the result was truly spectacular. Even better, we got to re-purpose them by our sweetheart table for the reception, and they were beautiful in the background of all the pictures. I could not be happier that we decided to pick them!!! They coordinated the centerpiece details directly with our venue, delivered the bouquets to me directly at the time I wanted, and were so wonderful and responsive throughout the whole process. Thanks Carl Alan team!!
---
Breathtaking Wedding Flowers
Reviewed on

11/20/2014
Anastasia J
Words cannot describe how happy we were with our wedding flowers. My husband and I were speechless when we walked into our reception room by ourselves and were able to see visions come alive. Vito and his team are so creative and exceptionally talented when it comes to transforming words or my pinterest page to life. I have received countless praises and compliments for the design of the room, but I have to admit, it was truly the work of Carl Alen. I cannot thank them enough for their stunning creations, and wish I could get married again, just to see our room again for the first time. Absolutely amazing.
---
Flowers
Reviewed on

11/11/2014
Maura G
Vito is the best! Especially for a bride like me who does not know anything about flowers! He was very helpful and the floral designs came out great!
---
love.love.love
Reviewed on

11/03/2014
Sarah S
our theme was whimsical and romantic. Carl Alan nailed it. It was a pleasure working with sweet Heather. She was uber engaging and she nailed it for the preview. The bouquets, the arrangments were absolutely stunning. The best thing is that Carl Alan worked with me on the budget because flowers are very important yet so costly--highly recommend!!!
---
Love! Love! Loveee!!!
Reviewed on

10/30/2014
Katie Lynn D
Where do I start...I cannot say enough good things about this company. I met with Heather, one of the design artists, who dissected every picture I had on hand. Every idea I had, she had something to contribute that made it even that much better. An amazing aspect of this company is that they will actually create your centerpieces before your wedding and give you the opportunity to change anything you aren't happy with. Both times I visited the office even the owner, Carl, made it a point to stop in and say hello. The whole company deserves a million thank you's from me because they made my entire floral experience of my wedding flawless. My bridal bouquet was one of the most gorgeous bouquets I've even seen -- and I'm not just saying that because it's mine. I wish I could upload pictures to show. I promise every bride out there, you will not find a single thing wrong with your flowers if you go with Carl Alan!!!!! Thank you Heather, Kathleen, Vito and Carl for being such a vital part of my wedding. xox
---
Absolutely Amazing!
Reviewed on

10/24/2014
Rachael S
Vito and his team are AMAZING! After meeting with him for 5 minutes I knew that I was in good hands. A month before the wedding we met with Vito again and he showed us samples of what our center pieces would look like and I was absolutely floored by how beautiful everything was. He kept us involved in the process and made sure that everything was PERFECT and the way that I wanted it. I would absolutely recommend Carl Alan to anyone in a heartbeat!
---
Highly Recommend!
Reviewed on

10/21/2014
Alyson P
Heather did a fabulous job making my dream centerpieces! I am thrilled that we chose Carl Alan for our wedding flowers. Our wedding bouquets and centerpieces were perfect and Heather was great to work with! She knew exactly what we wanted based off of a few photos and a meeting and then she made the vision for our flowers come to life. It honestly felt like she cared as much about our wedding as we did, we didn't feel like just another client to her or the rest of the Carl Alan staff. I was very particular about my floral arrangements and Heather did not seem to mind my pickiness at all. Rather it felt like she shared my vision for my flowers and she executed flawlessly.
---
Beautiful
Reviewed on

10/14/2014
Rachel K
Who knew flowers would be SO much $$?! I knew exactly what I wanted and how I wanted it (thank you pinterest) but to find the right florist who wouldn't charge me an arm and leg was ridiculous. Until I came across Carl Alan. I spoke with Vito, who right away was so down to earth and funny that I knew if he price was right, it was going to be a breeze. And I couldn't have been more accurate!!! Since I already knew what I wanted, that made his job a lot easier and since I cant put together a center piece that made my job a lot easier to. I met with him and it was easy, friendly and got me even more excited. I came back a few weeks later to see a mock up of my centerpieces and WOW. The day of my wedding everything arrived on time, looked even more beautiful than before and I got SO many compliments. Amazing team, amazing work, and if I ever need floral arrangements for anything again- I'm going straight to Carl Alan!!
---
Beautiful Flowers
Reviewed on

9/29/2014
Hannah D
Vito was an awesome florist to work with at Carl Alan. He really appreciated my tastes and worked with me to create a beautiful flower backdrop to my wedding day. My bouquet was stunning and all the arrangements went perfectly with our venue. The best part was that I didn't have to worry at all about set up. They even moved flowers from the ceremony into the reception without anyone even noticing. They are a little on the higher end price wise, but you absolutely get what you pay for. It was definitely worth the extra cost for peace of mind on my wedding day.
---
Gorgeous Flowers and Very Helpful
Reviewed on

9/25/2014
Marcelle M
I came late to Carl Alan (a month before our wedding), as I had been intending to arrange my flowers myself. I got as far as picking what I wanted and pricing it out, and then realized I really didn't want to stress about bouquets the night before the wedding. I called Carl Alan on a recommendation from a friend. Heather saw me the same day and we discussed in great detail what I was looking for. We talked about color, shape, texture, what flowers are hardy, which are too delicate, etc. etc My flower budget was fairly small (under $1000), and Heather did everything to make sure that not only would I be within my budget, but also that I would still have beautiful flowers and an incredible design. They totally lived up to their promises and then some! When I got the preliminary pictures the day before, they took my breath away! Also, for any crazy organizers out there like me, I really appreciated that when they sent the proposal over, they broke everything down in a spreadsheet, right down to exactly what flowers of what color were going in each arrangement. It was amazing! Most importantly, I LOVED my flowers. I was SO thrilled with how breathtakingly beautiful they were, and received many compliments on them from guests. They held up perfectly on one of the hottest days of the summer and well into the next week! Thank you Heather and Carl Alan Florists, for beautifying our day even more with your incredible work!
---
EXCEPTIONAL
Reviewed on

9/24/2014
M G
Carl Alan provided our wedding flowers. Everything, from the boutonnieres to the bridal party bouquets to the table centerpieces to the cake topping flowers to the ceremony canopy, was EXCEPTIONAL. The flowers really set a beautiful tone for the event. Our coordinator was easy to work with and I appreciated that they offered an opportunity to see samples of the designs we chose before the wedding day. I would recommend them highly to anyone!
---
Beautiful, spectacular, exactly what I envisioned!
Reviewed on

9/18/2014
Christina F
From start to finish, Carl Alan delivered superior service and exceeded our expectations for the flowers for our wedding. I went in with no idea of what I wanted for centerpieces, and Vito took all the pictures I sent to them ahead of time and threw together a sample during our first consultation...I LOVED it! He made my vision come to life! Even the day of the wedding, when the flowers were delivered, they were so much more beautiful than anything I could have imagined. He even sent me pictures two days before to make sure I approved! You will NOT regret going with Carl Alan Floral Design for your wedding flowers!!
---
Beauty and Perfection!
Reviewed on

9/03/2014
Stephanie K
I cannot say enough good things about the team at Carl Alan! From my initial visit where I received a tour and saw actual wedding flowers being designed, to meeting Carl Alan himself, to having an easy relaxing meeting with my designer Heather! My experience was fun, beautiful and I was always treated with the utmost respect and professionalism. I feel like everyone that works at Carl Alan befriends you and really listens to your desires and needs for you wedding day. Heather took my inspiration pictures and ran with them and I honestly think my centerpieces and bouquets turned out a million times better than my inspiration pics! I was overwhelmed with how beautiful everything was and how it made the venue complete! Heather even took time out of her busy working day to come to my hotel and put charms on all the girls bouquets when I wasn't able to drop them off at the studio. What business do you know goes out of their way to make sure YOU are their priority!!! Go visit Carl Alan today! You will not question you decision after your first meeting with them!!
---
Vito was great!!
Reviewed on

9/01/2014
Lindsay S
Vito was amazing to work with! He was energetic, reliable, and very creative! The designs he came up with were stunning and different! We loved him and his work!
---
Loved Carl Alan!
Reviewed on

8/21/2014
Liz B
I absolutely loved working with Carl Alan. From the initial phone call to the day-of, they were always prompt, friendly, and extremely helpful. They took care of everything from delivery to clean up and I never had to worry any logistical details. Vito's recommendations on specific flowers to use exactly fit my vision - he was great to work with and the whole team is very talented! I definitely recommend using Carl Alan as your florist for your wedding.
---
Send Message