Home

CECI NEW YORK
About this Vendor
Ceci New York
The leader in couture invitation design, Ceci New York creations are as awe-inspiring as they are luxurious. With an eye for detail and exceptional quality, each piece reflects style, elegance and innovation. Highly renowned designer Ceci Johnson is sought after by a savvy clientele worldwide.
Details
Contact Info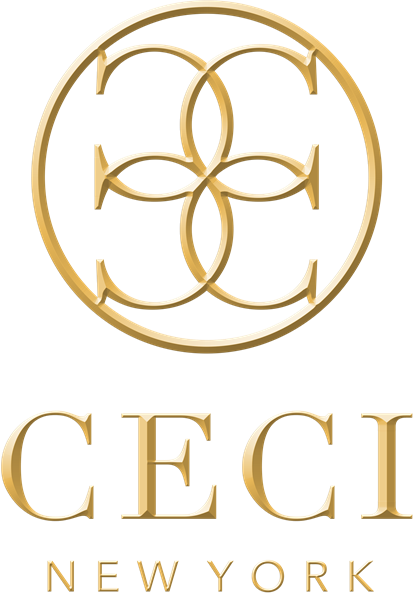 130 West 23rd Street, New York, NY
Best wedding invites ever
Reviewed on

4/24/2015
Ceci produced the wedding invitations of my dreams, perfectly capturing the vision I had for our invitations. We went through several rounds of revisions, a fun and efficient process. I would absolutely recommend them for invitations. The only con is the expense - they are extremely pricey - but you ultimately get what you pay for, ie, best invitations ever. We received endless compliments, and some guests even said they were thinking of framing the invite. I would definitely use Ceci again for my stationary needs.
---
Fabulous Process, Amazing Results
Reviewed on

8/25/2014
Kari C
Anyone who spends a little time looking at Ceci's work knows that the end products are amazing pieces of work-beautiful, high quality, and with a range of character. What was most impressive for us was how easy it was to work with Ceci and how attentive they were to our desires. We were looking for invitations that would be classy but fun, personal without feeling stuffy, which we recognized would be a really difficult tone to communicate and pull off! Everyone at Ceci was great not only at listening to our ideas and feedback, but really embracing them and running with it. The end result was an invitation that embodied us as a couple, and everyone loved them.
---
Impressive Invite
Reviewed on

8/12/2014
Kristen M
Our invitations from Ceci received rave reviews from our wedding guests, they said they were so classy, unique and a perfect start to our NYC wedding. Working with the staff was very easy, we met in the store and then communicated by email. I stated what I wanted and they would clearly let me know the prices before including anything extra, no upselling! I was able to make edits and keep on budget with their suggestions, the price was at the very top of my range, but the quality was well worth it. I was very pleased with the final product, it looked even better than I had envisioned. I would recommend Ceci for your wedding invitations because they will be unlike any of the ones you can find online.
---
Most Incredible Invite EVER!
Reviewed on

8/05/2014
Ty s
I so LOVED my experience with Ceci New York! My wedding story began as a long distance romance. He would drive from Arizona to see me. And I used (literally) a million frequent flyer miles to fly to him from California. So when I saw the boarding pass style invite made by Ceci New York, I immediately knew it was the exact style I needed for our travel theme! And working with their team was such a bonus, because they were fun, understanding and professional. After a few phone calls and email tweaks, my invitations were ready to be shipped. And when they arrived, I felt like a kid on christmas morning!! Every aspect (paper, design, ink, font) was everything thing I dreamed of! It really set the tone for our wedding planning to be a success. And just about every guest contacted me to comment on how amazing our wedding invitations were! I would ABSOLUTELY recommend Ceci New York to take care of you and your invitation needs for your wedding. I even instagrammed my invite because I loved it so much. And got many more 'likes' from absolute strangers. Thank you Ceci New York (and your fabulous team!) for helping us set the tone for our most special day! Next up, baby announcements! ;) Can't wait! Love, Mrs. Grant (EEEEEE!) :)
---
Have Never Seen an Invitation Like This!
Reviewed on

8/03/2014
Tiffanie J
We were having a Venetian summer ball themed wedding and I was looking for an invitation that would set the theme up for my guests. And a regular invitation just wouldn't do. My extensive internet searches directed me to CeCi New York. From the time I connected to them, I knew CeCi was special. From the moment I walked in, I had a customized experience. And the results were spectacular! The pre-printed calligraphy outer envelope was the first experience my guests had that said this was no ordinary invitation. Our custom bellyband, with the heavy stock paper, the monogram initials, custom color combinations, and the mask were created just for us! We received so many calls, texts, and notes from our guests who said they had never seen an invitation like this! Gorgeous! Amazing! Beautiful! Just a few of the comments we received. So if you are a discerning bride and want to give your guests an experience before they even get to the wedding, then CeCi New York is for you!
---
Best Invitiations Ever
Reviewed on

8/03/2014
Creative, fun, friendly amazing. I can't say how happy I am with my invitations. Worth every
---
wedding invitations
Reviewed on

8/02/2014
muna s
I was ver please with the wedding invitations I used from Ceci. The have unique stunning sytles , and their service is great. I highly recommend them and I will use them for my nest event.
---
Pricey but gorgeous!
Reviewed on

8/01/2014
Lindsay A
Ceci isn't cheap but we absolutely loved our invitations and every detail that went along with them. We also had our programs done to match.
---
Elegant!!
Reviewed on

7/31/2014
Being a Ceci Bride was truly the best decision I made in the entire wedding planning process! They have a great process for designing as well. They sent us the material options quickly to see in person even though we live in Atlanta not NYC and involved us at every step so we could collaborate when appropriate.They created an invitation that will be remembered in people's minds for ever. I admire her work and it was so much fun to work with her talented team.I would highly recommend Ceci New York to any bride.We Love you guys!! Sahar & Michael xoxo
---
Ceci New York-THE BEST!!
Reviewed on

7/31/2014
morgan s
Designing my invitations with Ceci and her team was one of my absolute favorite parts of the planning process. I had a specific vision for my invitations and Ceci brought my ideas to life with more creativity, more passion and more color than I could have dreamed of. I ended up going over my original budget but I don't regret it for one second. I am completely obsessed with my invitations! I highly recommend her!!
---
Invitations as Art
Reviewed on

7/31/2014
Tamara K
Ceci designed a custom wedding invitation for us that is an unforgettable piece of art and we've heard from scores of guests about how it's the most incredible invitation they've ever received and how excited it made them for our wedding. Nothing could have set a better tone for our wedding day than the invitation they created. Ceci took the way my fiance and I feel about each other and turned it into something our friends and family were able to touch and hold. Which is amazing considering I'm not artistic at all. But she took the time to get to know us and our story and was able to express all of that simply in our elegant invitation. And even our guests have been commenting on all the little details and extra touches that I wasn't sure anyone else would notice, but when something is done so well, it will shock you who will notice. Ceci also incorporated our location, our colors, and the whimsical tone we're hoping for on our wedding day. I didn't even know that was possible, but when you hire an artist instead of a printer, you get more than you could have hoped for. Despite being unique and special and evocative of our relationship, the invitation is not ostentatious at all. It's still tasteful and fully functional as an invitation, despite also being a masterpiece made of paper. They completely understood the understated tone we wanted to achieve and were full of ideas about how to achieve that without just adding bling. Although I'm sure if you want bling, they'll give that to you. They have a great process for designing as well. They sent us the material options quickly to see in person even though we were on the West Coast and involved us at every step so we could collaborate when appropriate. They were prompt, perfectly responsive, and if you get the chance to work with Adhari as your project manager, you should consider yourself extra lucky! They're not cheap, but they're worth every penny. They created an invitation that will be remembered in people's minds for years to come. How many invitations can you say that about? How many invitations have you already forgotten about? If you're going to use a stock invitation, you might as well email your invites because no one will remember them. If you want something special for your wedding day, there's no one else you should hire. I can't recommend the entire team at Ceci New York enough.
---
Great to work with
Reviewed on

7/31/2014
Great invitations were really important to me, so I vetted several potential partners and am very happy we went with Ceci. Within minutes of submitting my inquiry, I was contacted by Kayla to discuss my invitation vision. Where other vendors told me I'd have to adjust my budget to work with them, Ceci offered creative solutions to stay within my budget parameters. The service has been excellent and I could not be happier that we chose to work with Ceci!
---
Outstanding Service & Exceptional Quality
Reviewed on

7/31/2014
Regan M
Being a Ceci Bride was truly the best decision I made in the entire wedding planning process! And certainly the most fun! My fiancé and I chose to be married on the South Coast of Sri Lanka and my vision was to incorporate the colonial glamour and historic richness of Galle Fort with the casual vibe of the Sri Lankan tropics. Keeping in mind that Sri Lanka was going to be hot and steamy at this time of year (just prior to the wet season), and that our guests were travelling from Australia, New Zealand, Dubai, Singapore and the UK, we wanted our wedding to be fun and relaxed but still have a strong sense of occasion. I was having difficulty bringing my ideas of glamour in the tropics to life, but when I collaborated with the Ceci team, they knew exactly how to translate my ideas into beautiful invitations and accessories. The invitation suite worked beautifully to give our guests an insight into our occasion before the day, and the style of the accessories added a more formal touch to an otherwise relaxed, fun, beach wedding. Ceci and her team, particularly Meghan, were the ultimate professionals with a level of detail and personalised service that made them an absolute dream to work with, even from the other side of the world in Dubai. The fact that I was more excited about receiving colour samples and design ideas from Ceci New York than I was about choosing my wedding gown, or any other part of the planning is testament to this. I would highly recommend Ceci New York to any bride - the outstanding service and exceptional quality of their product makes them truly peerless in their category. Regan McKean, Dubai, UAE.
---
Outstanding Creativity
Reviewed on

7/31/2014
Sally D
I am currently working with Ceci and staff on invitations for my upcoming wedding in November. I have been overwhelmed with outstanding inspiration and creativity by Ceci and staff. In my initial consultation, Kayla was very attentive to my desires and inspiration for my wedding. She was detailed and enthusiastic and made me feel like she really knew what I was looking for. Throughout the beginning process I have been extremely pleased with the staff's attentiveness, patience and creative talent. Ceci's first round design floored me and I felt that my needs were being heard and expressed beautifully through their designs. I am excited to see the end product and appreciate Ceci and staff for their hard work and talent !
---
Beautiful Invitations, Wonderful Staff
Reviewed on

7/31/2014
Michael C
After meeting with some other companies, my fiance and I chose Ceci for our invitations and we could not have made a better choice! We knew we didn't want the same old boring invitation we had seen so many times and Ceci was the right place for unique, beautiful designs. We just got our last RSVP back and our guests all loved the invites. Ceci is alittle more pricey than some of the other companies but the product is outstanding. I would definitely recommend Ceci to other brides! Sara
---
Wonderful experience!
Reviewed on

7/31/2014
Nicole R
We used Ceci for our Save the Dates and had a wonderful experience. They have a wide variety of unique patterns and the NYC skyline print was the perfect choice for our Manhattan wedding. The staff was nothing but pleasant to work with... Our order was packaged beautifully and was ready exactly when it was promised. I would highly recommend Ceci's services.
---
Best in the industry, amazing product
Reviewed on

7/31/2014
Laura P
If you want the best quality and design of formal invitation, Ceci is definitely the place for you. They are knowledgable in invitation etiquette and work with customizing your designs. Whatever you decide the end product will be amazing. There is a price attached to this level of quality but it's definitely worth it.
---
Stunning Ketubah
Reviewed on

7/30/2014
Brooke R
For our wedding my husband and I wanted a Ketubah that was a little more unique than what you typically see and Ceci New York definitely exceeded our expectations! The staff was amazing & listened to everything we wanted and answered all of our questions. We could not be happier with the end result which is prominently displayed in our home as one of our most cherished pieces of art. If you are looking for something truly unique and special I would absolutely go see the wonderful people at Ceci New York!
---
Red Carpet Experience
Reviewed on

7/28/2014
My husband and I used CECI for our invitations suites, program cards and menus. It was really important for us to send out invitations that we could be proud of. Our project manager was Meghan and she was so wonderful! From start to finish she advised us well listening to my vision she kept our project on time and me well informed. The response to our invitations were so overwhelming; compliments would not stop coming! Our guests were blown away and it created so much excitement for our wedding day. We even had guests calling us to RSVP over the phone because they wanted to keep the entire suite. We were so honored! The program cards and menus tied in the design from our invitations and they were so beautiful! Everything was custom which made it so special for us! Heavy stock on everything; not cheap at all; just the look and feel of our stationery was so impressive that guests are still talking. We ordered more pieces than we needed for programs and menus and at the end of the event when we were gathering our things they were all gone! Our guests took them as keepsakes :)! We are so thankful that Meghan and the design team gave extra just for us. It truly was a wonderful once in a lifetime red carpet experience for us! We highly recommend CECI to couples who want to make a statement with beautiful stationery on their big day! Your invitations are the interest "arouser" for your event and the only opportunity you really have to set the tone for your big day so make it count! Thank you so much Meghan and the CECI team!! We really appreciate you!! xoxo Ele & Dan :)
---
perfection
Reviewed on

7/27/2014
erica k
i have only the best things to say about my ceci new york experience and invitation suite. from my initial meeting to see options, to the final product, the entire team treated me like a princess. each person was kind, patient, attentive, responsive, and creative. everybody was on top of their game, which meant the world me. the end result was delivered right on time (even with thanksgiving, christmas, and new years closing their office), and utterly dazzling---three months after our wedding, guests continue talking about our show-stopping invitations. i have nothing but praise for the ceci team, and would recommend them to anyone who is happy to pay for the ultimate wedding invitation suite and the white-glove experience getting it! (one star off for value because it is indeed expensive.)
---
One of my favorite parts of planning!
Reviewed on

7/24/2014
Jessica M
Working with the Ceci New York team for my wedding was probably one of the easiest experiences of the whole process. They were friendly, organized, helpful and 100% on their game from start to finish. From the account team to the designers to Ceci Johnson herself, it was a hands down pleasurable process. Literally any design element I wanted to add, they could do. Any deadline I needed, they made. I had no idea that the invitations were going to be my favorite part of the wedding process! They were a dream to work with!
---
winter wonderland wedding
Reviewed on

7/22/2014
CBackus
I can not give higher praises to Ceci and her team…I think we are still getting compliments on our inviations months after the fact. We got married in December at the Boathouse in Central Park in NYC and wanted a save the date that captured the surroundings with some whimsy while still feeling classy. Ceci came up with the most amazing scene of the park that was incredibly personalized, yet still very timeless. Our inviations themselves were fairly tradtional but Ceci and her team helped us add some subtle creative touches that helped our invites stand apart. Overall, amazing quality, amazing customer service and so much personal interaction. Definitley set the tone for our day, and I would recommend Ceci to any bride looking to invest a little bit extra for an outstanding end result.
---
Best in Class
Reviewed on

7/22/2014
Ashye P
Ceci Johnson and her team were an absolute pleasure to work with – plus the process was easy, streamlined and professional. The best people in the wedding industry are able to read the bride and groom and provide suggestions that align with their style. This is exactly what the Ceci New York team did for us. Our invitation suite reflected both our personalities and the overall tone we were trying to establish for the wedding. Their work is best-in-class! Check out their work in her weekly magazine. https://www.cecinewyork.com/cecistyle/issue/v173/
---
The most gorgeous, unique, and classiest invitations I have ever seen!
Reviewed on

7/21/2014
When I chose Ceci New York to do my invitations, I knew my guests were in for an unforgettable experience. From the consultation with Ceci and her team to the rounds of edits, the customer care was top notch and luxury at its finest. When my fiance and I received our sample in the mail, we cried! I never knew I would care so much about paper until I opened ours! My fiance said he wanted to frame it, that's how much he loved it (and you know guys don't care that much)! The envelope liner, bellyband, invitation suite, envelopes, and every little design touch were so carefully laid out it was perfection. Our guests began to receive theirs in the mail and the calls and texts came in like wildfire from across the country. No one had ever seen anything like it before! My dad joked that we didn't even need to have a wedding because we had "wow'd" everyone enough with the invitations - that's how much people were in love with it! I would highly recommend that you invest in Ceci's work for your invitations. It's a great way to introduce your guests to the aesthetic of your wedding and personality of you and your fiance. The process was so fun and the reaction of everyone who receives it will make your day over and over again!
---
beautiful elegance
Reviewed on

7/21/2014
Alexandra S
Ceci New York created a spectacular invitation for my outdoor California wedding. To keep with the hacienda feel of the resort where I got married, Ceci was able to incorporate the Spanish tile into my invitation for a classic (yet unique) look. It was a joy working with her and the team, and I would gladly recommend this company to anyone!
---
Send Message