Home

Church Ranch Event Center
About this Vendor
"Oasis in the city with a Mountain Feel"
Our venue is known as an "Oasis in the city with a Mountain Feel". Our beautiful grounds feature flowing water features with towering aspen trees to create perfect romantic atmosphere. With stunning beauty outside and a rustic feel inside, we have everything you've been dreaming of to create an unforgettable event.
Amenities + Details
Amenities
Bridal Suite

Handicap Accessible

Liability Insurance

Indoor

Outdoor - Not Covered

Reception Area

Wireless Internet
For more details about amenities, please message the Venue.
Barn, Garden, Historic Venue, Mountain
Bar + Drinks, Cakes + Desserts, Destination Wedding Packages, Destination Wedding Planning, Destination Weddings, Food + Catering, Planning, Rentals + Equipment, Service Staff
Contact Info

Reviewed on

9/17/2016
Lexi W
Eric and the rest of the team were so easy to deal with and they made sure everything turned out perfectly for our wedding. We were very particular about a lot of the small details, but and they accommodated all our our requests and helped make things easy for us. This venue is... Read More beautiful and there are so many nice areas to hang out in. We definitely recommend using the lighting package for the event hall, it added a great ambiance. We highly recommend Church Ranch Event Center! -Lexi & Adam
---
Beautiful Ceremony and Reception Site
Reviewed on

10/17/2015
Lauren H
We found Church Ranch on the Knot and ended up doing a walk through and fell in love with the venue. It has an amazing inside where we had our reception at and the outside captures the true essence of Colorado. The bar is awesome and the day off staff was great. Our person... Read More of contact up until the wedding day was a little difficult to work with and there was a lack of communication/miscommunication with the bar payment and security deposit refund but our day of wedding coordinator was the sweetest and she made sure to assist and was there from the reception through the end of the wedding! This venue is beautiful and I would recommend them as a great Colorado venue without having the Colorado Mountain venue cost and distance!
---
Reviewed on

2/02/2018
Heather S
After reaching out via The Knot's email to contact the Vendor on 1/18/18, I received an email back from Mitchell with package information. I emailed him back to asking if we were able to tour on Sat 1/20 after 12pm (as we were out looking at venues that day). He emailed me back... Read More asking if we could connect over the phone. The email exchange was easy in the beginning. I told Mitchell that would be great. He mentioned he was available that day (1/18) after 2pm. I told him that worked & I was looking forward to speaking with him at that time. 2pm rolled around, I called, had to leave a message. We played phone tag a few times that afternoon. I get a few times, but every time I called I couldn't get in touch with him. From the person who answered the main line, she said he was the only one to schedule tours. Which is fine, but he wouldn't schedule a tour unless I had a consultation with him on the phone, first, which I was trying to do. Left a few more messages letting him know we were very interested in the venue, that we lived within 10 minutes & wanted a tour on Saturday, or even during the week! Wouldn't give me a call back, it's been over two weeks, still no return call. We have since moved on. It appears that Mitchell is being selective on who he brings in to tour. Is it really that hard to schedule the tour first, then collect some basic information collected about a potential date and budget over the phone, or even just email? Other venues have been very easy to work with scheduling a tour. It shouldn't take multiple emails and voicemails to just request a tour. Customer Service goes a long way, especially in this day and age with the power of referrals.
---
Reviewed on

1/03/2018
Shelley M
We are so glad we chose to hold our 11/17/17 wedding at Church Ranch. We were initially drawn to it for its unique and intimate vibe. We wanted a vibe that was not stuffy or overly formal because that is not our style, but we still wanted a beautiful "canvas" that would impress... Read More and accommodated our guests, and ascetically matched what we were looking to do design wise. We held our ceremony in the Harvest Room, and it was so intimate and beautiful. Truly made for an incredibly special mood for our ceremony. Church Ranch has many preferred vendors we used, and we were pleased with all of them- especially Moss and Oak floral, Brittany does an incredible job! Church Ranch has many options as far as bar packages, and add ons for the day of the event. Options are always great and with or without the add ons- the space is so beautiful, guests will be impressed, and your event will turn out awesome. It was so nice to have an event coordinator as a contact through the entire planning process to help you stay on track with planning, as well as a day of coordinator to help with all those day of details. If you're looking for a venue that has more character and intimate feel than a large generic ballroom, but you still need the space- you cannot go wrong with Church Ranch Events Center. There are also many great hotels nearby (we had our block with Denver Marriott Westminster that was .3 miles from CREC and were very pleased with their service and the hotel accommodations) which is great if you're looking into a hotel block.
---
Reviewed on

12/18/2017
Carley T
I recently got married at Church Ranch in November and the staff there were very accommodating and flexible in ensuring the wedding was to my preferences and budget. We got married in the evening, and the venue was very elegant inside at night. It felt so dreamy.
---
Reviewed on

9/05/2017
Johanna H
Mitchell, Madi and the rest of the team were absolutely amazing! They made our wedding perfect! They listened to our every desire for our wedding and made it happen! The venue itself is so beautiful! IT is the perfect place to have a wedding!
---
Reviewed on

8/23/2017
Nancy B
My husband and I are both Colorado natives, and I had always dreamed of a mountain wedding. When selecting our wedding venue, our first visit was to a beautiful mountain venue. We then we went to Church Ranch Event Center (CREC) the following weekend. Before going to CREC, we... Read More thought it would be our Plan 'B', if a mountain venue wouldn't work for whatever reason. Well CREC became our Plan 'A' soon after we met with Mitchell and took the tour. It has a very mountain-Colorado feel, with the gorgeous gardens and the beautiful rustic indoor space. We didn't even want to look anywhere else. We fell in love with Church Ranch Event Center, and all the options they had to offer. We would highly recommend using their preferred vendors. It definitely made the whole process so much easier. We compared a few of their vendors with others and the pricing was definitely in line. Since Church Ranch Event Center referred them, we also felt confident they would do a good job. Our coordinator Madi was wonderful. She was patient with all of our questions, and had some really good suggestions. The three comments we heard over and over again from our guest were: 1. How beautiful our wedding was. We did very minimal decorations, so it was mostly the venue itself. 2. How good the food was. Again, we used their caterer-so good! 3. How fun our wedding was. That kind of has to do with a mix of things and the mood you set, but we would definitely recommend the photo booth, it was a huge hit. We just loved our wedding! Thank you Mitchell, Madi and everyone at Church Ranch Event Center.
---
Reviewed on

8/18/2017
holly c
I booked an event with this venue and it was nothing but a horrible experience. The deposit that they told me to begin with was different than the amount that was invoiced. The package that I chose would include the photographer, the flowers, etc. I had to cancel the event... Read More and was under the impression that it was taken care of. I was not contacted by any of the contractors such as the florist, photographer, the coordinator to continue planning the event. I was then told that I needed to send a certified letter to cancel and the event was never cancelled. I planned the event to take place less than a year from the date that I signed the contract and when I cancelled, they said they would keep the deposit since I did not cancel with a year's notice. I have recently received a collections bill for an additional $19,000 for the venue that I never used. The management knew the event was cancelled and that is why they did not go forward with any of the steps of planning. EXTREMELY POOR MANAGEMENT FROM THIS HUSBAND/WIFE TEAM AND HORRIBLE CUSTOMER SERVICE. THE UNIQUENESS OF THE SPACE IS NOT WORTH THE RISK OF YOUR EVENT BEING RUINED.
---
Reviewed on

6/14/2017
Brandi H
An amazing venue with incredible service!
---
Reviewed on

4/13/2017
Bree S
My husband and I got married at Church Ranch Event Center on 4/2/17! Choosing Church Ranch was one of the first decisions we made when planning our wedding, and one of the best! We only looked at two venues (though I had researched countless) - Church Ranch was the first and we... Read More knew it would be hard to beat. We looked at another, just to be diligent, but we knew when we sat down to compare the two that there really was no comparison. Church Ranch had everything we were looking for. The outdoor space is breathtaking, and we lucked out with gorgeous spring weather and were able to have our ceremony and cocktail hour outside (not to mention our wedding photos are amazing in part due to Church Ranch's landscaping). The reception hall is also beautiful. It was big enough to accomodate our 125 guests (and could have easily accommodated more had all of our invitees attended), and we especially loved the high ceiling and the twinkle lights as they gave our reception an open and romantic feel. The bar is also a spectacular sight and the way the rest of the venue is decorated is perfect. We really didn't have to provide that much additional decor, as the venue just stands out on its own and the staff has decorated the other spaces in such a lovely way. Table centerpieces are already partially planned for you with the inclusion of the goblets and the LED candles for them with the facility rental. We also were so grateful that we didn't have to coordinate table, chair or linen rentals, and that we didn't have to worry about creating a backup plan in the event of inclement weather - the staff was prepared to move our ceremony and cocktail hour inside if the need arose. But if all that weren't enough, the staff at Church Ranch is truly amazing. Our first interaction and visit to the venue was with Eric, and we liked him from the beginning. I kept in touch with him throughout our wedding planning journey and we were so happy that he was one of the coordinators at our wedding. At that point, he was like a friend to us. But the bulk of my planning was done with Madi and she is awesome. She answered every question I had (and trust me, I had a lot of them) and she helped me out when I wasn't sure where to go with certain decisions. Even though she wasn't one of the coordinators at our wedding, she was there to say hello and give me a hug when I arrived to the venue and even left a sweet card in my dressing room for my husband and I. The other two staff that worked our wedding, Jess and Laurie, were also so friendly. I honestly don't think that our wedding would have been what it was or what we wanted it to be without the incredible staff at Church Ranch, especially since we found our caterer and photographer through their recommendations. I really can't say enough about the venue or the staff. We are still getting compliments on the beauty of the venue and what a gem it is. My husband and I couldn't agree more and we are just so thankful that we got married here! Church Ranch Event Center and its staff will always have a special place in our hearts!
---
Reviewed on

12/11/2016
Holly R
We had an absolutely amazing experience at the Church Ranch Event Center from beginning to end. We ended up forming relationships with the people we worked with, which made the entire process that much more fun! The staff at CREC is extremely professional, accommodating, kind,... Read More and knowledgeable about the wedding industry. They confidently proclaim they can put on an event with their eyes closed, since they've been doing this for so long, and it is absolutely true! I made several last-minute requests/changes to the plan up until the last minute before the wedding (we're talking: moving the wedding from inside to outside three days before the wedding), and they made the changes without batting an eye. There is a certain warmth, hospitality, and peacefulness you'll feel at this place — not only because the grounds and building are beautiful, but because the staff is so amazing! If you're looking for an incredible venue for any sort of event — especially a wedding — this is your place. Trust me, we looked all over Denver and could not find anything so all-inclusive for their amazing prices. And they will work with you to ensure your day is everything you dreamed of and more. We love Church Ranch Event Center! Quick shoutout to Mitchell from CREC: Mitchell was the first person we met when we looked at the venue after we got engaged, and it was love at first meeting. He took care of us throughout the entire process, always went above and beyond to accommodate whatever we needed, and has become a friend of ours! He is so full of energy, enthusiasm, and is so passionate and knowledgeable about the industry. He has lots of connections in the area as well, and will not hesitate to connect you with the right vendors. Mitchell is the best!
---
Reviewed on

10/21/2016
Chelsea B
We had our wedding at Church Ranch Event Center last weekend and it was PERFECT! Eric did a fantastic job scheduling everything throughout the day and making sure we were happy. I would not have changed a single thing about the entire process with them. They made it so easy to... Read More plan especially because we were out of state in the beginning. Madi also went out of her way to answer all questions I had in a timely manor and was so sweet about everything. They do not have just an okay list of vendors, they are the best of the best. The grounds are incredible and so well maintained. Thank you Church Ranch Event Center and all staff! Chelsea & Geoffrey Lee
---
Reviewed on

9/21/2016
Angel R
We were ready to book but we kept getting attitude from Mitch. He has the worse customer service and we just didn't want to deal with someone who just lacked common courtesy and was quite frankly was being a snob. I wasn't asking for anything elaborate which was probably a turn... Read More off for Mitch because he's busy trying to plan a wedding that fits his needs and tastes--I just wanted a place that my guests would enjoy and have a good time. Sorry if that's too simple for you Mitch. And I'm glad my guests don't have to endure your attitude because that would be embrassing.
---
Reviewed on

9/12/2016
This rustic & elagant venue is probably 45 minutes or less for your Denver area guests and the staff was unbelievably helpful! We were cheerfully accomodated and assisted at every turn. I would highly recommend this venue for any wedding/reception/party or large corporate event... Read More - amazing! From the beginning, Coco, Madi and Eric worked with us, from vision down to the details. Some family friends did a pig roast for us, with all the trimmings. Staff at CREC took over serving, replinishing, cleaning up, etc.. all with smiles on their faces and hustle in their steps. Eric heard some murmuring about issues we were having with the local hotel where we had blocked rooms for our guests. He immediately got on the phone with the hotel and rectified the situation. At the end of the night, the CREC staff almost took over our clean up duties, we were not in it alone. And the best nightcap, the hotel sent the shuttle bus driver home before all our guests were back at the hotel - well, guess who became our shuttle driver, Eric! He drove his car over to the hotel, got the shuttle keys from the front desk, and returned to CREC with the shuttle bus! We were taken care of until the lights were out and the gates were locked. Reserving CREC for my daughter's wedding was one of the best wedding decisions we made
---
Reviewed on

6/20/2016
Danielle D
Church Ranch Event Center is beautiful! We were given so many compliments by our guests!
---
Most Beautiful Venue!
Reviewed on

1/12/2016
Nicole S
This venue made our wedding perfect! The grounds are absolutely gorgeous, flowers, and trees everywhere, paths that lead to spots for amazing photos. The dance floor made our wedding so much fun, a great set up so everyone could dance away without being over crowded or too much... Read More space between everyone. And the inside was just as beautiful as outside, even though you're in town you feel as if you're up in the mountains, away from everything. Definitely a place I tell people to go to!
---
Gorgeous Venue!
Reviewed on

11/05/2015
Elisabeth R
I met Eric during a bridal expo back in January, we were trying to find somewhere that could fit everyone, allow our own catering, had inside and outside possibilities, and was in our budget. I had already seen a few places but none of them had that 'feeling'. We made the... Read More appointment to check out CREC that next week, the minute I walked in, I had it- the Feeling. The inside reception hall is open and airy, the bar is beautiful, and it had that classy rustic look we were looking for. Outside was even better, even though we were seeing it in late January, it was still just what we were looking for- open, filled with trees, and plenty of lawn space for games. They checked off every point on my checklist, I paid the deposit that day. Fast forward ten months to the actual wedding week- Coco answered every random question that my mom and I had, all in their own email or phone call of course, without ever making us feel like we were bothering her. They were reassuring through the whole process and even allowed us to change decoration/table settings up until the day before. The outside landscape was absolutely gorgeous, everybody talked about, there wasn't one bad word said. The aspens were perfectly yellow, flowers were all blooming, and the grass was a beautiful green. It was just what I had imagined for the last year. On the actual wedding day, it was wonderful not having to worry about anything. They provide an Event Manager who is in charge of timing, flow, and that everything is in the right place. I was able to enjoy the day without knowing if anything went wrong. The price is a good value, there will be small costs that add up- but if you look through the invoice with them each time and pay attention, they're willing to take things out or change them up until two weeks before. There's a lot of freedom in what you can do with this space, many venues don't allow too much outside thought and are very strict with outside vendors (caterers/DJ/etc), these guys allowed a friend of mine to cater the whole thing with no extra charge. I would highly recommend this venue to anybody looking, the value is solid, and Coco and Eric were a joy to work with!
---
Beautiful venue with great staff!
Reviewed on

4/16/2015
Ericka V
The venue was absolutely beautiful, with the grounds and the lights and fabric in the ceiling inside. It was perfect for my wedding and the number of guests I had- around 200. The venue is very reasonably priced and the staff was wonderful and attentive. As always, make sure you... Read More ask about all fees up front, as there were some extras we had not considered- understandable fees, but just unexpected. Eric and Coco are great and their waitstaff and event managers do a wonderful job. I highly recommend this event- the flexibly of indoor or outdoor wedding was invaluable in April and we were blessed with great weather to use the outdoors. Thanks for making our day even greater!
---
Meet The Events Director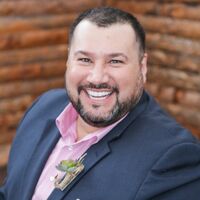 Mitchell Ray
Known as "The Event Guru" Creative Director Mitchell Ray has been the go to guy for special event planning and consulting for over 30 years. Mitchell's design background and highly creative ability has been sought after by many when it comes to unforgettable creative design and catered events. His long standing career started as a stylist while consulting on design service solutions for retail, restaurant, hotel and the culinary industries.