Home

Cinderollies | Bridal Party Ballet Flats
About this Vendor
Foldable ballet flats for weddings and events
Launched in 2010 and as seen on The TODAY Show, Cinderollies are the original foldable ballet flats for bridal parties, weddings and events. When you're getting ready to say "I do", the last thing you want is for your guests to say "I don't" to the dance floor. When their high heels start holding them back, your fairy godmothers at Cinderollies are here to keep the party going with our super cute and ultra compact Cinderella slippers. Be sweet to your bridesmaids feet and place your order today! Bulk discounts available!
Details
Bridesmaid Gifts, Gifts for the Bride, Parent Gifts, Personalization, Wedding Favors, Welcome Bags, Gifts + Favors

Contact Info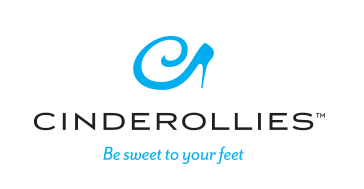 Reviewed on

2/17/2017
Erica V
These were a phenomenal purchase for our wedding! I chose them over others based on reviews on Etsy (as well as pricing and shipping), and I'm glad I did. I got myself some along with some for bridesmaids and other family members. They REALLY came in handy when we went to a... Read More place for portraits in San Francisco and it was very unwise to wear heels while traversing rocks and countless stairs. They packed easily, and my bridesmaids wore them for the majority of the reception. They were incredibly happy with them, and they'll definitely hold up for at least a few wears! I am not generally the type to wear heels I can't rock all night, but I DO still keep these in the car JUST in case!
---
Reviewed on

12/15/2017
Melissa B
Such a great gift for my bridesmaids and they definitely used them! And they can continue to put them in their purses for a night out and use them again and again... so cute! Wish I bought myself a pair!
---
Reviewed on

2/02/2017
Raquel V
This company is fantastic and super responsive. I had my order of 7 ballet flats to my door within a week of placing my order and this was during a hurricane evacuation in South Carolina. The flats are super cute and comfy and all of my bridesmaids loved them. By the time we did... Read More grand entrance, all of my girls changed into their flats and they danced the night away with no complaints. I would definitely order from this company again.
---
Reviewed on

8/24/2017
Sherri L
Cinderollies are awesome! Very accommodating. The color of the shoes is beautiful! They were affordable enough that I made them part of my bridesmaids' gifts!
---
Reviewed on

2/20/2017
Kimberly B
Wonderful for when you are ready to dance the night away and easily stored in a convenient pouch!
---
Reviewed on

2/17/2017
Jennifer H
Love them!
---
Reviewed on

2/17/2017
Tiffany M
I'm so happy my bridal party will have happy feet at the end of our wedding day. I'm looking forward to surprising them with these cute and comfy slippers. Just easy and great quality and quick response!
---
Reviewed on

2/17/2017
Dawn M
I HIGHLY recommend Cinderollies! The customer service is amazing. I ordered a color I thought would look good with the bridesmaid dresses and I didn't like them. So I returned them and send a picture of the dresses to Chris and he helped me decide which color to get. I got... Read More them and love them. All the bridesmaids say they are so comfortable. Fast shipping, inexpensive and great customer service.
---
Reviewed on

2/17/2017
Ashley S
I LOVE these flats! They were prefect for my bridal party for after the ceremony!
---
Reviewed on

2/16/2017
Jennifer T
Cinderollies is a wonderful company that sells a top-notch product. Customer service from purchase to product arrival was excellent. At the time of purchase, new product sizes were being released and a representative followed up directly to ensure sizing was correct for my bulk... Read More order. My purchase included one pair of the Pearl flats (bride), Hi-Ho Silver (bridesmaids x6), and Fairly GoldMother (mothers of the bride and groom). I gave Cinderollies as wedding favors and everyone loved them. The individual bags are easy to carry these flats around in and small enough to fit in a purse. They are extremely comfortable, portable, and versatile I've often found myself wearing them while traveling. Overall, awesome product and great service!
---
Reviewed on

2/16/2017
Angela S
Bought these for my MOH, MOB, and MOG. My mom continues to wear them around her house because she likes them so much!
---
Reviewed on

2/03/2017
Danielle K
I got them for my bridesmaids to wear after the ceremony, and they loved them! They wore them the whole day before the ceremony too, and one of them told me she still wears them around a the house! They were comfortable and cute.
---
Reviewed on

2/02/2017
Elissa G
These were perfect for dancing when the girls and I just couldn't take anymore of our heels. I don't think they come in half sizes and that would have been nice as mine were a little big.
---
Reviewed on

2/01/2017
Kayleigh F
I ordered these in pewter for my bridesmaids and in white for myself. I absolutely love them and I can't wait to gift them to my girls. Definitely worth the purchase. Gorgeous!
---
Reviewed on

2/01/2017
Carissa S
The absolute perfect gift for your hard working bridesmaids. These will please everyone's sore feet so they can continue to enjoy their time into the night. Sizing is flexible.
---
Reviewed on

2/01/2017
Stephanie B
Bought the nude flats for myself and each of my bridesmaids. They shipped really quickly and each came in its own carry bag. Have tried them on and they are super comfortable and easy to carry in a clutch. Can't wait to use them at my wedding in March!
---
Reviewed on

2/01/2017
Jaimie F
Great customer service!! My girls will love these slippers!!
---
Reviewed on

2/01/2017
Amanda C
When I was looking for comfortable ballet flats to order for my bridesmaids I knew I needed to order Cinderollies based on their reviews! I was very happy to be able to order 6 pairs and I was able to have different sizes listed as well as names. When I received my Cinderollies... Read More I opened the package and 1 pair was missing....but I called the company and Chris picked up. He offered to send me the missing pair right away. The next day I received an email saying my missing pair was shipped and I received it with 3 days. Their customer services was amazing and the missing pair was no longer an issue. I have not had my wedding yet, but I can't wait to give these to my girls in their "bridal bag" I created just for them. Cinderollies are the perfect accessory for my bridal party.
---
Reviewed on

2/01/2017
Danielle M
Great gift for my bridal party.. love the personalized pouches they came in.. great fit...friendly customer service.. highly recommend!
---
Reviewed on

2/01/2017
Mackenzi F
Cinderollies are great! I gave them to my bridesmaids on my wedding day to wear during the reception and they loved them. Super comfy!
---
Reviewed on

1/31/2017
Shauna R
I purchased the cinderollies for my bridesmaids, mom, & mother in law. They were a big hit & couldn't have asked for a more comfortable shoe to enjoy the night! The process of ordering & receiving was simple. Thank you!!
---
Reviewed on

1/31/2017
Libbey L
I gave Cinderollies to my bridal party and my mom on my wedding day. My ladies were thrilled to have something comfortable to slip into when the reception got going! The little pouches were super convenient, and I couldn't have been happier to have my pair after my bridal... Read More shoes literally made my toes bleed. I wish I could have purchased them for everyone at our wedding!
---
Reviewed on

1/29/2017
Laura C
I ordered 4 pairs of gold Cinderollies as part of my gift when asking my sisters to be my bridesmaids. I had some questions prior to ordering and Chris, co-owner of Cinderollies, answered promptly and assisted with the ordering process. The flats arrived quickly and were... Read More adorable and comfy! My sisters loved them so much that my fiancé and I will be ordering a bunch for our reception. Thanks to Chris & Nicki for helping us make our big day so special!
---
Reviewed on

1/28/2017
Rosalia K
Cinderollies were a life saver. All of my bridesmaids were so happy to have shoes to dance in and I ended up ditching my shoes for the ceremony because they were such a comfortable replacement!! Again, life saver!!!
---
Reviewed on

1/27/2017
Jessica C
I got each of my bridesmaids a pair of Cinderollies. The girls were so excited! It was perfect contributor to my NYE wedding. The shipping was so quick too!
---
Meet The Owner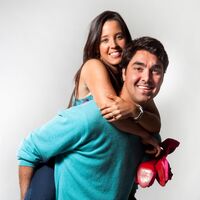 Chris and Nicki
After attending multiple weddings, Chris and Nicki noticed all the women were either barefoot (yuck!) or totally avoiding the dance floor because their high heels were holding them back. That's when Cinderollies was born. Cinderollies are super cute, foldable ballet flats that fit in your purse and are THE perfect wedding favor or bridesmaids gift for your gals. Cinderollies are guaranteed to keep your dance floor packed because let's be honest, no one remembers the cake, they only remember the party :) Be sweet to your feet!