Home

Claire's Fashions Inc
About this Vendor
Claire's Fashions Inc
Located in Wilmington, Delaware, Claire's Fashions has been providing Delaware and the surrounding tri-state area with the best in women's fashions and outstanding customer service, for over 20 years. Claire's specializes in apparel and accessories for brides, bridesmaids, bridal mother and guests.
Details
Bridesmaid Dresses, Flower Girl Dresses, Mother of the Bride Dresses, Wedding Dresses
Contact Info

1312 Philadelphia Pike, Wilmington, DE
Claire's Fashions Inc was the best place to start and end my wedding dress search!
Reviewed on

9/15/2013
jesse b
Unlike most brides, shopping for a wedding dress was not something I was looking forward to doing. Fortunately, I chose Claire's Fashions Inc as my first stop, and I'm very happy I did. My Bridal Consultant, Samantha, was wonderful! She helped to make it a painless process by quickly collecting all of the dresses that I asked to see, and she even pulled some of her favorites for me to try on. She was great at clipping larger dresses to fit my body, and she was extremely polite when giving her opinion. After trying on about fifteen dresses, I left the boutique with two favorites, and I was also able to find the perfect dress for my nine bridesmaids. A few weeks later, I ventured to another boutique where I tried to top the two gowns that I loved from Claire's, but it was impossible. I soon returned to Claire's on my own knowing that I had to choose between two beautiful gowns. Being that I am horrible at making big decisions, I slipped in and out of both dresses multiple times. Samantha was nothing but patient with me and helped to calm me down when the stress was overwhelming. After an hour and a half of confusion, I finally followed my intuition and purchased a gorgeous David Tutera gown. I am nothing but thrilled with my final decision, and I cannot wait to wear my dress down the aisle. I also look forward to returning to Claire's to work with Samantha and all of my bridesmaids!
---
Reviewed on

7/20/2015
Kelly C
I was so pleasantly surprised at how great of an experience I had at Claire's in Delaware! Marbetty was our attendant, and she was amazing ! So upbeat and positive and eager to find something I loved! I went with my mom & sister and we were in the upstairs shared bridal room which was spacious and decorated nicely. I loved that they had a binder with all the pictures of all the dresses in stock so you could easily see what you would be able to try on. I was SO happy to find my dress and had a great experience there, would recommend to anyone in the area ! Only downside is they do not do in house alterations, which I guess could be a positive if you have somewhere in mind you want to use for alterations. Great experience , thank you so much Claire's for my beautiful gown !!
---
Future Mrs!
Reviewed on

9/21/2013
megan s
Claire's Fashions has a great variety of bridal gowns and the staff is incredibly helpful and friendly. The first dress I tried on ended up being the ONE! I could not have had a more positive wonderful experience:)
---
Reviewed on

7/24/2015
Brandy A
I had an amazing experience at Claire's Fashion with Sharlyn. She knew exactly what accessories to pull to make me really feel like a bride! This was my first stop wedding dress shopping and I couldn't have been happier walking out with my dream dress in less than 3 hours! I would recommend anyone to Claire's!
---
Reviewed on

7/01/2015
Kate T
I drove down from Philly just to go to Claire's! My sisters and mom came with me and we had our own private little room. Lauren was so great and patient (I'm very indecisive!). She made sure to help me pick out dresses within my budget. I would highly recommend this place to anyone!
---
Reviewed on

6/24/2015
Jessica D
Wow, I cannot say enough good things about Claire's and my consultant Cyrena! This was the first place we came for my dress, and when I left I had found my dream dress! They were very accommodating for my large entourage (8 people) and really made us all feel comfortable. I was allowed to tab as many dresses as I liked in the binder, and Cyrena did a great job of pulling things I'd like. Whenever I gave feedback on a dress, she would pull another dress based on what I had said. In the end I was torn between two dresses but she was very encouraging and reassured me that I was doing okay! She also got a crinoline and a hoop for me to try under the dresses, since I mentioned I like big poofy dresses :) I was able to try on the dress I went with three times, and just knew it was the dress for me!! thank you to Claire's and Cyrena for helping me find my dream dress!!!
---
Reviewed on

6/18/2015
Claire's Fashions is a hidden gem in Delaware! I brought my two sisters along while I tried on wedding dresses for the first time last weekend, and we had a blast! Going into the day I did not think I would be walking out having had purchased my wedding dress- but I did! The environment in the bridal suite was cozy and fun. Shana and the other consultants were energetic, sweet, and made the wedding dress shopping experience really enjoyable and pressure free. Claire's had almost every dress on my list and I am so happy that I was able to find THE ONE while I was there! Thank you for the great wedding dress experience!
---
Reviewed on

6/09/2015
Samantha M
They have so many dresses to pick from & the staff is so helpful! My consultant, Marbetty, was wonderful to work with and helped me find the perfect dress!
---
Reviewed on

6/03/2015
Lauren P
I just bought my Allure wedding gown at Claire's this past weekend and had an AWESOME experience! Jackie was my consultant and I could not have asked for a better person to help me say "yes" to the dress! She was very attentive. I have tried on gowns at two other places including David's Bridal and had horrible experiences with unprofessional, inattentive sales persons. I highly recommend Claire's!
---
Great Job
Reviewed on

5/27/2015
Jaclyn D
They worked with me so closely and were really easy to contact and made everyone feel amazing. They made me feel so special when I came in to try my dress on!
---
Amazing Experience!!!
Reviewed on

4/17/2015
Kathleen B
Being a plus-sized bride can be a little nerve-wracking, as you feel cornered into big box stores for your dress. That is, until I fell in love with a gown online and just HAD to try it on. While at another boutique that sold Allure gowns, I was told by one of the girls to try Claire's, as they carry majority of the Allure line. I called, scheduled an appointment and drove the 2 hours from my house to find the perfect gown. Once I got there, met Jackie, and tried on my dream dress, it truly was a fairy tale come true. The gown was more gorgeous and perfect than I could imagine. Jackie was so helpful and genuine with her opinion and words. I made a small deposit, went back and ordered the gown and it will be here in September for my wedding in October 2016. I was also impressed with the cost of my gown. It was originally around $860 but because my appointment was on a trunk show weekend and I put down a small deposit that day, I received a 10% off discount! This discount brought my dress to $775 and with the cost of shipping, my dress is just above $800! A good quality dress, great help, and great prices?! Yes, please! Love Claire's!
---
Great boutique!
Reviewed on

4/04/2015
Priscilla K
I had a wonderful experience at Claire's! The girls are so sweet and helpful. I'll admit I was nervous because they are all so young, but they really know what they're doing, and were excellent at translating my ideas into an incredible selection. My mother was not at the appointment when I found "the dress" (I worked with Shana that day and definitely recommend her), and the shop offered us a special appointment before they opened just so I could try it on for her.
---
Mature Bride, Great Experience
Reviewed on

2/12/2015
This is my second wedding and I am in my 50's. I love fashion but was not looking forward to choosing "the dress" for my wedding day, because I assumed it would be a long and difficult process. I arrived at Claire's not really knowing if I would choose bridal, bridesmaid or special occasion dress. My consultant was Jackie - she was perfect (mature, good judgment and savvy). Jackie helped me try on a range of options and I ended up with a lovely bridal sheath -with a gold charmeuse underslip so that the color really complimented my skin, hair and desire to not "be in white". The dress is perfect and I was so surprised that in 2 hours I had chosen and ordered a dress. Thank you Jackie and Claire's
---
Wonderful Experience!
Reviewed on

1/16/2015
Ashley J
I said yes to the dress at Claire's. My consultant Lindsay was fabulous. She made the experience truly magical. She listened to my needs and added input without being pushy. I cannot say enough great things about my experience!
---
Shana was great!
Reviewed on

1/14/2015
Caitlyn S
Just purchased my wedding gown at Claire's and Shana was fantastic! She made sure to stick with gowns in my budget, gave great advice and was very attentive. Had a great time working with her and trying on all the gowns this store has to offer. Prices here are fantastic, very budget friendly! It was very nice to receive an email detailing the shipping of my gown as well as the add on I wanted. Great discounts when purchasing here, all in all would recommend to anyone and would definitely say to request Shana!
---
Amazing dresses!
Reviewed on

1/09/2015
Michelle I
I went to a couple of other stores before going to Claires to look for my wedding dress, but ended up falling in love with one there. I worked with Khloe who is fantastic, she made me and my large group feel comfortable and at home. Unlike other stores where you look at all the dresses on hangers at Claires you look at a book and tag the dresses you want to try on. I tagged a lot maybe 15 but the dress that I ended up getting was one that Khloe pulled on her own for me. Everything about the process was great and the dresses were much more affordable than the other stores I went to. Definitely give Claires a try!!
---
dream dress
Reviewed on

12/17/2014
Cassie J
I had a great experience getting my wedding dress at Claires. I found the store while looking online for an Allure dress I loved but could not find anywhere. Claires had it and also had a great selection of their dresses on their website, which was nice since it's helpful to see what is going to be at the store. At the appointment my consultant, Lauren, was great. She had me look through a book of all their dresses and pick as many as I wanted to try on. I loved so many of the dresses and the prices were great. I ended up getting the dress I had wanted from the beginning and can't wait to wear it at my wedding!
---
Awesome Experience
Reviewed on

12/17/2014
I had a great experience at Claire's picking out my bridal dress. They made it a very intimate experience, they were able to accommodate all 7 people I wanted to come along with me. The consultants were very helpful, my consultant was Sam and she was very pleasant, nice and professional. I was actually told about Claires from someone else who had a great experience there and it did not disappoint.
---
Love this Store!
Reviewed on

12/10/2014
Kali G
I love the separate area they have for the Bridal party. It makes you feel comfortable and calm while finding the perfect dress. They allow you to pick dresses you want and they will pick a couple they think you would like. I found the perfect dress on my first visit!
---
Bridal Gown
Reviewed on

11/19/2014
Christen K
I went to Claire's Fashions hoping to find my wedding dress, and I was so happy I did! Cyrena was wonderful helping me find the perfect dress for an outdoor beach wedding--all the dresses she had me try on were light yet still detailed and elegant, exactly what I wanted. The gowns were all absolutely gorgeous, and I found THE DRESS at Claire's. I'm so excited to wear it at my wedding!
---
The Kleinfeld's of Delaware!
Reviewed on

11/17/2014
Amy L
I decided to get my wedding dress in Delaware because it is near where I grew up and there is no sales tax. I made 3 bridal appointments for one Saturday. The first appointment was at another place in Delaware (NOT Claire's) and was absolutely terrible. They only let me pick out 5 dresses total and kept putting me in the same style dress over and over, even though I told them I didn't like the way it looked on me. After trying on 7 dresses and not liking any of them, they promptly told me, "Well, we're sorry that we couldn't help you." This let me know that the appointment was over, even though it had only been 40 minutes and my appointment was supposed to be 60-90 minutes. Then I went to Claire's. This experience was much different and much more positive. They gave me a gigantic book of pictures of wedding dresses and told me to put a sticky note on every dress that I liked. They even told me I could flag every one if I wanted to. Then, my consultant Lauren pulled all of the dresses that I flagged. She had me try on different styles back to back to make it easier when deciding what I like on my body. For instance, I tried on a fit and flare and realized that I hated that style. Lauren then cut out all of the fit and flares from the dresses that I flagged, so that I didn't have to waste my time trying them on. Then she put me in something all lace and I realized that I liked some "bling" on it. From then on, she only put me in dresses that had some bling. The very last dress that I tried on had been narrowed down to exactly what I said I liked and that was my dress! We even canceled my appointment with the third place because I just loved my dress so much. I cannot say enough wonderful things about Claire's Fashions and about the consultant Lauren. It was a fantastic experience, Lauren took her time with the appointment (I was there for 2.5 hours), she really listened to what I said I liked, and, to top it all off, it was during a trunk show so I got 10% off! As an added bonus, I can now go back and get my bridesmaids dresses there for 10% off. What a perfect experience for my perfect day.
---
Great experience
Reviewed on

11/14/2014
Beverly P
I went to Claire's to try on a dress I had previously tried on in Center City Philadelphia. The price Claire's quoted me was $800 less than the dress in Center City, plus no sales tax (Delaware), plus Claire's was having an Allure trunk show a few weeks later where I would be able to get 10% off. Shana, my gown consultant, was extremely helpful, and was the only person (of 7 dress shops) that used the clips well enough to tighten the dresses for me to actually see what the dresses would like it in my size. Great experience and wonderful prices on gowns. Highly recommend!
---
Say Yes to the Dress Experience
Reviewed on

11/12/2014
I had my bridal appointment on November 1st with consultant Shana at Claire's. I can't begin to explain how pleased I was with the entire experience. I went during the Allure trunk show so the appointment highlighted many Allure gowns with a few other designers. I'm a plus size bride (size 16/18) so I was very nervous about my dress shopping experience. Shana made me feel so comfortable and confident in every single dress I tried on - whether they were too big or too small, she wouldn't let me leave the dressing room until I said I felt good. I can't tell you how important that was for me. Shana was great with my large group of ladies and gave me the true "Say Yes to the Dress" experience. I found my dress that day and was so happy that it was with Claire's. We actually have an appointment very soon for the bridesmaids dresses and I hope that I am with Shana again.
---
Fabulous experience!
Reviewed on

11/10/2014
Meghan C
My mom and I chose Claire's to begin my dress search at a reccomendation of her coworkers. When someone called to confirm my appointment it was suggested that I go on their website and create a wish list. When I arrived at the shop I was greeted by Sharlyn, my helpful consultant, and her assistants. The dresses I had selected were already ready on a rack for me to try on. As the appointment progressed the idea of my dream dress changed dramatically. But just forty-five minutes later I had purchased my wedding dress. The staff was extremely friendly and helpful. Just what I was looking for!
---
Great shop!
Reviewed on

11/09/2014
Katie D
Claire's Fashions is a great boutique with many dresses and great consultants to work with. Shana was absolutely amazing. So patient and knowledgeable and really took the time to help me find what I wanted! Thank you so much!
---
Meet The Manager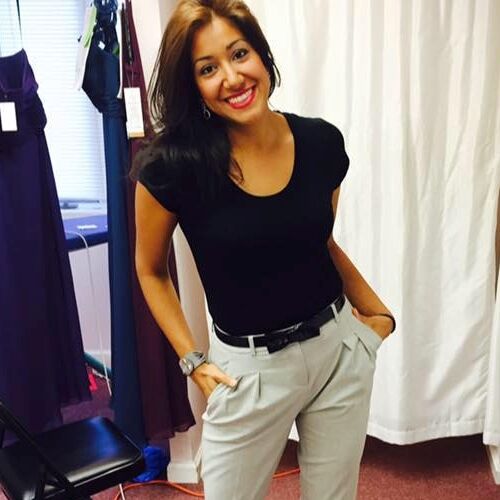 Sharlyn
Sharlyn has been with Claire's Fashions for 14 years. Over these 14 years she has been great with helping newly engaged couples make their wedding day very special and memorable. Starting with finding the bride her dream dress with the perfect veil and accessories, matching colors and style of bridesmaids, making a flower girl feel excited to be apart of the brides big day, having a mom look great next to her beautiful daughter on her wedding day, down to the groomsmen looking spiffy in a tux and color to match the maids. Look for her at all the Bridal shows too for a chance to win giftcards!
Send Message