Home

Clarice's Bridal Fashions
About this Vendor
Experienced bridal consultants
Clarice's Bridal Fashions offers a large selection of bridal gowns, bridesmaids, flower girl, and mother's gowns. We also offer shoes, jewelry, headpieces, veils, and slips. Orders can be placed in-store or through our website. We have the latest advertised gowns for the entire wedding party.
Details
Bridesmaids, Flower Girls, Mothers Fashions, Other Attire & Accessories, Wedding Gowns
Contact Info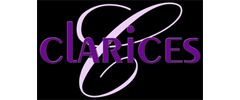 4627 Hampton Ave, St. Louis, MO
Best dress shop in town!
Reviewed on

3/31/2014
Victoria U
I had always heard great things about Clarice's, so I knew right off the bat I would go there. They definitely exceeded my already high expectations. Wonderful customer service and positive attitudes from the ladies who work there, even they are slammed (definitely would recommend going on a weekday if you can swing it). I had a good idea of the style of dress I wanted, but kept pulling dresses that just weren't doing it for me. The sales woman helping me (so sorry, can't remember her name) pulled a dress on her own and asked me to try it. Not only was the dress PERFECT, but it was HALF the price of many of the other ones I had tried on. Even after I bought my dress, they were so great helping me with bridesmaid dresses, jewelry, and steaming/storing my dress until my wedding day. Can't say enough wonderful things about this place!
---
Makes Dress Shopping a Breeze!
Reviewed on

3/26/2014
Martha P
I was really nervous about shopping for a dress since I had never pictured myself in a wedding gown. Clarice's was my first stop due to some recommendations to work with Katie, and it ended up being my only stop! Katie knew how to help me make decisions and had me try on dresses I never thought I would wear. My gown was beautiful and the perfect dress for me! The bridesmaids dress experience was a little more crazy and all the last minute details felt a bit rushed. But the shopping experience was so amazing the rest of the details seemed minor in comparison.
---
Amazing Service
Reviewed on

2/23/2014
Jennifer W
Clarice's Bridal was an amazing experience. The staff was wonderful and willing to help even though I did not have an appointment. They had a wide selection of dresses and were able to find me two beautiful dresses within my price range. The bridal consultant went above and beyond and was able to get my wedding dress in within 2 weeks- which was amazing since I had a short time between finding my dress and the ceremony. Everything went so smoothly and the staff communicated wonderfully.
---
Great finds!
Reviewed on

12/22/2014
Kerri S
We managed to pull our wedding off with less than 2 months of planning and I had to buy off the rack... Fortunately, I had an amazing assistant and we were able to find the perfect dress (for a fantastic price). Great selection of gowns for those that have a bit more time to plan as well.
---
Helpful Staff
Reviewed on

12/18/2014
Heather M
I absolutely loved my trip to Clarice's Bridal. This was my third salon, and I had tried on maybe 30 dresses when I came in. My consultant looked at pictures of two dresses I kind of liked, listened to what I didn't like about them, and immediately had ideas. I was able to go through the dresses myself to choose ones to try on, which I really liked. She never pushed a dress on me or tried to push up the price of the gowns I was trying on. She was very intuitive and was able to pick out what I did and didn't like in dresses. Every visit after that all staff was always friendly and helpful, even when they were busy. I would try to avoid Saturday appointments, as it is a small shop and gets crowded quickly and easily.
---
Great place
Reviewed on

11/24/2014
Jennifer M
I live in the area and wanted to support a local business. They were very helpful. I even came back after having doubts and they let me stay late and try on a bunch of other dresses. It is a small store so it can get crowded. When I went to pick up my dress it was a mad house. But the value and service is great.
---
The best store I've been to
Reviewed on

11/23/2014
Ranee H
I visited and contacted several bridal shops during the hunt for my perfect dress and Clarice's was by far the most accommodating to my needs. They offered a wide variety of dresses with a large price range. Some shops only carried dresses over a certain price and those were not as affordable for me. The staff at Clarice's were also very attentive and understood my budget. I walked in with a list of what I wanted but after working with them, it turns out what I wanted totally did not look good on me. They helped me try on different styles and materials, always staying within my budget. I finally settled on the perfect dress at Clarice's.
---
Ask for Katie!
Reviewed on

11/18/2014
Emily S
My consultant, Katie, was amazing. (There are 2 Katies...I'm not sure which one I had). I brought in pictures of the dresses I liked and she was willing to put me in those dresses, but right away I knew that I didn't like what I picked out. She made a suggestion, I tried it on and I found my dress. It was perfect and so easy. She made me feel good about myself, giving tons of compliments, etc. and I ended up purchasing a beautiful gown for my wedding day. Subsequent visits were not as enjoyable. When my dress and veil both arrived, I went in to pick them up and they were short staffed so I ended up having to wait 30 minutes past my appointment to get my dress. The next trip in, I dropped my dress off to have it pressed and found out it costs an additional $60-120. Picking the dress up after it was pressed was another issue because the lady at the cash register had to check 3 rooms before she found my dress. I also purchased my bridesmaid dresses here. Don't go on a Saturday as they are too busy to help you. Overall, this was a frustrating purchase.
---
Katy is great
Reviewed on

11/18/2014
Trisha P
I was lucky to get Katy as my consultant! She was super knowledgeable and was willing to help me get the dress i dreamed of even though it was something that had to be special ordered. The reason behind the 4 star is that some of the other staff there seemed slightly rude and confused when i would call to ask questions. Overall the store has a great selection and some of the consultants are rock-stars.
---
I Said Yes to the Dress at Clarices!
Reviewed on

11/15/2014
Angela B
I could not have been happier with my experience at Clarice's Bridal. Not only did I find my perfect dress in my budget, but I found dresses for every girl in my wedding party and their selection is just beautiful. I had Stephanie help me pick out my wedding dress and she was amazing! She really made the experience extra-special for me and I am so thankful for her and will always remember my wonderful experience here. I would definitely recommend.
---
Awesome experience!
Reviewed on

11/05/2014
Jessie N
I loved my experience with Clarice's. Their dresses are absolutely stunning. The lady that helped me (her name was Yulia, I think) was so nice, helpful, and patient. She knew exactly what to pull for me, and I found my dress within an hour! I highly recommend this place!
---
Awesome!
Reviewed on

10/29/2014
Kelli H
I got a Maggie Sottero dress from Clarice's. They were friendly and so easy to work with! I also got my veil and slip from Clarice's. I would recommend them to any brides!
---
Great experience, grateful for their expertise
Reviewed on

10/28/2014
Eva L
A co-worker of mine suggested Clarice's after a few failed attempts at other bridal salons. My mum and I went to go look for dresses in May. Call to make an appointment, because they do get quite busy! My wedding was going to be in September in Minneapolis MN and we were moving from St. Louis at the end of June. After the initial shock from the bridal attendant that we were on a time crunch, Yasmine got straight to work to get me in and out of dresses. She was attentive and direct in what looked good and what worked with my petite frame. She did not waste any time in trying to convince me if she felt that I was not loving the dress. She was also very professional in making sure I got my dress in time before we moved from St. Louis, as this was a critical piece because I still needed alterations. Overall, I had a great experience (definitely unlike those that you see on TLC's Yes to the Dress), my wallet definitely felt lighter when I walked out, but I valued their service, their feedback and professionalism. I would definitely recommend Clarice's to other bride-to-be's!
---
Wedding gown
Reviewed on

10/26/2014
Tiffany P
I ordered my wedding gown from Clarice's and loved my gown! The staff was very helpful, however I was a little disappointed that I was not offered the cap sleeve option on my dress at the time of ordering. By the time I realized I could have ordered them, it was too late. I had to buy extra lace from them and had the cap sleeves made for my dress. It ending up costing more to buy the lace and pay the seamstress to make the cap sleeves, than if I would have been if I was able to order them with my dress. Over all, it is a great clean store.
---
Beautiful Wedding Dress
Reviewed on

10/25/2014
Jennifer R
My budget was $500 for my dress and I found exactly what I was looking for at Clarice's. They also treated my great as they knew we had a small budget for our wedding. Definitely recommend!
---
Beautiful Dresses/Pretty good staff
Reviewed on

10/14/2014
Chelsea Z
I purchased my wedding dress and bridesmaid dresses from Clarice's Bridal. On my initial visit, I worked with Jazz, and she did a fantastic job helping me pick out dresses. It was a tough decision and she was very patient and also helped me stick with dresses that were in my budget, which I think is really important. I ended up purchasing a beautiful Maggie Sottero dress. They also have a nice selection of designer BM dresses, but they do take 3-4 months to come in. My only complaints are that they do not do in-house tailoring, but they will send you to Sandy's up the street (which is very reasonable). My other complaint is that when I went to pick up my wedding dress, no one waited on me for over half an hour. They told me to wait a few minutes and no one ever came back. Other than that, I enjoyed me experience and I will say that they have a stunning selection to chose from!
---
Great Dress For Great Price
Reviewed on

9/03/2014
Laura B
I flipped through a lot of magazines, online, watched 'Say Yes to the Dress' and even went to some bridal fairs and never found a dress that grabbed me. That was until I walked by the Clarice's booth at a bridal show. I was stopped in the aisle, looking up at one of their two dresses on display in their booth. I took a photo and couldn't stop looking at it. I wanted that dress ASAP. (even tried to buy it off the mannequin!) I went to Clarice's, tried on the dress, found out it was a STEAL, even as a brand new style. I was shocked and loved it. I did go to another shop to try on dresses, for good measure. Nothing compared in style and price to my "love at first sight" dress. I went back that day and bought it. We made alterations to the dress, turning the corset back into a zip and button overlay. It was a more fathomable cost since the dress was such a good price. Only thing about Clarice's I was not happy about was that their location is very cramped so going in there was a little overwhelming on a busy day(which is often). The initial alteration on my dress was not very good and needed to be fixed by someone else, which was a little frustrating but it worked out. Overall, very happy with my dress and my cousin even went there and purchased her wedding dress.
---
Perfect for me
Reviewed on

7/15/2014
Abbie W
I was able to find a one of a kind dress in my price range. I didn't think this would happen here, and was pleasantly surprised. The girls were great too. We didn't purchase bridesmaids dresses here, as they were pretty pricey.
---
Just go to Clarice's!
Reviewed on

7/11/2014
Megan
I tried on over 300 wedding dresses and traveled to 5 different states in order to find the perfect dress. I am telling you to go to Clarice's, you won't be disappointed.
---
So patient
Reviewed on

6/24/2014
Ashley R
I visited Clarice's a total of three times during my dress shopping. I had all the time in the world, so I made sure to see probably every dress in existence. My first shopping trip was to Clarice's and I had no clue what I wanted - my consultant (Katie) was quick to offer a lot of suggestions and really helped me narrow down my choices. After visiting a few other stores and finally deciding on a dress shape, I was eager to purchase from Clarice's as a thank you for the service I recieved. I messaged their facebook page with some ideas, and when I came in for a follow-up appointment they had several dresses pulled that looked amazing. Ultimately I went with one, and they price matched another local store. The only reason they get four stars on Service is because they charge to steam/press your dress and you have to buy a garment bag for your dress - if you don't purchase one, they just wrap your bag up in a drycleaning plastic bag, which isn't that good for storage.
---
They are Lovely
Reviewed on

6/20/2014
Elizabeth F
I could not have asked for a better dress experience. The whole staff is not only friendly but honest (in the best possible way). Not only did they help me find my DREAM dress, they helped my mother (who normally hates wearing dresses) find a mother of the bride dress in which she looked and felt beautiful and my bridesmaids find dresses that worked with their body types. I cannot recommend them highly enough.
---
Great service
Reviewed on

6/08/2014
Kathryn P
I got great service from all the ladies at Clarice's. Well worth the little extra I paid for my dress.
---
Helpful, patient staff!
Reviewed on

5/28/2014
Lindsey B
I found my dress at Clarice's bridal after scouring the internet, trying a warehouse-type store, and coming up short. I got the recommendation from a friend and am glad I did! I started the visit with letting them know my budget and they remained very conscious of it as they picked out dresses to try on. It was a no-pressure environment which was SO much better than my previous experience. We found 'the' dress and the process was simple! Something that is definitely appreciated by a frazzled bride! :)
---
Wedding dress
Reviewed on

5/27/2014
Jessica B
I bought a lace Allure wedding gown here. Great service, gown was perfect!
---
Meh
Reviewed on

5/26/2014
Ashley k
They had beautiful gowns, but I was rushed through my appt after 3 dresses. Most of their dresses were out of my budget range so I bought( which I LOVED, but they made me feel bad for not having a bigger budget) one off the rack. The surrounding staff upon return with my bride's maid were very rude.
---
Send Message