Home

Coastal Creative Savannah Weddings & Events
About this Vendor
Destination Wedding Planners & Florist in Savannah
Details
Contact Info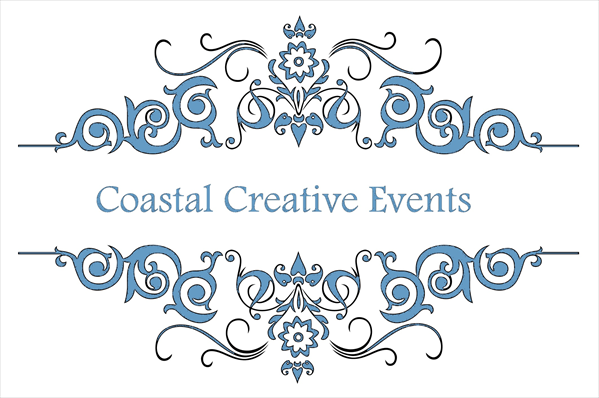 Spring Wedding 2015
Reviewed on

3/31/2015
Chelsey A
Stacey and her team made every aspect of our wedding a total dream come true! They totally had us covered for every detail from helping plan the day itself, to organizing the party the day of! Stacey did our flowers herself and they were some of the prettiest arrangements I have ever seen!! I would highly recommend their services to any and all planning a wedding!!
---
Coastal Creative was INCREDIBLE! 10/11/2014
Reviewed on

10/16/2014
Karen S
Just returning from our wedding this past Saturday 10/11/2014, I felt compelled to write a review of Coastal Creative right away. HANDS DOWN -- the BEST!! Our guests are still buzzing with how incredibly beautiful our wedding ceremony and reception was -- bottom line, they said it was the MOST beautiful wedding they ever attended -- and all that credit goes to Stacey Marie and her amazing team!!! From the moment I contacted Coastal Creative, they were just beyond awesome to work with -- creative, overly responsive (I don't think they ever sleep) and every question, every idea was answered immediately. Planning a destination wedding in Savannah from a 1000 miles away is NO easy feat, but Stacey Marie was right there every step of the way -- it was such a stress free experience. Honestly! We held our ceremony at the Fragrant Garden and our reception in the Purple Room of the Olde Pink House. The attention to detail, the flowers (OMG the FLOWERS), and all of the personal touches were BEYOND WORDS. Our wedding literally took my breath away and our guests gasped when they saw the ceremony and then the reception. Some of our guests said they wanted to get married all over again to have their wedding look like ours!!! Everything was AMAZING -- all thanks to Coastal Creative listening and truly understanding our style, visions, etc. My mother (MOB), a retired floral designer of 45 years and who had done countless weddings, couldn't believe how stunning the florals and other details were -- she said it was truly "magical". Stacey Marie created the most perfect day of our lives and in the process, I gained a wonderful friend. The saddest part of the wedding being over is not chatting with her by email almost daily. Savannah Brides-to-be -- if you want your day to be everything and then some -- Coastal Creative is it!!! They are just wonderful in every single way!!! Thank you so much Stacey Marie, Honor and the rest of your team for making our day the fairytale dream we wanted!!! We love you so much!! xoxo, Karen & Charlie
---
Dream Wedding
Reviewed on

8/04/2014
Aricka C
Coastal Creative Events were amazing. They made my all my wedding dreams & wishes come true! I would recommend them to anyone! I was beyond pleased with their service, and I could not be happier with how our wedding turned out!
---
Do thorough research!
Reviewed on

6/23/2014
Elizabeth K
So disappointed! Totally unprofessional and offensive! We negotiated with Marie to make our package a manageable price, and agreed to manage some vendors on our own, but when it came down to delivering the terms of the contract, she tried to up charge for everything and became defensive and downright rude when we asked her to uphold the detailed terms of our contract despite our many attempts to flex and meet in the middle. We lost thousands of dollars when we decided it was in our best interest to terminate the contract just weeks before our wedding, but It was the best decision we could have made. I ended up getting other vendors for much less. As with any service, I would recommend doing thorough research before booking, as company and owner names may vary.
---
June 1st Tybee Island Wedding
Reviewed on

6/18/2014
Lexie S
Coastal Creative Events were great to work with during our planning process and on the day of our wedding. We had a small beach wedding on Tybee Island, although we had 40 MPH winds, everything looked great. They matched the coral of the wedding and accented everything with starfish, just like the wedding decor for the reception. They were great along the planning process- answering any and all questions that I had along the way. It was difficult for me to trust someone with my big day with my being so far away (we live in Charlotte), but they did a wonderful job. Despite the wind, my veil flying off, and us having to shout our vows at each other- we had a beautiful ceremony thanks to Coastal Creative Events.
---
Great!!
Reviewed on

5/19/2014
Coastal Creative Events exceeded my expectations with quick/exact communication, simplistic planning and payment options. This was key because my husband and I live in another state. Floral arrangements were awesome, a lot of detail was added to enhance the beach wedding theme No stress, we had a wonderful day
---
Effortless Planning with a Picture Perfect Wedding
Reviewed on

5/19/2014
Stacey and the team at Coastal Creative were amazing! They were in constant communication with me at all times and were very professional. They provided all of the flowers and décor, which blew everyone away. They really put us at ease and the planning felt effortless. Their design for the event, floral décor and services truly exceeded my wildest expectations! Thank you Coastal Creative for giving us an "epic" wedding day!
---
Better than I ever expected!
Reviewed on

5/13/2014
The ceremony was absolutely perfect, the whole set up exceeded my expectations! I was overwhelmed by how beautiful the flowers turned out! As I "floated" down the aisle, I missed some of the awesome details.....but the pictures showed everything, including special surprise details that they included to enhance the decor. From flags to starfish to mason jars lining the aisle with more beautiful flowers, it couldn't have looked any better. Our pictures are so beautiful and perfect, we could not be happier! The team was in constant email communication with me since I contacted them over a year earlier. Planning a destination wedding requires a lot of trust, and they came through better than expected!
---
Amazing!
Reviewed on

4/22/2014
Stephanie L
Coastal Creative was amazing. They really made the day special. All of the flowers were beautiful and I can't believe the arch that they made for us. I had won it on a facebook contest. It was a surprise and I absolutely loved it.
---
Awesome....wonderful experience
Reviewed on

4/21/2014
I would highly recommend this company. They were always promt and always had answers for me. they put my mind at ease so i could enjoy my wedding.
---
Made things so simple!
Reviewed on

4/02/2014
They were great to work with and very prompt to respond to any questions I had. They were even helpful in providing contact information and recommendations for services outside the elopement package! I was overwhelmed by the beauty and simplicity of the wedding set up and the flowers were beyond my expectations! Thank you for making this special day flawless!
---
Absolutely perfect! Love them!
Reviewed on

3/24/2014
Brandy B
I wish I had more events to plan because I would call on them for everything if I could! Marie was incredible to work with I swear that woman does not sleep! She would respond to my emails in minutes no matter what time I sent them. I had so many questions throughout the process and Marie answered everyone happily! She was very detail oriented, caring and professional. No matter how many events they may have planned they made mine feel like it was the only one. I met Carlin the day of the event and she was wonderful. She helped put me at ease before the ceremony and I will always remember her telling me before walking down the aisle in Pulaski Square to breathe, take it all in and to take all the time I need to enjoy this moment before walking toward my future husband. She was such a sweetheart! Our ceremony set up in the square, bridal flowers and centerpieces were all done by Coastal Creative Savannah Weddings and Events and it was all perfect! I can't thank them enough!
---
My AMAZING Wedding
Reviewed on

11/08/2013
Ashley T
Marie rocks! She not only is extremely professional, but is exceptionally prompt with questions and emails. I planned my husbands and my wedding from 500 miles away, and it went perfect. It was a gorgeous ceremony, where again, Marie went above and beyond to make sure everything looked amazing. I was completely stunned as I walked up for my entrance to the ceremony. This is a wonderful company to work with! I felt extremely comfortable with everything prior to, and walking up to the ceremony!!
---
Excellent Wedding Planning Service!
Reviewed on

10/28/2013
We were very pleased with Stacey and her team's attention to detail, decorations, and choice of packages. Our wedding ceremony was elegant, yet affordable. Stacey was wonderful to work with, and she always responded promptly to emails or calls whenever we had questions. Our guests raved about our ceremony, the reception, and all of the special details and decor provided. We highly recommend Coastal Creative Savannah Wedding and Events to any bride and groom getting married in Savannah. This was a day we will never forget--mostly thanks to Stacey for her incredible attention to detail.
---
Beautiful sunset wedding!
Reviewed on

10/06/2013
Brittany A
these guys did an awesome job. exceeded my expectations. since i was unable to make sure the details were just as i wanted, i relied fully on them. they would reply to my email almost as soon as it was sent. there is so much less stress doing a destination wedding.. i just had to show up! I arrived to the beach just to say i do and enjoy the moment without the hustle and bustle of a normal wedding. thank you guys so much for all of your help! We couldnt be happier. we also cant wait to see the wedding pictures! :)
---
Beautiful!
Reviewed on

10/03/2013
Jennifer S
Coastal Creative did such an amazing job with my sister and brother-in-laws wedding! Even though it was small they went all out to create a beautiful environment for her special day. When budget issues stopped Jamie from having the flower holders and rose petals, Marie stepped in and gave them to my sister as a wedding gift! It totally made going with them worth it. Since we're from Pennsylvania, planning a wedding in Savannah ourselves would have been next to impossible and it would have most likely cost us 10x more then we paid with Coastal Creative! Everything was perfect, from the location and flowers to the reception at The Lady and Sons! Thank you so much to all of them for their hard work in making my families day so special. We'll never forget it!
---
Beautiful!
Reviewed on

10/03/2013
Betty R
I am the mother of a bride who got married August 9th, 2013. When my daughter chose Costal Creative Events, I must say I was a little worried. We hadn't ever heard of them before and she had just come across them online. She was investing lots of time in her wedding and planning it herself, was investing a lot of money. When she came across Coastal Creative Events, the prices they offered were way more reasonable than it was when she was planning on her own. Though she had everything done for her, I was still worried.We live out of state so we couldn't just drive over and meet with them. My daughter is a trusting individual and I was worried she wouldn't get what was expected. However, she got so much more. Marie and her team did a WONDERFUL job of giving my daughter the exact day she wanted. It was a beautiful ceremony, at a beautiful location, on a beautiful day. Coastal Creative Events gave my daughter the dream wedding she had wanted and also relieved most of the stress that goes along with planning on your own. We couldn't have asked for a more beautiful day or anyone better to plan it! Coastal Creative Events is the way to go!
---
The PERFECT Day!
Reviewed on

10/03/2013
Joshua B
Working with Marie has been great from the beginning. She was easy to talk to, amazing at what she does, and all together just plesant. We were very pleased when we started planning this wedding with her and even more so when that day finally came. Marie and her team went above and beyond to make sure we had exactly what we wanted. My wife and I couldn't be happier with our special day. Costal Creative Events is THE BEST by far!
---
Wedding day fairytale
Reviewed on

10/02/2013
Stephanie E
Marie and her team met and exceeded our expectations. They were easy to work with and the constant correspondence always gave me a peace of mind. Every little detail we discussed was there and beautifully displayed! The set up was above and beyond what we expected and the flowers were amazing. Thank you, thank you, for everything. Truely the wedding of my dreams!
---
DREAM wedding!!!
Reviewed on

10/02/2013
Lauren M
Coastal Creative Savannah gave me the wedding of my dreams! Stacey and her crew helped me with every detail of me wedding, and I could not have been happier...in fact, I was absolutely blown away! It is very intimidating to be thrown into the wedding industry after you get engaged. Knowing which vendors to work with, where to have your ceremony and reception, and even what flowers to pick are extremely hard decisions to make - especially when you are an out of town bride. Coastal Creative found me my venue, suggested every vendor I used, helped me decided where to host surrounding wedding events, and guided me through every step of planning my wedding. Oh...and almost most important of all....Creative Coastal put together my ENTIRE flower package and I have NEVER in my life seen such beautiful wedding flowers! They picked and put together every flower in my wedding. I was in SHOCK by the flowers, literally speechless. My guests complimented me on my ceremony and reception decor all night, and it was all thanks to the amazing, skilled, artistic, and genius hands of Coastal Creative Savannah. There is absolutely NO way that I could have had the wedding day I had without them. I feel it is absolutely essential to have a coordinator for your wedding, it eases the stress so much, and there is no one I could suggest more than Coastal Creative Savannah. They simply are INCREDIBLE!!!! Thank you for everything Stacey, I will never forget my amazing wedding day and what you did for us. You truly went above and beyond, and we are forever grateful!!!
---
Mrs. Laine Kelley Eubank
Reviewed on

10/02/2013
laine e
I highly recommend Coastal Creative Weddings. Stacey and her staff went above and beyond to exceed my expectations. I would definitely send friends as well as family to this wedding/event planner!!
---
Magical Wedding
Reviewed on

9/27/2013
Thanks to Coastal Creative Weddings, my daughter had a beautiful, magical wedding that brought tears to our eyes! The wedding and reception took place in a restaurant and the decorations and details were exquisite. The flowers were incredible and all of the special details were perfect. Our expectations were far exceeded and we could not have asked for more. The company is professional and services the bride and family with every detail. We would highly recommend them to future brides and their families.
---
Beautiful Tybee Island wedding
Reviewed on

9/09/2013
Maggie P
We were amazed how beautiful everything turned out. Whole planning was stress free, our emails were answered promptly and very quick.Whole experience was very pleasant, we wouldnt have it any other way. Thank You so much for everything!! We will highly recommend Coastal Creative Savannah Weddings to every bride and groom!! Maggie & Jonathan
---
Wedding bliss
Reviewed on

8/09/2013
Jamie B
Marie and her team did an amazing job making our day just as wonderful as we had hoped! She was truly a blessing for our big day! Rey are wonderful to work with and do the best job! I couldn't have been happier or asked for anything/anyone better! Perfect for the job!
---
beach wedding tybee
Reviewed on

6/21/2013
This company was awesome they made my dream beach wedding come true. Everything you want they make happen.
---
Send Message