Home

Colozza's Bakery
Details
Cake Accessories, Cake Tastings, Cakes + Desserts
Contact Info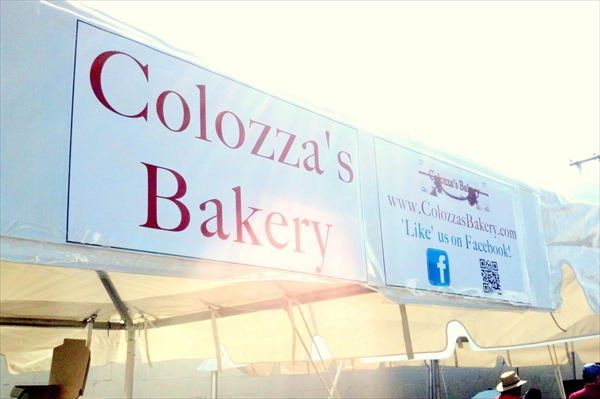 Reviewed on

10/10/2017
Jennifer M
Amazing cake!! We had amazing samples on our first trial and then ordered a few sample cakes to help us decide which flavor was our favorite, which was very challenging because they were all so good. Cake design was amazing and affordable, we got so many compliments on having... Read More the "best cake ever!" Thanks Colozza's!
---
Reviewed on

6/13/2017
Samantha A
Loved my wedding cake! It was just like the picture we gave the head baker. Angelo communicated great with us and was on time with his delivery. he told us what we should do as far as how much cake. We had three different tiers and each tiers was a different flavor. Our guests... Read More couldn't stop telling us how delicious our cake was, someone had five pieces that's how much they loved it.
---
Reviewed on

5/08/2017
Katlin R
Planning a Cleveland wedding while living in Chicago is tricky. I had only a couple trips home to meet with the vendors and during those times packed a lot in. I met with Angelo in November (for my April wedding) to go over flavors and design. When I called him April 1st to... Read More confirm everything he asked me " What flavors and what design I wanted". Obviously didn't note anything from when we met live and I worry what would've happened if I didn't call him to confirm. As a bride this can be frightening. I also emailed him directions for delivery and to put him in contact with my wedding planner. He called me about those exact things I emailed him about showing me that he doesn't check his email's regular, if at all. With that said, the cakes design ended up looking beautiful! The taste was good and hes a really nice guy! If you're looking to save money on your cake - use this place. Good cake, great price.
---
Reviewed on

3/18/2017
Lauren M
Everyone raved about how amazing our wedding cake tasted! It was amazing. We went with the Italian Torte, though everything we tried was delicious. They were thoughtful and friendly! They made sure we were happy! Best cake choice!!!
---
Reviewed on

11/05/2016
Erin M
Most people will talk about the food here and I will agree, it is ABSOLUTELY delicious, authentic, home made amazing-ness. Even better than that though, is the family behind the scenes. They truly embrace the community and customer service. With any request, they go above and... Read More beyond to make the customer feel loved, appreciated, and part of a family! It is so wonderful not have to stress over everything before the big day!
---
Reviewed on

9/19/2016
Megan L
Colozza's offers competitive prices, a big variety of dessert options, and down to earth customer service. They are one of the few bakeries we found that will deliver on a Sunday. They offered a tasting in store and provided their advice for wedding cakes based off of years of... Read More experience. We emailed pictures of a cake style that we liked, and they were able to replicate it almost exactly. The cake was delivered to our venue at exactly the time we arranged, was placed on a display stand that requires a fully refundable deposit, and it looked beautiful! We received compliments from many guests on the appearance and the taste of the cake. If you're looking for a fancy, boutique cake planning experience, this may not be the place for you. If you appreciate straight-forward, friendly and efficient customer service, Colozza's will meet your needs and more. We highly recommend them.
---
Reviewed on

9/05/2016
Stephanie L
This was by far the best cake I have ever had in my life! It was also gorgeous. I felt a little guilty cutting into it. The staff at the bakery are very warm and inviting and really make you feel important. This is my new go to bakery for any and all occasions that require a... Read More cake!
---
Reviewed on

7/07/2016
Amber C
Colozza's Bakery did our wedding cake and it was absolutely amazing. It looked just the way we wanted it and tasted amazing! The price was so reasonable and everyone that works there is Awesome and so helpful. I highly recommend them.
---
Reviewed on

7/03/2016
Regina S
Our cake was absolutely perfect! Colozza's brought my cake vision to life and he matched our colors perfectly. Not to mention, the cassata cake was absolutely delicious! Price was also reasonable. Highly recommend this bakery and will definitely come back for other occasions!
---
Reviewed on

11/28/2015
Chelsey M
I would highly recommend Colozza's Bakery. The cake looked EXACTLY how I pictured it. The design was fantastic and I loved the unique shape. We chose two different flavors and it was delicious. The price was affordable and he didn't nickle and dime us for every extra thing like... Read More some other vendors wanted to (designs, more than one flavor, fillings, etc). I am very pleased that we chose Colozza's for our big day.
---
Reviewed on

10/17/2015
Melissa A
I would highly recommend going with Colozza's for your wedding cake. Our cake turned out beautifully - just as I had described it to them. They were very accommodating to work with and reasonably priced. Best of all, the cake was delicious!!! - Melissa G.
---
Delicious!
Reviewed on

8/25/2014
Trisha F
From the start, the staff at Colozza's were very helpful and knowledgeable about their products. They are very friendly! They did an amazing job decorating the cake as well! The flavors were out of this world! I recommend the cassata cake. Also, their kolaczkis are amazing too!
---
The Cleveland cake boss...
Reviewed on

6/09/2013
Ashley M
The cake itself was wonderful (taste, decoration and display) but the staff was not the easiest to work with. First off, even if you call in and ask someone about a cake tasting…they are not really existent. We called and asked if/and when we could come in to try some cakes and... Read More were told that a Saturday morning would be best. When we showed up, they had no clue what we wanted to taste and only had the options of what was made that day or the day before. Secondly, the "cake boss" is standoffish and gives everyone in the store (including guests just coming in to buy bakery good) attitude when he does not understand what they want or when asked if there are more than 3 flavors to try. Lastly, we had to tell the "cake boss'" wife 4 different times (3 times in one day… also the 3rd time we came into the store) what we wanted our cake to look like, the flavors for the different layers (we only had two different flavors) and what cake stand we wanted to rent. This information was written down the 2nd time we came into the store to give them our deposit but it got lost somehow. However, they did work with us to make our cake look exactly like a picture I had found and it truly was beautiful. Also, the price was amazing for all of the work and the amount of cake!
---
Amazing Cake, great value
Reviewed on

4/03/2013
Bethany P
My mother used to take me to this bakery when I was a little girl, so when I was planning my wedding it was at the top of my list for places to get the wedding cake. Everything about this place was great. The cake was delicious, the price was fantastic, and it was beautiful.... Read More The owner of the bakery himself met with us and delivered my cake the day of the wedding. I got a delicious 3 layer, fruit filling cake for 150 people for less than 500 dollars-something you won't find at many bakeries. They have tons of flavors available, and will work with you on whatever design you want. This may be a little out of your way, but for a delicious beautiful cake that's reasonably priced, go here!
---
Seriously, best cake ever.
Reviewed on

12/12/2012
Abigail B
My family has been going to Colozza's bakery for over 30 years, so they're like family to me. They've done all of my sibling's wedding cakes and when they did mine it was absolutely beautiful. Go to Colozza's bakery, you will never be disappointed!
---
GREAT
Reviewed on

10/23/2012
Jessica L
This Company is a family owned bakery that let us customize our cake. Their bakery is amazing and their cassatta cake is great. This is place was amazing and I would tell anyone to go to them if you want to be happy with your cake.
---
To die for!
Reviewed on

10/16/2012
Michelle C
This bakery's cakes are AMAZING. I had a three tiered wedding cake with a different flavor on each tier. One was white/chocolate cake with white chocolate mousse and raspberry filling, one was chocolate cake with cannoli filling and my favorite was the yellow cake with lemon... Read More mousse and lemon filling...I can't tell you how good it was...
---
So-So
Reviewed on

9/04/2012
Ashley S
I exchanged emails with Colozza's Bakery about 2 weeks before we were scheduled to do our cake testing. We discussed 3 different flavors of cake we were looking foward to trying. Upon arriving at the testing, they did not have those flavors ready for us as we had thought. We did... Read More end up using them, and gave them a color swatch we wanted for our ONLY color on the cake. They were very certain they could match our seafoam color. Upon delivery of the cake, it was not the color we had hoped for what so ever. The color was not even close to what we had given them, it was much too green and extremely dark. My husband to be was not happy at all considering we had an extremely plain cake in comparison to what they had in their bakery. The cake was yummy, but please be aware if you want a certain color, you may not get it.
---
Wedding Cake
Reviewed on

9/03/2012
Jill M
Overall we were very happy with our wedding cake from Colozza's. The owner was super friendly and easy to work with and the prices were reasonable. Not to mention that the cake tasted amazing and we got tons of compliments from our guests. I did take in a picture of what I... Read More wanted so I was a little surprised when the cake looked a little different than what I had pictured it would but none the less it was still amazing so I would definitely recommend them to any other bride and groom. The flavors we ordered were the raspberry cassatta and the chocolate cake with peanut butter mousse. Both of which were delicious!
---
Delicious!
Reviewed on

8/16/2012
cassie f
We got the raspberry truffle and cassata cake! It was so good. Everyone is still talking about it. And the workers are wonderful as well. And it didnt hurt that the cake itself was beautiful!
---
Wedding Cake & Cookies
Reviewed on

8/08/2012
Karin B
Incredible bakery - family owned & operated. They did a great job working with us to provide our guests with two flavors of cake and a variety of cookies to choose from! The cost was around $800, but that was enough cake for 200 people plus 6 cookie trays.
---
Beautiful Cake
Reviewed on

7/03/2012
Liz C
They made me the perfect cake. I had called and went to see 5 otehr cake places and no one could do what i wanted. They made it completely beautiful and perfect. It fit in with our wedding theme. not the mention they taste was absolutely delicious. We did the Cassatta!
---
A little disappointing.
Reviewed on

1/24/2012
Sarah L
The look of the cake was a little disappointing. We had a smaller cake, only three tiers, yet it was tilting over and there were several large lumps on the side of one of the tiers. The script design on the cake was also different than what we had discussed. Aside from this... Read More the cake tasted great. We had gotten two flavors and they both were very tasty. Our guests also enjoyed the cake. Maybe we just got unlucky and the design was wrong, usually they do pretty good work. For us it came down to the taste so although I was a little upset about the way it looked, in the end it still tasted great!
---
Love Colozza's!
Reviewed on

12/30/2011
Gina C
Colozza's is an amazing Italian bakery in ethnic Parma, Ohio. When it came time for my wedding, there was no other choice of where to go. My then-fiance had never been to Colozza's when we went to do our cake tasting. And as coincidence would have it, we had just been to... Read More a wedding the night before where both the food and the cake were just 'okay'. Well that actually set the stage perfectly for Colozza's. With the first bite of their Strawberry Cassata cake, my then-fiance was sold. He was amazed at how good the cake tasted and said that's what cake should taste like. For our wedding cake, we chose their Strawberry Cassata cake and their Lemon cake. We got countless compliments from guests about the cake, and we ourselves loved it too. It was decorated perfectly and tasted amazing.
---
cake
Reviewed on

9/17/2011
Amanda W
Colozza's was great. I'm not a huge fan of cake, and even I liked the cake they made for us. It was adorable, exactly how I wanted it to look, and they did it with only two month's notice. Thank you!
---