Home

Couture Linens & Events
About this Vendor
Chiavari Chairs, Linens , Centerpieces & Draping
You'll be inspired by our vast collection of beautiful and affordable linens, chair covers, chiavari chairs, centerpieces, draping, uplighting and accessories. We also offer banquet tables, high tops, folding chairs and tents. Our consistent ability to deliver high quality, affordable products and exceptional service is what sets us apart. See why we are one of the most trusted companies in Metro Detroit. Contact us today!
Details
Lighting, Decorations + Accents, Chiavari Chairs, Folding Chairs, Chairs, Draping, Linens, Lounge Furniture, On-Site Delivery + Setup, Cocktail Tables, Dining Tables, Tables, Tear Down, Tents, Rentals + Equipment


Contact Info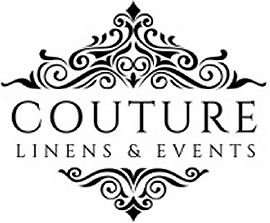 Reviewed on

7/13/2016
Dai B
So glad we choose these guys to do the linens. So very easy to work with. They really helped transform our venue into a very special and magical space.
---
Reviewed on

5/31/2016
Jessica L
I would recommend this company in a heart beat. They were very prompt in their return emails and very kind. They told us they would be to our venue around noon to set everything up and they actually showed up closer to 10:30. The linens were beautiful and everything looked... Read More amazing!
---
Reviewed on

7/08/2015
Brittany R
Such an amazing vendor to work with. Made the entire process so simple and everything looked amazing the day of!
---
Reviewed on

10/31/2017
Stephanie H
I would work with Sue and Nita again in a heartbeat! They are absolutely amazing and a breath of fresh air to work with. I emailed Sue about a dozen times maybe in a month span and she always got back to me right away. Nita was amazing to met with at the office and always knew... Read More what I was thinking, not only that but Couture Linen's has everything and will work with you. She made it super simple and I can't wait for a friend to get married to refer them or have another event where I need linens, they will be my first and only call.
---
Reviewed on

10/31/2017
Katy P
Anita was amazing to work with. She was very accommodating and made my vision come to life. My wedding reception was over the top with looks and she was very affordable. Great selections to choose from and great people (Anita and Sue) to work with. Highly recommend!!!
---
Reviewed on

10/30/2017
Anita and Sue were super friendly and easy to work with and very accommodating.
---
Reviewed on

10/28/2017
Breanna M
Anita and Sue are great to work with! They are so accommodating from beginning to end. Always willing to help create your vision become true life. You are guaranteed beautiful linens, chairs, or decor every event!
---
Reviewed on

10/24/2017
Daniel M
Amazing company to work with! They had such a great selection to choose from at affordable pricing. They decorated everything for our wedding from the chairs right down to the pipe and drape. Stunning to say the least! Our pictures look incredible! We had so many compliments... Read More from our guests and have already referred them to family and friends. We will definitely use them for future events as well. Fantastic company to work with! Thank you!
---
Reviewed on

10/24/2017
Samantha S
As an out-of-state of bride, Couture Linens and Events simplified the entire process from the communication to the booking to the actual wedding. They were so helpful and easy to work with! My questions were always answered in a timely manner. When I walked into the room,... Read More everything looked exactly as I had pictured! They are amazing at what they do!!
---
Reviewed on

10/24/2017
Mikaela M
It was an absolute pleasure working with Sue and Anita! Their quality and service is unsurpassed! They made everything so easy and showed me all the different options to go with my theme. Everything was setup and taken down in a timely manner. We couldn't have been happier with... Read More Couture Linens & Events and highly recommend them!
---
Reviewed on

10/24/2017
Alex S
Couture Linens & Events did an amazing job for our wedding!! They truly created what we had envisioned all along. We rented chiavari chairs, table linens, centerpieces and a backdrop for our head table. Everything was absolutely beautiful and we could not have asked for more. We... Read More will definitely recommend them to all our friends and family. They are the best!
---
Reviewed on

10/23/2017
Vanessa S
Suzi, Anita and the team sparkled our wedding reception, and it was beyond magical! The linens, chairs, centerpieces and decor transformed the room and added a beautiful elegance that made everyone say "wow"! I could not be happier with their professionalism, quality of... Read More service, and quality of product. The room looked stunning! They also were very attentive and responsive throughout the months leading up to my special day, and delivered, set-up and broke down the day-before and day-of in such a timely manner. As a bride, every detail they provided made me so happy I chose them.
---
Reviewed on

10/23/2017
Made our day!! The hall looked amazing. Thank you girls so much, will definitely be referring you guys.
---
Reviewed on

10/23/2017
Natalia N
Best company to get decorations! They have many options that comes with an affordable and reasonable price. The service is great and working with them is so convenient. I visited their office and it was kinda nice to see them in person before signing the contract. If your venue... Read More offers table cloths / table runners with your preferred color motif, check with satin chair cover to see (most likely theirs is cheaper than the ones from your venue**that was the case with mine). Their chiavari chairs are also offered at a nice price compared to others. Since their office was far from our house, we communicated through e-mail or calls and they responded so quickly and got back to me right away when I had a question. They have delivery and pick-up service which is awesome coz we did not have to worry about a thing the night of our wedding. Everything was pleasant, their centerpieces are all in great quality and unique. Working with Anita was great. She's friendly, organized and was very helpful. Sue took care of us mostly and she is the BEST! I was undecided at some point with what I wanted to do with our decors and Sue has the best taste, she was so patient with working with us, she treated us like her friends by giving us the best options and was just fun to work with. I am so happy with how everything turned out and all our friends and family has nothing to say but good things about our decors and how beautiful our wedding was thanks to Satin Chairs & Covers you guys definitely helped us to have a beautiful wedding!
---
Reviewed on

10/19/2017
Ania C
I recently had my engagement party done by Couture this past June! They delivered! It looked right out of a magazine and was everything I had wanted. I can't wait for them to do my wedding!!!!
---
Reviewed on

2/01/2017
Alex M
They did a great job executing my vision! It was perfect!
---
Reviewed on

11/22/2016
Britney C
Anita and Sue are amazing, wonderful ladies. They worked around my schedule to meet with me and even responded to emails at 11:00 at night, which definitely was not expected. They made the coordinating process simple, which was definitely a treat while planning a wedding in 8... Read More months. There was a point in the process where I felt super stressed and unsure about the venue and set-up and everything along with it... and I came to realize that Couture Linens and Events already had EVERYTHING organized and planned with the coordinators at the venue. They even set up the day before the wedding, which I thought was so amazing. I truly feel that I had my dream wedding and it could not have been without them. And as far as the decor, everything was absolutely beautiful.. just stunning. The amount of compliments I received from our guests were uncountable. I will definitely be referring Couture Linens and Events to other newly engaged couples. Thank you so much, Anita and Sue!
---
Reviewed on

10/31/2016
Kirk G
We came to Couture Linens and Events late just weeks before our wedding. On a budget and with very little time, CL&E came up with a beautiful arrangement of linens and chairs. Even tho they told us that the linens we wanted would be difficult to find, they came through and made... Read More our dream come true. When we arrived at our reception our jaws dropped with awe. They had everything ready and extra chairs just in case. When the party was over they worked through the night to make sure that my wife and I had very little concern. We appreciate all the hard work and would recommend anyone to them. Thank you Couture Linens and Events for making our day beautiful!
---
Reviewed on

10/31/2016
Angela T
You will not regret it when you use Conture Linens and Events for all your special days!!! They are amazing and easy to work with!! They will make your day the most memorable!!!
---
Reviewed on

10/31/2016
Melinda B
Couture Linens is my go to vendor for any event. They are so easy to work with, and you can't beat the price! I've personally used them for my wedding shower, wedding AND baby shower and I couldn't be happier.
---
Reviewed on

10/30/2016
Sandy S
I could not have asked for a more beautiful wedding. I am thrilled that we chose Couture Linens and Events. The service was great and we had a great experience. I will use them for all upcoming events in my family.
---
Reviewed on

10/30/2016
Corinne D
Great service and beautiful linens! They were a pleasure to work with and so kind and helpful. They had everything I needed for my wedding, from linens down to the centerpieces. Everything was delivered and set up on time. I wouldn't think twice about using them again and will... Read More happily refer them!
---
Reviewed on

10/30/2016
Randal S
Couture Linens did exactly what they said they would do. We were amazed on how beautiful the hall looked. Thank you so much Anita & Sue for making our wedding day look unbelievably great.
---
Reviewed on

10/30/2016
Taylor P
I definitely recommend couture linens. Sue and Anita were so nice and helpful with helping me pick out the right color schemes and details for my wedding two weeks ago. Their linens were clean & good quality & for a great price! I shopped around and there were no comparisons!
---
Reviewed on

10/30/2016
Jeff K
Anita and Sue were awesome in helping us choose what we wanted to make our day great and memorable. They were so easy to work with and their pricing was reasonable and their selections seemed endless.
---