Home

Coyote Ridge Golf Club
About this Vendor
Elegant Wedding Venue
You and your guests will be impressed by unsurpassed service, irresistible cuisine and our breath-taking Grand Ballroom, overlooking the beautiful waterfall and rolling hills of our award-winning golf course, which accommodate up to 300 guests. Create wonderful memories for a lifetime.
Amenities + Details
Amenities
Handicap Accessible

Indoor

Reception Area
For more details about amenities, please message the Venue.
Ballroom, Country Club, Restaurant, Tented
Food + Catering, Planning, Service Staff
Contact Info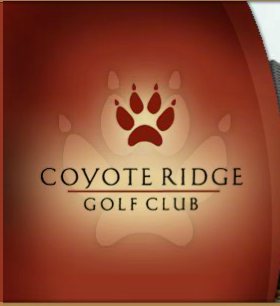 1640 W. Hebron Parkway, Carrollton, TX
So much fun!
Reviewed on

3/05/2014
Christian N
Before and during my wedding, everyone was so helpful! The staff were courteous and tried to accomodate my wishes to make my day perfect (and it was!). They coordinated well with my DJ, cake baker, and my relatives who helped set up and then later pack up the decorations we had brought. They set up an area for me to have a candy bar for favors, and it was beautiful! The wait staff were attentive to my needs, the room was beautiful and the lighting awesome, and I enjoyed every second. As part of the package, they provided candles, floating rose centerpieces, and petals on the tables. It was beautiful. The only point which could be improved was the dance floor. My guests are what you might call avid and enthusiastic dancers, and we danced until the little metal pieces holding the dancer floor together were coming loose. Overall, the view was beautiful, the staff awesome, and I would reccomend the venue to anyone!
---
Absolutely Amazing
Reviewed on

12/08/2013
Sarah C
We decided to have our wedding and reception at Coyote Ridge Golf Club and it was absolutely amazing. Barbara was amazing and helped us out so much. I would recommend this place hands down.
---
Would definitely use this venue again!
Reviewed on

12/07/2013
Samantha M
The staff at Coyote Ridge are very helpful and accommodating. I hadn't been to a ton of weddings in my life so there was a lot I didn't know about, but in cases where I wasn't sure what I wanted, they were ready with lots of examples for me to base my decision off of. They were flexible with meeting times, arrangement of the ballroom (where the cake, DJ, dance floor, etc. could go) and even had suggestions on ways to minimize cost. I wouldn't hesitate to use them again!
---
Reviewed on

7/17/2015
I had such a beautiful wedding at Coyote Ridge on July 5, 2015. I would like to thank both Barbara & Sean who helped me to have a great wedding. Stuffs were nice and foods were just perfect. I had coyote BBQ which everyone loved!! Clubhouse is clean and beautiful, specially it was very cool. All my friends are wanting to have their wedding at Coyote Ridge Golf Club now!!
---
Best Wedding @ the Best Venue!!!
Reviewed on

4/14/2015
4/11/15 I had my wedding here this past weekend and it was the largest wedding Coyote Ridge has hosted. I was not even nervous or stressed one bit since Barbara/Mandy and her staff were so accommodating. During my entire wedding planning Barbara was always so responsive and let me know in advance if she was going to be OOTO. When I visited the venue the entire staff always greeted me with warm and open arms. I felt like such a special bride and the actual wedding day was absolutely perfect!! I wish I could re-do my wedding over and over again. I had such a good time and all my guests had nothing but wonderful things to say and even ranked my wedding as one of the best weddings they have attended!! A big THANK YOU to Barbara/Mandy and the entire staff for being beyond accommodating!! I would not have changed a thing!!
---
Perfect Wedding and amazing venue
Reviewed on

2/24/2015
I can not say enough wonderful things about Barbara and the team at Cotoye Ridge. We married 11/8/2014. Our wedding was perfect and better than we could have even expected. Barbara kept everything in line. Everything was on time and went so smooth. We didn't have one thing that I can say went wrong. The food was AMAZING and our guests were talking about it weeks later. It was so nice after dealing with health issues for months to have this beautiful flawless memory. Just talk to the staff. They will make a wedding or reception you won't forget and help you make your budget work. Our decor was more shabby chic simple but the facility is so beautiful that it came out so elegant.
---
Awesome Venue!
Reviewed on

1/18/2015
Stephanie
I came about this venue because I was in search of one location that would allow my ceremony to be outdoors and my reception to be indoors. Not to mention, I loved their waterfall background for the ceremony. Barbara was awesome to work with as she was quick to respond to emails always and also very helpful in the planning process. She has a lot of experience, so trust her expertise. I will say I was a bit upset at first when I picked this venue and discovered I could not do rose petals outside, nor could I do sparklers for my sendoff. However, that being said, the alternatives I chose still worked out perfectly! The venue itself is just absolutely beautiful and exactly what I wanted. My groom and I could get ready at the location with no issues of running into one another. On the day of, Barbara was there walking us through every hour, making sure we were on track. She helped my family in setting up and was constantly checking in on me to be sure I didn't need anything. The food was also amazing. We chose to do a buffet style with carving stations being that it was more feasible in price but also more of a casual feel. We were NOT disappointed and neither were our guests! We had plenty to go around and multiple people went back for seconds. We had people tell us it was one of the best foods they've had at a wedding. For alcohol, we chose not to serve liquor but simply beer and wine. I was hesitant on the keg and worried that the prepaid bottles of wine wouldn't be enough but it was PLENTY! We finished all the wine just on time and there was still beer left over. My original concern was the tackiness of the beer being that it was keg style but Barbara was right. It wasn't seen by guests and actually looked nicer being poured into a glass. We didn't have to worry about pictures being tacky with beer bottles every where. Needless to say, Coyote Ridge was worth every penny and we are so glad we picked them to host our ceremony and reception! We wanted our guests to be happy and enjoy themselves but more than anything we wanted it to be a perfect night to remember. Which it was!!!
---
Coyote Ridge is amazing!
Reviewed on

11/05/2014
Jill W
The entire crew at coyote ridge was amazing. The wedding planner, Barbara, was very quick to respond to emails, worked very hard to accomodate all our needs and was so pleasant to deal with. She was organized and helpful at all times. My only complaint was that they had limited space to store reception decorations prior to the start of the event so it was harder to plan set up with my ceremony starting at another location during the time of reception set up. In the end it all worked out because Barbara worked with us to accomodate this challenge. She also made sure my husband and i got to eat during the wedding, and the food was amazing! There is a beautiful outdoor area with a waterfall that is also avaliable for guests to enjoy. Overall, great experience, would recommend over and over!
---
A Perfect Venue and the Best Planner anyone could ask for
Reviewed on

10/13/2014
Dawn S
On Sept 28th, 2014 we were married at Coyote Ridge. We had our ceremony outside in front of the waterfall (definitely pay the extra for this) and we had the entire ballroom reserved for our reception. Barbara was absolutely amazing. She is super organized and kept things running. She was great with all my last minute changes to accommodate a larger group. We originally only had half of the ballroom reserved but we were on the edge for the maximum for that room. And since I wanted enough dance floor, I went ahead and upgrade to the full ballroom. It was perfect. The team there was awesome as well. Our bartender and waiters were super friendly and all of the staff was just so helpful. We got ready in the library and the team kept checking on us to make sure we were okay and had everything we needed. One of my bridesmaids was helping to decorate their entrance and Barbara even stepped in and helped here as well. I saw a post previously where someone said she was like another bridesmaid. And boy was that person right! She was just perfect. Her structure and organization skills keeps you informed and kept everything moving flawlessly. We have family that is in Colorado planning their wedding that were a part of our wedding and they commented on how wonderful Barbara is and that they are not getting the same service from their venue. So let me provide a couple of details about my selections and experience: Outdoor ceremony with full ballroom - I also opted only for 2 flowers on the chairs to separate the reserved seating from all other seating. I did not do any other decorations outside because I wanted the natural landscape. Also, I did not want an flowers to block peoples view. Plus you really are not out there for very long and I opted to spend my budget on inside décor. We did a carving station buffet and passed hot appetizers prior to serving dinner. The food was great! The turkey was super tender and very tasty. We loved the Chicken Satay and Spring Roll appetizers. Actually during our tasting you would have thought we had never eaten because those were gone in seconds. We opted for buying kegs and bottles of wine (thru the venue) instead of the open bar. This helped with keeping with our budget. We did have open bar for our wedding party. The wedding party all had a code word they used for getting the drinks. And honestly the bartender was awesome and remembered you so the code word wasn't needed for long. I upgraded to white table linens and white chair covers w/ sashes. LOVED THEM. Barbara did an awesome job finding my darker shade of red. We did not upgrade the napkins so they were ivory but we just left them at the end of the buffet instead of at the tables. Our cake table was decorated by Barbara using items we brought. She did an awesome job there. Overall this venue is just amazing, very clean, and a completely professional staff. Our wedding really went off w/o a hitch and I am not sure that would have happened somewhere else, especially w/o a outside party wedding planner. Let me just say, the entrance to Coyote Ridge is just beautiful, the dark woods, the new furniture and the lighting just made for a beautiful entrance. You can really go as simple as you want w/ decorations because the venue itself is just so beautiful. And the members of the course are super sweet as well. As we took over their club, they were sweet, understanding and we even joked a bit.
---
My niece's wedding at Coyote Ridge
Reviewed on

11/12/2013
We all really enjoyed working with Barbara, the wedding coordinator, she was very pleasant, super efficient, and brought a lot of professionalism and experience to planning my niece's recent wedding. Barbara was on-site at the wedding, making sure everything was done according to plan and making sure we were all happy with how things were going. The staff was friendly, helpful, and very efficient. After the event they helped me get everything torn down and boxed up in record time. I would recommend this venue and its staff to anyone.
---
Best Venue for an Unforgettable Day!
Reviewed on

11/04/2013
Kate S
Let me start by saying that I LOVE BARBARA. I made an account on this site simply to leave her a review. Barbara was absolutely on top of everything and anything you could think of that has to do with a wedding. On the day of the wedding, she was directing at least 10 different people at the same time, making sure things were running smoothly and nothing was forgotten, keeping the parents happy (very important!), and made sure that absolutely no one bothered me before the ceremony. All I had to do was sit and wait prettily in the library while she took care of everything. I could count her as a fourth bridesmaid because she was carrying out some of the bridesmaids; and groomsmens' duties when people weren't on the ball. The food service went off with a hitch. Everything was hot and delicious and served on time. One thing I would recommend is to get the Patini Bar (mashed potato buffet where you get to pick your own toppings). Everyone got a kick out of it and it felt really special. I would recommend that any bride use Coyote Ridge Golf Club as their wedding venue. Also, I had my wedding on a Sunday and that saved us a lot of money.
---
Coyote Ridge Golf Club
Reviewed on

9/09/2013
Stephanie F
The venue at Coyote Ridge was spectacular. The food and the service was exceptional. I would like to thank the staff for making my day so special.
---
Great venue, strict guidelines
Reviewed on

10/30/2012
Lizet S
Beautiful venue for our outdoor ceremony and ballroom reception. Barbara and staff were very helpful up to the last minute! Only caution is to carefully check guidelines around food, favors and decor - not much flexibility
---
Beautiful Venue and Amazing Staff
Reviewed on

8/19/2012
Allison S
Barbara Trotter and her team are wedding heroes. They planned for anything and everything. Barbara was very meticulous and went over every detail I didn't even know existed. I stopped by on my own the day before the wedding just to get a feel of where my own decorations would be going. I ran into Barbara and she walked me through the whole place and helped me plan it out. The day of none of my wedding party or family had to worry about a thing. She had the decorations, vendors, ceremony and reception setups, all under control. The day went by so fast but she kept us all on track and on time! During our reception they made sure my groom and I were taken care of the whole night. She brought us a full dinner, made sure we had drinks, and even kept my bustle in place. No one will take better care of you. And the venue is absolutely beautiful... we had an outdoor wedding in front of a waterfall. The reception hall had huge windows looking out on the golf course. The food was delicious. We even had our rehearsal dinner at the club's restaurant. Barbara and the Coyote Ridge staff made our day more perfect than I could have hoped.
---
Fabulous site!
Reviewed on

7/17/2012
Kappy P
The minute I walked into Coyote Ridge, I knew it would be our reception place! The ball room has large glass windows looking out over the golf course. The foyer is spacious to allow guests to gather before the reception. Barbara, the wedding event coordinator, is easy to work with. They offer several themed buffets as well as your regular meats and vegetables. We chose to have a patini bar for our guests!
---
Barbara, the wedding coordinator, was WONDERFUL!!
Reviewed on

4/09/2012
Alice H
Barbara, our wedding coordinator, at Coyote Ridge did a fabulous job on the day of our wedding! She did a wonderful job coordinating everything for us and making sure that everything ran smoothly. I cannot say enough good things about how capable her and her staff. Everyone kept telling us how the wedding was perfect and it was all thanks to Barbara and her staff!
---
Great Venue
Reviewed on

11/07/2011
Jennifer F
I had my wedding at Coyote Ridge in October this year, and was extremely happy with my choice! Barbara Trotter, the coordinator there is very organized and made the planning process painless and stress free! Everyone commented on how beautiful the ceremony and reception room turned out. I highly recommend Coyote Ridge as a wedding venue!
---
Beautiful space and a great value!!
Reviewed on

9/02/2011
Jessica H
We had a fantastic wedding reception at this location. Even in the heat of a Texas summer, our guests were comfortable. The food was delicious (everyone raved about the potatoes and the rice, the meat was wonderful as well). The scenery is fantastic, the views out of the windows are green and beautiful and the back wall is a wall of windows onto a really nice fountian. Great for pictures. The banquet director was very accomodating, although if you have a reception that requires a lot of set-up you may find yourself pressed for time, depending on your circumstances. The price was a fantastic fit for us in our budget, we felt that we really got a deal for how nice the surroundings and accomodations were. The big bonus for us was that they offered KEGS (we didn't want to pay for open bar but wanted alcohol available). Domestic keg for $300. This was the best deal for alchohol that we had found in our budget and we were very pleased. This is not a venue for you if you want to dance until Midnight, as I believe the latest you are allowed to have that space is 9 or 10? I could be mistaken on that, however. They allowed us 5 hrs for the room (and allowed our wedding planner to begin set-up at about 1pm). Reception began at 3:30 and we wrapped everything up at 8, with 1/2 of cleanup. I would suggest renting gel uplights to help define the dance floor (as we did) but if you want a HUGE dancefloor this probably isn't the space for you. The dancefloor is put together in 5'x5' squares on the floor, and ours tended to seperate bit around the edges over the course of the night. Guests are able to hang out in the "lobby" area but not the resturant; use of the lobby is VERY nice; however we were not able to use this space for cocktail hr for our reception b/c opening/closing of doors would have caused that area to get fairly warm, so we had cheese and fruit in the main hall. We heard nothing but good things from our guests, the space was a good fit for us and was a really good alternative to a much more expensive and restrictive renting of a hotel banquet space.
---
So Beautiful!
Reviewed on

7/26/2011
Danielle S
Coyote Ridge was great! The people were wonderful and accomodating, and the facilities exceeded my expectations. My only qualm was with the dressing rooms. They were the locker rooms for all of the golfers. There were golfers and members coming and going in the locker room while my bridal party and I were getting ready. Quick fix? Don't be cheap like me and get ready in a hotel room or somewhere else. The locker room itself was actually quite beautiful.
---
Send Message