Home

Crystal Springs Resort
About this Vendor
NJ's Luxury Resort Wedding Destination
Crystal Springs Resort offers indoor/outdoor wedding venues, 4 wedding gardens, on-site culinary team, 3 luxury hotels; 2 spas w/bridal suites, 7 golf course, a natural grass putting course, 135,000 bottle wine cellar, heated indoor/outdoor pools as well as skiing/snow tubing/bike park/water park.
Amenities + Details
Amenities
Handicap Accessible

On-Site Accommodations

Indoor

Reception Area
For more details about amenities, please message the Venue.
Ballroom, Country Club, Hotel, Mountain, Restaurant
Food + Catering, Planning
Contact Info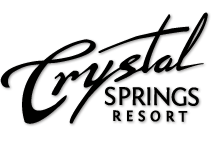 3 Wild Turkey Way, Hamburg, NJ
A Hidden Gem!
Reviewed on

3/18/2013
Samantha D
I could not be happier with our decision to have our wedding at Crystal Springs! It was everything that I could have hoped for and more. We had our rehearsal dinner, wedding ceremony and reception at Grand Cascades Country Club. The venue was absolutely perfect. It was the very first place my husband and I went to look at and I as soon as we walked in I was sold! Well, I was already sold from the pictres online but I wanted to make sure it was everything I thought it was in person - and it certainly was. The scenery and views up there are nothing short of spectacular! Everyone at Crystal Springs was incredibly helpful and professional, and our wedding coordinator Sarah was a pleasure to work with and is as sweet as can be! She was there every step of the way whenever I had a question or concern. Our Maitre D' for the wedding day/night was Russel and he was just THE BEST! He was so attentive, and was there to make sure everything went off without a hitch. Everytime I turned around Russell was there to lend a helping hand or help me with my dress, or hand me a drink, take my flowers, etc. - before I even asked for anything he was there already doing it! I didn't have to worry about a thing. The ballroom at Grand Cascades is spectacular with high ceilings and windows all around, I was blown away when we walked into the room with all of the place settings, centerpieces and uplighting. It was breathtaking! And the food was phenomenal!!! All of our guests raved about the cocktail hour - not only the gorgeous room it was in but the quality and quantity of food was incredible. I could go on and on... but to sum things up - this place is the best of the best!
---
SO Pretty
Reviewed on

1/25/2013
Carly D
Such a pretty resort! The room was spacious and clean!
---
Most Amazing Venue!
Reviewed on

12/27/2012
Kelly B
Crystal Springs Country Club - Grand Cascades Lodge put on an amazing wedding! I loved every single detail of my wedding. The place is elegant with scenery you can not beat! The food was amazing also! If you are looking for a destination wedding close to home this is the place to do it. The hotels on site are wonderful, as is the accommodations. Everything about this place makes you feel like you are first class. The wedding coordinator is a dream to work with! I truly had an amazing wedding experience here.
---
Beautiful
Reviewed on

5/27/2015
Liz P
We booked Grand Cascades Lodge for a wedding of about 160 people. Crystal Springs gives you the ability to feel like you are on a destination wedding even though it is only about an hour and a half from New York City. Since many of our friends and family were from out of town, this was the perfect venue to spend the weekend. The food is amazing, there are numerous activities, plus it is just gorgeous. Sarah, the wedding coordinator is great and super sweet, as is Jean who you will work with initially to book the venue. If you are looking for a gorgeous setting with top notch amenities that is away from the hustle and bustle of the city this is your place. It oozes extravagance without being pretentious. We also had our rehearsal dinner here the night before and have nothing but positive things to say. They will make sure that your day is special- would highly recommend this venue!
---
Reviewed on

5/06/2015
Margo G
We visited crystal springs - grand cascades lodge the day we got engaged, and we knew we found our venue! The rotunda is absolutely breathtaking, as well as the grounds and ballroom. My now-husband and I prioritized having a hotel attached to the venue and wanted to make it a "weekend getaway" without the crazy travel. From day 1 to day 365 (we got married exactly 1 year later), Jean and Sarah were unbelievably responsive, accommodating, and easy to work with. We ended up having everything at the resort - rehearsal dinner, welcome party, ceremony, cocktail hour, reception, after-party, Sunday brunch, golf for the groomsmen, and used Reflections spa to get ready on the day-of (with lunch). Everything was impeccable. The food is extremely tasty, and the brochure offers so many options it was hard to choose! The grounds of crystal springs were spectacular, and really made for the perfect backdrop for our outdoor ceremony (and photos). We were thrilled with our wedding, and cannot say enough fabulous things about the experience. Added bonus: i was a stress free bride during my entire engagement, including the day of, and i credit Sarah and Jean (and my mother) for keeping it that way.
---
A Great Choice!
Reviewed on

12/28/2014
Michelle S
We got married at Minerals Resort and Spa in August 2014. We loved working with Nicole. She was always available to answer questions, give advice or help with details. Having the hotel on site makes Minerals so convenient! We did not have to worry about our guests getting from place to place as everything was right on site. The ceremony garden is absolutely gorgeous! The reception room is spacious and has a great dance floor. Our guests really loved relaxing in the pools and playing golf at the resort. Several of our guests stayed at Minerals for the entire weekend and were very impressed with how they were treated from the moment they arrived until the time they left. We would definitely recommend Minerals, everything went off without a hitch just as we had imagined!
---
Amazing
Reviewed on

12/06/2014
Stephanie M
Tthis venue was perfect for our November wedding!! I can't even begin to explain how happy we are that we made the decisions to use Black Bear! The staff was so friendly and helpful! The Food- AMAZING!! Added bonus- FIRE PIT!!!! It's what every north Jersey girl needs at her wedding! The backdrop on the course is was beautiful!! Highly recommend Black Bear!!!!
---
Beautiful Black Bear!
Reviewed on

9/25/2014
Juliette V
Our wedding on July 19th, 2014 was wonderful thanks to the beautiful backdrop of the Black Bear Golf Club's scenic mountains, golf course, and landscaping. Our guests had a wonderful time in the outdoor lounge area, fully stocked bar, and newly renovated ballroom. There was even a fire pit (although we were busy having so much fun and didn't even see it!) and it was a beautiful summer night. Linda Griger, their Maitre D', was truly the highlight of the whole experience. She ran the entire event, was always ready and there when you needed her, and was a gracious, fun person to spend your special day with! We are so happy with the wonderful package that we got from the venue, and would highly recommend it to anyone looking for a beautiful venue in NJ!
---
Best Day of Our Lives!
Reviewed on

6/30/2014
Laine H
Originally, we chose Black Bear Golf Club as our reception venue, not only because it is a beautiful venue, but also because even if it rained on our wedding day there are different areas within the golf club to accommodate cocktail area, the recpetion ballroom, a covered patio area with clean and comfortable furniture outside, adequate restrooms for our guests, and even a full locker room for the wedding party to freshen up. With that being said it did not rain on our wedding day, we had more than perfect weather, and we still utilized all of the different areas and received many compliments on the use and flow of the space. Usually, people talk most about the food at weddings and we received rave reviews from our friends and family! They could not believe the abundance offered in cocktail hour and then the filet mignon that the majority of our guests chose was cooked to perfection (I come from a family of butchers so this was important). Many use the words "like butter" to describe the filet. I also heard the words "flavorful" and "great quality" when describing the food. Their packages do offer many hot stations, cold stations, and passed hors d'oeuvres. Linda our Maitre D for the day was more than accommodating, she was amazing! We had an open bar for our guests and she inquired if we should have extra on hand of one thing over another, such as more white wines than red (which we requested). She also brought in extra of a specific beer that they don't normally carry. She set up all of our escort cards, favors, table numbers with additional photos, finger print tree, etc. for us, exactly where we would have placed them! We took our wedding party out on the golf course to take extremely fun photos, and they had 8 golf carts ready to go for us and it was more than fun than we anticiapted! When we got back Linda had the mens locker room set up with food platters, wine and beers for the whole bridal party so that we could enjoy ourselves while freshening up! She checked in with us through out the night and replenished our drinks at our sweetheart table all night as well. My husband said at one point our friends were hanging out further down the patio away from some of the patio furniture and Linda grabbed a server and the two of them dragged a couple of high top tables down where our guests were so that they could set their drinks on the tables and have ash trays for the cigarette smokers. Those are only a couple of specific examples that we experienced with Linda and her beyond attentive and amazing staff! Black Bear Golf Club is booked through a Crystal Springs sales representative, which means that booking the venue through them we also received some perks such as a foursome round of golf and 1 night free in a luxury suite. Additionally, they offered an extra incentive if we paid x amount of money before a certain date and by doing so recieved another round of golf, another night free in a luxury suite, and a $500 gift card which we chose to use to upgrade to the presidential suite. They also provided shuttles for our guests so those who chose to drink did not have to pay for a cab! Overall, we always prepare ourselves for "worst case senarios" for example rain the day of, but we ended up with the most beautiful day weather wise, we stuck to our guns and did everything that we wanted to do and chose vendors that undertsood the vision and ambiance that we had for the whole day and it truly was the best day of our lives!!!
---
Perfect venue for our day
Reviewed on

10/31/2013
Sarah B
Minerals was a perfect ceremony and reception venue for our day. Kathy and Danielle and the entire staff were amazing from start to finish. They really put forth everything to give you the most special and perfect day!
---
Black Bear Golf Course
Reviewed on

10/27/2013
Danny M
Great venue, delicious food, awesome hotel, and incredible views. We married at Black Bear Golf Course and we could not be happier with our decision. Absolutely beautiful place.
---
Loved my Crystal Springs Resort, Grand Cascades Lodge Wedding! :)
Reviewed on

10/23/2013
Katie M
I got married at the Grand Cascades Lodge in Crystal Springs Resort on 6/21/13 and had an absolutely amazing experience! Overall we couldn't have been happier. Yes, they were a little bit above our budget, but the service and quality of our experience was well worth the extra dollars and cents. Sara (the Day-of wedding coordinator) is very sweet and accommodating, and Russell (the maitre d') went above and beyond to make our wedding day special and stress free. The bridal suite provided for our bridal party was stocked with samples of every cocktail hour food so that we could try everything, even if we ran out of time during the cocktail hour. My bustle broke unexpectedly and Russell swooped in and sewed it in place. Then my garter fell down my leg and got lost in my cowboy boot, but Russell had my "throw away" one in his pocket and busted it out before anyone even noticed!! Our mouths were always filled with food, our drinks were always full, and our schedule/timeline was flawless. We treated this venue as a "Destination" wedding, and invited our family and friends to stay with us the entire weekend to continue our wedding celebration. With so many guests staying 3-4 days, the staff was very accommodating reserving us larger tables for breakfast in the morning and keeping the fire pits on a little bit later for us at night. We can't wait to go back to Crystal Springs to celebrate our anniversary each year! :)
---
Our Wedding
Reviewed on

10/20/2013
Marielle B
My husband and I got married on September 28, 2013 at Crystal Springs, Black Bear Golf Course. We originally picked this venue because of it's size and price. It isn't a large venue and for our wedding of less than 170, it was perfect. This venue exceeded our expectations. Nicole, our wedding coordinator, was incredible throughout the entire process. She was incredible and I could not be more thankful for her. Linda, our maitre de, was equally as incredible the night of. She kept me calm, always had a drink in my hand, and handled everything with perfection. The food was absolutely to die for. Everything was fresh and amazing. The location was beautiful. We went out on the golf course to take pictures, the leaves were changing, the weather was great; it was the perfect setting for our perfect day. My husband and I could not have been more happy with our choice and I would recommend this venue to anyone in the area.
---
The Most AMAZING Wedding Weekend!!!
Reviewed on

10/03/2013
Daren R
We LOVED planning and having our wedding at Minerals Resort and Spa at Crystal Springs!! Kathy and Dannielle, the wedding coordinators, were super organized and an absolute joy to work with. I didn't feel stressed at all the day of the wedding because they were so on top of everything. And everything about Minerals is amazing: the food, the hotel rooms, the entire staff, the outdoor ceremony garden space, (and outdoor Pavilion backup option in case of rain), the reception space and the resort in general. There are so many things for your guests to do that most of our guests stayed the entire weekend to hangout, even though most lived only an hour away. This allowed my now husband and I to spend more time with our guests, which was really nice. Minerals has a bunch of indoor and outdoor pools, hot tubs, a spa, a full gym and classes, an indoor basketball court (which my husband and groomsmen used the day before and the day of the wedding). And golf. Almost all of our guests said our wedding was the BEST wedding they ever went to and want to come back to Minerals every year for a weekend just to relive our wedding weekend.
---
Amazing Wedding Day!
Reviewed on

9/20/2013
Megan J
I can't say enough about my wedding day! It was amazing. The staff at Minerals Spa went above and beyond. Danielle and Kathy are the best coordinators that a bride can have. Not to forget the wedding attendants Josh and Stephanie. Things went so smoothly, even when beers were spilled, things were cleaned up and adjusted without anyone ever knowing. Our whole day was outside in the beautiful garden and outside pavilion. My friends and family raved about the food and the venue. I wish we could do it again!
---
A True dream come true
Reviewed on

5/19/2013
Cheryl B
I cannot say enough great things about our experience at Grand cascades for our wedding. The staff not only helped make things run smooth leading up to the wedding, but were extremely happy to do it! The wedding day itself was an absolute dream come true. As a bride, I have dreamed about my wedding day since I was 5 years old- when I say they treat you like a king and queen, that is no stretch of an imagination. I'd go to sit down and the Maitre' D was suddenly behind me, helping me with my dress just to sit down! They also took extremely good care of my family always making sure they had a drink in hand. It was pure elegance and a sophisticated wedding all in all. Thank you Crystal Springs!
---
Don't worry about a thing!
Reviewed on

5/02/2013
Nicole M
From the moment we started planning our wedding we knew Minerals was the perfect place. Every single person we came in contact with was unbelievably kind, helpful and truly wanted to make this the most amazing day for us. As a bride, I can say I honestly did not have to worry about a thing! Our wedding coordinator was on top of every little detail during the entire planning process along with all of the other staff members that helped us the day of. We could not have picked a better venue!
---
great wedding
Reviewed on

1/18/2013
Stacey K
our wedding was great, although we had a younger wedding planner, and she was a little disorganized for most of the planning and just needs more experience. However, she did pull off our event in the end. The food is amazing there, and the ambiance is fantastic. The overall service is great as well, and lodging is wonderful. For the price we paid for this venue, it was well worth it, as it is a gem in NJ, that makes you think you are in the mountains in the Adirondacks.
---
Crystal springs, only place to have your wedding!!
Reviewed on

11/05/2012
Ashley T
We couldn't be happier with our decision to have our wedding at crystal springs. Everything was more than we even anticipated. From the beginning stages working with Jean and then Sarah everything was just perfect. All of our guests were amazed at the venue. Most of them even made a weekend get away out of our wedding. I wish we could re-live the day over and over again. The day of the wedding Russell was our maitre de. He was awesome. Every detail was covered. The food was outstanding! We would definitely recommend crystal springs to anyone. Absolutely amazing, couldn't be happier !
---
Amazing!!!
Reviewed on

10/22/2012
Lindsay A
This venue was absolutely stunning! I had my wedding in October, so the colors in the trees were gorgeous. And the staff really make you feel great! they are so helpful, and they really did everything I asked. Also, the room was decorated so beautifully, even outside for the ceremony was outstanding! They will also try to help you if you are on a budget. I will definitely recommend this venue for my friends who are getting married!
---
Stress free wedding thanks to Ballyowen
Reviewed on

10/12/2012
Jackie V
I had my wedding last week (October 5th 2012) at Ballyowen. I was amazed with how smooth the day went. I can honestly say I was 100% stress free on the day of my wedding. Nicole and Peggy were both amazing to work with and made sure every detail was taken care of. The setting was beautiful and our guest raved about the food and how amazing the reception room looked. Luckily the weather was great and we had the ceremony outside. If you are looking for a private and intimate place to get married Ballyowen is ideal. Our guest stayed at Grand Cascades, which helped to set the mood for the entire weekend. The accommodations are beautiful. We had our rehearsal dinner in the Chestnut Room at Grand Cascades and breakfast the morning after our wedding in the Garden Room, food and service was great at both. There is not one thing I would have changed about the weekend.
---
amazing!
Reviewed on

8/31/2012
Krista S
We went to Crystal Springs Resort for my bachelorette party in May 2012. I can't believe this place exists and I knew NOTHING about it. I am 37 so I didn't want anything crazy, just a nice relaxing day/night with some of my best friends. That is exactly what I got! The rooms are great and the biosphere is AMAZING! We even had a private dinner in the Cava winery right down the road. It was the perfect get away for my last single celebration. I highly recommend this place!
---
I heart the staff at Minerals
Reviewed on

8/05/2012
Ginger C
My fiance (well husband now) and I were looking for venues with very specific accommodations. 1. On site ceremony space 2. On site lodging 3. and most important golf (and other family activities) We have both been to at least one of the Crystal Springs properties separately..... We made appointments to see all four of the venues. Black Bear wasn't our style, Ballyowen was too small, and I didn't get the warm fuzzies from Grand Cascades, then out walks Danielle at Minerals. WOW I love her! There are three things you need to know about Minerals: 1.Danielle, is FANTASTIC, every email/phone call/text message was answered almost immediately and she was able to coordinate everything with me while I have been living in Florida for the past year. (She was even able to make my mother calm, which is no easy feat) 2. Josh, was my assigned bridal attendant for the day/evening of the wedding. He kept all of the bridesmaids and myself hydrated during the day while getting our hair and makeup done. He was always there (without being intrusive) getting water, drinks, and eventually because I didn't have time to eat, he put all of the food from the evening together as an after wedding snack... 3. Stephanie, the event maitre d' was seamless in coordinating the 15+ people in our wedding party, all of the timing of the evening from announcements to salad. She laid down the law with our other vendors who may have veered off schedule and did so with a smile. I obviously am obsessed with the staff. They were all fantastic! The servers and other staff were always friendly and helpful.. Minerals really hit the mark for us. No one had to leave the hotel, and since our event was a no kid zone, it was great to have on site babysitting available. Our guests had a great time and are raving about all the things to do there. okay, one negative... where were my roasted potatoes?!?! (the mashed was good... but not what I had at the tasting) Our entrée course was not quite what we experienced at our tasting, hence the roasted potato comment.... Though the filet mignon was spectacular, the chicken missed the mark. Both entree's came with the mashed which didn't make sense considering we had made the decision to have a "mashed potato bar" at the cocktail hour. My husband and I are so happy with our choice of Minerals, we had an amazing day even if it did fly by way too fast.
---
Amazing!
Reviewed on

7/15/2012
Becky S
We received such compliments after our wedding at Minerals - the food, the guest accommodations, everything! (In fact our guests were so impressed with the cocktail hour that some of them thought that it was the actual meal!) We were supposed to have an outdoor ceremony and the weather did not cooperate, but everything still turned out lovely with the indoor set up. Working with Danielle, the wedding coordinator, was extremely easy; you can tell she loves her job and is very good at it. All the staff who worked at our wedding made sure our guests had everything that they needed. We would definitely recommend this venue to anyone looking for a scenic New Jersey wedding!
---
Wedding at Crystal Springs Country Club
Reviewed on

11/16/2011
stacey s
The staff and my event planner were great. My Maitre'd was beyond exceptional. However, The front desk for Grand Cascades Lodge and the Sales department could use some help.
---
Send Message