Home

Culinary Art Catering
About this Vendor
Our Food Is A Work Of Art
Award winning, full service catering and event design group with a team of skilled event coordinators, culinary artists and event designers. Fully licensed and insured with 17 years of delicious events under our belts. Let us assist you with crafting the perfect menu for your wedding day!
Details
American, Eastern European, French, Italian, Latin American, Middle Eastern, Fusion
Buffet, Catering Delivery + Setup, Chef Stations, Menu Tastings, Servers, Food + Catering
Contact Info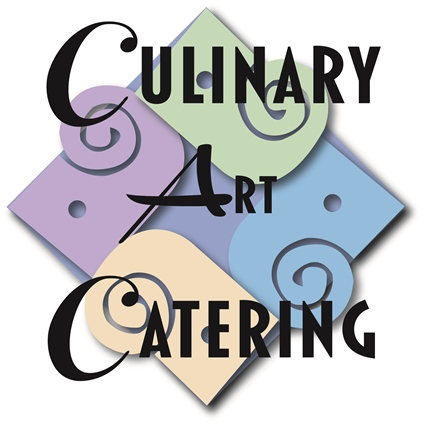 4241 Sigma Road, Dallas, TX
Raised the Bar!
Reviewed on

4/21/2014
Melissa B
Everyone at Culinary Art Catering was amazing, professional, kind, and accomodating. They made finding the right menu seem like a peice of cake. The food was impeccable, we're still getting compliments on it. And they made sure that the bride and groom (us) were served and did not have to wait to eat. I wish my dress was looser so I could've eaten more. It was amazing! If only they had a drive through....
---
Delicious Reception!
Reviewed on

6/18/2013
Emily B
We used Culinary Art Catering for both the food at our reception as well as all the linen rentals. The sales manager we originally met with when we booked our event left the company about 2 months before our wedding and Rebecca took over our event. Despite this transition, Culinary Art handled our event flawlessly. Rebecca picked up right where our old manager left off and never missed a beat. She was quick to respond to any questions I had as the big day approached, which I really appreciated. On the wedding day itself, the Culinary Art staff was on time and set up everything in plenty of time for the cocktail hour and reception. I had picked out a napkin fold that ended up being too big and looking very awkward on the table. Rebecca worked quickly with my mom to come up with a new fold and get all the napkins on the table and looking beautiful without me even knowing there was a problem to stress about! And the food...oh the food was delicious! Everyone told me that brides barely eat at their wedding, but that was not the case with me. Culinary Art brought in several trays of hors d' oeuvres to the bridal party while we were taking pictures post-ceremony so that we got to munch on the tasty treats like all the other guests (which was awesome since the quesadilla trumpets were the food item I had loved the most at our tasting). And when we entered the reception two plates of fajitas were ready and waiting for us. They even had all the fixings on a separate plate on the side for us since my husband is very picky. We were able to chow down before everyone else had even made it through the buffet line and that gave us plenty of time to go around and greet all our guests after we ate. Overall, I was very impressed with the professionalism of Culinary Art and the food was just wonderful. Thank you for making our reception a success!
---
Tied the knot in NYC and celebrated in Big D
Reviewed on

6/12/2013
Wilbert G
I have known Yossi and Vivian for quite some time and I was always amazed with their creativity and the quality of service. May 25th was our party in Dallas at the Craighead Green Gallery and our choice for catering was Culinary Art Catering. Vivian and Yossi together came up with a selection of hors d'oeuvres, food stations, drink stations and dessert. Our friends were very impressed with the food and with the professionalism of the Culinary Art staff.
---
Catering Review
Reviewed on

4/14/2015
Andrea B
Culinary Art Catering exceeded my expectations. Melinda was great to work with and went above and beyond to keep my party going. Thank you Melinda for everything on my wedding day!
---
great vendor!
Reviewed on

1/26/2015
Culinary Art was great throughout the entire process from reaching out to them to having them at our wedding. They helped us design a custom menu, and gave us helpful suggestions as well. The guests had nothing but good things to say about the food! On the afternoon of the wedding, when the venue was running behind schedule for setup, Bethany went above and beyond and jumped right in to help us get everything ready in time. If there were any hiccups in the catering process, they got them worked out before dinner and everything seemed to run smoothly for the guests. We really appreciated their services and would definitely recommend them.
---
Delicious Food
Reviewed on

11/24/2014
They provided wonderful food for my daughter's wedding in November. A lot of our guests raved about how delicious the food was. Would definitely recommend this caterer.
---
Amazing caterer!
Reviewed on

8/11/2014
Brianne G
Culinary Art Catering was awesome. They really helped us out from the beginning to end to make it a fairly smooth progress. They did free tastings which is nice when you don't know exactly what you want. They flowed with our changes well and did additional tastings because we could not decide on the final appetizers. Everyone loved our food for our wedding! They fed my husband and I separately which was amazing! They brought the food to us so we could catch a break and eat. They also set aside appetizers for us since my groom didn't get to taste them before the wedding. They always made sure I had a drink and asked me several times if I needed anything. I only had two complaints, overall. First, is that they are fairly pricey but we did ask for a lot. Lol Next, we had one point of contact and she was so good at immediately getting back to me but then that person changed jobs so I changed my point of contact. She was not very prompt with getting what we needed from her but she did better the closer it got to the wedding. Overall, I would recommend them to anyone!! They were awesome and we got so many compliments on the food!!
---
My Caterers
Reviewed on

4/30/2014
Ashley
Culinary Art was fabulous! We ended up not using the table cloths and such from them because it was all adding up and we had off-colors for our wedding and found a vendor with a closer match to what color we wanted, but we loved their food and staff. Everyone was very kind and helpful and very flexible. Before the event itself, they are always willing to answer questions and are very friendly. Also, if you are wanting a full bar, theirs isn't a bad price. One thing I wasn't as fond of was the tastings. They only have a few in the year and you don't necessarily get to try all of the food you are having. During our time between choosing them and the event, I think there were only 2 of these tastings and we could only make one. At the one we went to, there was only one thing from our menu to try. It wasn't a huge deal but would be my one criticism. All of the food as I mentioned was amazing. They were also very flexible in letting you rearrange or mix menus, or change dishes they had. Also, at the event itself, the staff was amazing. They were all very professional and again, helpful. I know I have said it over and over again but I felt they went above and beyond, especially at the event itself. First, we had hors d'oeuvres served and they made sure to set aside plates for the wedding party since we would miss that time. Second, during my wedding, I started not feeling good. The staff was constantly checking on me to see if I needed anything at all. One even offered to go across the street to get me coconut water. Seriously, they were awesome and did everything in their power to make the night perfect. The food like I said was great but the staff was even better. I would certainly recommend them to a friend!
---
Great food, just pricey for me
Reviewed on

1/03/2014
Jennifer M
I loved my food and saw their options online and fell in love with their apricot glazed chicken with melted brie. It was delicious!! I loved their salad and I am not a salad girl. It was really really good food. Just the price was more than I wanted. I had to keep my invite list to a minimum because of the price. It was probably the biggest shocker and price issue of my whole wedding. But all food was eaten the day of and there were no complaints! :)
---
Great Choice, Food is Amazing
Reviewed on

6/21/2013
Christine F
I selected Culinary Art Catering because it was the best of the three options I was required to choose from (venue policy). However, I must say it was a GREAT choice! The food was wonderful, and the Chef is full of life. He instantly knew the direction we wanted our food to go in, and he came up with great ideas. At a wedding we attended one month after ours, people were still telling us how great our food was! It was exactly what we wanted. I only wish we had taken more time to enjoy it ourselves!
---
April 6, 2013 wedding
Reviewed on

4/18/2013
Jamie H
Rebecca and the entire Culinary Art crew were amazing and the food was delicious too! We chose to have food stations and I had guests telling me the next day how much they enjoyed the food and the service. I always hear stories about how the bride and groom never get to eat at their own wedding, but these guys made us a plate and made sure we sat down to enjoy it. We had them provide the food, wait staff, some linens, china and a cake stand. We saved some money by providing our own alcohol, but they have many options for that as well depending on your needs. A lot of catering companies won't let you bring in your own alcohol, but they did and provided bartenders for us as well. They worked well with my other vendors to make sure everything went as planned and I didn't have to worry about a thing. If I ever need to plan another big party, I will definitely give Rebecca a call!
---
Amazing Food
Reviewed on

3/25/2013
Danae B
I had my wedding at Nuvo Room which is owned by this caterer so I had to use them but honestly, I would have chosen them no matter where I had my wedding. The food was absolutely amazing. I went to several tastings and never had anything I didn't like. People are still raving about their quesadillas, bacon wrapped shrimp, and mashed potato bar....to name a few.
---
Catering Can be PART of Your Decor!
Reviewed on

2/04/2013
Amber F
Culinary Arts read my mind throughout my entire planning process. I wanted to pull off my dream budget without breaking the bank and they helped me to do that! For instance, by adding a beautiful cheese board with breads and dipping oils to each table - i cut down on expensive floral centerpieces. By using their hammered copper serving dishes and mini casserole dishes with adorable little handles - I could avoid 2 of my biggest catering pet peeves: 1) typical silver chafing dishes and 2) using martini glasses to serve food from. Once they knew my aversion to those 2 items, they showed me all of their non traditional items that were exactly what i wanted! The Hammered copper chafing dishes actually fit into the decor of the room vs being the eye soar they typically are. And the tiny casserole dishes were absolutely PERFECT to use for the risotto bar at my "farm to market" themed wedding vs. the typical martini glass used as a bowl. They are meticulous with their set-up and service and there food was DELICIOUS! It was a unique and non-traditional menu developed to reflect my husband and I perfectly! Their entire staff was determined to make my wedding beautiful and stress free - from the banquet manager to the bartender - their team was professional and helpful at every step in the process!
---
Yummy!
Reviewed on

11/15/2012
Chelsea G
Culinary Art Catering was amazing. They are very accommodating and work with you on your budget. Vivian was super nice and always easily reachable for questions. The food tasted amazing. We got TONS of compliments!
---
Amazing food and service!
Reviewed on

11/08/2012
Kimberly K
We could not have chosen a more perfect catering company for our wedding. Vivian was an absolute pleasure to work with through the entire process, always quick to respond and always eager to help. The service at the wedding was flawless, the staff so quick and seamless you hardly knew they were there. And, of course, the food was incredible. All of our guests couldn't stop talking about how great everything tasted. I will definitely recommend them to anyone I know planning an event. And if there is ever any other reason for us to have catering again, I know who I am going with!
---
The best!
Reviewed on

10/16/2012
Elizabeth S
We learned about Culinary Arts from our venue's preferred caterer list. After meeting with several vendors to determine the best fit for our wedding, we knew that Culinary Arts was at the top of our list hands down. The food was delicious, the price was affordable, but what really stood out to me was the phenomenal customer service. The chef listened to our needs and made menu suggestions that were beyond our dreams, but within our budget. Vivian, the manager, sent me a proposal after our tasting, and I saw that she made a note about me not eating olives. I didn't tell her that I don't like olives, but she noticed that I picked them out of my salad. Just knowing that she paid attention to small details without me saying anything gave me comfort and sealed the deal. Several of our wedding guests told us how much they liked the food, especially the lasagna. The servers were very courteous, and they did not make a lot of noise that might distract the audience from what was happening.
---
Exceptional Caterer - don't bother looking any whe
Reviewed on

7/19/2012
Sue Ann A
Our wedding food was absolutely amazing... delicious AND beautifully, creatively and elegantly presented - Chef Yossi made the perfect suggestions for how to glam it up a little bit, and we were thrilled with how everything looked and tasted! Plus, the staff was top notch - everyone kept going on about how they never waited for a passed hors d'oeurves or drink, never had to ask for more water, the staff were on top of everything - which is exactly what I wanted for my guests. And finally, I can't say enough about the day-off coordination that Sarah and Catherine provided... they fixed broken stuff, got event space cleaned up that they shouldn't have had to (vendor dropped ball!) and made sure everything looked gorgeous and went smoothly. I'm not interested in getting married again!, but may just have to invent another grand celebration so I can work with CAC again!
---
Fantastic!
Reviewed on

6/07/2012
Christine H
I absolutely enjoyed working with Culinary Art. They were so helpful in helping me plan an menu with in my budget. We did heavy hor d's and they didn't charge us extra for things like tea, water or coffee. We also rented linens and tables from them. All of which turned out perfect. I would absolutely recommend them to anyone!
---
You don't have to lift a finger...
Reviewed on

4/30/2012
Puru N
okay maybe only when you are tasting their amazing food! Where do I even start! Culinary Art Catering was our first and only caterer that we went to when we were planning our wedding. Our first meeting and tasting with them was enough to seal the deal. We felt at ease, welcomed, and "catered" to from the beginning. They have a wealth of information and expertise to help you in all stages of your wedding and are so flexible and easy to plan with. The catering part of the wedding was so important to us, it was great to feel so confidant that things will go perfectly on the big day. The day came and it was fabulous. I probably contacted, emailed, and called Sarah Kane a million times up to just days before the wedding of unforeseen changes that were happening and each time she was accommodating and made sure I wasn't stressed out. The food, the presentation, the courteous staff, the astonishingly quick set-up and tear down were all amazing! Culinary Art Catering also provided the bar service which was very popular and the beautiful linens. We have some picky eaters in our family, but many could not wait for seconds! Also, I have to mention that I was dying for a glass of water after all the festivities had ended and one of the wait staff went and got me one even though they were all packed up to go. That's the kind of care they put in to make sure you have a stress free and wonderful day. I could go on and on about them and received so many compliments from our family and friends. You are doing yourself a huge favor by choosing Culinary Art Catering. I cannot wait to contact them again for a future event.
---
THE BEST!!!
Reviewed on

4/22/2012
Brandy O
Culinary Art Catering helped make my wedding day PERFECT!!! I don't know what I would have done without them. They were helpful, prompt, and professional from the first email up and until the big day. Sarah and Vivian helped me think of everything and made the day run smoothly. My family and friends LOVED the food and Culinary Art Catering's staff. I would HIGHLY recommend Culinary Art Catering for any event. THANKS SO MUCH!!
---
Great Food!
Reviewed on

3/13/2012
Erin L
Culinary Art has incredible food and wonderful service. We were able to select the type of meal we wanted (we opted for a tapas type dinner) along with the different foods. Our tasting was filled with delicious food which we picked many of the items they served to us. Our guests loved our dinner-not much of anything left afterwards!
---
STILL getting compliments!
Reviewed on

10/28/2011
Meredith S
Not having been to a Culinary Art event or tasted their food, I wasn't quite sure what I would get when I booked them. All I knew was that their responsiveness, flexibility, creativity, and adaptability to my budget set them apart from other caterers I'd been speaking with. Closer to the wedding, the tasting with the chef (who is SUCH a character) really put me at ease. I knew then I was going to get a great product. (I should also note that I'm a food blogger, so the menu and quality of the food was a high priority in my planning process.) Fast forward to the wedding day, and the food was even better than I remembered. I still receive countless compliments on how delicious and original the food was. I was also very impressed with their staff - they didn't miss a beat. I also decided to hire Vivian, their sales manager, to be my wedding coordinator on the day. Her fee is completely reasonable and her calm, cool, and collected persona is ideal for stressed-out brides and parents! She was organized, accomodating, attentive (my husband and I actual ATE at our wedding thanks to Vivian!), and kept the evening running smoothly. I even received compliments about how nicely the evening ran - never heard that one before! To make a long story short, I am beyond thrilled that I hired Culinary Art. Whereas initially I thought I was stepping into the unknown, I now know that Culinary Art was by far one of the best decisions I made for my wedding.
---
Affordable Dream Come True!
Reviewed on

10/08/2011
Kristen L
My fiance and I really wanted to have food at our wedding (nothing helps set a party atmosphere better), but really didn't have a large budget. Vivian worked with us to create an amazing Mediterranean inspired menu that was in our price range. People are still talking about how much they enjoyed the food. The serving trays for food and drinks were absolutely beautiful as well and made it look like we had done a lot more work decorating than we had. Even though they were affordable, it was what we splurged on the most for our wedding. I would say it was well worth it.
---
I Wanted to Rave but I Just Can't
Reviewed on

8/16/2011
Kim O
I wanted to be able to rave about Culinary Arts Catering, but I just can't. First, the good: I felt that Culinary Arts was very professional in all correspondence and on the day of the wedding. I felt that I was getting great customer service from Vivian Morgan, what I wanted was being listened to and added into the overall plan for the event. Also, the tasting was amazing! The food was superb and I was so excited I had them as my caterer. In addition, Vivian helped me set up the schedule for the day and gave great suggestions for using my venue to my advantage. Then, the not so good: I had made it clear every step of the way that it was very important to me to have whole or quartered wheels of cheese at the event. In the past, I had worked in a cheese shop for over 2 years and this really mattered to me. It was written in the contract that the cheese would be "Served as uncut wedges, wheels, and in croute." While I did not expect all the cheeses to be served this way (some, really it is just better to have cut) I was very disappointed that NONE of the cheese where served in uncut wedges. I mean really - how hard is it to at least put a wedge of brie out there? My second problem was the difference between the tasting (which was awesome) and the food served (which was good, but rather ordinary.) I understand that it is different serving 3 people in a tasting than 125 at an event - but I felt that the two were so very different, that the tasting was not a real representation of what I was served at my event. The third problem was that at least one menu item I was going to have at my event was not at the tasting; at the wedding I ended up not liking that item and had wished I could have had tasted it before, so I could have changed it.
---
Outstanding Choice - Excellent Value - Worry Free
Reviewed on

6/21/2011
P M
Vivian Morgan and Chef Yossi of Culinary Art Catering were key to the success of our daughter's wedding at Old Red on Sunday, May 29, 2011 - they could not have done a better job. The food was excellent and our guests are still talking about how they never had such good food at a wedding. The presentation was beautiful, the service was excellent and the linens and tableware were very nice. Once you contract with them, you do not need to worry about a thing - they listen, offer good ideas, and make sure that everything is exactly as you want it to be. They exceeded our expectations and provided excellent value for the money. I will recommend Culinary Art to anyone looking for a wonderful caterer.
---
Send Message