Home

Delta Flowers
Details
Aisle Decorations, Centerpieces, Flower Girl Baskets, Pedestals, Plants, Vases, Wedding Arch, Wedding Decoration Delivery, Wedding Decoration Setup, Decorations + Accents, Flower Crowns, Hair Accessories, Bouquet Wraps, Bouquets, Boutonnieres, Corsages, Flower Alternatives, Flower Delivery + Setup, Flower Arrangements

Contact Info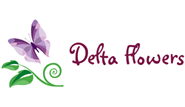 Address
8741 W. Saginaw Highway, Lansing, MI
Lansing , Grand Rapids, Ann Arbor, Traverse City, etc.
(517) 627-9809
WEBSITE
Reviewed on

8/30/2017
Christina G
Delta flowers created the PERFECT flowers for our wedding. Laura is so easy to work with and has a great eye for creating amazing floral arrangements. She created exactly what I was looking for with our bouquets as well as all of the flowers used for the groosmen, family... Read More members, flower girl, and centerpieces. Laura responded quickly to emails, was helpful with questions, and was flexible with our requests. I would highly recommend Delta to create flowers that will make your wedding day absolutely perfect.
---
Reviewed on

8/20/2017
Laura C
The flowers for my wedding last week were fantastic! I live overseas, and when my wedding planner set up a 3 way skype, Laura was so attentive and gave me great suggestions. Even from italy, I trusted that she would take care of me, and she did! My bouquet was Beautiful and the... Read More centerpieces and accent flowers looked great.
---
Reviewed on

10/26/2016
Jade S
The flowers came out beautifully. Laura had a clear idea of what it would look like in her head and executed it perfectly.
---
Reviewed on

6/04/2016
Caroline A
We had Delta Flowers make our bouqets and boutineers. They also let us order hydrangeas, lavender, and other various flowers in bulk from them so we could assemble our centerpieces as we liked. We had two meetings with Laurie regarding our flower proposal and she had really... Read More great suggestions for what to put in the bouquets. They were also willing to give us ideas and suggestions on our centerpieces even though we weren't paying them to make them. Really great people!
---
Disappointed
Reviewed on

11/14/2014
Liz H
I chose Delta Flowers for the wedding flowers as well as the reception center pieces because a few of my friends used them and their flowers were beautiful! When we met with Laura she was so sweet and really easy to work with. We explained that we didn't have our hearts set on... Read More any type of flower, but we were looking for dark purple and dark pink flowers. Dark for the fall. Except for my (the bride) bouquet - that we wanted ivory and blush pink. She chose flowers and showed us pictures and showed us colors and everything looked so perfect. Unfortunately, when we came back about a month before the wedding she was out due to medical leave so we met with Jen. Jen was just as sweet and easy to work with as Laura and she had a copy of all of Laura's notes with the flowers and colors and everything was confirmed. Jen was supposed to send a final copy of the order over just a few days later but my mom had to call twice in the following weeks to make sure she sent it. A few items were listed incorrectly (like the type of vases) and by the time she was able to make the corrections (after my mom had to again follow up) and take our deposit it was the Tuesday before the wedding. Unfortunately the colors of the flowers weren't what we talked about. They were lavender and light pink, not the dark colors we talked about. And my bouquet was ivory with pink, green and yellow. The flowers were beautiful and good quality, but would have looked nicer for a spring wedding not a fall wedding. And they were just completely different than the colors we talked about (and she wrote down) and the colors I was imagining. Once we got to the reception venue we realized that the vases on the head table for the bridesmaid flowers we ordered were not there so we had to just set the flowers on the table, which was not ideal. The toss bouquet was also missing (Delta flowers includes a free toss bouquet). After the wedding my mom was polite but honest with them regarding the disappointment on the wrong colors and the missing items we ordered. They apologized to her and told her they would call me when I returned from my honeymoon and they would issue her a refund. They didn't call me, but they did send flowers with a card and apologized for the miscommunication. I wish instead they would have taken responsibility for their mistakes instead of calling it miscommunication. My mom had to call twice to get her refund, which only ended up being $50. I am disappointed with the flowers and unfortunately they are in every photograph that was taken. I also felt very confident with Delta because of the beautiful work I saw previously so I really felt let down. I also feel as though they didn't make much of an effort to make it right. Of course it didn't ruin the beautiful day my husband and I had, but we feel as though we wasted a lot of money.
---
Beautiful and Bold!
Reviewed on

10/20/2014
Megan V
We had so many compliments on our flowers!! They were just brilliant and looked fantastic. I am not huge into flowers... so I met with the florist with a little picture of an idea and hoping for lots of advice. They completely amazed me with their ideas and I loved working with... Read More them. Then the day of the wedding... I was shocked at how beautiful our flowers were!! Better than I even anticipated.
---
July Wedding
Reviewed on

8/29/2014
Tessa G
We ordered two bridal bouquets (one was small for throwing), two bridesmaid bouquets, two corsages, & eight boutonnieres. The initial estimate was for $500 which worried me, but it ended up being around $300. All the flowers looked great and they were friendly and easy to work... Read More with.
---
Delta Flowers was amazing
Reviewed on

8/05/2014
Chelsea W
Laura the owner is wonderful to work with. She spent a lot of time devoted to listening and coming up with ideas and showing me examples that would fit our budget.
---
Beautiful flowers
Reviewed on

2/09/2014
Heidi S
Laura was wonderful. Due to my being sick, I didn't give them much more than 2 weeks to meet with me and get the flowers ordered. They were wonderful and did a beautiful job. My mom and I are ex-florists and they treated us how we treated our clients. They were willing to let us... Read More do a part of it and ordered the flowers for us. The flowers lasted for a good week and a half after the wedding including my bridal bouquet.
---
My Flowers Were Great!
Reviewed on

10/15/2012
Rachel W
I chose Delta Flowers because they had good reviews on The Knot, and they did not disappoint. Laura took plenty of time for two consultations. She understood that we were on a budget and suggested options for keeping costs down, as well as a variety of ideas for the colors I... Read More wanted. I was a bit hesitant about her suggestion of tinted hydrangeas as a low-cost flower for the bridesmaids' bouquets (I was afraid they would look fake), but they looked fabulous and the bouquets were about twice as big as I expected. My flowers were gorgeous as well. All told, the flowers were one of the best parts of the wedding day for me. Delta Flowers definitely has the creativity and skill you want in a florist.
---
Spectacular!
Reviewed on

9/19/2012
Patricia C
OMG, I can't say enough about this florist. Laura is absolutely wonderful to work with, no matter what your budget. She did such beautiful, beautiful arrangements for my wedding. She exceeded my expectations. She is a joy to work with and has such enthusiasm. Ladies, you... Read More won't be disappointed with Laura. I would give her 10 star rating!
---
Flowers
Reviewed on

7/07/2012
Angela B
The owner met with me twice. She definitely knows which flowers and colors go best together. The flowers were beautiful!!
---
Gorgeous flowers!
Reviewed on

11/15/2011
Erin E
I do not have a creative bone in my body so working with Laura to plan our flowers was perfect! I gave her an idea of what I wanted and she made it happen! All flowers were perfect, arrived early and fit well within our price range. She doesn't try to upsell you and gives you... Read More what you want.
---
Ok
Reviewed on

10/26/2011
Michelle G
All the flowers were gorgeous, but my bouquet and the reception centerpieces were about ¼ the size that I thought they were going to be. Part of that I guess is just basing an arrangement off what I saw in pictures, but I thought the centerpieces were tiny for what we paid.... Read More Also, my bouquet cost 3X what my maids did but it was the same size – I know some of that is because I had orchids in with my roses, but I have a hard time believing that the few stems of orchids accounted for that much of the difference. Like I said above, the flowers were pretty and nobody else knew the difference in cost, it was just kind of a bummer to me.
---
Missed my concept
Reviewed on

9/06/2011
Kelly S
Was in tears on my wedding day when my bouquets showed up. Had my friend call the florist on the day and send me pictures of the centerpieces I ordered from her...hideous. I met with the florist and showed her pictures/color schemes I was going for. She missed the mark on the... Read More color and the presentation. I wouldn NOT recomment her. For what I paid, I received crap.
---
very pretty
Reviewed on

5/07/2011
amy m
loved the center pieces they did
---
A- (overall great)
Reviewed on

1/11/2011
Kirsten
Working with the head florists was great, she was so fun and upbeat and gave us great suggestions on making paying easy. I know nothing about flowers, and how to make them look great. So I told her what colors I liked and what couple of flowers I wanted for sure (Such as Cala... Read More Lilies). And she did a great job with picking out cheap fillers and great contrast for me! My bouquet was absolutly amazing! The only flaws were, she made the head table arrangment seem a lot bigger then it was supposed to be, and she told me my tossing bouquet would be a free exact fake flower replica of my bouquet. It wasn't. It was jsut a skinny bouquet of some cheap leftovers.
---
I said "pretty" and got it!
Reviewed on

10/19/2010
Danielle V
I don't know flowers, but Delta Flowers made having beautiful arrangements very easy! I gave my colors, picked out some styles in books I liked, and they did the rest. I asked for pretty, and got it! (Of course, if I had wanted specific flowers, they would have done that... Read More too!) Best of all, the bouquet and centerpieces LASTED!!!!! Their special way of doing the bouquet, trapping in water that doesn't spill, meant mine still looked great from Saturday until Wednesday, when if finally showed signs of having been left in a hot car for 3 days! And when I got home from a week on my honeymoon, the centerpiece flowers I had brought home still looked wonderful too! If you want flowers that will be amazing for your whole event, USE DELTA FLOWERS!
---
Beautiful Flowers
Reviewed on

9/30/2010
Jennifer D
Delta flowers made our bouquets and arrangements and they came out beautifully. It was difficult to receive e-mail communication replies to e-mails, but everything worked out ok in the end!
---
Review for Delta Flowers
Reviewed on

10/31/2008
Marron B
They had immediate ideas for my broad requests and were very reasonably priced
---