Home

DePasquale The Spa
About this Vendor
DePasquale The Spa
An oasis of beauty, relaxation and wellness. We are an award winning salon and spa serving over 2,000 clients a week!
Details
Beauty Group Bookings, Hair + Makeup Trials Available, Hair Stylists, Airbrushed Makeup, Eyelash Extensions, Makeup, Makeup Artists, Nails, On-Site Hair + Makeup, Facials, Massage, Waxing, Spas, Spray Tan, Tanning, Beauty
Contact Info

Reviewed on

1/06/2017
Jamie M
DePasquale is a must if you want to be treated like a princess and look like one! I had purchased extensions and was looking for a salon that was comfortable putting them in and styling (and ladies please don't assume that all salons can do it!). After my make up application... Read More with Charlotte (who is AH- MAZING) I spoke with the best coordinator around, Imelda. If you need something to happen, she is the woman to do it! Imelda introduced me to Stephanie at the salon who not only matched my hair perfectly to the extensions but was willing to put them in and style at the venue on the wedding day! The entire team made me and my bridal party feel absolutely spectacular. If you want to make sure you look great go to DePasquale and don't cheap out as I have seen some seriously bad make up.
---
Reviewed on

1/03/2017
Melissa B
I have nothing but amazing things to say about Depasquale Spa. From the moment I met Imelda at the Bridal Brunch I knew I would be taken care of. Everything has been stress free from going over options for hair/make up, scheduling, payments and even fun bachelorette party ideas.... Read More She truly has treated me like a princess. Maya is also great and helped to make sure all my girls were scheduled and paid. If I was to get married all over again Depasquale would be the first thing I rebooked!
---
Reviewed on

11/16/2016
Jenny n
I had the best experience with on-site hair and makeup for me and 4 members of my family. They arrived early and remained friendly and calm throughout. Luz did my hair and her years of experience showed in AMAZING hairstyles- I would give her my highest recommendation to anyone... Read More who wanted a wedding hairstylist. Cali did airbrush makeup which I got complimented on for still looking like me while being glammed up for the big day. The only consideration is that they are expensive, but I would say worth it on your big day to feel confident in looking beautiful on time for your wedding!
---
Reviewed on

10/31/2016
Samantha K
Depasquale's was a huge help and wonderful part of my day this past Friday, October 28th. Some of my bridal party got into a minor car accident the morning of the wedding so it delayed their appointments. The spa staff, especially Imelda, was wonderful with calming me down and... Read More rearranging appointments to get everyone in when they got there. Callie, who did my makeup, was incredible. I looked flawless and my makeup lasted the entire night which was a concern. Nina, who did my hair, was amazing! She accommodated my headpiece and veil which were not attached. My hair stayed in until the next morning. It looked beyond beautiful. Everyone at the spa was wonderful!
---
Amazing!
Reviewed on

8/11/2015
Kerri H
Depasquale was incredible with accommodating my very large bridal party, our mothers, and other family members in making us look super beautiful for this amazing day. Joanna Vargas was especially helpful as I had to ask her to switch times and reservations SO many times. She... Read More was always happy to help and this was very appreciated by this bride. We all looked amazing and I was so happy that I decided on Depasquale. LOVE!
---
Perfect Wedding Day Experience!
Reviewed on

10/20/2013
Alexandra A
I cannot help but smile whenever I go to DePasquale. The service, the atmosphere, and the people are wonderful. I am especially grateful to Kayla for doing my hair on my wedding day. We had two pre-wedding consultations, so that my hair would look just the way I wanted it. Kayla... Read More was very conscientious and made sure that at each step, I was happy with what she was doing. I felt very relaxed and knew I was in good hands. The spa itself is luxurious and no matter what service you have, you feel pampered. Before the wedding, I also had a few other services at the spa which were great. Thank you to Amy, Lourdes, and Jamie, as well. This is the type of place that will make you feel very special for your wedding day.
---
Make up Review
Reviewed on

8/18/2013
Jackie G
The make up artist that we used for our wedding was Chloe (Nicole) from Depasquale. Chloe was on time and adhered to all our requests. She was thoughtful and did not rush anyone into her chair so she could finish her shift. She was easy to get along with and knew exactly what... Read More she was doing. I will definitely use Chloe again if I need to get my make-up professionally done.
---
Wedding Hair and Makeup
Reviewed on

6/14/2013
Tracie G
I've always loved Depasquale and visit them often for hair stylings and cuts, manicures/pedicures, and massages. I knew there was no place else I would rather have my hair and makeup done for my wedding and they did not disappoint. My entire bridal party, myself, my mom, and... Read More my mother-in-law all had our hair and makeup done there for the wedding. Everyone looked perfect. Depasquale was able to take each person and no matter their complexion or hair styale, make them look amazing. The staff is always helpful, kind, and courteous. I truly felt and looked like a princess on this special day.
---
Good work but pricey
Reviewed on

6/12/2013
Katie P
I had my hair and makeup done at this salon, as did my mother and mother-in-law. My bridesmaids just had their hair done. In total, my party was about 8 or 9 people. I was hoping that Depasquale's would cut me a deal since I was bringing them so much business, but they did not.... Read More I was charged full price for everyone. Additionally, the "trial" sessions were pretty pricey too ($100+). The experience at the salon was great and I was very happy with how everything turned out, but I'm not sure it was worth all the money we spent.
---
My hair looked great
Reviewed on

4/02/2013
Bethann C
Veronica did a great job and took the time to make sure my hair looked exactly how I wanted it.
---
great experience.
Reviewed on

2/21/2013
Aly T
I had my hair and make-up done here for my wedding as well as the whole bridal party, including the flower girls (although they are in a separate kids salon in the same building). Everyone looked amazing. My hair and make-up lasted all night and I got so many compliments. It was... Read More so easy to book everything and they e-mail you everyone's appointments in a PDF so you're set for the wedding day. Everyone was finished on time and it was a great stress-free way to start my wedding day.
---
Amazing Place
Reviewed on

11/01/2011
Tracy L
My makeup person cancelled at the last minute and DePasquale was able to fit myself, my mom and my three bridesmaids in, and at a very reasonable price. The salon was convenient to our hotel and venue. Tracy did my makeup and she is excellent. Very experienced and... Read More cooperative. We all looked great!
---
Best decision I made using them!
Reviewed on

9/08/2011
Michele D
It was so stress free working with DePasquale to arrange hair/makeup for myself and my bridal party. They set up all the appointments and make sure everyone has paid before your big day. It was so great going the morning of the wedding and just having fun without having to worry... Read More about how much things were going to cost. Not to mention all hair and makeup looked amazing!!!
---
Great hair by Kelly
Reviewed on

8/20/2011
Cara M
I had my hair done at Depasquale by Kelly. She did an excellent job...I loved my hair!! A lot of brides have a hair stylist come to them but they charge an arm and a leg and often you must commit to having your bridesmaids hair done too..and neither I nor them could afford... Read More that. This spa is so nice and they really pamper you that it was a perfect place to go on my wedding day. They serve you with food and drinks too all included with your service! It was so great, I'm planning on going back to get my hair cut this fall!
---
hair stylist DID NOT SHOW UP on my wedding day
Reviewed on

8/17/2011
Meredith B
Nutshell feedback: Depasquale hair stylist did NOT SHOW UP on my wedding day. I had gone to Depasquale for years during high school and when I was home from college. I recently moved back to NJ after several years on the west coast and needed to book hair and makeup for my... Read More upcoming wedding. I figured Depasquale was a safe choice for quality and professionalism. I booked a trial for myself, my mom and my mother-in-law for both hair and makeup. The makeup trials were an awkward experience to say the least because the makeup artist got very flustered and lacked confidence in how the makeup turned out - the skill level was just not there. Therefore we did not book their makeup artist. Now for the hair.....I had a trial with Mandy and loved what she did. Looked great, felt great, she was available for my wedding day so we booked right then and there for on-site services! I followed up with her as the wedding drew close and she confirmed oh yes, I've got it in my book, we're all set, looking forward to it! The day of the wedding SHE DID NOT SHOW UP. She did not call. She did not text. She did not email. I have yet to hear anything from her almost 2 weeks later. Depasquale called me the day after my wedding saying they noticed I had a trial done and were wondering if I wanted to book with Depasquale for the wedding. I politely told her that would not be necessary since my wedding was actually the day before, and that I HAD booked Mandy and she did not show up for the wedding! The girl on the phone sounded horrified and said she would look into it and call me back. I have yet to hear from her, again, almost 2 weeks later. Two days after the wedding, my mom called a manager at Depasquale and inquired whether Mandy was working that day. They confirmed she was getting in at 3pm. My mom asked if she was ok, if anything had happened to her? They said no, why? My mom explained that she had failed to show up to do the wedding hair she had been booked to do and had not reached out to us in any way. They again acted horrified that could have happened and said they would look into and get back to us. No one has called back.... Beware before you book. The quality of skill and service may not be up to par and even if you are pleased with the work, consider that day of, you run the risk of needing to scramble to find a replacement due to lack of professionalism on the part of Depasquale. (Luckily for me, the staff at Pleasantdale Chateau are truly phenominal and they got 2 replacements from another salon within 45 minutes of placing the call. Now THAT is how to run a business!) Needless to say, I will never return to Depasquale - there is no excuse for the lack of communication and professionalism on the part of an established business with the reputation Depasquale (seemingly undeservingly) holds. (the one star is more than I would like to give and the "tried and true" icon is present because technically I did try to use them for my wedding)
---
Perfection
Reviewed on

6/25/2011
Julie P
I love this place!! Kelly created the perfect wedding hair for me and my matron of honor. Roxy made my face picture perfect! I had a total of 6 girls and the party planner Ashley worked out the schedule to fit all of our needs. The spa is both beautiful and professional. I would... Read More highly recommend both of them!
---
Meet The Coordinator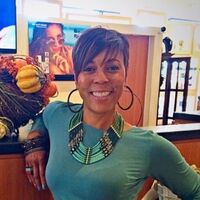 Imelda Brown
After leaving Corporate America twenty years ago I decided I wanted to combine my attributes that made me successful- My vivacious personality, positive attitude, creativity, organizational skills and my love for everything Bridal! Developing personal relationships with Brides allows me to get a firm understanding of their vision for their picture perfect wedding. My job, my passion,it's simple: I take pride in aligning each bride with the perfect hairstylist and makeup artist. Making their wedding day "magical" and providing them with that moment that reflects the BEST version of themselves!
Use our messaging tool to connect with vendors anytime, anywhere. Stay organized, all in one place.