Home

DeScenza Diamonds
About this Vendor
Diamonds, Wedding Bands, Jewelry and Fine Giftware
DeScenza Diamonds...100 years of Making Celebrations Sparkle! Find your perfect diamond engagement ring, wedding bands, and gifts to make your wedding truly magical! Our knowledgeable friendly staff and DeScenza family members take great pride in having served 4 generations of customers since 1915!
Details
Wedding Jewelry, Fashion, Engagement Rings, Wedding Rings, Rings
Contact Info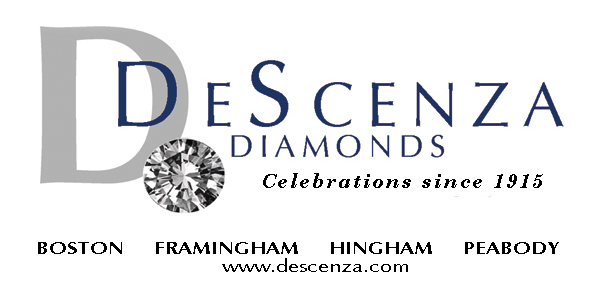 387 Washington St, Boston, MA
Descenza Diamonds
Reviewed on

6/10/2014
Brynn R
I am a 3rd generation Descenza Diamonds customer. Both sets of my grandparents used Descenza's, followed by my parents, and now myself. I worked with Cristin at the Hingham location for about 3 hours and left in tears (very happy tears). I had a general idea of what engagement ring I wanted and my budget and Cristin did the rest of the work. Her knowledge of and passion for diamonds made the lengthy process enjoyable and informative. She showed me many options within my price range and went over every detail until we both knew we had found the perfect diamond. Same story with the band. Leaving the store even more excited than when I came in, my soon-to-be fiancé then managed the payments. The ring was made the next day and pictures were sent to my fiancé to ensure his happiness. Since we live in Virginia, phone communication was vitally important to the payment process and delivery. My fiancé made a few payments and then gave the go-ahead for shipment. The ring arrived next-day and in perfect condition. He was so excited about it that he proposed earlier than planned. We were both extremely happy with the entire process and are excited to continue the family tradition of lifelong Descenza purchases!
---
Amazing!!
Reviewed on

11/29/2014
I worked with Becky for an engagement ring. She was incredibly knowledgeable and spent the time to educate me about the diamond, making sure I felt very comfortable. Her professional experience was invaluable, especially because I had a custom designed setting. It came out exactly as I imagined and it was perfect! I didn't exactly make it easy for DeScenzas (I live in NJ, asked for a custom setting, and had a VERY tight deadline) but they made it all happen-- stress free! Becky was excellent when it came to communication (email, phone, etc.) and made sure the ring arrived when I needed it to. The ring was spectacular, the service top notch, and the experience unforgettable. If you go anywhere other than DeScenza, you're making a mistake!
---
Amazing Customer Service!!
Reviewed on

5/30/2014
Kathy T
My fiancé worked with Donna at the Hingham DeScenza location and said his experience was less stressful than he ever expected. He visited the location multiple times to learn the basics, view diamonds, and put his vision into a ring setting and said he never felt pressured. In fact, Donna mentioned to him that it would take time but at some point he would see a diamond and just know THAT is the one. He thought she was crazy- but sure enough, a diamond rolled out of one of the little envelopes and something about it just caught his eye and he knew it was the one. Having no knowledge of diamonds or rings prior to visiting DeScenza, he felt he made a well educated decision and was comfortable with his purchase. After our engagement we went back to Donna to have my ring sized. We went back and forth between sizing down or having beads added. I chose the smaller size, but when I got home I second guessed myself. I don't normally wear rings so I didn't know how tight I wanted it, if I would swell, etc. I called the next day and asked if I could come by after work to try on the ring and sizers again before my ring was sent out- they were more than accommodating and patient with me. Other staff members gave me a second opinion and verified that my original decision was in fact the right one. My ring fits perfectly!! I'm so happy with the fit and can't stop staring at the sparkle! It's beautiful!! We will be heading back to Donna to purchase our wedding bands when the time comes- no question. With no hesitation we have already referred a couple friends to DeScenza as well. Customer service is key and they know how to do it! Thank you DeScenza!
---
Reviewed on

6/11/2015
Breanne R
I've dealt with such nonsense from them. Yelp reviews are a bit more diverse than the Knot, and are worth checking out with regards to how "effective" Descenzas is over the phone and with carrying out fairly simple tasks. To add insult to injury, my engagement ring is missing a diamond before I even get married, and they could care less about fixing it. The real kicker: it was just checked by DeScenzas, not more than two weeks ago! I'm not even wearing it. When your co-workers notice a diamond is missing in your fairly young engagement ring, it's an embarrassment to you, and it's an embarrassment to the poor guy who fell for buying it. Including the bands, we've sunk $5,700 into DeScenzas as a couple. My fiancé purchased the engagement ring in Boston just last year, but the wedding bands are now in Framingham, and I've had terrible experiences at each store. For my personal favorite, after my side-stone disappeared, I called the Framingham location at 5:30 knowing they close at 6, asking if I should stay in traffic if I knew I would be a couple minutes past 6…Cathy from Framingham said "that's fine." I arrived at 6:10, and they refused to help me even after I showed them my engagement ring!! I made it clear that I was told it would be ok to be a few minutes late, and I received one of those "sorry" responses where you know the person thinks it's your fault. Which it 100% would be if I hadn't called, but that was the EXACT reason I had! I sat in traffic for an hour each way for nothing. And I have just 1 month until my wedding... which they also know and are unsympathetic to getting it done any faster. This is supposed to be one of the most exciting parts about getting married, and it has been nothing but a headache mixed with frustration and disappointment.
---
DeScenza Diamonds
Reviewed on

10/28/2014
I bought my fiance's engagement ring from DeScenza Diamonds and I could not have asked for a better experience. I went to the Hingham, MA location and worked with Becky Kortum, who was fantastic throughout the whole process. As I live in New York, didn't really know anything about jewellery and was often unavailable at times, I was worried that the process would be long and stressful. However Becky was patient, positive and always ready to communicate and answer any questions, which I greatly appreciated. I was a little off with the ring size, and the band was a touch too big. Becky was able to fix this the following weekend when my fiance was back in town. Many of my friends and colleagues found buying an engagement ring difficult, but my experience with Becky and the team at DeScenza Diamonds was the exact opposite. I would highly recommend them to anyone looking for that special piece of jewellery.
---
DeScenza Diamonds in Hingham, Ma
Reviewed on

10/27/2014
I was searching for an engagement ring and had a general idea of what I wanted it to look like, I had been recommended to go to DeScenza by a friend who made a purchase here and was very happy with it. I went in to the store and I met Cristin who would be helping me. She was incredibly helpful. I was able to tell her a type of ring that I was thinking about and right away she was ready with answers, suggestions, plenty of setting types and of course diamonds. Right off the bat I let her know what my budget was and she did everything to make sure my purchase is exactly what I wanted and was in my price range. I was able to actually look at the diamond itself under a lense which from what I understand a lot of jewelry stores won't let you do. I got a crash course in diamonds and what to look for when picking one out. She was patient with me and I could tell that she cared just as much about this ring looking great as much as I did. With this experience and my buddy's experience (he didn't have Cristin but was just as thrilled with the woman that helped him) it goes to show that you can trust the people that work here. I would 100% recommend this to anyone looking for any kind of meaningful jewelry. The ring came out perfect and better than what my "general idea" was when walking in there.
---
Engagement Ring
Reviewed on

10/27/2014
I just purchased an engagement ring for me soon to be fiance (hopefully!). It was a great experience! I worked with Cristin and she was extremely informative and funny! A very knowledgeable gemologist. My brother worked with Cristin on getting an engagement ring for his fiance as well, and had the same experience. I highly recommend DeScenza!
---
Perfect
Reviewed on

10/19/2014
Nicole P
There isn't enough space to say enough nice things about Cristin O' Rourke and DeScenza. The idea of buying an engagement ring was overwhelming and stressful. Cristin spoke to me on the phone for over an hour trying to get a feel for what I wanted and what we were looking for. The amount of work that she put in to finding the perfect diamond has gone over very well with my fiancé. The engagement ring is perfect ,more than I could have imagined with my price range and the band matches the engagement ring perfectly. I thank her so much for all the work that she has done and will continue to go to her for all future jewelry decisions!!!
---
Gorgeous Rings!
Reviewed on

10/19/2014
Rachel M
My husband chose to buy my engagement ring at DeScenza Diamonds in Peabody, MA based on reviews from friends. He spent a lot of time picking out the perfect setting and diamond. Chris was very patient and helpful. DeScenza's was able to resize my ring, making it a full size smaller, without compromising the ring or removing any diamonds. My ring is perfect and exactly what I would have picked for myself. Because my husband had such a great experience at DeScenza Diamonds, we chose to buy our wedding bands there. Because my husband had purchased my engagement ring, we were able to get 10% off of our wedding bands. DeScenza's has beautiful jewelry and an amazing selection. Michelle helped us to pick out wedding bands, and my wedding band matches my engagement ring perfectly. Everyone we worked with was professional and helpful. I would definitely recommend DeScenza Diamonds to anyone.
---
DeScenza Diamonds and Cristin O'Rourke
Reviewed on

9/22/2014
Myself and my family have done business with DeScenzas for a few years now. This was my first experience with Cristin and also buying a Diamond. I can not tell you enough how great she was. From her knowledge with diamonds and my lack thereof, how she just made the whole experience so easy and not stressful. From the day that I met her, it was so smooth and easy because of her. Working with my budget and having the selection she brought out was great. I left with a gorgeous ring for my future wife and also enough knowledge to be able to hold a conversation talking about a diamond. She truly was terrific. I was just so happy with my experience because Cristin O'Rourke was so helpful and great. Shes amazingly caring and just loves her job. I would recommend my experience to absolutely anyone.
---
Outstanding Service
Reviewed on

9/12/2014
My girlfriend and I started looking at rings in February of this year. Cristin in the Hingham store was extremely helpful and informative. Not once did I feel pressured at all, in fact she did not ask if I would be back(or even ask for my contact information). She simply gave me her card and if I had any other questions please let her know. My girlfriend a couple months later went in on her own to meet with Cristin. Again, Cristin was extremely helpful and spent alot of her time with my girlfriend. At no point did she feel pressured at all and came home from that meeting ecstatic that she now KNEW what she wanted and liked. I now had an idea and returned to see Cristin with my mother. Her service once again was great and made it very easy for my mother and I to understand. As we requested to look at different options it became obvious which one we wanted. I would HIGHLY recommend anyone to utilize them for their diamond needs.
---
Great Service!
Reviewed on

9/05/2014
Jamie B
Loved working with DeScenza for our wedding bands. They were transparent with cost, helpful with budgeting, and gave us the best valued rings. Great customer service and always friendly interactions.
---
Ring
Reviewed on

6/09/2014
.
---
Family Jeweler Strikes Gold
Reviewed on

6/09/2014
Lydia B
My grandparents use DeScenzas for all their jewelry needs. My mother uses DeScenza's. I even helped my step-father pick out my mother's current engagement ring when I was 8-years-old. DeScenza's was an easy choice for me to start looking for an engagement ring earlier this year. From the moment I walked through the door, the process was comfortable and professional. There was never any pressure from the employees to buy anything except exactly what I wanted. In particular, Cristin at the Hingham store spent hours with me until I found the perfect diamond and setting. Not only I was pleased with the final product, but also (and more importantly), my fiancée loves how the ring came out. Although expensive, I feel like I got my money's worth. My fiancée and I plan to use DeScenza's for our wedding rings, and I plan to be life-long customer.
---
Make this your last stop
Reviewed on

5/20/2014
My first visit to a jewelry store was in Downtown Crossing. There are dozens of stores in the area, however most felt like walking into a used car lot. The salespeople were pushing items and offering bogus discounts. After being disappointed time and again I decided to venture to the south shore where I grew up. Fifteen minutes after meeting Cristin at DeScenza I knew I would buy the ring there. Not only does she know more about diamonds and jewelry than any person I came across, but she genuinely cared about her job and finding the perfect ring for my fiancé. I already knew the basics when I went her after visiting a dozen other stores and listening to all of the spiels, but Cristin was still able to teach me about diamonds, rings, and style. She made the entire experience enjoyable.
---
Groom
Reviewed on

4/01/2014
DeScenza did a great job on my wife's engagement ring/stone! Knowledgeable, courteous and low-pressure, they actually talked me into a stone that was below my budget. I highly recommend them.
---
All in the family
Reviewed on

3/17/2014
Caroline W
I am an older bride and when my finace proposed I told him I wanted to use my mother's diamond to create a ring for my wedding. I immediately thought of DeScenza. I have been going to this family owned company for help with jewelry for years. They are wonderful and have highly trained employees who can help you create and preserve family heirlooms. We worked with Cristin to create a one of a kind engagment ring and wedding band with my mother's diamonds. I couldn't be happier. She guided us through the process and experienced the joy with us when it was revealed. The rings came out perfect. It was a wonderful experience. I highly reccomend DeScenza Diamonds.
---
Mother-of-the bride
Reviewed on

3/15/2014
I bought an engagement ring to replace my original ring which was stolen. Everyone at DeScenza goes out of their way to help you find exactly what you are looking for. They make you feel completely comfortable and welcome. Cristin O'Rourke is extremely knowledgeable about diamonds and her love and passion for beautiful stones of all sizes, cuts and clarity is infectious. The whole experience was excellent. I highly recommend DeScenza for all your jewelry needs.
---
Great Qaulity
Reviewed on

10/24/2013
Michelle S
DeScenza Diamonds has a great quality of diamonds. They also take the time to teach you about diamonds.
---
Family Owned and Fantastic
Reviewed on

9/24/2013
Leslie J
I purchased a ring from a different retailer on a rather impulsive buy. Three months before my wedding I changed my mind and I am SO glad that I did. My fiancee and I went to DeScenza and were matched with the most perfect wedding band. My engagement ring is custom-designed by my fiancee, and now I have a wedding band that looks like it was custom designed to match! Loved the warmth of the staff.
---
Happily Married
Reviewed on

9/10/2013
Catherine Y
I highly recommend DeScenza. When my husband and I were planning on getting engaged, several people suggested that we go to DeScenza. When we went, we had the best experience. They carefully went over everything about diamonds from price to cut, style, etc. We didn't feel pressured to purchase right away, though my husband did end up getting the ring there a week later :) We couldn't have been more satisfied with the price and their guarantee. We had such a great experience that my brother also bought his engagement ring there as well. If you go, stop by the one in Hingham and ask for Kristen. She has great expertise on diamonds!
---
The Wedding Rings
Reviewed on

9/10/2013
As the groom I went to countless jewelery stores searching for the right ring. Aside from not really seeing much I liked but after my online research I realized it was overpriced and everyones help seemed limited. Then I came across DeScenza and it was clear right away that it would be the last one. Not only was Cristin there extremely helpful but made the process easy. I learned a lot there and she was determined to help find the right ring anyway necessary. I couldn't have been any happier with the process and my now wife loves her ring more than I could ever describe so it worked out perfectly. When it came to my ring they were equally as helpful and gave me a great deal on it.
---
Top Notch!
Reviewed on

9/09/2013
Stephanie R
I couldn't be more thrilled with our wedding bands from DeScenza. We have been longtime customers and they did not disappoint. We adore LauraLee! She was beyond helpful with our selection process, and is extremely professional. It has been an absolute pleasure to work with her and DeScena Diamonds throughout the years. We registered with DeScenza as well - the items were top notch and were so different from your standard department store - truly a special way to celebrate your big day! We also purchased wedding gifts for our attendees -- tremendous selection and customer service. I highly recommend DeScenza Diamonds!
---
So Beautiful
Reviewed on

8/24/2013
Sue C
My family has shopped at DeScenza's for generations. When it was time to select a wedding ring, my fiancé and I shopped in Europe and here in the States and found exactly the rings we were looking for at DeScenza's. The selection and quality are superb and the customer service is incredible. We are so very pleased with our rings.
---
Would never go anywhere else
Reviewed on

6/22/2013
Erin M
My Fiance bought my engagement ring at DeScenza Diamonds in Peabody and had a fantastic experience. My family has been shopping there for years, but this was his first experience there. He was so nervous ahead of time as he knew nothing about diamonds, but they gave him a full diamond lesson (he was able to fill me in on every detail of my ring!) He was so happy with the entire experience and really felt comfortable with the guy he worked with. I LOVE my ring, it is absolutely gorgeous, I get comments on it all the time.. Since we got engaged (in December) two of my fiance's friends have followed suit, and gone to DeScenza's as well. I can't wait to go back and buy wedding bands!
---
Send Message