Home

Diamond District
Details
Wedding Jewelry, Fashion, Engagement Rings, Wedding Rings, Rings
Contact Info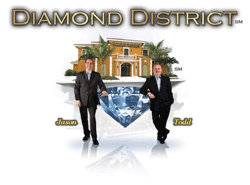 Reviewed on

4/07/2016
Collin M
Thank you so much to Jason and Todd at the Diamond District for making our wedding at Mission Inn such a special day. The people at the Diamond District were amazing and there for us every step of the way during the wedding band selection. We had a very unique engagement ring... Read More that we didn't think we would ever find a band to fit properly, and they guided us right to a new flexible band they had in stock which worked perfectly at shaping itself to the ring. It looked like it was designed specifically for her ring. I also have unique tastes, and was having troubles finding a ring that I was truly interested in, and they helped me with a meteorite ring line they had also just gotten in that once I saw it, I knew that was the one for me. They really helped us to piece everything together, and we really appreciated their professionalism and willingness to help us in every aspect of what we were looking for. I couldn't have imagined it going better with anyone else by our side, and could not recommend the Diamond District enough for what they had done for us. Everyone commented on how beautiful the bands were, and I think I even sparked the interest of a couple of friends of mine in regards to getting the meteorite ring from them when they think about getting married. Thank you, from the bottom of our hearts, for helping to contribute to our memories of such an important event in our lives every time we look at our fingers. As I have heard several times before on the Stan & Haney show, "visit Jason and Todd, at the Diamond District....."
---
It's not a deal if the quality is as low as the price
Reviewed on

3/30/2015
Jade A
The sales people were very friendly and helpful. Bottom line, they tried to sell me lower grade EGL rated diamonds that were WAY out of proportion and pass it off as a "deal" since the price was lower. Many online jewelers like bluenile and ritani don't even carry quality... Read More this low in stock and i ended up with much better product for the price for doing my own research and using a family friend.
---
Great Service and Great Quality
Reviewed on

5/21/2014
Christine M
The service we received at Diamond District was amazing. Everyone was so friendly and helpful. They really worked with my fiance and I on pricing and helped us find exactly what we were looking for without being pressured. They really carry a variety of designers and jewelry. I... Read More would highly recommend to anyone looking for engagement jewelry or wedding bands.
---
Incredible Service
Reviewed on

11/30/2013
ashley c
Great service, great selection, great price!!! Always a pleasure shopping here.
---
Professional and great selection
Reviewed on

10/03/2013
Whitney S
This company offers a large, beautiful selection of jewelry. The store is clean and arranged beautifully. More importantly, they have wonderful customer service. My fiancé worked with Jessica to find the perfect diamond and the level of expertise and professionalism exhibited... Read More by her cannot be rivaled. She was educated and engaging and will keep us coming back for years! Overall, it was a great experience!
---
Excellent Customer Service! Very Professional and only High Quality Items!
Reviewed on

9/30/2013
We actually married back in 8/21/06 however came in for a wedding ring a few years ago. I loved how the owners were there themselves and all the staff gave us their undivided attention. They actually didn't have what I wanted in store but ordered it right out of a catalog for me... Read More and it arrived promptly and was exactly what I wanted! I could not be happier! The jewelry repair guy on staff is EXCELLENT! Get compliments all the time, Thank You!
---
Custom Wedding Band (Bride only)
Reviewed on

9/17/2013
MARCIE D
We had our wedding 8/31/13 and we got my wedding band with Diamond District. It was very difficult to find a band that fit around my engagement ring which was purchased out of town. Our sales rep at Diamond District showed us how they could take a wedding band and customize it... Read More to my engagement ring. AND, they did it in one day...I was too scared to leave my ring there overnight. So, they made sure I was taken care of immediately! Great service, great products! Thank you!
---
Excellent
Reviewed on

7/17/2013
Stephanie F
We bought my engagement ring and wedding rings from the Diamond District. Their prices and service can't be beat. When my husband proposed he had them set the diamond in a basic setting and afterwards I picked out my setting. The DD gave us full credit towards our next purchase... Read More by turning in the original setting. I have been in numerous times to have my ring cleaned and they are always super nice. They will also re-plate white gold rings for life.
---
The best
Reviewed on

7/04/2013
Monica A
From the moment we walked in we were provided with the best customer service. All of the employees make you feel special and the consultants provide undivided attention. The warranty is the best and they have great payment options. Also as an added bonus Jason and Todd gave us a... Read More certificate towards a 4course dinner at Angelina's with a bottle of wine. It was delicious. And the fact that the owners (Jason and Todd) are at the store and greet their customers just tops it all.
---
perfection!
Reviewed on

3/11/2013
Adrianne L
Great service and beautiful jewelry!
---
Great selection, awesome customer service!
Reviewed on

1/22/2013
Jackie N
We purchased all our wedding rings here (engagement and both bands). Great price, honest, personal and professional service. Never once did we feel like we were being "sold" something we didn't like. In fact, we were guided away from more expensive ones to rings that "fit" us... Read More more and the agent was right every time!
---
Great selection and customer service
Reviewed on

1/13/2013
Mallory H
When we were picking out a ring for my (now) husband, he knew he wanted a Cobalt ring as he is a firefighter and wanted something more durable. Diamond District had a good selection of these rings. After ordering what my husband thought was the correct size, it was a little too... Read More big (and with Cobalt you can't really resize much) so they were able to resize it by a half size. Between buying, ordering and resizing, it was all done within a couple days. Their customer service was wonderful. My e-ring was not purchased from them, but they still happily offered to clean my ring as we were looking for his (this may be true for any jewelry store, I'm not sure) but it was still a nice gesture.
---
Great Customer Service & Beautiful Rings
Reviewed on

12/05/2012
Dena B
The level of customer service combined with the value the company places on client satisfaction, makes this the perfect place to get an engagement and wedding ring. I ended up with the most amazing rings and we couldn't be more happy.
---