Home

DJ4U
About this Vendor
Your Night. Your Party. Our Specialty.
DJ4U offers DJ service, event lighting, video slideshows, confetti cannons and more all over Central, IL. We perform at over 150 events every year and work hard to make each night perfect for our clients and their guests. You'll love our online planning that puts you in control of the entire night!
Details
Classical, Country, Disco, Folk, Hip-Hop, Jazz, Pop, R&B, Rock, Latin
Ceremony, Reception, Wedding
MC Services, Recorded Music, Sound Equipment, Music
Contact Info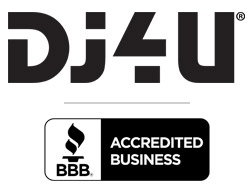 Reviewed on

5/31/2017
Evan C
We could not have been happy with the services DJ4U provided for our big day. Our DJ was outstanding! We had a call the week before the wedding to go over our timeline and exactly what we wanted for our day. We had a pretty diverse group attending and wanted to make sure... Read More everyone's music tastes were met. We gave our DJ a general idea of the music we wanted to hear and he ran with it. Every single song he picked was a total hit! The DJ also made sure my husband and I were in the loop but were also ready to proceed before every event (toasts, cake cutting, etc) which we loved. Overall our wedding night could not have been more perfect and DJ4U was a huge part in making our night a success.
---
Reviewed on

6/12/2017
Haley S
Our DJ Max was absolutely amazing! And made our wedding reception run flawless. He did amazing with song choices and keeping everyone out on the dance floor having so much fun until the end of the night! Definitely happy with our choice and would recommend to anyone!
---
Reviewed on

6/23/2017
Adrienne H
DJ4U was very professional from the very beginning. It was very easy to make our song choices online. Max was our DJ and he did a wonderful job with our music for our ceremony and reception! We even got a call the week of our wedding to go over the timeline and what we needed... Read More for the day. Our guests were on the dance floor all night and we had a blast! Thanks for a job very well done!
---
Reviewed on

12/09/2016
This was our third wedding and most definitely the best DJ we have had! LD kept everything moving smoothly and kept our guests' attention throughout the night. He was the best! Would highly recommend him!!
---
Reviewed on

11/19/2016
Jackie S
Chad was wonderful! He was very friendly and did a great job. The whole planning process was very simple and help was only a phone call or email away. I would recommend DJ4U to anybody!
---
Reviewed on

11/17/2016
Cassie S
DJ4U was awesome! Max was our DJ and he checked in with me multiple times to make sure my night was going just as I wanted. I couldn't of asked for a better DJ. Before your wedding you have an online form to fill out and you can put song requests on their which is really... Read More awesome, I heard all the songs I wanted to hear. I would highly recommend them to anyone!
---
Reviewed on

10/30/2016
Ashley W
DJ4U did a fantastic job for our wedding day! They listened to my suggestions and requests and were very accommodating. I could not have asked for a better experience. Thanks!
---
Reviewed on

10/28/2016
These guys were dope, they handled our wedding very professionally while still being great fun. They managed to entertain a crowd with a wide variety of tastes, and I don't think our dance floor was empty the entire night. Pretty cool beans. They also provided us with a photo... Read More booth and ceremony sound which allowed us to have some fun with the songs we played at our wedding.
---
Reviewed on

10/28/2016
Jamie M
DJ4U did an amazing job at our wedding this past April. They were professional, knowledgable, and so easy to work with. From the beginning of the ceremony to the end of the reception DJ4U kept things going on time and so smoothly. We didn't have to worry about anything. We had... Read More both their DJ and photo booth services. Both were a huge hit with our guests. I would definitely recommend!!
---
Reviewed on

10/27/2016
Kara K
As a wedding photographer in the area- I work with many DJs- and DJ4U is one of my absolute favorites. They are always professional, funny, and incredibly conscious of their clients and the other vendors! I love that their DJs always confirm that we are ready to shoot before... Read More starting a big event like a first dance, etc. I recommend them to all of my couples!!!
---
Reviewed on

10/27/2016
Sara O
As a wedding planner, I'm only as good as the vendors I work with and refer to my clients. Rest assured, DJ4U is not only at the top but is THE top entertainment company that we recommend to our clients. We've been working with them consistently for the past 9 years and have... Read More never once had a client be anything other than blown away by their professionalism, customer service, and their ability to create a party and keep it going through the night! They're the first (and often the only) phone call we make when working on entertainment for a client. We couldn't be more pleased to work with them, refer them, and continue to support DJ4U. Brides - you won't be disappointed!
---
Reviewed on

10/26/2016
Karol H
They were very professional. We had a great time. The music was great!
---
Reviewed on

10/26/2016
Diane P
DJ4U did a great job! Kept the crowd dancing.
---
Reviewed on

10/23/2016
Joe H
DJ4U made planning our reception so easy! They took care of everything and took time to answer all of the questions I had! They were great and made our evening unforgettable!!!
---
Reviewed on

10/22/2016
alexis T
I have been in the wedding industry for a little over two years. These gentleman made everything so easy and professional! I wouldnt pick any other DJ service.
---
Reviewed on

10/21/2016
Leane H
I could not have asked for a better DJ for our wedding than DJ4U! From the start they were so easy to work with and went above and beyond to make every detail exactly what I wanted, from choosing the up lighting colors to designing a custom photobooth strip. So most... Read More importantly, the DJ... we had Johnny and he was AWESOME! The dance floor was packed the entire night, and people we never expected to see dancing were out there busting move! There was never a dull moment or an awkward transition. His assistant managed the photobooth and my favorite thing about that was that he would print as many strips as there were people in the photo and not just the standard two pictures. That way everyone got a copy! I've never seen another company do that. The other great thing they offer is their planning website where you can enter your timeline and request songs or create a do not play list - which they stick to! Overall, I was extremely happy with their professionalism and knowledge and would highly recommend them for anyone looking to have a flawless wedding reception!
---
Reviewed on

10/21/2016
Heather R
I thought DJ4U was absolutely wonderful! Tim was very easygoing and a great guy to communicate with. He was always prompt with his responses and played everything we wanted played at the reception!! He was interactive with us and the guests during the reception and it was just... Read More awesome! Wouldn't have picked anyone else !!
---
Reviewed on

10/21/2016
Johnny M
DJ4U was the best! Booking was easy, they kept in contact with us and were always available if we had any question, their forms were user friendly and very handy for keeping track of everything going on, and they performed flawlessly at our wedding! They took all the stress out... Read More of our wedding as they took care of everything for us. We couldn't be any happier!
---
Reviewed on

7/08/2016
Breanna F
DJ4U is, hands down, the best DJ in the Peoria area. By hiring DJ4U, we could rest assured that we would not have to worry about anything regarding our wedding reception. They quickly return phone calls and emails, and review everything with you the week of the wedding. You have... Read More the option to have as much or as little interaction with the DJs as you'd like. My groom and I chose to have more interactive DJs, which was perfect for our guests! The dance floor was absolutely packed the entire night. With a DJ company, you absolutely get what you pay for. You will not regret investing in DJ4U for your wedding.
---
Reviewed on

6/29/2016
Mollie K
Did a great job! They had a conference call with us the week before so we knew exactly what to expect, granted all our request. Made sure the dance floor was always packed. Had a clear and wireless microphone for speeches. Kept us on schedule. Best in Peoria!
---
Reviewed on

6/05/2016
Jenna M
Your comments are here: Johnny Mathis was the absolute best!!!! He helped make our special day one to remember. Many guests complemented on DJ4U and wanted more information on you guys! Johnny checked in with me and made sure that the time line was going smoothly and kept the... Read More everyone entertained and excited on and off the dance floor. I'm SO pleased with how everything turned out!!
---
Reviewed on

5/31/2016
Brodi S
Their planning website made everything SO easy! Out DJ was so nice and made our reception a ton of fun. He also helped keep things running smoothly so there wasn't a lot of "down time". In my opinion, there's no other DJ to use in Peoria besides DJ4U
---
Reviewed on

4/19/2016
Stacey B
The music was great and Nathan had our guests dancing on the dance floor all night long. The photo booth was a great bonus and we received compliments from many of our guests on how much it added to our event. We are so happy with the way everything went and it made for a... Read More memorable wedding reception.
---
Prado Wedding (11-7-15)
Reviewed on

11/18/2015
Jason, John, and the staff that took care of Sally and I you guys were excellent. Jason from talking to me at the beginning and getting the set up. To the staff for keeping us informed throughout the process. To John you were awesome from the planning, to handling the event, and... Read More playing the music. Everyone was saying how awesome you and your partner playing music keeping everyone dancing. Thank You DJ4U for an awesome reception and I will try to promote you to anyone for a party or wedding.
---
Great customer service
Reviewed on

11/10/2015
The communication was great from start to finish. Everything was on time & without issue. Photo booth was too much fun. The guys they sent were honest & very good with all the guests. They had as much fun as the kids did. **About the photo booth....you could pay 20... Read More professional photographers $1,000 each and they will NEVER, in their lifetime get that many people together, acting that goofy, and having that much fun. Get one!
---