Home

DoubleTree by Hilton Pittsburgh - Meadow Lands
About this Vendor
Your Big Day is Our Big Day.
Our Grand package comes complete with vendors such as wedding cake, centerpieces and more, drastically eliminating the work you need to do as a couple. Although we love our chocolate chip cookies here at the DoubleTree, we promise your wedding will be anything but cookie cutter with us! Your Big Day should be stress free and here at the Double Tree that is exactly how we want you to feel. From the time you book, to the days following Your Big Day our experienced and dedicated staff is there to answer any questions, and guide you through the process at our venue. Our Wedding Manager has years of experience working with Bride and Grooms and making their Big Day come to life. Contact him today via email at daniel.bickerton@hilton.com or give him a call on his direct line at 724-531-61
Amenities + Details
Amenities
Bridal Suite

Handicap Accessible

Liability Insurance

On-Site Accommodations

Indoor

Outdoor - Not Covered

Reception Area

Wireless Internet
For more details about amenities, please message the Venue.
Civil Union, Commitment Ceremony, Interfaith Ceremony, Non-Religious Ceremony, Religious Ceremony, Same Sex Ceremony, Second Wedding , Vow Renewal Ceremony
Bar + Drinks, Cakes + Desserts, Food + Catering, Planning, Service Staff, Shuttle Service, Transportation
Contact Info
Reviewed on

11/11/2017
Shayna S
Fairytale wedding! From day one of planning our wedding every staff member was amazing! They work closely with you to make sure that you have the wedding of your dreams. We chose the all inclusive package which is exactly what it says...it made choosing vendors a breeze, which... Read More made everything come together beautifully! Stefanie, Dan and Michelle were top notch In making sure our wedding day went off without a hitch...everything went smooth, the day was stress free and every detail was attended to! (What more could a bride ask for?!) The grand ballroom was more beautiful than I ever could have imagined. Our guests are still raving (a month later) about how great the food was and how much fun they had! I would recommend this venue to any and all brides looking for a 5 star experience!
---
Wedding my of Dreams!
Reviewed on

11/19/2015
Nicole C
From start to finish, both my husband and I along with our families and friends were more than pleased with the turn out of our wedding reception. We booked the venue nearly 2 years in advance and from the day we signed the contract we were happy. Throughout the planning there... Read More were some issues with change in personnel, but Danielle Gillespie, whom we originally booked everything with, made sure we were happy with everything. I would recommend this venue to anyone, for any kind of event. The staff was very professional and their top priority was the bride and groom.
---
Reviewed on

1/03/2018
Tiffany H
I had my NYE wedding at the DoubleTree Meadow Lands and I honestly cannot say enough to compliment how wonderful everything turned out. We choose the all inclusive package. Daniel, Stefanie, and Michelle were amazing. They waited on me and my bridal party all day. They made... Read More sure everything was perfect. When we got to walk through the reception area first, I seriously wanted to cry. It was so beautiful and exactly what we wanted. They paid attention to every small detail down to our snack table. Our guests raved about the hotel, food, and service all weekend. Michelle even helped the groomsmen with their pocket squares and ties! She was a lifesaver on the day of. I would highly recommend having your wedding here.
---
Reviewed on

10/30/2017
John C
Amazing!!! The employees at the Double Tree went above and beyond to make sure our special was perfect. We ended up having 3 different Wedding coordinators throughout the whole process which was annoying and confusing but we couldn't be happier with the experience we had with... Read More the Double Tree. We highly recommend this place to others!
---
Reviewed on

7/19/2017
Ashley L
The Doubletree was a great venue! The staff, everyone from our wedding planner Lauren, to the servers and waitresses, were professional, helpful, and so awesome to work with! The room looked absolutely beautiful!
---
Reviewed on

6/20/2017
Jessica R
I got married this past weekend and used the DoubleTree for my room block. What a mistake! I had several family members and friends call me leading up to the wedding complaining that the booking process was particularly unpleasant due to a woman named Marsha. The day before my... Read More wedding, I get several phone calls from my guests that their rooms smell like smoke. I was surprised, considering this hotel claims to be smoke-free. It turns out, my room block was in an area that used to be a smoking section. I called to voice my dissatisfaction and ended up on the phone with Marsha. She was extremely rude and argumentative, even claiming that some people "aren't so sensitive" to the smoke smell. I also later learned that the hotel staff was refusing to give out the gift bags I made up to my hotel block, claiming I only wanted one gift bag per room, instead of one per guest. These were certainly not the type of issues I expected to deal with the day before my wedding. Save yourself the head ache and book your wedding block somewhere else!
---
Reviewed on

6/13/2017
Tia A
Omg talk about a bunch of stress and lies.. I started off with one coordinator who totally put me down for wrong package then told me they had things I could borrow then next time I spoke with her they didn't have it. It was constant change in price. I pretty much had to do... Read More everything my self if you want to do outside wedding you have to decorate and if you want stuff from ceiling inside you have to hang it and they provide no tools so you gotta bring your own. It got closer to wedding found out they got a new chef who turned out to be so perfect he made everything great!! So food was great. Then I ended up finding out previous lady got fired and new one came who didn't know anything I had to go over step 1 thru all over again. She said they have votives and mirrors we can use and table number stands day wedding came she didn't give us one thing, told.me if guest don't come they would give me upgrades for the money I spent and didn't told me well to late now so they kept over 1500 of money I could of used. She didn't decorate cake table as I wanted. I had all inclusive which I was suppose to get private cocktail hour w bridal party had only 5 mins there I needed to get busstled and she came up and rushed me and huffed the whole time like excuse me this is my wedding. Food came out they didn't even give us long enough to eat if u went to bathroom and came back your food was gone. I had an open bar and the lady didn't have anything. Paid for wine didn't see any wine my husband was talking go a far away relative they took his cake away he didn't even get to taste it. So much stuff went wrong it was not worth the 13 grand at all I recommend look elsewhere unless you want a headache and panic attacks. Didn't even get to utilize my room check out was 11am and we got to room at 1am had to go to bed because you had to gather all y9ur stuff up take all the decorations that you had outside down and be out the door at 11am. I have so much more that went wrong but just don't waste your money trust me.
---
Love the wedding planner - not the food service
Reviewed on

11/19/2015
Kerrie K
We booked our wedding a little over a year in advance with the Double Tree. In that time the Double Tree changed wedding coordinators three separate times. I liked everyone, but it was a little confusing at times. We had our ceremony and reception there. I really enjoyed... Read More Chelsea the wedding coordinator that we ended up with. She was calm and keep things running smoothly. She was also attentive to the weather and we decided to make a last minute change to move the ceremony inside due to rain. She was very responsive and made me feel at ease with the change of plans. The venue was beautiful and I really enjoyed the bridal suite that was available to get ready in. I loved the fact that drinks, appetizers, linens, the cake, and flowers were all included in the price. I was a lot less coordination for me to handle. The food was delicious. The only thing I really didn't like was the food service. One of my guest asked a server if there were any nuts in one of the appetizers since her son had a tree nut allergy. The server said no and the son ate two pieces and later had to be rushed to the ER. I also requested that the third option be vegan and gluten free. My mother has celiac disease and cannot eat gluten. The food came out and my mother noticed that there was Orzo her food (which contains gluten). I asked one of the servers if they could serve my mother something gluten free. The server argued with me and told me that there was no gluten in the food. Eventually they did get my mother a new meal without gluten. I was just a little upset that the wait staff did not seem to consider the customer always right especially since it was my wedding day. The wait staff needs to be more careful about serving people with food allergies.
---
Incompetent Event Coordinator and Staff
Reviewed on

7/09/2013
Elizabeth M
Our event coordinator (her name is Danielle-avoid her!) did not follow our event sheet which meant the uplighting we paid for was NOT present at our reception. She did not check on us once during the duration of our reception. My husband and brother-in-law both had to track... Read More her down to correct the many errors the wait staff had during our dinner. As if things couldn't get much worse, she even had my name incorrect on the sign leading into our reception room (she gave me a completely WRONG last name!). My husband and I received excuse after excuse as to why our event sheet was not followed (the old lie of "miscommunication"). I could go on and on about the eight things that they did not do properly--trust me, I remember each one as I had to fight with them while on our honeymoon! Their "miscommunication" cost them over $600 as we fought to be reimbursed for their incompetence. They will lure you in with their package deal--stay away!
---
4.6.13
Reviewed on

6/26/2013
Erin T
We had our wedding ceremony and reception at the DoubleTree Meadowlands on April 6, 2013. Choosing a venue was really stressful for me but I was won over early with delicious food and Caitlin, who assured me my day would be amazing. It definitely was! We opted for the Grande... Read More Occasions buffet and everyone told me the food was delicious! The bakery they work with - Krency's - made the most amazing cupcakes! Malone's flower shop (another vendor of theirs) also was easy to work with and made beautiful centerpieces. Basically, when you have your wedding at the DT Meadowlands, so much is taken care of/included in the price that you really can't beat it! I also appreciated the flexibility in choosing the ceremony space. We originally booked the outdoor gazebo, but as our wedding was in April and there aren't any stones/paths leading towards the gazebo, I was afraid of mud. We moved things into the Fireside Room and it worked out perfectly! Caitlin was really attentive the day of as well. She made sure all the little touches I had personally created were on display and our sweets table looked excellent! My only minor issues were: sometimes there was a delay in getting a response I needed; I definitely did not have a SUITE like I was supposed to have to get ready/the night of the wedding (I had a king room); and there was some confusion with guests booking rooms and being told the block was full and there weren't any more rooms in the hotel when there were. All in all it was a beautiful day and if I had to do it again I definitely would!
---
Doubletree wedding
Reviewed on

10/18/2012
Natalie W
I had a great wedding reception at the Doubletree Meadowlands. Mary Ann was VERRRYY hard to get a hold of most of the time. She would forget to send you things and rarely call you back. Some things offered we ended up not getting on our wedding night (like a bridal suite). We... Read More had a room next to my new in-laws...which was awkward.
---
Very nice
Reviewed on

9/09/2012
Lisa F
We arranged our daughter's wedding ceremony and reception at the Doubletree Meadowlands Pittsburgh. The food was fabulous, Caitlin was extremely helpful & always focused on the positive, and we felt pampered. We had issues with the hotel reservation system - several folks told... Read More us they could not get reservations even though we were supposed to have rooms blocked. Caitlin did her best to fix everything we were made aware of, but we ended up with people in a lot of different hotels. As a first time wedding parent, we had high hopes for the number of guests -- I would advise thinking (and contracting for) a lower number, and raising it if needed. We ended up adding a lot of extras, despite trying my best ahead of time to avoid that problem. :( I felt wasteful, but we received a lot of compliments on how beautiful the venue was and how good the food was. It really was delightful having Caitlin to provide directions and take care of so many details -- I didn't have to think, and that was the nicest benefit of all. (That didn't occur to me ahead of time, so it surprised me how pleasant it was to just follow instructions - where to be at what time, where to stand, etc.) I was able to relax and soak up the moment and enjoy every minute.
---
Breath Taking!!
Reviewed on

9/08/2012
Tammie B
PERFECT! All I need is one word to sum up my wedding. Every minute of my ceremony to my reception was handled with perfection. We could not have asked for a more beautiful/perfect venue. Every details was covered without us having to ask. Every worry was quickly put to ease... Read More by the professionalism of Mary Ann and Pete. The minute we signed the contract to have our event at The DoubleTree, we knew everything would be wonderful. David Tutera has nothing on The DoubleTree. :) They truly put alot of blood, sweat and tears into the work they do in setting up your event. I still have the vision of the room etched into my head upon being the first person to see it that day. I was speechless. Every fine details from the beautiful set up of the cookie table to the placement of the linens on the table was covered. I truly felt like Cinderalla on my wedding day and selecting the perfect place to have our event only made it better. Mary Ann and Pete are wonderful people and I will forever be endebted to the both of them for being there on August 11, 2012. If you want to have a night to remember, select The DoubleTree by Hilton Pittsburgh Meadowlands and leave everything to Mary Ann. You will not be disappointed!!!
---
Unhappy with preperation leading up to the big day
Reviewed on

12/27/2011
stephanie b
We just had our wedding at the Double Tree by Hilton Meadowlands, PA. The reception was great, and the staff was very nice. With that said, dealing with the Double Tree for the preperation leading up to the big day was less than desirable. In the end we were left accepting... Read More unfulfilled expectations set by Double Tree with incorrect invoices, inadequate customer service, dealing with issues that we never should have had to deal with, and an overall uneasy feeling throughout the course of planning our wedding reception. A letter was written to the general manager of the hotel and submitted to the cooperation, and I really hope measures are taken so that future couples do not have to experience what we had to endure.
---
LOVED our reception
Reviewed on

11/23/2011
Jody C
We had such a good time at our reception! Mary Ann and Pete took care of everything so that we could just relax and enjoy ourselves. Our guests had such wonderful things say and enjoyed themselves thoroughly. I highly recommend this location!
---
EXCELLENT - USE THEM!!!
Reviewed on

11/14/2011
Deana S
I had our outside wedding in the Gazebo at the Doubletree and I can't get over how beautiful it, how stress free and fabulous it was! Mary Ann and Pete took care of every detail and I felt like I had another set of parents sending me down the aisle. They did everything exactly... Read More how I wanted it, the food couldn't be beat and the price REASONABLE! I can't say enough good things about this locate - USE THEM!
---
Meet The Manager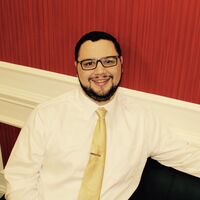 Daniel Bickerton
Dan is new to the Double Tree Pittsburgh Meadow Lands family, but he is not new to weddings and the event industry! He has been working in the industry for a little over 5 years and brings his experience from several venues to the Double Tree. When Dan isn't assisting Bride and Grooms, he enjoys relaxing at home with his friends and family. When he is able, he loves to travel and explore new destinations. Give Dan a call today at (724)-536-6103 and have him make your big day, OUR big day too!