Home

Douglas Koch Designs, Ltd.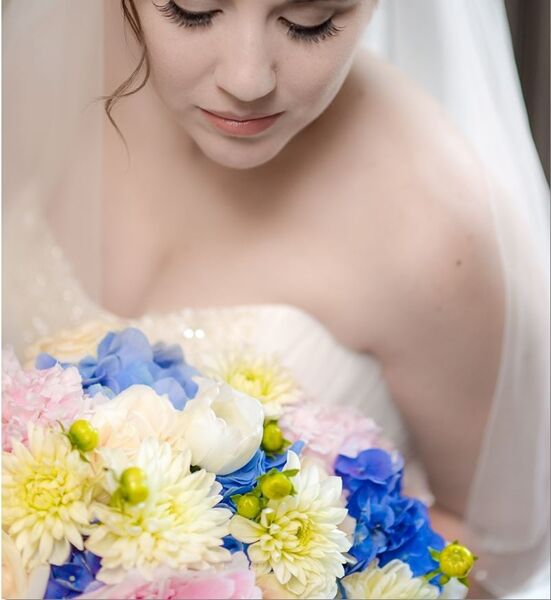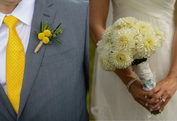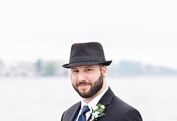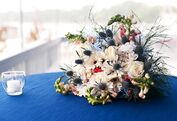 About this Vendor
Douglas Koch Designs, Ltd.
Details
Aisle Decorations, Centerpieces, Flower Girl Baskets, Pedestals, Vases, Chuppah, Wedding Arch, Decorations + Accents, Bouquet Wraps, Bouquets, Boutonnieres, Corsages, Flower Arrangements
Contact Info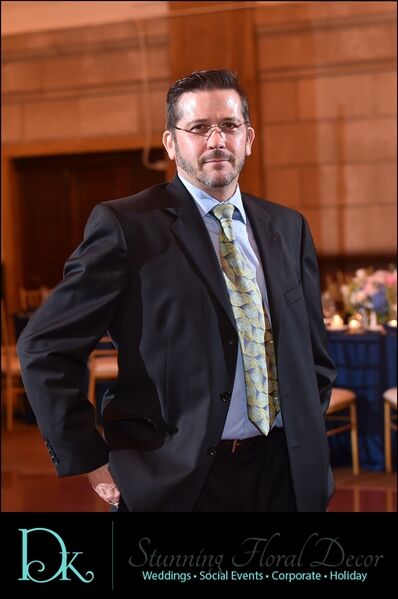 59 Flats Road, Athens, NY
Reviewed on

12/28/2015
Nicole P
Douglas and Joe have been nothing but amazing from the moment we met them! From the very first meeting they were open and welcoming, inviting us to their home/office and making us feel as if we were friends stopping by for a chat instead of two new customers looking to plan a... Read More wedding. Unlike many wedding floral designers we saw beforehand, which would only have a hand full of different candle holders or flower display settings; Douglas Koch Designs has access to hundreds of kinds of table top décor in varying styles, materials and colors. Douglas spent hours with us (literally!) during every visit to his warehouse and office; going over varieties of flower types, colors, bouquets, candles, candleholders, vases, glassware, linens, and crystal in every arrangement imaginable; in order to create the design and feel we hoped to convey for our wedding. Which is saying a lot since we are both very meticulous when it comes to details (you wouldn't be too far off calling it borderline OCD ☺). He understood from the beginning what looks, colors and styles we were going for and worked with us every step of the way to stay true to that vision. As we got closer to our wedding date and our budget became tighter, Doug remained flexible to our changes and consistently helped us with new and creative ways to keep our design and look but staying within our budget. All the while, staying in constant communication with us and adding last minute changes, no matter the time of day or how close to the wedding date it got (This is huge!). DKD went above and beyond for us, even planting additional flowers at the venue when the cold from the extended winter killed everything off the day of the wedding. It is impossible to fit into this review how amazing they are and how much they have done for us throughout the wedding process. Douglas Koch Designs embodies what true customer service should be. We have both agreed that if we are to ever have another event, we will be using their services. They have won two friends and customers for life. Thank you again for all that you have done for us and making our wedding one all of our friends and family will remember for a long time to come!
---
OUTSTANDING!
Reviewed on

8/22/2015
We could not have been happier with our choice to use Douglas Koch for our wedding. His talent for design is superb. Every step of the way he paid attention to every detail to ensure our church and reception were beyond gorgeous. We received rave reviews on the look of our... Read More wedding and we credit Douglas and his team. This will be one of the best decisions you make!! HIGHLY RECOMMEND!!!!!
---
He delivers. I mean he really delivers.
Reviewed on

10/20/2014
Nicole B
My husband loves to refer to me as a "caviar taste, pizza budget" kind of person. Meaning I gravitate to and appreciate quality... and with quality comes higher price tags. Most of the time. But Douglas worked (tirelessly - we went back and forth a gazillion times with 5 or 6... Read More proposals in total) with me/us to get things exactly the way I wanted within my budget and without feeling like we had skimped. I felt comfortable with the final proposal but on my wedding day I was BLOWN AWAY. I mean I actually cried over how gorgeous the room had become - I was surrounded by my favorite flowers, the room transformed into a blue orchid oasis. He went above and beyond and I am immensely grateful to have had him create my wedding day flowers. This man's patience and quality of work deserves a medal. You will NOT regret using Douglas Koch as your florist. I pinky promise.
---
Reviewed on

11/28/2015
Keelin G
Douglas is fantastic. I am still getting compliments on the flowers at our wedding. My husband and I were planning a mountain wedding, so Douglas worked with us to find flowers that would fit our venue and our budget. The results were gorgeous. I really could not be happier with... Read More how everything turned out. Douglas also went above and beyond on our wedding day. I had to cutback on the flowers at the ceremony site because we were over budget, but Douglas surprised me by adding a few extra flowers anyway. He also drove my bridesmaids and me to meet the rest of the bridal party when there was a scheduling mix-up and we ended up without a car -- definitely not something in his job description! I can't recommend him highly enough.
---
Reviewed on

10/19/2015
Sabrina M
We used Douglas as our florist for our wedding on 10/11/15 in Saugerties, NY and we could not be happier with the way everything turned out! From our very first meeting with Douglas, I knew that I could trust his taste and opinion to give us exactly what we wanted and that's... Read More what he did. Douglas was in constant contact with us leading up to the wedding, and though we ended up going over budget towards the end, it was clearly well worth it. He listened to all of our concerns and requests and was able to come up with solutions that made everyone happy. I can't tell you how many people commented on how beautiful our centerpieces, escort table, everything was. Douglas is personable and considerate and even went so far as to recommend a DJ to us, one that he had personally used. We ended up choosing that DJ and we were not disappointed at all! I would highly recommend him to anyone getting married in the Saugerties/Ulster County area!
---
Reviewed on

9/18/2015
Tiffany W
Absolutely loved working with Douglas and his entire team. They were very patient with me as I changed my mind and tried to get every detail perfect. Loved having them there the day of and they made it all absolutely gorgeous! I loved our flowers. Definitely would recommend them... Read More to others!
---
We love Doug!
Reviewed on

9/16/2015
Amanda C
Douglas and his crew were so amazing. His partner and Beth his secretary were there any time Douglas could by be reached and were so caring and helpful. Doug is an amazing artist and the flowers were absolute beautiful. He sat with me for many hours the first time we met and... Read More when I saw my flowers the day of the wedding they were everything we talked about and more. I did not have to worry about one thing with Doug and his whole crew they made everything beautiful!
---
Reviewed on

7/30/2015
Doug and his team did such a wonderful job on our wedding. Everything they did was beautiful beyond words! They took a small plain space and made it a glamorous reception room a million times more amazing than I could have ever imagined!! Highly recommended!
---
Reviewed on

7/15/2015
patrice F
Douglas supplied the centerpieces - linens including chair covers & way morethan we asked for at my sons wedding this past June . . . the "so much more" included saving the day! the ceremony was supposed to be outside . . . we didn't have a plan B for rain, never considered it... Read More as an issue so of curse it poored allday! Douglas says don't worry I have this . . . . he pulls a couleof rails& some netting from his truck blends it all together with some flowers & presto a beautiful wedding arbor is born! Thank you dung for saving out butts! ok now to the centerpieces . . . amazing! unique flowers set into globes with tea candels for the tables but the best was the sweetheart table (I wish I could put a pic) the wedding had a nautical theme so he took a sailing ship with 3 masts & floated it on a sea of flowers! 100% original & spectacular! my son & new daughter had an unforgettable day the mood was love & the talent was Douglas Koch Designs!
---
Inspriation Manifested
Reviewed on

10/14/2014
Ellerie F
Douglas Koch and his team are truly genius level in their trade. I had a vague idea of what I wanted my wedding to look like in my head and when I started to describe what I was thinking, Douglas took the idea and led me right into my dream wedding. I have him two words,... Read More "Woodland Elegance", and my wedding was a dream come true. I felt like I walked into a movie set. It had some rustic touches, some woodsy touches, all splashed with a little "Lord of the Rings" feel. It was more beautiful than I imagined. They stayed until the reception kicked off and were very personal in their touches. I highly recommend their services!
---
Beautiful flowers!
Reviewed on

9/23/2014
Priscilla L
Choosing a florist and discussing anything about flowers was definitely new to us when we began planning for our wedding. Douglas was recommended to us by our ceremony and reception venue, and we are glad we chose him. While the initial survey/information form was a little... Read More overwhelming (mostly because we had absolutely no idea what we wanted at the time), having an in-person meeting to discuss our thoughts and his suggestions was very helpful. We did have to do a little bit of research on centerpieces and bouquets to better express what our vision was like but that is to be expected. We picked a few flowers we really liked within our budget and he was able to choose additional blooms that would complement them nicely. When the flowers arrived they were beautiful and our guests loved them. Our centerpieces were fuller and bigger than what we had imagined which was a nice surprise. I loved all of the bouquets, and the corsages for the mothers of the bride and groom were even attached to the wrist via faux pearl bracelets instead of ribbon - a very nice touch! We thought that because all of our guests were traveling from out of town they would not take the centerpieces home, but we were wrong! They were gone in a heartbeat. The only reasons I reduced a star was because email communication was not as consistent as phone communication. We also had to double check a few items on our final proposal to make sure there was an accurate count of what we needed (something everyone should be doing anyway). Otherwise, we were very happy with Douglas and his services. We highly recommend him to future brides!
---
Perfection, Artistry, and Professionalism
Reviewed on

11/25/2013
Kara F
Douglas and his team are absolutely AMAZING! He is an incredible artist who made everything more beautiful than I could have imagined. The chuppah for our ceremony was beautiful and the rose petal design down the aisle was ridiculous. Then the reception space was breath taking-... Read More everyone commented on how beautiful everything was. He took my basic vision and made it reality but beyond what i could have dreamed! Amazing artist and incredible to work with!
---
Great work
Reviewed on

6/05/2013
Jacalyn S
Working with Douglas and his team was so easy and enjoyable. When we 1st met with Douglas he sat us down we should him photos told him ideas we had. He knew hunter mountain and made his suggestions. When the wedding day come he was right on everything. He helped with the table... Read More clothes and napkins. He made everything to what we had pictured for our wedding flowers and even more. The ceremony got moved inside last min and he was able to still make the ceremony flowers look amazing. Douglas and his team couldn't be any better at what they do. Looking at the photos i can't get over that my wedding looked the way it did. i would highly suggest him for anyone. He is easy to get a hold of and is very good with making things blend.
---
The Best
Reviewed on

9/04/2012
Tricia O
Douglas did the flowers and decorated the arch at our Hunter Mountain Wedding in August...He did such an amazing job!!! When we walked in to see the room, I was speechless...it was decorated better than I had imagined. I had a "rustic chic" theme and he totally matched what we... Read More had discussed. He was a little hard to get in touch with at times, but just put your full trust in him. His partner Joe is a sweetheart as well! Douglas is so talented and gets the job done!!! Fantastic work!
---
Beautiful Bouquets
Reviewed on

8/30/2012
Ashleigh S
Douglas and his team did an amazing job on mine and my bridesmaids bouquets. Every detail was perfect, the mothers wrist corsages were actually made to be pearl bracelets. He was expensive, but worth every bit.
---
Douglas is great!
Reviewed on

10/31/2011
Anita S
We worked with Douglas for our wedding and he did a great job. He met with us multiple times to ensure he had what we were looking for. He went out of his way to find a base for our centerpieces I had a photo of that I was in love with - he couldn't find it in the color I... Read More wanted... so he painted them! He even showed us a sample table setup ahead of time so we could make adjustments to our centerpieces! The day of the wedding he was very patient and timely in the chaos of everything. Although the colors of a few of the flowers in the bouquets were slightly different then what we had discussed, it still looked gorgeous and worked well together. He truly is an artist and highly recommend him.
---
Doug was great
Reviewed on

10/11/2011
meghan w
Doug worked with my future mother-in-law and he got everything right. He is great to work with and is very patient. he listens well. thanks, doug
---
super chic!!!
Reviewed on

9/01/2010
Lizette R
I am very picky when it comes to flowers, and don't really like that many. My only ones and favorites are tulips and calla lilies. I had already contacted several florists and they were all immediately having a negative reaction due to the tulips as my wedding was in summer.... Read More Belinda from the Birch Hill recommended Douglas, from the moment we started e-mailing, he understood what I wanted. He had a great service attitude always trying to help, answer all my questions and pro actively suggesting different styles. The result...I LOVED MY FLOWERS!!! Douglas helped me with my bouquet and all my girls' bouquets, as well as the church and the centerpieces. He's great he has fresh different ideas and styles. He has done so many different events so he can easily adapt to your style. Thank you so much Douglas!!!
---