Home

Dream Bouquet
About this Vendor
Making Wedding Day Dreams Come True
Dream Bouquet has grown from a small in-home business to one of the premier floral event companies in Houston. We specialize in working closely with our Bride's to make sure their vision is realized on their wedding day. Let us help make your wedding day dreams come true!
Details
Aisle Decorations, Centerpieces, Vases, Chuppah, Decorations + Accents, Bouquet Wraps, Bouquets, Boutonnieres, Corsages, Flower Arrangements


Contact Info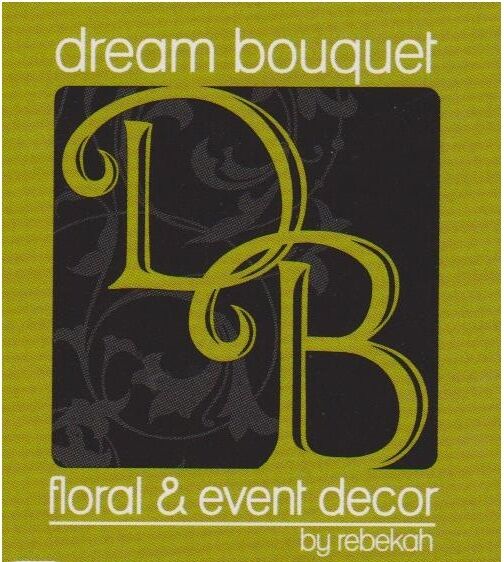 The Most Beautiful Flowers!
Reviewed on

10/28/2014
Nandita G
Rebekah and team did such an amazing job on the flowers for my wedding. I had a unique image in mind for my multicultural wedding and showed Rebekah my inspiration photos and gave her some guidelines of what I wanted. From there, I let Rebekah give her creative input and really... Read More just let her do her thing. Dream Bouquet did such an amazing job on executing the exact look and feel I wanted. We got so many compliments on the ceremony decor, the centerpieces, the candles, the stage, etc. I had many changes along the way, as I was planning my wedding almost 2 years out. Our guest count went up and then back down again, so I kept adding flowers and removing them and the team was so accommodating and willing to work with me. In the end, I believe I even got an extra arrangement for free due to a change that was taken into account. I also had Dream Bouquet do my rehearsal dinner arrangements and when I went to pick these up, I got a sneak peek at my wedding day flowers. They were so gorgeous, I couldn't wait to see it all set up. We spent a lot on flowers in the end, but it was so worth it as they were the only decor we had. I would definitely hire Dream Bouquet again, this team did a fantastic job!
---
Great Service
Reviewed on

7/07/2014
Leighanne O
The owner is really kind and wants to make the flowers as beautiful as possible! She is so ready to help all the time and really makes it special. She even helped me on the day of the wedding because the wrong flowers came in and she fixed it instead of just including them in... Read More the bouquet. I would have been a very sad Aggie if the maroon flowers were the wrong color! She was the best and the quality is amazing!
---
Wonderful!!
Reviewed on

7/03/2014
Jesse C
The floral arrangements were beautiful! Thank you so much for making our wedding even more memorable! Those delivering the flowers with both timely and professional!
---
Reviewed on

3/14/2018
Alyona S
I was in love with my wedding flowers! Rebekah and her team did a fantastic job bringing to life my floral vision - it was exactly what I wanted. All the arrangements and bouquets looked elegant and fresh. I was very pleased. Thank you so much for making it look so wonderful!
---
Reviewed on

2/11/2018
Sarah F
Thank you so much for making my wedding gorgeous with plenty of fresh flowers! The consultation process was very easy and stress-free and I am so happy with how the arrangements turned out. She knew exactly the mood I was going for and I couldn't have done it without her!... Read More Also, the bouquets were a great size! Thank you so much!
---
Reviewed on

10/19/2017
S W
I admit the flowers weren't the most important thing for me, I got a mix of candles and flowers for centerpieces. Dream Bouquet was really easy to work with and didn't push me past my price point, they gave me exactly what I wanted and everything looked beautiful!
---
Reviewed on

9/09/2017
Gaby L
The florist did a great job working with my budget and all requests. She was able to make a beautiful arrangement for my bouquet and reception.
---
Reviewed on

7/27/2017
Rebekah did an amazing job on the flowers for my daughter's wedding at Briscoe Manor!! We could not have asked for anything more perfect! Very professional and helpful through the whole experience. Would highly recommend this company.
---
Reviewed on

7/20/2017
Mariah M
I couldn't have asked for a more amazing florist! They made all the flowers look stunning!
---
Reviewed on

7/17/2017
Lexie F
I got married at Briscoe Manor in June, and we loved our flowers so much!!! Dream Bouquet made the floral arrangements of our dreams!! Everything felt like a dream with all of the gorgeous flowers everywhere. Jeniffer and Kristi did a wonderful job! We love Dream Bouquet!!!
---
Reviewed on

7/16/2017
Sallye C
Rebekah, Jennifer and the entire staff of Dream Bouquet were amazing to work with. My daughter just recently got married at Briscoe Manor on July 8th and it was beyond my imagination what they were able to do. My daughter and I did not know much about flowers, but we described... Read More what we were wanting. They described in detail the flowers that they would use and we totally trusted their abilities. No gamble there. They did an amazing job. The ceremony and reception looked so elegant that I couldn't believe that I had anything to do with the planning. Thanks so much for our daughters dream wedding coming true.
---
Reviewed on

6/21/2017
Katie D
I was really pleased with Dream Bouquet. I was a bride that wasn't very familiar with specific flowers an wanted a classic color scheme. Dream bouquet executed the décor and room flip perfectly off of one initial meeting and a few emails back and forth to change tables. They... Read More were also very budget friendly, the lowest quote I received by quite a bit. I would highly recommend!
---
Reviewed on

5/12/2017
Woolee H
Not so easy for the groom to write a review about flowers, but our wedding was absolutely beautiful, on budget, and came together better than we could have envisioned (even after countless revisions). Jennifer and Rebekah were great to work with, had great taste, and were able... Read More to help guide us on very beautiful and tasteful arrangements. Thank y'all so much!
---
Reviewed on

5/04/2017
Kathryn H
Dream Bouquet really delivered. They provide gorgeous flowers for a reasonable price, and really outdid themselves for my wedding. Rebekah understood my vision and brought it to life in the most gorgeous floral arrangements and bouquets. I absolutely recommend them!
---
Reviewed on

4/12/2017
Solmaz E
Floral arrangements were exactly what I wanted. Very beautiful!
---
Reviewed on

1/30/2017
S A
We loved our flowers and the setup arch in the church looked beautiful! I appreciated the vendor's communication, explainations, and trying to work within our budget! We would recommend working with Dream Bouquet!
---
Reviewed on

12/31/2016
Logan W
I cannot write enough about how amazing Rebekah and her team were to work with. I had met with 2 florists prior to getting a referral to Dream Bouquet from a patient of mine. The other 2 florists were asking for SO much money and didn't feel right when I met with them. That... Read More all changed when my mom and I went to meet with Rebekah. I told her my color scheme and showed her a picture of my dress and she knew EXACTLY how she wanted my flowers to look and it matched what I had been dreaming of for my wedding day! The floral arrangements for our ceremony and reception were beautiful and our guests raved about how gorgeous they were (& how we must have spent a fortune!). I loved that Rebekah was upfront about pricing and exactly what she was going to be using for our arrangements. I loved my 10 bridesmaid bouquets and the 2 flower crowns she made for my flower girls. I've already recommended Dream Bouquet to multiple people!
---
Reviewed on

11/28/2016
Laura C
The Dream Bouquet team were absolutely a dream to work with before and during my wedding. To start, Rebekah gathered a lot of information from me during our consultation and took the time to really get to know what I liked so she could bring it to life. The flowers and... Read More centerpieces were phenomenal the day of the wedding - the bouquets were hands-down my favorite! I received compliments about how beautiful the flowers were all during the reception and am still getting compliments a month after the wedding! I am blown away by how perfect it was and truly couldn't have asked for anything better. I highly recommend Dream Bouquet - you will be in wonderful hands with Rebekah and her team!
---
Reviewed on

10/10/2016
Nicole G
The Dream Bouquet team is amazing. All of the different arrangements they did for our wedding day were absolutely gorgeous. I worked with Jeniffer quite a bit on exactly what I wanted, and she was so attentive to every little detail. Our guests were beyond impressed with all of... Read More the floral arrangements, and I couldn't have asked for a better experience from start to finish.
---
Reviewed on

7/10/2016
Meghan G
I had researched so many florists, and I just could not fall in love with one. I attended the Bridal Extravaganza in Houston at the George R. Brown convention center, and we were walking back towards the exit when I turned to my mom and said, "there are flowers over there let's... Read More go look." I think we stayed at Dream Boquet's booth for an hour, just looking at the gorgeous arrangements and talking with the owner Rebekah. After that we sent up an appointment and met with her assistant, Jeniffer. These women were so fun to work with. They knew anything and everything about every flower, and which was the best bang for our buck. Jeniffer would respond to my emails immediately, and would include an updated invoice with every change. I cannot get over how beautiful the floral arrangements were at our summer wedding. I had a vision in my head, and Rebekah and her team really exceeded my expectations. Our wedding was perfect!! Dream Bouquet is PERFECT!!
---
Reviewed on

5/19/2016
Judith R
Emailed them for a quote (using a previous quote showing flowers I wanted, no pricing) and they were extremely rude. I forgot to white out the other vendor's name in one of the line items from the toss bouquet info and they basically blacklisted me and wouldn't send me a quote.... Read More It was unethical on their part since they worked closely with the other vendor. I'm not sure what the issue was. People shop around for quotes all the time. The fact that they completely shut me down was ridiculous and rude. They said they have the right to refuse service so they did exactly that. Wouldn't quote me on ANYTHING else even if it wasn't on what was on the original quote. I sent them TONS of examples of what I liked and wanted. So rude and unprofessional. Don't bother emailing them for a quote either they said "because it takes away from the customer service aspect along with a lot of time spent" I don't have time to meet multiple florists. If i know what I want and like and if you are out of my price range then there's no point in meeting them in person! so ridiculous they would talk to potential customers that way.
---
Reviewed on

5/09/2016
Katie R
Dream Bouquet did an amazing job on my wedding. Everything looked even better than I was anticipating. I highly recommend them!
---
Reviewed on

4/24/2016
Alexa K
I highly recommend Dream Bouquet! We didn't have a ton of flowers at our wedding but they did an amazing job with our chuppah and bouquets!
---
Reviewed on

4/11/2016
Stephanie D
Rebekah did a fantastic job on my flowers! I had a Harry Potter themed wedding and she did a great job at having the centerpieces reflect the theme. My bouquet was a show stopper! It weighed 10 pounds and had a beautiful train of greenery all the way to the floor. My ceremony... Read More and reception smelled lovely from all of the flowers and she even created a greenery tablecloth for the cake table and a branch structure that hung above the head table that some candles hung from, it truly looked like they were floating like magic. The centerpieces lasted a long time too; my parents loved having them in the house! You won't be disappointed if you choose dream bouquet for your florist, she does amazing unique work!
---
Reviewed on

2/09/2016
Maizie D
The team at Dream Bouquet are amazing. They are professional, creative, fun, artistic, and affordable. They have an incredible ability to see the bride's vision then turn it in to something amazing and wonderful. I can't tell you how many people at my daughter's wedding asked... Read More who provided the incredible florals! They are the best florist I've ever worked with.
---