Home

EB Inc Events
About this Vendor
Turning ORDINARY events into Elegant Beginnings
EB Inc Event Rentals & Design is committed to providing you with outstanding linens, meticulous and reliable service at a reasonable price. The focus of EB Inc Event Rentals & Design is enthusiastic customer service.
Details
Chiavari Chairs, Chairs, Dinnerware, Draping, Linens, Lounge Furniture, Tables, Rentals + Equipment
Contact Info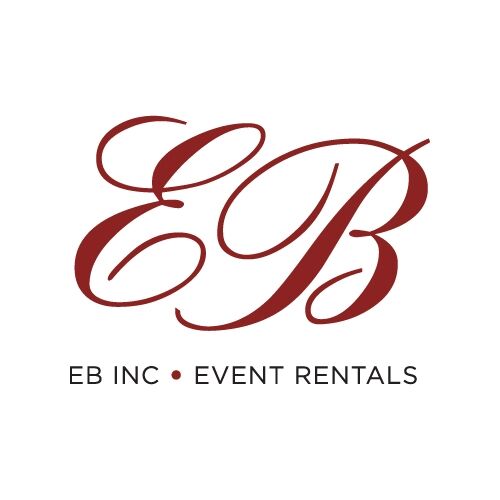 The best in the State !
Reviewed on

8/07/2012
Sandra A
Jill and her team are the best in Texas ! From start to end - Jill made our wedding day spectacular with her attention to detail and passion to the perfect design. We are so lucky that our reception has been embelished with the perfect linen offered by Elegant Beginnings which... Read More complimented the overall design and brought up the elegance from the smallest to the biggest detail. Thank you for making our wedding day perfect.. You are truly the BEST ..
---
Awesome!!
Reviewed on

6/26/2014
Abbey J
In the beginning of the wedding planning process Elegant Beginnings was one of the first vendors that I met with! They made the experience of designing my wedding so fun! I loved meeting with Alex to discuss the different design options for the vision that I had in my head!... Read More They are so talented! Literally when i walked in to the venue my breath was taken away because the linens were exactly what I had dreamed in my head and the Elegant Beginnings team made that dream happen! I went in to the show room a few different times to view their inventory and work on my design but most of the work was done through emails! It was a very easy process and would use them over again in a hearbeat! I am really glad that we decided to rent linens and not use the plain white linens that our venue offered because it gave the extra touch! I recieved so many compliments about the little details and I believe that the linens definitely added to the overall beauty of our day!
---
Everything was gorgeous!
Reviewed on

7/31/2013
Kimberly M
I had a large linen order with Elegant Beginnings and was truly impressed by their services. The linens were top notch, the planning process was so easy, and the setup was done early!I even gave them the wrong event date (my bad!) and the linens were delivered to my venue a week... Read More early. Elegant Beginnings handled everything very professionally and didn't even charge me a fee for all the extra work. Thank you for making my wedding so beautiful!
---
Reviewed on

2/27/2017
Katie C
They provided all of the lenins for my wedding reception and I loved the staff and all of their options. The staff worked with me on my budget and I was able to get exactly what I wanted. They were very helpful and flexible and made this experience easy. Thank you guys!
---
Reviewed on

10/27/2016
Sydney K
Elegant Beginnings supplied our gold chargers, burgundy linens and table rentals! Everything provided absolutely transformed our reception venue and added amazing pops of color. Delivery and pickup was easy too! All around a GREAT vendor for our rental needs!
---
Reviewed on

9/15/2016
Kara L
I cannot say enough good things about EB Inc. The team is flexible, has a great eye for style and trends and strives for perfection! I would go out of my way to work with them again! Fabulous industry partner!
---
Reviewed on

8/03/2016
Easy enough to get a quote and fabric samples, but they straight up brought the wrong tablecloths to the wedding. They were too bright and clashed badly with the rest of the décor. My pictures are full of these ugly tables.
---
Reviewed on

7/05/2016
Emily G
Beautiful, beautiful linens. My linens made the day. Who knew the linens could make the day?
---
Reviewed on

6/09/2016
Laura N
Was the perfect touch to our wedding! We rented the ivory rosette table runners to our head table to make it look more elegant, and we also rented the sparkly gold table runner for our cake table!! Made lovely pictures.
---
Reviewed on

4/29/2016
Kellyn G
EB Inc was so easy to work with. They had many different table options and decor options. They made our wedding venue so beautiful with their linens! I would recommend working with EB! They also coordinated very nicely with our venue for set up and take down!
---
Reviewed on

4/11/2016
Stephanie D
We used EB Inc for pipe and drapery, 100 chargers, 105 napkins, and two 6 ft table extenders and 12 table linen rentals. The venue we were using had a vinyl design on the back wall of the entry staircase that I wasn't too crazy about so we rented some champagne drapery that... Read More matched the wall and covered up the vinyl design you couldn't even tell it was ever there. We also rented a 6 ft table extender to make our head table larger so we could accommodate the entire wedding party and their dates at the head table. We also rented some nice glass sliver beaded chargers, hunter green napkins, and dark grey silk table linens. All of these little details really helped to make our reception space "pop" and added some elegant touches that showcased our wedding style. EB Inc has a wide selection of table linens and chargers to select from so you will have plenty of options if you go with them for your event rentals. They arrived to the venue on and time and set up and took down in the time the venue allotted them. It was very stress free working with them, they were very professional and the rentals all looked brand new so they take care of their product. I would highly recommend this vendor and I felt like they were fairly priced!
---
Reviewed on

3/09/2016
Empressive. I planned a birthday celebration for a small group of 50. Stephaine at EB help me to create a spectacular event, with great advice to help everything come together. The selections were amazing and everything reasonably priced. I will recommend EB to anyone... Read More planning an event. I would definitely contact EB again.
---
Dim Ceremony
Reviewed on

1/15/2016
Elyse D
I rented chairs, pipe and draping and lighting for my ceremony. I also rented sequin tablecloths for my reception. Everything came out beautifully and this review would be 5 stars except they forgot to bring the lighting for the outdoor ceremony.
---
Reviewed on

12/27/2015
Amanda L
Beautiful linens! I was so happy that I made the drive all the way out to Atascosita for this vendor. I originally started working with Alex, and then transitioned to Stephanie. Both of the girls were wonderful. Stephanie was so helpful in helping me determine how many linens I... Read More would need for the amount of people and table sizes that I had as well as being so flexible with the last minute changes. My linens were so beautiful and just how I had hoped that they would look. I do recommend getting the damage insurance though, as one of our linens did get ripped somewhere along the day and the insurance was less than it would have been to replace the linen.
---
Reviewed on

11/01/2015
Ginger D
We used EB INC for our liens, chargers, napkins, and chair sashes. We LOVED everything and they were very helpful when I went in for my appointment to pick out linen colors. The only complain I have is that I asked for a specific fold on the napkins and they did not fold them... Read More correctly after I have email confirmation that they would be folded the way I asked. Overall everything was great though.
---
Reviewed on

10/07/2015
EB, Inc is THE place to go in Houston for event design and party rentals. I used them recently for a small, backyard wedding and they we're so accommodating and easy to work with. Jill, Krystal and their entire team will go above and beyond to provide the best level of service... Read More and make sure you have a beautiful event. Their line of products are top notch and they have something to match every vision. They are truly the best! :)
---
Reviewed on

10/06/2015
Deanna P
EB INC Events is a pleasure to work with, from the ladies in the shop to the delivery guys! They are all quick to respond, professional and courteous, no matter how many times you call to update your order. I cannot say enough good things about EB INC Events and will continue... Read More to use them for future events and recommend them to everyone I know!
---
Wedding Event
Reviewed on

9/29/2015
I totally enjoyed working with this venue. Although I only rented napkins and table toppers for the wedding party table, they treated me as though I used them for every table! The ivory denali table toppers were beautiful - totally made the wedding party table. They were easy... Read More to work with, accommodating all my changes back and forth, and were on time with the linens. Highly recommend them!
---
Reviewed on

8/02/2015
Joanna M
The linens from Elegant Beginnings were included with the vendor we booked. They did an amazing job! The reception was exactly how we wanted it and it looked outstanding, the colors truly came together! Also, prior to the wedding when we met with them--they were very patient... Read More in answering all our questions and helping us choose what would look best with our color and flower scheme. We used them for linens and chargers. I would highly recommend them, they know what looks good and they are honest with you! Also, quick at responding to emails!
---
Amazing Vendors
Reviewed on

10/29/2014
Syma L
Payed attention to every single detail and executed our instructions to perfection. Wonderful to work with and beyond professional. I del tike I was the only event they had going on that week.
---
Great for Work Events and Weddings!
Reviewed on

10/28/2014
Matthew F
Elegant Beginnings provided our company with the most beautiful linens. Everyone loved them. We constantly use them for our work events and I can't wait to use them for my own wedding next year!
---
Excellent!
Reviewed on

4/14/2014
Yonaira Z
Prompt delivery/pickup. Scheduled delivery for a little before 3pm on a Thursday afternoon, rentals were delivered a little after noon! Great quality, great service...would definitely recommend and use again!
---
Wedding Fairytale
Reviewed on

7/26/2013
Michelle M
Thank you to the staff at Elegant Beginnings for being so wonderful and easy to work with. They have every color and pattern to work with and make anything possible. Ive never had so much fun using my imagination. Everything on the wedding night was arranged perfectly!
---
The right color, the right place!
Reviewed on

7/23/2013
Michelle L
I used Elegant Beginnings for my table linens. They were one of the few vendors who had the exact color I was striving for, not to mention, great for my budget. There were a few linens that had a few scuff marks but they were overall very kind upon arrival and communicated... Read More everything very well. I enjoyed their service.
---
Expensive and rude!
Reviewed on

5/12/2013
Erin C
The only reason they are getting a 2 and not a 1 is because I actually liked my custom linens that looked like burlap. Other than that they were way too expensive and for the price I paid I should have gotten to keep them after the wedding since I had them custom made. They were... Read More also incredibly rude when they couldn't find half of the linens that they left at the venue when they came to pick them up. I got rude calls and emails that I couldn't answer on my honeymoon because I didn't know where the linens were nor did I want to pay $2 a minute to call them and tell them I didn't know where they were. Would not use again or recommend!
---