Home

Elements Catering and Floral Design
About this Vendor
Elements Catering and Floral Design
Elements Catering and Floral Design is a full-service catering, floral and design company based in downtown Columbia, and serves the entire southern region including but not limited to: Jackson, Gulfport, Mobile, Birmingham and New Orleans. We'd love to be part of your Special Day!
Details
American, Italian, Latin American, Seafood
Buffet, Catering Clean Up, Catering Delivery + Setup, Chef Stations, Family Style, Menu Tastings, Passed Appetizers, Servers, Food + Catering


Contact Info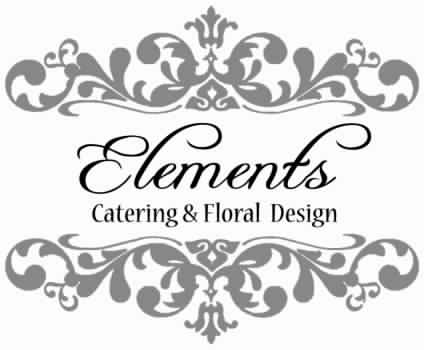 Reviewed on

2/12/2018
Leslie L
Elements was amazing to work with and Kelly was so easy to work with! They did everything We wanted and needed! I didn't have to worry about a thing. The food was to die for and everyone loved how nicely everything was presented!
---
Reviewed on

12/14/2017
Ashley P
Elements was awesome! Kelly was very nice to work with. The food at our wedding was just as great as the tasting. We definitely felt food was worth splurging a little more on and Elements did not disappoint. Maybe this was just me, but emails did cause some miscommunication but... Read More this was cleared up and we were overall very happy.
---
Reviewed on

11/08/2017
Summer H
I cannot tell you how wonderful Kelly was to us! Everything was exactly how she said it would be, and we couldn't have been more pleased. I'm so thankful we went with Elements!!
---
Reviewed on

11/01/2017
Jordan D
Kelly and Matthew were absolutely wonderful from the very beginning. I was frazzled about budget and they worked with us to create something absolutely beautiful. We were sold the moment we tasted the delicious food. Kelly was so accommodating that we chose to use them for our... Read More florals as well. The day of the wedding was perfect and Kelly and her team at Elements were a huge part in making the day so beautiful. She is so kind and went above and beyond anything I could have imagined. My guests are still talking about how great the food was and how beautiful the centerpieces and floral arrangements were. Thank you for everything!
---
Reviewed on

10/22/2017
Penny J
Dreamed about the chocolate fountain ever since we planned it. Elements did not let me down. The staff looked great and was respectful. Would definitely use them again.
---
Reviewed on

10/21/2017
Colie Y
Probably the best catering job I've ever been apart of. Loved the staff and the crawfish dip was amazing.
---
Reviewed on

10/07/2017
Jessica S
Loved the food and flowers were beautiful
---
Reviewed on

9/16/2017
Bailey P
Delicious food. Enjoyed the staff as well
---
Reviewed on

9/16/2017
Essie S
Loved Kelly and Matt, amazing food. Thanks to these too, floral arrangements looked beautiful.
---
Reviewed on

9/16/2017
Doug S
Loved everything, great staff, delicious food.
---
Reviewed on

9/16/2017
Adrian W
Great food, nice people. Glad I chose this group to cater my wedding, plan to use them again
---
Reviewed on

9/10/2017
Trevor S
Really great. Good service. Crispy chicken and I could tell the cheesecake was home made
---
Reviewed on

9/08/2017
Cara T
My new husband and I had our wedding in may and used elements catering and floral design. The floral arrangements were so beautiful!! We absolutely loved their food, it's delicious, and the staff was really helpful and amazing. They deserve the highest of ratings!
---
Reviewed on

9/08/2017
Richard D
Elements did an AMAZING job! Their Loaded Potatoes and Beef Brisket was immaculate. The flower arrangements we're aesthetically pleasing. I would recommend Elements to anyone getting married!
---
Reviewed on

9/06/2017
Madison D
Hunter and I so enjoyed the food tasting and service provided by Elements at our wedding! The flowers were truly breath taking and the food presentation and taste was great! Love this company! Madison
---
Reviewed on

9/06/2017
Alicia G
Wonderful wonderful company!!! Our guests had a amazing experience at our wedding!! Elements did a fantastic job with the food, flowers, and decor! Matthew and Kelly are absolutely the best! -Alicia & Derrick
---
Reviewed on

9/04/2017
Anna P
Elements did a wonderful job catering our New Year's Eve wedding! From the first meeting, Kelly and her team were very professional in their presentation of different menu options. They showed a lot of interest and desire in helping bring forth our own ideas for our special day.... Read More We really appreciated how easily accessible and prompt they were with any questions or requests. Our wedding guests expressed how much they enjoyed the food, and the presentation was displayed very well!! We really enjoyed working with Elements! The staff is very well-trained, attentive and kind to guests. We highly recommend Elements Catering and Floral Design!!!!
---
Reviewed on

6/28/2017
Erica T
Elements did an AMAZING job!! Elements provided our catering and floral design for our wedding on 06/10/17. Kelly is so easy to work with and made the process so much fun for us. We have received countless compliments on our food at the wedding. Our flowers were gorgeous! I was... Read More a bit indecisive about what I wanted as far as the decorations and overall look of the wedding but Kelly had a ton of great ideas and was really helpful when it came to making design decisions. I highly recommend Kelly and Elements catering and floral design for any event you're planning. They're amazing and will go above and beyond your expectations!!
---
Reviewed on

1/08/2017
Angela B
OMG! The best ever, totally fabulous! I have lived all over the US and traveled abroad and never had the quality of food and service that this super-duo provides. They did an outstanding 50th for my mom and dad and aunt and uncle. Nothing is ever a problem for this... Read More company. Love them!!
---
Reviewed on

1/06/2017
Maggie H
Elements is truly AMAZING!! I would 100% recommend them! Kelly and Matthew are two of the sweetest people I have ever met! They strove to make everything exactly how I imagined it! The food was excellent! Before we could even finish the tasting, we knew they were the caterer we... Read More wanted. The best thing is they do not limit you to one type of food. I was able to pick what I wanted. Their menu is HUGE. You are sure to find something you love. If you are like me, you will have trouble narrowing it down. Not only is the food great, but they also have the most beautiful decorations. I told Kelly what I was visioning. Them I was able to walk around the show room as she showed me so many pretty things! This allowed me to have the perfect decor to go with my amazing food! Elements helped make my wedding the perfect night of my life!
---
Reviewed on

12/28/2016
Taylor C
Kelly and her team were amazing! They were extremely accommodating to me since I was planning my wedding from Houston and responded very quickly. The food was displayed beautifully and was so yummy! Thank you for being apart of my day!
---
Reviewed on

12/15/2016
I had no idea where to start planning a wedding but I knew we needed food! My fiancé and I decided on a short engagement so everything was a bit rushed. I was impressed with Kelly, Mathew and their team from the surprisingly attentive and impressive tasting all the way until the... Read More end of the reception. Kelly was a wealth of knowledge from everything food to table cloths to flowers. Truly a full service company. It's almost two months since our wedding and I still have people coming up to me complimenting the food and design. Extensive menu and an almost unlimited amount of just love. These people truly love what they do and it shows. 5 stars isn't enough, they deserve a constellation!
---
Reviewed on

12/15/2016
When my grandson and his fiancé decided they wanted to get married in 3 months, I thought no way. A friend referred me to Kelly and Matthew and after our initial conversation I knew we could do it. Helpful and upbeat, they pulled off the short time frame with ease and grace.... Read More Unbelievably delicious food. Honestly you couldn't ask for better people or better product. Wouldn't go to anyone else.
---
Reviewed on

12/15/2016
Kelly and her team were absolutely the most professional and caring people we worked with throughout my brother's wedding. They were attentive and always available to answer questions. It also doesn't hurt that the food is delicious, high quality and beautifully presented.... Read More Highly recommend this company for ANY catering needs. Elements also catered our company Christmas party and once again they exceeded expectations. Best eva!
---
Reviewed on

10/31/2016
Breanna C
Absolutely wonderful wedding company! My flowers were breathtaking. Not to mention Chef Matthew's tasty and beautifully presentated foods. So glad I choose Elements Catering and Floral Design.
---