Home

Elite Entertainment
About this Vendor
Amazing Weddings Start Here!
Photography, DJ, Video or Photobooth. Chose 1 service or save by booking them together. We help couples make their wedding dreams a reality. With Professionalism, creativity and your budget in mind, our team will make sure that your big day is special. Call us for your price or to set up a visit!
Details
After Party, Rehearsals + Parties, Ceremony, Reception, Wedding
MC Services, Recorded Music, Sound Equipment, Music
Contact Info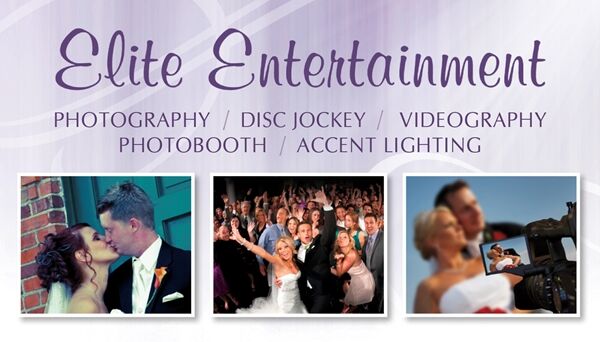 Reviewed on

10/18/2016
Stephanie M
We went with Elite for basically everything: DJ, Photography, Videography, and Photo Booth. It was so nerve wracking at first to try and find the best vendor for these services, but I am so glad that we chose to bundle everything. After shopping around, we realized that Elite... Read More really was the best choice when it came to price, quality, and convenience. They were so easy to work with and they sorted out all the details and coordination mostly without us needing to do much at all. For someone who was working full time, buying a house, and working on my MA all while trying to plan my wedding, I really appreciated working with a group that didn't constantly need my attention as I simply did not have hardly any spare time at all. Honestly, any wedding that had solid photography and DJ services really can't go wrong and the bonus of Photo Booth and Videography pushed our smaller budgeted wedding from "DIY" to "AMAZING." Our photographer was Krista. My husband and I are used to working all the time and not bothering to fuss around with things like dressing nicely or getting our pictures taken. Krista was so patient with us and took charge to make sure we could get pictures that we would love forever. Our engagement session was a great warm-up and then by the time the wedding came, we all felt so comfortable that the photos were just a blast. The whole bridal party had a great time and I just can't wait to see the end results! I believe our Videography team was headed by Blake. I personally was not very enthusiastic about getting videography services at all since I felt so awkward about all the attention. Once things got going, I was amazed by how quickly I forgot the camera was even there. The team stayed in the background for the majority of the time and gave us pointers only when absolutely necessary. I saw a few seconds of the footage and that was enough to make me thankful we decided to go with this service. Our DJ for the night was Ron. We first met him about a month before the reception when stress levels were at the highest. After about 30 seconds, we felt completely relaxed and he had us laughing for basically the entire meeting. We had some strange song selections for our wedding party and entrances, but instead of being thrown off, Ron suggested to us creative ways to make the sequences even better. We never would have thought of these things and after the first few minutes of this meeting we knew that we could trust the flow of the entire evening to Ron's discretion and we didn't have to worry about selecting every minor detail. So many guests raved about our DJ and all I've kept saying is, "I know!" Even beyond this, I ended up showing up early to my reception so I could see the room (roughly 4 hours prior, before even the ceremony) and he was already there setting up. He had a family commitment right before the reception and rather than risk being late he came in outrageously early. That is the sort of thing I would have done myself and it was only another reason that proved that we made the right decision in hiring Elite. The Photobooth of course was also a huge hit with the guests. Not only did it give them something to do all night, we also got a book of all the slips at the end of the evening. This was so cool as we had something to take home until we get to see the rest of the pictures. All in all, there was nothing negative about our experience with Elite.
---
Reviewed on

9/14/2016
Eryne T
It's very convenient having a DJ and a photographer from the same company, and you can save a lot of money that way. Also, you want a company who has been in business a long time, and is very professional (don't skimp on this part of your wedding and hire someone who just does... Read More it "part time" or as a second job - if something happens to that person, you have no back-up!!). Elite was EXCELLENT in both areas - photography and DJ services - and Kurt (photographer) and Ron (DJ) were fantastic - fun, up for anything, great personalities. I would HIGHLY recommend Elite and these guys in particular!
---
Reviewed on

9/12/2016
Alison E
We utilized Elite Entertainment for the DJ, photography, videography, photo booth and lighting services. My DJ (George M) was fantastic. My guests continue to tell me how great he did. The dance floor was always packed with all age guests until the last minute in which the... Read More guests asked for "one more song" in which George complied and played one more. George brought great energy to the wedding and I am thrilled with him as our wedding DJ. He even created a special hockey monogram to fit our wedding theme and to make our wedding extremely special. My Photographer (Mark) was amazing. He came in on time and looked professional. We had a large wedding party and he was able to keep them all in line and get the shots he needed. I am looking forward to seeing the pictures he captured. The few he showed me that night were amazing. He also was very flexible and took ideas from the wedding party about different shots. He kept a smile on his face the whole time. My videographer came on time and professional as well. He was friendly and made sure to capture all different aspects of our special day. He was flexible and worked with our large wedding party well and we are looking forward to seeing what he produces. The photobooth was awesome they had tons of props and created great memories for my husband and I. Overall I will be recommending Elite to anyone who asks. We have no complaints with their team as they worked together great on our big day. :) Keep up the amazing work.
---
Reviewed on

2/23/2017
Eric T
Elite was amazing to work with and outperformed our expectations. We used their DJ, Photography, and Videography services. They made the whole process so simple on our end and delivered flawlessly on our big day.
---
Reviewed on

1/31/2017
Rochelle K
We absolutly loved having George!! George and his team made sure everything went smoothly and it did!! From having such a flexable schedule to meet with us, to changing a last minute item the day of the wedding, Elite was amazing!! We would recomend them to anyone who ask!!
---
Reviewed on

12/20/2016
Amy B
Our wedding was amazing thanks to Elite Entertainment! Our DJ Ben and photographer Ed were awesome! We could not of asked for a better team to help us with our wedding planning and for such a perfect wedding day! We recommend Elite to everyone we know! Great job!
---
Reviewed on

12/20/2016
Tanisha C
My wedding was on November 12,2016 and I couldn't be happier with Elite Entertainment our DJ Russ Thomas was amazing!!! Everyone had a great time. So if your looking for a DJ or Photographer they are the Best!!!
---
Reviewed on

12/08/2016
Jessica D
We used Elite for DJ, Photography and Videography. I cannot say enough good things about DJ Ron! So many people kept coming up to me to say how awesome he was and how his personality added to the fun. He made sure to check in on my husband and I (and even my mom!) throughout... Read More the night. Just a really good guy! Dan was our videographer and I so wish I had him with me the whole day because of his personality. He was so friendly and informative about everything he was going to be doing. I cannot wait to see the video. Our experience with the photographer wasn't as positive as our experience with the other two in the sense we were looking for more direction and quick decisions (time crunch). Nice person but expectations about creativity were not met. We are still excited to see our pictures in a few weeks! Overall would recommend this company to anyone.
---
Reviewed on

11/30/2016
Samantha L
Elite entertainment was very professional and on time with everything. I had a problem occur my photographer got very ill and they provided 2 amazing people and I'm so glad I got this married couple.
---
Reviewed on

11/08/2016
Jacquilyn S
We had Elite Entertainment DJ our ceremony and reception and overall had an awesome experience. The DJ was great day of. He was on time, friendly and professional. He even worked with my grandmother to play the accompaniment music while my grandmother played the violin during... Read More our ceremony. It was amazing! The reception music was great and he had the dance floor full most of the night which was surprising considering our wedding was quite small and an older crowd. The only reason I am not giving this vendor 5 stars is that planning was a little chaotic with them. Prior to our wedding day I had a hard time getting in touch with the DJ. I also had finalized everything with the DJ weeks before the wedding but received calls from the Entertainment office three days before my wedding asking me to provide music that the DJ had stated he could get. I found this very frustrating especially since it was so last minute, however, the day of our wedding was amazing and I couldn't be happier with the outcome.
---
Reviewed on

11/01/2016
Katelyn K
We used Elite Entertainment for a package that included photography, DJ, and photobooth and everyone did an excellent job. Each person was very professional and we enjoyed working with them. The photos turned out amazing and we received many comments about how fun our DJ was. I... Read More would highly recommend Elite Entertainment!
---
Reviewed on

10/12/2016
Victoria M
Elite was there ahead of time, my wedding was at the venue and Dan was spot on with time, music choices and a FANTASTIC personality. I loved that he was patient and understand of my not knowing a thing about how a wedding goes. Can't say enough about Dan. Dan is... Read More fantastic.
---
Reviewed on

10/11/2016
Carrie K
Amazing vendors! We used them for all our vendors and were so happy with the services we received!
---
Reviewed on

9/28/2016
Melanie G
The staff at Elite was actually really wonderul. They communicated very well. My low star rating is for DJ Russ. He played great music and mostly what I wanted, but he was a HUGE jerk from the moment we first spoke, so rude, speaks down to you like you are an idiot, so... Read More condescending, the list goes on. He does not belong in the wedding industry. If you get a different DJ, Elite as a company is nice to work with!
---
Reviewed on

9/13/2016
Renee C
My wife and I used Elite for our photographer, photo booth and DJ services for our wedding. All of the personnel were amazing and attentive to what we wanted. Amy was great with our photography and also handled our engagement session as well as the wedding and reception. She... Read More knew exactly what we were looking for and I cannot wait to see the pictures! Evan was a fantastic DJ and has a love of the 90's just like we do. He knew our vision and totally came through! It was a great experience all around from scheduling our first appointment all they way through the event. Elite has a great staff and I would recommend them to anyone planning a wedding in the future!
---
Reviewed on

9/11/2016
Alison P
We had Ron as our DJ and he was great! We gave a list of 10 music sessions and he took it from there based on our taste. He had most of our guests dancing the whole time. He was also very organized. He gave great suggestions on when to do cake cutting, first dances, etc. It was... Read More just an overall great experience. Thanks Ron!
---
Reviewed on

8/17/2016
Alyssia G
Let's just say if I magically got to redo my wedding I would not chose elite entertainment. Although DJ Dan did perform his duties as a DJ to the standard I would expect (music wise ONLY), his professionalism was horrific. From the very first meeting I had with him (I left... Read More crying) I should have known I made a mistake. During my booking meeting I changed my mind on booking elite for photographing/videography (which I had every right to bc after all it's our day and our money) and he gave me a really hard time and was super rude about it. He dissed my choices and made me feel stupid. I should have seen a red flag but sadly I didn't want to have to find another DJ in that short of time. Fast forward to our wedding day. I had at least 4 different complaints about his rudeness (one being from my father and one from my wedding coordinator). We decided to add an hour to our wedding and opted out of the bar for the last hour because it was too expensive (which again we had every right to do bc it's OUR day and OUR money) Dan threw a fit to my wedding coordinator and even spoke to the venue manager about it after my coordinator had already spoken to him. He even went as far as to bother my husband with the issue during our reception. He told our coordinator he was worried about keeping guests on the dance floor when their was no booze. (Isn't that your job?) Even once he made a rude comment over the loud speaker to one of my guests in front of everyone bc she made a comment about a slow song. Do not bother an upgrade your DJ package to include a EC. We paid extra and elite entertainment slapped a suit onto DJ Dans 17 year old son. Not once did the boy talk or do anything an EC would do. Frankly I would like my money back for those services bc he literally did nothing. To this day I keep hearing stories from different people about how rude the DJ was. It's actually horrific bc that's the last thing I want people remembering. I could go on and on. Save your time and money and book elsewhere.
---
Reviewed on

8/11/2016
Nikki
My husband and I used Elite for their photography and DJ services. They did a wonderful job from our first meeting to our wedding day. I would highly recommend them.
---
Reviewed on

8/03/2016
lindsay h
DJ Dan was amazing during every step of the process. He provided honest information at all times and always made us feel comfortable that our night would be taken care of! He even helped us out with some tips for the officiant and scanned our marriage license to send us a copy... Read More in case we had any issues! Elite was amazing all around, they're your one stop shop. Photobooth was also amazing and we loved looking through our picture book the next day to see how much fun everyone had. Thank you so much for a wonderful experience!
---
Reviewed on

7/04/2016
Kaitlin L
The team at Elite was amazing to work with! They were so helpful and accomedating. Rick Dupler shot great photos and dj Evan Cameron was awesome. I couldn't have asked for a better experience.
---
Reviewed on

6/28/2016
Amanda H
I used Elite for photography, videography, DJ, and photobooth. Everyone was amazing and professional. I have beautiful pictures, everyone loved the photobooth, and the DJ rocked. Thank you Scott, Blake, and Russ for a wonderful wedding.
---
Reviewed on

6/01/2016
Kate J
Elite Entertainment killed it at our reception on 5/21/2016! Dan D. was our main contact and DJ and he was truly phenomenal. He always gave it to us straight and was completely honest which we very much appreciated. The music was great and Dan made all of our quirky requests a... Read More reality. The lighting was beautiful and the photo station is a must at any wedding!!! It was so fun and we have the best candid photos from our guests. Our night was made because of our choice and trust in Elite!
---
Great DJ
Reviewed on

12/02/2015
Samantha T
We had DJ Dan and he was awesome!! He played great music and kept people on the dance floor. He was great with keeping the flow of the evening going and fun. There are many things to do such as speeches, dances and cake cutting and he was awesome with reminding me when something... Read More should be done. He was great to work with and helped my husband and I during that day! I would absolutely recommend him!
---
LOVE LOVE LOVE
Reviewed on

11/12/2015
Marla E
Daniel Deitloff was there to answer all my questions all the time. He was amazing and uplifting every step of the way. I don't think our dance floor was empty all night long, he played a great variety of music. I would book them all over again and again.
---
Reviewed on

11/08/2015
Brianna A
Kenny was absolutely amazing!! Definitely the best DJ that we met with by far! He met with us on numerous occasions to go over every single detail of the day which helped eliminate a lot of stress! He took our style into consideration and worked with us to create a custom... Read More cocktail hour playlist and had great suggestions for the rest of the night! The music was perfect and we couldn't have asked for a better DJ! We would definitely recommend Elite Entertainment!!
---