Home

Elwynn + Cass Beauty Concierge Service
About this Vendor
The Beauty Experience You Deserve
You wouldn't plan a wedding without a wedding planner, so why would you try to plan beauty without a beauty planner? // Services include: Personally matched artists to your wants and needs, Scheduling of trials + day of hair & makeup Communication with artists Timeline creation Billing + payment for services // An unforgettable experience is just a few clicks away. xo
Details
Beauty Group Bookings, Hair + Makeup Trials Available, Hair Stylists, Airbrushed Makeup, Eyelash Extensions, Makeup, Makeup Artists, Nails, On-Site Hair + Makeup, Facials, Massage, Waxing, Spas, Spray Tan, Tanning, Beauty
Reviewed on

7/04/2017
KyLee B
I would give 10 stars if I could! Katelyn and Haley were absolutely amazing to work with. They helped put me at ease when I had a last minute cancellation from the company I had previously reserved, and this ended up being the biggest blessing in disguise! They are very... Read More professional while being the sweetest and most down to earth. Haley was just as picky as I was with my hair and everything turned out perfect! My hair ended up being my favorite part of my entire wedding day look. We also hired them for the flower girls and bridesmaid and everyone looked fantastic! I am just trying to think of another reason to come to San Diego again so I can hire this team to beautify me again. You will not go wrong with hiring them for any of your events and the best part is they come to you! :)
---
Reviewed on

3/28/2017
Tiffany R
These ladies completely nailed it on my wedding day. I loved every minute of working with them! I was completely THRILLED with both the experience and my look. I don't wear makeup in my daily life so was super worried about feeling TOO made up on the day, but obviously knew I... Read More couldn't go without. I also have nice hair and definitely had a look in mind (disney princess meets effortless mermaid just washed up on shore at a music festival-- that's a thing right?!?) Needless to say, I don't think I am just easy to please. :) From the hair and makeup trial to the day of, I just felt like they completely got the boho glam look I was going for and executed it flawlessly. They also made me feel totally relaxed and at ease. I was like hanging out with great girlfriends who just happen to know how to make you look GORGEOUS. NBD! The day of the wedding they traveled to our rental house in La Jolla and did my sister, my mom and I up for the wedding. We had the BEST time! I felt relaxed and pampered and when I got to look in the mirror, seriously first look- I was like PERFECT! DONE! I was ready almost a full 30 minutes EARLY! And my hair and makeup held up all night despite dancing up a storm and definitely not babying it. And my sister looked just stunning. Every time I looked at her I wanted to cry. Her hair was EXACTLY what she wanted, only better than we imagined it would turn out. I can't recommend these ladies enough. If you don't want to worry about a THING on your wedding day, just book them! I'm just sad I don't live in San Diego year round or I would NEVER go anywhere else when I want to feel gorgeous! Thank you from the bottom of my heart for all the love and attention you put into our special day. XOXO
---
Reviewed on

4/17/2018
Kristin H
I reached out to my wedding coordinator and asked her who to hire for hair/make-up/nails, and E+C Beauty was one of her top choices. Katelyn made the communication process very easy as she always gets back to you the same day an email is sent, which is so appreciative! I was SO... Read More happy with Haley, who did my hair and make-up as well as a couple of our bridesmaids. She listened to everything I said and wanted changed and she did an amazing job! Most of the time in typical salons, I have not been happy with my hair and this was a different story! I love that they come to you, it makes it so convenient especially on wedding day which is usually pretty hectic. I also got my nails done, and the only critique I would have is to have more color options. The gal that I had didn't have much to choose from so I felt like I had to pick colors that I wasn't in love with. I wish I would have let them know what I was thinking so she could have been a little more prepared. Also, the polish on one of my toe nails came off the day after getting them done (which was a day before my wedding) normally my pedis last 3-4 weeks, so not sure what happened with that but not a big deal. Other than that, everyone was professional and easy to work with and I would definitely hire them again!
---
Reviewed on

2/26/2018
MARY N
We had hair and make-up done for the bride and MOB, and hair only for the four bridesmaids. The bride had a definite vision, and somehow the team managed to style each maid to reflect her individual personality and taste in a way that honored the bride's wishes. They each looked... Read More beautiful, each with a unique style. The make-up and hair for bride and mother were lovely - the bride in particular looked regal, and her mother also received tons of compliments. Hair and make-up looked natural, yet striking, and lasted all night. We all greatly appreciated the on-site prep; no racing from salon or hotel suite to venue to get dressed. A terrific job all around.
---
Reviewed on

10/10/2017
Sabrina G
EC Stylebar was a great addition to my wedding day. The process from the beginning was so smooth from prompt communication all the way to day of coordination. I really appreciated the ease of the experience and would recommend working with this team to any bride. We were going... Read More with the natural beach look and they definitely did a great job as everyone looked great.
---
Reviewed on

10/01/2017
Paul T
E.C. Stylebar did a wonderful job on the hair and makeup for myself and my wedding party. I couldn't be happier with how everything turned out. The whole team was very competent, friendly, and a real pleasure to work with. They made my day easy and stress free.
---
Reviewed on

9/20/2017
Jamie B
I cannot say enough good things about Katelyn and Danielle!!! Katelyn is amazing to work with and Danielle did an amazing job on my hair, and my bridesmaids! I even cried when I looked in the mirror. I cannot thank you girls enough for making my hair so perfect!! You girls are... Read More the best!
---
Reviewed on

8/24/2017
Laura A
E. C. Stylebar was amazing. They were very accommodating during the scheduling process for my wedding party and everyone LOVED their hair and makeup! Being an out of town bride, I was nervous about not being able to do a trial prior to my wedding day, but I could not have been... Read More happier with the results! Each stylist was personable and extremely talented. Thank you E.C. Stylebar!
---
Reviewed on

8/19/2016
Lauren C
We had such a fun experience, mani/pedi's for everyone. I loved having all of my family, new family and dear friends spend the afternoon together in E.C. Stylebar Mobile Salon. We were pampered, service was exceptional, we laughed, sipped on bubbly . . Thank you for making my... Read More day special! L
---
Reviewed on

8/17/2016
Marion W
E.C. Stylebar team of hair & makeup exceeded my expectations. They were professional, they delivered 100% of what myself and guests invisioned. The experience with the mobile salon was one of a kind. Thank you Katelyn 💞
---
Reviewed on

7/06/2016
Gabi
Firstly: THANK YOU E.C STYLEBAR!! I cannot express how amazing everything was from E.C Stylebar. From the stylists, to the owners, to the makeup and design. Everything was all I could've asked for on my special day! (and I am very picky) They come on site, with all product... Read More on board and requires no additional hookup from the venue, which was perfect for me since my wedding had no place to do hair and makeup. The mobile unit is feels like a luxury salon, with the 3 styling stations, barber chairs, and lounge area, but is completely mobile (and has AC) hehe YAY!!! They are available fully staffed with their own hair and makeup team, or it is available for rental if stylists have already been determined, which is what happened with me. I had my lady who does my makeup come and do it whilst E.C Stylebar's amazing staff (I used Batross) did my hair - Batross was unbelievable and did my hair exactly how I envisioned it!...She was so good I now use their staff (Betross) regularly, as they can come on site without the mobile unit for when I got to special events etc. E.C Stylebar also did all of the hair and makeup for my bridal party, and even took took care of some of the groomsmen that needed last minute barber services ;) E.C Stylebar is my dream come true and I cannot say enough good things about every aspect of this company. They were an absolute pleasure to work with! My day wouldn't have been the same without you ladies! Thank you, Thank you, Thank you!!
---
Meet The Owner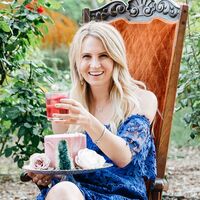 Katelyn McCullough
To be perfectly honest, I started Elwynn + Cass because it was a service I wanted. I wished that there was someone you could go to who could just handle everything for you, beauty wise. I was tired of guessing who would be the right fit for me for hair and makeup. It rarely worked out the way I wanted it to, and that was super frustrating. Knowing this, I started Elwynn + Cass to remedy the situation and create an experience that I had wanted, but also knowing that you might need it too. Because who doesn't like to feel pampered and treated like a person, not a number?