Home

Enfield Shaker Museum
Book Your Wedding with Enfield Shaker Museum
---
A BACKYARD IN ENFIELD, NH
About Us
The Enfield Shaker Museum, tucked in the mountains of the Upper Valley of Mt. Assurance on the shores of Mascoma Lake, is a serene, historic site ideal for nature-inspired weddings and receptions. There are several authentic Shaker buildings on-site numerous hiking trails for the couple and guests to enjoy. The Enfield Shaker Museum is a match made in heaven for couples who envision a simple wedding ceremony followed by a memorable reception.
The Great Stone Dwelling. Home to the Enfield Shaker Museum, the Great Stone Dwelling is the largest Shaker house ever constructed. With two function rooms done in a simple style, this area can accommodate 115 seated guests upstairs and 100 guests downstairs.
The Mary Keane Chapel. Marble and stained glass give this ornate site a simple elegance for wedding ceremonies and receptions of up to 200 guests.
The Stone Mill. With a capacity of up to 125 guests, the Stone Mill has high ceilings and exposed granite walls which give the structure a laid-back vibe and rustic charm that's ideal for a country wedding..
What You Should Know
A dedicated events coordinator will help each bride and groom plan their once-in-a-lifetime day. Catering packages include several options which can be customized according to the couple's theme, preferences and budget. Catering packages also include dessert and cake-cutting services. The wedding cake must be supplied by the couple, but catering must be done through the Museum.
Outside vendors for any other aspect of the wedding or ceremonies are permitted, with proper coordination before the event. Bar services are contracted separately. Couples can choose to have a cash bar, a limited bar or an open bar. All packages include bartending services.
Wedding packages at Enfield Shaker Museum include the use of a bridal suite, overnight accommodations for the bride and groom, event rental, set up and clean up, china, barware, flatware, glassware and linen, chairs and tables and lighting and sound equipment. Event items such as aisle runners, chair covers, a dance floor, a photobooth, tents, centerpieces and more can also be included.
This space is not handicapped-accessible.
Extra Perks
On-site event coordinator
20 overnight rooms available for out-of-town guests
Parking available
From the Vendor
Elegant Weddings in a Historic Venue
Rustic yet elegant, picturesque and uniquely diverse, the Enfield Shaker Museum provides a beautiful country-chic setting. We have a variety of both Ceremony and Reception locations and we can meet many styles and budgets. Rentals include an experienced Event Coordinator to help organize the perfect day or weekend for your family, friends, and of course you! The site features 9 historic buildings on 21 acres, including the impressive Great Stone Dwelling and the ornate Mary Keane Chapel (built in 1927 by the Catholic La Salettes). The 6-story Great Stone Dwelling is home to 20 Overnight Rooms as well as the Meeting Room and the Dining Room, two popular Reception spaces. All overnights have Shaker built-ins, reproduction Shaker furniture, private bathrooms and queen beds.
Amenities + Details
Amenities
Bridal Suite

On-Site Accommodations

Indoor

Outdoor - Not Covered

Reception Area

Wireless Internet
For more details about amenities, please message the Venue.
Backyard, Barn, Garden, Museum, Historic Venue, Hotel, Mountain, Park, Church, Religious Setting, Tented
Bar + Drinks, Planning, Rentals + Equipment
Contact Info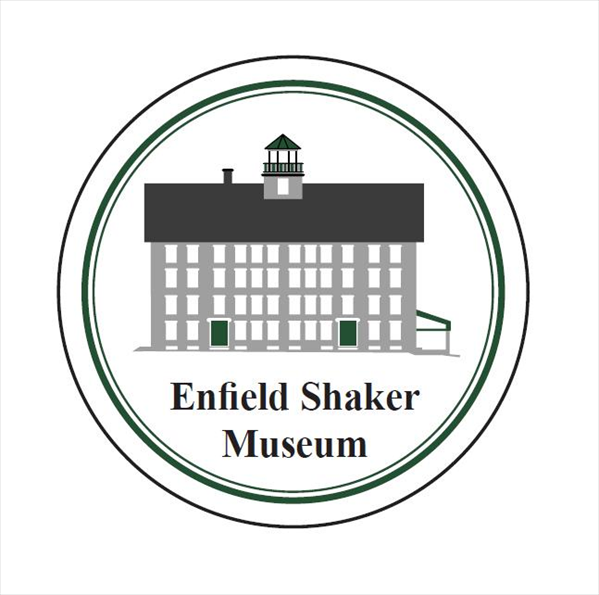 Reviewed on

3/14/2016
The Enfield Shaker Museum was more PERFECT than I even first thought. The Shaker Museum is a hidden gem. My fiance and I wanted a wedding that blended elegance and comfort, while staying true to our New Hampshire home. The museum is this place. The grounds are gorgeous, well... Read More taken care of and the buildings are classically New England, beautiful and feel like home. We met the coordinator, Anna, and were right away impressed by her flexibility and assistance. She listened and asked about us and was responsive every step of the way. We had our ceremony in the Stone Mill, it was absolutely gorgeous. The exposed stone, beams and beautiful lights stunned everyone. We then had a cocktail hour in the Dining Room and the reception upstairs in the meeting room (both in the Great Stone Dwelling). The entire building is beams and wood floors making it charming and warm. It was easy to decorate and they were so open to anything we wanted! After the party, everyone absolutely loved the rooms, not only are they spectacular, clean and comfy, but it was one of the highlights to have a hotel full of people you know! All along we were happy. The museum provides so, so, so much for the money! For the same amount as some tent rentals we had a gorgeous, unique and inclusive venue. We didn't have to worry about chairs, tables, silverware, plates, linens, bar services, coordination and more. The little details were taken care of so we could come decorate and celebrate! We had so many compliments and tons of people asking where we had found the place! The Enfield Shaker Museum was perfect, I wouldn't change anything and would recommend it to anyone looking to plan a wedding. I promise you will fall in love!
---
Marcy
Reviewed on

6/17/2014
Dan P
The Enfield Shaker Museum is a beautiful venue for your wedding. The setting is gorgeous, wide open spaces and the nearby lake make it perfect for an outdoor wedding. We were married in the Mary Keane Chapel and then had our reception in the Museum building which is a Shaker... Read More building. The architecture and decor are very simple and elegant. Best of all, everything is very convenient. The museum has about 20 guest rooms (very large) on the upper floors, so guests didn't have to drive anywhere. We had a nice breakfast the next morning and had even more time to spend with our family and guests. The service was wonderful and the price was all inclusive and very reasonable.
---
The Enfield Shaker Museum
Reviewed on

11/12/2013
Michael B
We couldn't have been happier with our experience with the Enfield Shaker Museum. We only had three months to plan our wedding and it wouldn't have been possible without the help of the staff. They did so much to work with us on making sure all of the details were squared away.... Read More The venue was unique and perfect for our wedding day. The accommodations of the rooms on site was a great feature for our guests. And the price was reasonable. All in all, a great experience.
---
Reviewed on

9/10/2017
Meg S
I am so grateful that we chose the Enfield Shaker Museum for our wedding. There are many reasons why: 1) The support provided by the museum's event coordinator, Anna; 2) The ability to have many of our guests stay with us onsite, which was incredibly special; 3) The beautiful... Read More and historic buildings that also happen to look amazing in photos; 4) The flexibility to choose our own vendors; 5) The fact that linens/tables/chairs/dinnerware are included if you rent the Great Stone Hall; 5) The opportunity to support a fantastic nonprofit with an important mission. Our friends and family loved the location, and one memory that I will remember for the rest of my life was walking through the hallways at night and seeing my dearest friends and family mingling, talking, and getting to know each other after the party ended--made possible because of the overnight rooms. Anna is very knowledgeable and experienced, and she worked incredibly hard behind the scenes to keep everything running smoothly so we didn't need to stress. At one point, the caterer unexpectedly took away the water station and Anna saved the day by getting more water so we could keep dancing. She was also an invaluable resource during the planning process. I highly recommend the Shaker Museum as a wedding venue!
---
Absolutely Beautiful Venue
Reviewed on

10/12/2015
Nenia C
The Enfield Shaker Museum may not seem like the kind of place you'd have a wedding at first glance, but the charm of the buildings and the area make it a perfect spot. We used the Stone Mill as our reception spot and were married outside on the beautiful grounds. Both were... Read More gorgeous and perfectly fit the style we were hoping for from our big day. The event manager, Anna, is wonderful to work with. She's flexible with requests and committed to making your event special. She went above and beyond to create a beautiful day for my husband and I. Another benefit of this site is the availability of overnight rooms right in the main building. The room my husband and I stayed in was large and was perfect for my bridal party to get ready in. The guests loved being able to stay right on site and I loved not having to worry about providing transportation to a hotel. Although their website is a little difficult to look at, I highly recommend stopping into the museum to see it's beauty first hand and talk to Anna about having your next event at the Enfield Shaker Museum.
---
A perfect venue for our day
Reviewed on

11/09/2013
Kate H
Mike and I loved everything about the Shaker Museum - the value for the location is incredible, the scenery is charming and quiet (as well as fairly private), the buildings are drop-dead gorgeous (and unique!). Vreni, the coordinator there, couldn't be more helpful. She was... Read More always available to answer any questions we might have - and we had a lot! Add to that the fact that the Great Stone Dwelling House has accommodations for your overnight guests that are not only extraordinarily reasonably priced, but just enormously sized, and you have the perfect venue for a one-of-a-kind wedding. We had an amazing experience there from start to finish and would recommend this venue to anyone!!
---
Ford Burley Wedding
Reviewed on

10/06/2013
My daughter's evening wedding reception was held at the Enfield Shaker Museum in Enfield, NH in August. The venue was absolutely beautiful! The Museum staff was very easy to work with and they took care of all the details. Vreni, the events coordinator was wonderful.Most of our... Read More out to town guests took advantage of the accommodations. I highly recommend the Museum for your wedding. Debra Ford Enfield NH
---
The Shaker Museum is a beautiful, unique setting for a wedding
Reviewed on

10/03/2013
Katherine F
I was married in the Mary Keane chapel on the grounds of the Shaker Museum, had my cocktail hour in the Great Stone Dwelling, and had my reception at the Stone Mill. I couldn't have asked for more! I was able to make each aspect of the day personal, which would not have been... Read More possible at the slightly cheaper "all in one" package type locations. To keep the wedding on the cheaper side, you can opt to use the Great Stone Dwelling and their tables/linens/china etc., or rent these things for the Stone Mill (my favorite building). Staying with friends and family in the Great Stone Dwelling before and after the big day was a big highlight for me. Finally, Vreni, the event coordinator at the museum, was extremely kind and helpful the whole way through. Choose the Enfield Shaker Museum for a personalized NH wedding!
---
September wedding at the Enfield Shaker Museum
Reviewed on

10/03/2013
Krystle M
Vreni, the Event Coordinator was exceptional at meeting our needs and accommodating our wishes. The venue is simple, yet breathtaking. There are many options for ceremony and reception. There are also a lot of great spots for beautiful photographs.
---
They were great!
Reviewed on

7/21/2012
Kayla L
When we first booked the venue they were in transitions between event cordinators, at first i was unsure of the coordinator, but she really did prove me wrong. She was there the night before the wedding and helped out as much as we needed her too. We used the church on sight... Read More for the ceremony and it was absolutley beautiful. We ended up renting a tent for the location and it fit perfectly on the site. We used one of the banquet rooms for our cocktail hour too, it was was simply amazing. They were very accomidating to our needs and let us use some of their tables and things which was nice for us because it helped us to save some money. They also let us bring our own alcohol for the ceremony which helped to save some money too!
---
Mascoma Bride
Reviewed on

2/27/2012
Rachel A
I grew up in Enfield and the Shaker Museum was the perfect location. I got married in the Mary Keane Chapel which I loved (beautiful organ, gorgeous church you can be married in with a JP). We then had the reception outside the inn in a tent with an outside caterer. The Inn has... Read More around 20 rooms so all of our wedding party and closest friends stayed right there, which was very fun! The Inn is obviously Shaker, a bit out dated but informing your guests before hand will be helpful. With special permission from a local land owner, I was also able to take amazing pictures by Mascoma Lake. My only comment regarding the inn (which I heard has been taken care of) would be the cleanliness of the rooms (dust and bathrooms). The people are very friendly and available all weekend for assistance.
---