Home

EPIC Charleston
About this Vendor
Let's celebrate!
EPIC is owned and operated by 3 award winning DJs with a fresh & modern approach to wedding entertainment Pricing & availability is posted to our site.
Details
Classical, Country, Dance, Disco, Folk, Hip-Hop, Jazz, Pop, R&B, Rock, Arabic, Indian, Latin, Persian, World Music
After Party, Rehearsals + Parties, Ceremony, Reception, Wedding
MC Services, Recorded Music, Sound Equipment, Music
Contact Info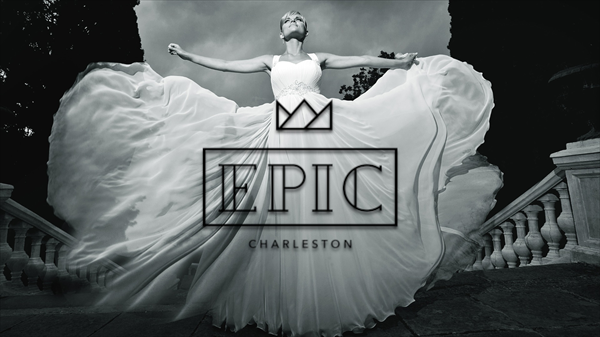 218 Howle Ave , Charleston, SC
The Best in Charleston!
Reviewed on

4/11/2014
I cannot rave enough about our experience working with EPIC Charleston! From our first inquiry email to the last song of the night, Lucas took exceptional care of us. The management and organization of EPIC is phenomenal and I always felt as though my wedding was a priority. Beyond the logistics side of things, these guys know how to throw a killer party that is tailored specifically to you and your guests. Lucas knew what we wanted even before we did and he kept the dance floor packed all night! If you are looking to take your wedding to the next level and create a night that won't soon be forgotten, hit these guys up right now. From one bride to another, it will be the single best decision you make!
---
The DJ that MADE my reception EPIC!
Reviewed on

4/09/2014
Jessica E
The most important thing about your reception is the music. So don't skimp on money here. This is where you need to spend money. Not on flowers & centerpieces. When you want a DJ who will make your reception THE reception that everyone will be talking about for years - go to Epic Charleston. Stephen Darby was my DJ for my reception and it was the BEST decision I made for my whole reception. All of my guests were up and dancing. Stephen kept the dance floor full all night. He was so easy to work with. He also did uplighting in my reception room and it really made the room transform for the night. He made necessary announcements, threw in some mash ups, and made the night memorable for all. All of our guests have said that it was the best party they have ever been to. You are in the BEST hands if you hire Epic Charleston. Don't go anywhere else.
---
Top notch DJ!
Reviewed on

1/17/2014
Drew L
Music is very important to my wife and I, and we wanted to be sure we gave ALL of our guests a great time when it came to our reception music. Looking back, going with DJ Lucas of Epic Charleston was one of the best decisions we made for our reception. We were married on Jan. 4th, and already I have had several friends & family personally reach out to me and say great things about the music. Most of all, people just talk about how much FUN they had, and I know that Lucas was a HUGE part of that. He did a wonderful job with the flow of the reception, making the introductions as well as the transitions between first dances and toasts feel as if it was seamless. For those that really do want a great DJ, I will also say that DJ Lucas is just that - he does not simply play songs one after the other like a basic playlist, he actually mixes songs together and takes the reception to another level because people love the uniqueness of what they are hearing! It's not just like you have a radio, you have a DJ that knows what he is doing! I could not recommend him more, EPIC Charleston is one hell of a DJ company - 10 out of 10.
---
Reviewed on

7/08/2015
Emily E
EPIC was absolutely fantastic! We used them for DJ, uplighting and photo booth. I read amazing reviews about them before our wedding and we were not disappointed. Nick was our DJ, he was professional but still knew how to keep everyone dancing the entire night. I had a numerous people come up to me the night of our wedding and even after to tell me how awesome the DJ was. EPIC helped make our night exactly what we imagined! We could not be happier that we used them!
---
Awesome party
Reviewed on

7/04/2015
Darina G
These guys know how to throw a party, but they also know how to handle a wedding ceremony. We used EPIC for both of Ceremony and Reception. They did an amazing job. We walked down the isle for the first time as husband and wife to a string quartet tribute to "get lucky", it was so unique and the guests loved it! The first time we met with Lucas we knew we would book them for our wedding. He knew exactly what kind of music we wanted for our reception and offered assistance with timing out all the reception events, i.e. first dances, cake cutting. It was great to work with a group of guys who were close in age to us because they understood what wanted. We highly recommend EPIC!
---
Best vendor decision!!
Reviewed on

4/14/2015
Kasey O
You HAVE to use EPIC as your DJ services! Nick was awesome!! Our wedding was just this past weekend and we have already had so many guests compliment our DJ! Nick does an awesome job on transitioning all of the songs and keeping people on the dance floor. It's not like a typical DJ at all, most DJ's just play a song at a time, like an ipod almost. Well not EPIC! They mash songs together and even let me (the bride) mash some of the songs too, which was super cool! and you HAVE to get their photo booth. It's an open air photo booth so no one has to cram into a tiny little booth. Guests loved it! And so did we! They are more expensive than other DJ's but TOTALLY worth it! You have to hire EPIC as your vendor!!
---
Fantastic Party
Reviewed on

1/19/2015
Vanessa L
They sure do know how to keep a party going! The wedding was a blast! Lucas and Stephen were an amazing team. They played everything that we asked them, and even found a little known song for my Father and I to dance to. They read the crowd beautifully. It was so special to see so so many people up and having fun.
---
Stephen is the BEST at what he does!
Reviewed on

10/30/2014
Christina F
Stephen Darby and the EPIC team are truly incredible at what they do…EPICly amazing actually (if I may try my hand at being punny). Stephen was the DJ for our wedding on October 18, 2014 at Pepper Pavilion and also provided uplighting for our reception. There aren't enough words to describe the phenomenal job he did. The music selection was absolutely perfect, exactly what we requested actually. And his talent on the keyboard, mashing up songs live in-person really showed through to all of our guests. Everyone was on the dance floor at some point or another, and we haven't stopped hearing from our guests how much they enjoyed the music. When my husband and I think back to what we envisioned the music scene being like for our wedding, Stephen Darby nailed it with flawless execution. I recommend Stephen to EVERY single bride who is looking for a DJ that can provide a fun, professional, relaxed, entertaining, exciting, engaging, and memorable reception. He is so easy to work with, and isn't gimmick-y at all, like we expected most DJs to be. He is down to earth and knows how to get the job done. Stephen, we can't thank you enough.
---
personable and attentive
Reviewed on

10/29/2014
jessica s
Best entertainment in Charleston! We had a destination wedding and wanted everyone to enjoy Charleston as much as we do and Stephen did just that! He made sure there was a flow throughout the entire reception and everything was on time! We honestly can not thank or praise Stephen enough for making our day so unforgettable!
---
Best All Around
Reviewed on

10/25/2014
Erika C
Epic Charleston was by far the best choice we made for DJ and music for our wedding and reception. We were looking for someone dependable, flexible, easy-going and fun while also producing a top-quality product and service. We definitely found that in Lucas Wade. We knew from the very start when we met him in his office that we would have an amazing performance and experience with him at the helm. He was amazing in working the crowd and driving high-levels of energy with our guests throughout the night. Trust me when I say that our guests had tons of great feedback with his performance. There are certain individuals who never (and I mean, NEVER) dance at weddings and we saw them busting a cut on the floor because if his mixing, constant transitioning and variety of music. We would book Epic Charleston any day and every day and twice on the weekends! They are the best around and you get your money's worth with the packages that they offer. We had very high expectations and Lucas exceeded them by a mile. He was a very big part in why our wedding was tremendously fun and successful!!!! -Justin (Groom, on behalf of Bride)
---
You WONT regret this!! :)
Reviewed on

10/20/2014
Megan P
WOW! Stephen provided the most magical wedding ceremony and reception that we could have ever asked for. He listened to us from day one, learning our likes and dislikes in music...he picked the perfect ceremony music and kept the dance floor packed during the reception. The guests loved that they could text in requests and that he played the piano live during the reception. Thank you again for all that you did, I cannot wait to see the video from this night! :)
---
Great Job!
Reviewed on

10/15/2014
Jacqueline D
Nick did a wonderful job at my wedding- we was able to incorporate both Greek and American music to make both sides of the family happy. Highly recommend him!
---
Perfection! Stephen Darby
Reviewed on

8/18/2014
kim l
Our wedding was at the Citadel Beach House on IOP on 6/6/14. I planned the wedding from NJ. Stephen Darby was our DJ and was not only amazing that night but during the whole planning process. He is very prompt in responding, provides helpful recommendations and made us feel at ease during every conversation. He is nothing like the stereotypical cheesy DJ. He is an extremely talented musician that takes pride in what he does and the service he provides. My friends and family are still talking about how great he was and how much we danced the night away. I would 1000% recommend him and couldn't imagine choosing any other DJ.
---
Epic Charleston is Great!
Reviewed on

8/07/2014
My husband and I would highly recommend Epic Charleston! Lucas was awesome to work with!! Our wedding was the first time our families had met, and Lucas had everyone out on the dance floor having a good time together. We received so many compliments on how awesome the DJ was. We can't thank Epic Charleston enough for making our wedding reception such a memorable evening. Sara and Eric
---
Non stop fun!
Reviewed on

7/30/2014
Lindsay E
My husband and I debated having a DJ or live band for a while, we chose Epic Charleston and it was 1000% the right choice! Our guests were on the dance floor all night and are still talking about how much fun they had! It was the best night of my life!
---
The Island House Reception
Reviewed on

6/13/2014
Austin T
We had EPIC Charleston provide DJ Services for our Wedding Reception last Saturday (6/7/14) at The Island House on Johns Island. The Reception Flowsheet they provided was a huge help and really set the stage for the whole night. Stephen Darby was our DJ and he did not disappoint. From the minute Darby started with dinner music, people were up and dancing and he kept us on track throughout the night as we did the cake cutting and got to the dance party. The dance floor was where it was at, and he did not let the music stop and played great party music all night. He did a great job of feeling how the night was going and made little adjustments here and there to make it an EPIC night that we will never forget. One really cool thing about Darby is that he brings his keyboards and will play along to just about any song that he plays. People would just stop and watch him play and would be mesmerized by how fast his hands were flying around. One of my groomsmen said he was in a constant state of euphoria that night and we were all drenched in sweat from dancing so hard. We can't thank EPIC enough for a truly seamless night. We highly recommend them for any type of Wedding/Party services. - Austin and Bebe Tempest
---
BEST DJ EVER!!!
Reviewed on

6/12/2014
Matt M
We couldn't stop dancing! No one wanted the night to end and everyone was asking about Stephen Darby because they hadn't heard such great music mixed in such an incredible way before. His experience and piano rifts were brilliant. Wish we could bring his music with us to every club and bar we went to because he guarantees a fun time!
---
Brought the House Down!
Reviewed on

5/04/2014
Tabitha N
We booked our wedding with Stephen Darby when he was running Ecklipse Production. Before our wedding he became a part of EPIC Charleston. Stephen had our booking when he spoke about playing the keyboard live! We are all about the party and new that ours would be unforgettable. Stephen made our night! Everyone was dancing and having an incredible time! My husband manages to sings "Shout" at every wedding we go to so his "performance" at our wedding needed to be bigger! He sang shout while Stephen played it on the keyboard and it was definitely an EPIC moment. Our only regret is that we did not have a longer reception to enjoy the music and dancing longer!
---
Wonderful job by Creative Sound
Reviewed on

10/26/2013
Deanne O
They were a wonderful at reception. The dj was very accommodating of our thoughts and working with us before, during, and after the reception. We would recommend anyone to their company for anyone for an amazing event dj in the Charleston, SC area.
---
Amazing!
Reviewed on

10/07/2013
Emily P
Lucas was absolutely fantastic! Everyone who we have spoken with mentions how incredible the DJ was. He really knew how to read the room and had everyone (of all ages) dancing the entire night. I would HIGHLY recommend Lucas/Creative Sound!
---
father of the bride
Reviewed on

10/07/2013
great job and enjoyed by the family of the bride and groom and all of the guests
---
Photo Booth
Reviewed on

10/06/2013
Leah B
We had creative sound for our DJ at our welcome party and also as our photo booth at the wedding. They did a great job and one of the highlights of my wedding was watching my nieces and nephews taking photos at the photo booth. My little cousin is obsessed with pirates and wore the pirate hat prop and beard the whole evening. Thank you for all your help in making our wedding weekend a great success!
---
Awesome DJ!
Reviewed on

10/06/2013
Lauren E
Lucas was from beginning to end a professional and so lovely to work with. He played every song on our list and never once said he didn't have a song or deny a request. He also kept the party going throughout our reception. There was never a lull or inappropriate music choice, and if I had it to do all over again I would choose Creative Sound for our event. If you hire them you will have one less thing to worry about on your wedding day...music will be handled! :)
---
Rachel & Dave's Wedding at Wild Dunes Resort, SC
Reviewed on

10/06/2013
There are not enough wonderful words in the dictionary to use and express my gratitude of Creative Sounds. We were wanting to get married out of town in South Carolina and found Wild Dunes Resort to be the perfect fit for a ceremony & reception. Lucky for us, Wild Dunes had a list of "preferred vendors" & Creative Sounds was #1 for music. Of course we HAD to call the #1 pick since everyone that has used them has had a pleasant experience. From the first phone call made to Creative Sounds to their expertise at the wedding, they were a 10 out of 10 in every category I could come up with. They were extremely friendly and willing and able to help create a wedding ceremony & reception that was one to keep our guests raving over for weeks and months following our wedding. The energy in the room up upbeat and there was not one second of a dull moment. Having experienced their services, my husband and I knew right away why they were the #1 preferred vendor. Not only did we use them for music for our ceremony and reception, but also for up lighting (which set the PERFECT mood in the ballroom) & their high-end photo booth (which was a complete hit!). If I knew then what I know now, I still would make the phone call to Creative Sounds and they would hands down be OUR #1 pick.
---
Lucas and Nick were GREAT!
Reviewed on

8/02/2013
Jessie U
this was the best decision I could have made. these guys were GREAT! Nick had people on the dance floor the ENTIRE reception. he even re-played a song at the end because I couldn't dance when it came on the first time. they are very professional and also very good looking :) I didn't give them a specific list of songs to play/not to play and they did a wonderful job feeling the atmosphere and playing what the crowd wanted. everyone told me they had a great time dancing. these guys really know what they are doing and I definitely recommend them to anyone! I LOVE YOU NICK!!!!
---
Send Message