Home

Evaline's Bridal
About this Vendor
A Little History...
We have been walking brides down the aisle for over 60 years! We offer bridal, bridesmaid, mothers, junior bridesmaid, and flower girl dresses. We pride ourselves in our customer service. We are the leading resource of the area for wedding trends and know how to help create "Your Wedding Your Way".
Details
Bridesmaid Dresses, Flower Girl Dresses, Mother of the Bride Dresses, Wedding Dresses, Dresses, Alterations, Bridal Stylists, Dry Cleaning + Preservation, Plus Size Available, Private Appointments Available, Rentals, Fashion
Contact Info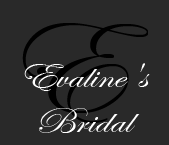 Reviewed on

5/11/2016
Megan V
It took me a little bit to find the perfect wedding dress. This was the last place I looked because it was further my house, but my mom bought her wedding dress at Evaline's Bridal way back when and thought I should go in and take a look. I feel in love with the second dress I... Read More put on! It was so unique and fit my personality!! I absolutely loved the selection of dresses available at Evaline's and everyone that works there is fantastic!! We had wonderful service from the initial appointment, to going into visit my dress, to alterations, and the final pickup. I couldn't have been happier with my dress and everyone at Evaline's Bridal!
---
Amazing!
Reviewed on

1/21/2014
BRIANNA M
We found my dress, my mother's dress and the bridesmaids dresses all at Evaline's. Everyone there, from the owner, Lori, to all the consultants, were so wonderful and really made the process STRESS FREE! They were professional, organized, on the ball and a joy to work with. I... Read More never went to prom. . .was kind of a tom-boy growing up and they truly made me feel like a princess on my wedding day. Besides being so wonderful, their stock of dresses is incredible. I went to several other shops before Evaline's and no one offers such a unique selection. If you want to find a dress that no one else has and get it for an amazing price, you HAVE to go to Evaline's!
---
Fabulous
Reviewed on

11/25/2013
Alicia B
I ordered my dress here after finding it at another boutique and had a great experience with Evaline's. Though my dress took longer than anticipated to come in, once I was in the fitting process the staff were incredibly knowledgable, professional, accommodating, and they did... Read More what they had to do to make everything perfect for my wedding day. When I put my dress on in the final fitting, it looked like it was made for me and I have never felt more beautiful in my life. If you're looking for a friendly, small clientele, specialty boutique, look no further!
---
Reviewed on

6/23/2017
Jenna D
Evaline's is the second bridal salon I stopped at, and where I found my dream wedding dress! I was very lucky to have an old friend from high school serve as my consultant and had a very personalized experience because of this. Haylee ended up picking my gown for me, urging me... Read More to go out on a limb and try a gown I didn't like on the hanger. Of course, this was The Dress! Afterwards, we celebrated with champagne and a photo with Evaline's "Say Yes" sign. I liked that Evaline's had a payment plan, and allowed me "visiting rights" to my gown, especially since I bought it a year and a half before our wedding. It was very helpful to be able to take accessories in to match the gown, instead of relying on photos. The alterations team was incredible, and very reasonably priced. The major issue I had with Evaline's is that the owner, Lori was very pushy on upselling. She tried to sell me a veil during one of my fittings just a few weeks before my wedding, even though I had a veil on my head! Some of her younger staff members weren't very informed on certain processes within the salon, so I often found myself waiting on hold or in the shop when my personal bridal consultant wasn't available. Often, my appointments started upwards of 20 minutes (and once almost an hour!) late. If not for working with Haylee, this shop would be receiving a lower rating, but she truly made the experience of finding my perfect dress a beautiful memory that I'll treasure for years to come.
---
Reviewed on

12/07/2016
Kristen M
I didn't end up purchasing my wedding dress from Evaline's, but I had a wonderful experience there! I had contacted them prior to booking an appointment asking if they had a certain dress in stock. The girl I was corresponding with was super friendly and booked a Saturday... Read More appointment for me. When my mom and I arrived at the store we were able to look around freely and pull any dresses that we liked. The associates even pulled dresses off of mannequins for us! None of the dresses were in bags, which is helpful in order to see what the dress really looks like. We weren't rushed with the appointment at all and after trying on about six dresses, my associate asked me if I would like to walk around the floor again to pull some more dresses. I would definitely recommend this store to anyone shopping for a wedding dress!
---
Reviewed on

12/17/2015
Katherine M
Evaline's Bridal is a class act. I felt so comfortable with them and they really spent so much time making my day special. Alesia did a great job and really knew the styles that fit me best.
---
Extremely Unsatisfied
Reviewed on

10/07/2014
Alexa L
We got our bridesmaid dresses at Evaline's. We chose them because they offer a very practical payment plan which wasn't offered at many other places and they had the dress we wanted. At first we had no problems and all the girls got measured and we were told the dresses would... Read More be ordered as soon as the dresses had half down on them, since all the girls used the payment plan. The problem arose when one of my bridesmaids dropped out and I added a new one in. We took the girls in to switch the dress size and were immediately greeted by the manager screaming at us. She came into the room yelling that the dresses were already ordered and we'll have to buy a new dress. We ended up fighting with her for about 20 minutes until she agreed that it was fine to switch the dress size as long as the previous bridesmaid signed off on it saying she wouldn't sue. We were also told that we might not know the policy but that's what it is and when we questioned the contract we were told that they "can't put everything in the contract because it would be too long." I believe that's the purpose of a contract! We came in the next day for the old bridesmaid to sign off and they were extremely unhappy and unfriendly but complied. The dresses then came in about two weeks before the wedding which was MUCH later than we were originally told. The alterations also turned out to be very expensive and the seamstress had to re-do two of the girls dresses due to mistakes. Through all of this, the manager was the one we dealt with and was very rude. We were extremely unsatisfied and had the dresses not been mostly paid for (and we needed them by a certain date) we absolutely would have gone to someone else. I had a horrible experience and do not ever recommend them to anyone.
---
Easy and nice to work with
Reviewed on

10/04/2014
Emily R
I found the dress I loved and they had it in the lowest price. The employees were easy to work with, and they were also very personable and friendly.
---
Wonderful!!!!
Reviewed on

8/24/2014
Melinda C
Evaline's Bridal was so professional, informative, helpful and kind. I bought my wedding dress from this bridal store and plan on returning to get my bridesmaid dresses and tuxes, due to the service I had received on more then one occasion being to the store!
---
Best wedding experience!
Reviewed on

8/17/2014
Tara M
Evaline's has been amazing to work with! The staff was great in finding the type of dress I was looking for in my budget and I couldn't be happier! And unlike some other places my friends have dealt with, they have been really helpful and involved post purchase as well. Always... Read More great to work with and they are one of the few bridal shops that I know of that do a payment plan which really makes getting your dream dress a reality! Would definitely recommend them for brides and bridesmaid dresses!
---
Bridal gown
Reviewed on

8/14/2014
I loved shopping there for my gown! The girls there made me feel the way you should on your wedding day! They have payment plans which makes buying an expensive dress not seems so bad! The owner came out and told be how gorgeous I looked in the dress which made my decision so... Read More much easier on the dress! I would recommend all brides to go to Evaline's to find their wedding dress along with bridesmaids dresses! It was a convenient one stop shop!
---
Exceptional service!!
Reviewed on

9/13/2013
Wendy F
Every single employee and encounter I have experienced with Evaline's Bridal has been top notch. They are professional, friendly and genuinely enthusiastic about their jobs, their store, and my big day!
---
not too bad
Reviewed on

10/03/2011
Johnna S
i loved my wedding dress, but working with the owner was sometimes frustrating. i never felt like she listened to me.
---
Review for Evaline's Bridal & Tuxedo Boutique
Reviewed on

5/10/2010
Angela H
;I did not like the bridal salon at all. They talked me into ordering a dress size larger than I needed in order to make money off of alterations. I ended up taking my dress to get altered and bussled else where. Do not shop here. They try to tie you into a contract the moment... Read More you walk into the door and the place smells like mold. When they brought my dress up from their basement/storage area, the dress bag smelled terrible!
---