Home

Events by Parties N' All
About this Vendor
Experienced professionals make the difference!
An experienced, knowledgeable event planner is the most important factor for a successful event. We can make your dream wedding seamless with our unmatched experience in venues and raw spaces. From NYC lofts to rustic barnyard weddings, we offer extensive services including custom floor designs, staffing, event styling and much more. Call today and speak to a professional!
Details
Engagement Party, Getting Engaged, After Party, Bachelor Party, Bachelorette Party, Bridal Luncheon, Bridal Shower, Day After Brunch, Rehearsal Dinner, Welcome Party, Rehearsals + Parties, Ceremony, Cocktail Hour, Reception, Rehearsal, Wedding
Destination Wedding Packages, Destination Wedding Planning, Destination Weddings, A la Carte Wedding Planning, Budgeting, Day-Of Coordination, Full Service Wedding Planning, Se Habla Español, Wedding Website, Planning
Contact Info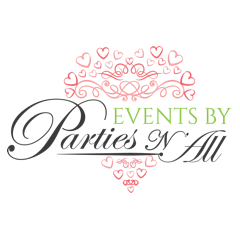 Reviewed on

9/11/2016
Let me just start by saying that if you have found Janeen from Parties N' All then you are already on your way to the wedding of your dreams. Whether you are having a small backyard party or a large upscale wedding you are crazy to attempt to plan and run your event without... Read More Janeen's expertise. When we first met Janeen we could instantly tell that she is extremely dedicated due to her passion for the work that she does. We gave her probably one of the biggest challenges, by having a large 180-person outdoor wedding at a venue that had MANY impossible restrictions to be worked around. To make things even more difficult, my father suddenly got very ill and had passed away just 10 days before the wedding. Janeen did not hesitate for one second to go above and beyond her agreed upon duties to make sure everything went smoothly. Leading up to the wedding Janeen had no issues answering our million and a half text messages and emails as well as countless phone calls and meetings. She also helped us to think of things we never would have thought of before. She has worked with just about everyone in the wedding industry and can give you tons of honest feedback and unbiased recommendations for all of your vendors. Janeen always provided enough information to us that we always felt comfortable making decisions; she will never push you to sign up for anything that isn't necessary. She also offers lots of very nice personal touch services such as full bar services, infused water and lemonade service during your ceremony and coffee and tea bars at the end. I would highly recommend ALL of these very reasonably priced add on services, you will NOT be disappointed. Janeen's real magic shined on the day of our wedding. She and her staff exerted themselves in the hours leading up to the wedding to get everything expertly setup. Without even asking, Janeen brought tons of her personally owned accent pieces. Janeen knows one speed and that is GO!! Whether it was just keeping us on schedule or taking care of small hiccups, she skillfully handled the event and all of her AMAZING staff. We cannot thank her enough for her incredible work ethic and helping us to achieve the wedding of our dreams. It really means a lot when everyone is coming up to you and telling you that this is "the best wedding they have ever been to". Before Janeen and her staff left for the evening everything was packed up and the grounds were made spotless. Bottom line, her prices are incredibly reasonable compared to the competition, her dedication and passion for the job is above and beyond, and her husband Rich (bar service) and her catering staff are the BEST in the industry. Hire Janeen and be prepared for magic!! See our wedding trailer video at the below link. Thank you Janeen!! https://vimeo.com/179132687
---
Reviewed on

7/27/2016
Erica S
Obviously, planning a wedding is a stressful time... there is so much to think about and keep track of, and keeping within a budget just further complicates things. For our DIY food-truck wedding in Brooklyn, we honestly feel that hiring Janeen and her staff was probably one of... Read More the most important things that we did for our big day. Janeen talked us through the day beforehand, was patient with my detail-oriented self, and was able to touch upon things that I definitely would not have thought of otherwise. She is incredibly professional, organized, and clearly has a wealth of experience in the wedding industry. She created a timeline of our wedding day, and was contacting each of our vendors beforehand to make sure everyone was on the same page. On the actual day of our wedding, she kept everything running smoothly from behind the scenes, making our day appear seamless to us and our guests (even when the inevitable bump in the road may present itself). We had a food truck wedding with multiple vendors, and when one of them was not able to heat up their food in the pre-arranged time, she petitioned on our behalf, resulting in the vendor bringing in a separate pizza oven to make pizza as well for our guests (which we hadn't even paid for in the first place). She took the decorations I left and made our venue absolutely beautiful, she helped with organizing cleanup after the wedding, and her entire staff (from her bartenders to her waitstaff) were absolutely stellar. Even now, months after the wedding, we are blown away by the quality of work put forth by Parties N All; we would recommend them highly to anyone, as having Janeen and her staff there allowed us to enjoy our wedding day by taking care of all the details. We honestly do not know how we could have done it without them!
---
Could not have done this without Parties N All!
Reviewed on

10/26/2015
Lauren F
When I started planning my wedding, I was sure that I could do everything on my own. As I got further into the process, I realized that I might need a little help with the small details and setting up on the day of. I had no idea how valuable Janeen and her staff would be! From... Read More the day I hired her (about 4 months before the wedding), Janeen provided valuable information and advice about all of the details that I hadn't even thought of! She was in contact with all of the other vendors, and made sure everyone was on task and on time for deliveries on the day of. She also provided bartenders for the event, and Rich, the bar manager, helped us come up with all of the quantities and assortments of alcohol. The bartenders and bar back were SO professional and amazing; they made the drinks exactly the way we asked them too, and everyone raved about them! On top of all of that, Janeen and her staff set up the room BEAUTIFULLY! We rented a loft space, so we were responsible for bringing in everything - furniture, food, bars, flowers etc. Janeen went above and beyond when it came to decorating the space. Every table was set up perfectly and the flow of the space made for the best party ever. I was in tears when I walked in the room! It was so much better than I could have ever imagined. I am so grateful for Janeen and Parties N' All, she gave us the most perfect wedding party that we could have ever asked for!
---
Reviewed on

3/14/2017
Jessie L
I couldn't recommend Events by Parties N' All more highly! It is no exaggeration to say that Janeen made our wedding possible. We had lots of big ideas and dreams (a ceremony in the round, catering from a restaurant, a killer band, lots of candles - all in a totally raw space... Read More in five months) and no idea how to execute them. Janeen and her staff made all of this and more possible. We called her a lot and she was always available to us. She told us exactly what it would take to make our dreams come true - even when it wasn't always what we wanted to hear – and then made it happen. She was incredibly patient with all of our big demands and was just as detail obsessed as we are. She helped us think of everything and was on top of every detail, dollar, and timeline. Whenever we hit a dead end, Janeen was there with the solution. And whenever we were stressed out, she swooped in to sooth us. All of this for way less money than any of the other coordinators we spoke with - although I can't imagine getting as much personalized attention from anyone else. Our guests keep telling us how incredible and attentive the staff were and how seamlessly everything was executed. And best of all, I had no stress on the day of the wedding and that's totally thanks to the Events by Parties N' All team. Janeen, Rich, and their staff went totally above and beyond to make sure that the entire planning process and the wedding were smooth, easy, happy, and beautiful. Hire them!
---
Reviewed on

2/01/2017
Patricia L
We decided to do our wedding by ourselves and we found out we needed more help than we expected, so Janeen and her staff helped us to make our dreams come true! She worked with us, got to know our style and how we wanted our wedding to be. On the day I was amazed by how it came... Read More out much better than I could imagine. Very professional and personal at the same time.
---
Reviewed on

12/11/2016
Ariel C
I was at a complete loss on how to have a large NYC wedding until I met Janeen. She was amazing and organized and gave me so much fantastic advice. Her team was fantastic, her rates affordable and she treated me and my guests like her own family. Call her now if you are... Read More trying to figure out what to do - she will help!
---
Reviewed on

11/15/2016
Jane C
Janeen was a complete asset from start to finish; even though we signed her on only for day-of coordination (as opposed to full-blown planning services), she offered pointers and advice throughout the process! As is perhaps a typical path with wedding planning, I was originally... Read More a bit demoralized by the cost of everything adding up, especially in our raw venue. Thinking that I might be able to do it all myself, I contacted Parties N' All to inquire just about their staffing services. Janeen quickly got back to me with her staffing capabilities (which we also took advantage of, and were fantastic) but also noted that she provides day-of coordination services. Her prices were fantastic, less than other DOCs I'd spoken with, and included much more (unlimited texting/calls before the wedding, not just in the month leading up, etc.). And I took advantage of it; we had a number of different vendors delivering and picking up on the day of the wedding, so we really gave Janeen a full plate! In addition, Janeen, having done this a ton, has accumulated equipment and display items that she graciously provided and which really stepped up the presentation of our cocktail hour snacks, desserts, and bar (the bar rental package was separate but SO worth it)! I can't say enough great things about Janeen, and this review already feels inadequate, but by way of example, two friends are getting married soon in a raw space in New York, and they've already signed on Janeen and Parties N' All after our recommendation! Thank you so much, Janeen, Rich (her husband, our main bartender), and the whole team!!
---
Reviewed on

11/02/2016
Andrea P
Events by Parties N' All did not disappoint! Not only did our day run smooth but our friends and family were taken care of as well! I highly recommend Janeen to help coordinate any event! From our rehersal dinner to picking up and delivering all our details to ensuring my... Read More vision was executed. She truly is a professional and knows how to keep any bride at easy under pressure. Thank you!
---
Reviewed on

10/27/2016
siomara r
Professional, Awesome & Attentive are just a few words I could use to describe my experience with Events by Parties N' All.
---
Reviewed on

8/02/2016
We had an opportunity to work with Janeen and her team. Very organized, easy to work with and extremely professional. Great with communication and very accommodating. We recommend their service to any couple who is looking for a experienced event management team. You will not be... Read More disappointed with Events by Parties N All.
---
Reviewed on

6/08/2016
Janeen and her team quickly transformed my venue to the space of my dreams! She is very nice to work with, and a great value. She also provided me with some tools and suggestions along the way to help me with the planning since I chose the partial planning package. Thank you... Read More Parties N All!
---
my wedding
Reviewed on

10/29/2015
Janeen and her crew were great. I have no complaints at all. I was able to reach her all the time. She gave me good advise on things.she helped me find great servers, catering, bartender, cake, and also helped finalize all the details. Her servers set.up the day of wedding and... Read More they were awesome. They kept everything clean kept everything running on schedule. It was the best time.ever and without janeen i know it wouldnt be possible. I will forever be grateful for everything she did. Prices are also great. Don't think twice on hiring her. Wont regret it
---
AMAZING all around!!
Reviewed on

10/23/2015
Kaitlin K
Where do I even start?!! Janeen was absolutely wonderful with my husband and I every step of the way in our wedding planning. We hired for day of services about a year before our wedding day, and she was always available for advice, referrals, and recommendations. When we first... Read More started planning our 220 person large, outdoor, do-it-yourself wedding we didn't even know where to start. Janeen not only helped us get organized but she gave us plenty of amazing referrals for vendors who all worked out wonderfully! I can not say enough about how helpful Janeen and Rich were with everything from ordering, to decorations, seating charts and everything in between. As a bride who handled every single aspect and hand made every decoration, I would not have been able to do it without them! Beyond the planning process, the day of our outdoor wedding (without any indoor option) the weather could not have been worse. There were strong gusting winds, pouring rain, flooded grass... It would have been any brides worst nightmare.. But Janeen, Rich, and their staff really stepped up to the plate and despite all of the environmental hurdles the day and the party could not have been better! Not a single guest wanted for anything. They went so far as to call in assistance to keep the tent above ground, keep the electricity on (by standing outside in the 30 mph wind and pouring rain to keep the wiring in place), and change/exchange the walls of the tent to account for the way the wind was blowing. Our event easily could have been a complete disaster, but with the help of Janeen and the Parties N All staff we had an absolutely wonderful, beautiful wedding. Both myself and my now husband and all of our guests didn't skip a beat despite all of the weather-related malfunctions, because Janeen was prepared for everything with not only a plan B but a plan C as well. The service was above and beyond and I would recommend this company to any bride no matter the size or type of function. On the day of my wedding (even with the terrible weather conditions) I didn't have a worry in the world, all thanks to Parties N All for giving me a perfect wedding day!
---
Reviewed on

10/15/2015
Laura K
Janeen and her staff are fantastic! My husband and I witnessed her team in action at his sister's wedding in 2014 and decided to go with her as our day-of coordinator for our wedding in August '15 because we knew how great they would be. She was so involved, organized, and... Read More informed during our planning. She did so much for us that you would get bored reading the list. To sum it up, she gave us great ideas, helped to figure out what we needed, and got us a deal with one of her vendors along the way. Her husband Rich, who bartneded the event, helped us immensely by sending a list of bar needs. Party planning for a large event is hard, and these people know exactly how to do it. When the day came they were happy and helpful. I even saw some of their staff dancing while working. I highly recommend them!
---
Reviewed on

8/26/2015
Zoraida B
Where can i begin with Janeen. First off, I am so Thankful that I found her and she helped me coordinate my wedding from beginning to end and then some. Not only did she help me coordinate and listen to my ideas, she took it to a higher level. The details that were put in and... Read More displayed were amazing! Her staff at Parties N' ALL are professional, reliable and wonderful Team. From the beginning, she met me at my venue and immediately gave me ideas and advice that i needed to know. The hours that she spent with me to go over every detail, to tell me things that i would never even think of are all part of how dedicated and professional Janeen is. She was professional and available leading up to my wedding and she took care of things that came up and i didn't even have to worry about them. After the wedding we had to deal with a few issues (nothing to do with her) at our venue and she was extremely helpful and beyond! She took care of these issues and guided us thru the process. Scot and i can't thank her enough for her creativity, dedication, and help planning this wedding. I am grateful for her and her team including her husband who helped make this a wonderful wedding to remember. I recommend Parties N' All for your wedding planning! You will not regret this! Thanks Zee and Scot Trollan
---
Meet The Owner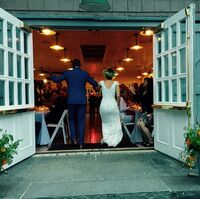 Janeen Barnes
What is it that sets wedding planners and coordinators apart from each other? So many questions come up in the early stages of wedding construction which leaves brides and grooms overwhelmed. Anxiety sets in and you don't know where to turn. Janeen is your next call. She has planned and executed hundreds of weddings from Montauk to Manhattan seamlessly with amazing reviews. Janeen's excellence comes from a long history of experience in the industry. From early childhood Janeen has learned and worked In three family owned restaurants.